The Mariners recently held Beard Hat Night, a surprisingly popular promotion in which fans received short stocking hats that included a fake beard to warm the face. But that isn't the only unusual giveaway promotion teams are holding this year …
Rockies Balaclava/Parka Night, Colorado: All fans (and players) in attendance will wear purple and black balaclavas to cover their faces, along with goose-down parkas certified to 50-below zero, plus thermal underwear, wool gloves, socks and fur-lined boots. Note: This is not a giveaway promotion. It's just what Colorado fans need to stay warm when the game-time temperature is 23 degrees for the first game of a doubleheader.
Giancarlo Stanton Jersey Night, Miami: The first 20,000 fans at Miami's Marlins Park will receive a free Giancarlo Stanton replica jersey. Of course, it will be a Yankees replica Stanton jersey, because the Marlins will have traded their lone remaining star to New York by then.
Clay Buchholz Autographed Baseball Night, Boston: The first 10,000 fans will receive a free baseball personally signed by pitcher Clay Buchholz. They come with a handle-with-care warning, though. Buchholz's signature is likely to smear on some of the balls.
(Brief digression: Can someone please explain why breaking a very specific, nearly 100-year-old rule is regarded as nothing more than "gamesmanship," while PED use is considered downright immoral? Cheating is cheating. I'm not saying Buchholz is a spitballer, but why is it that pitchers who are accused of spitting on or scuffing baseballs are treated as harmless pranksters? They pretend to load up the ball to confuse batters, and (as Mike Scott did in Sports Illustrated) even pose for photographs with tool belts, sanders or blowtorches, as if it were just some big joke. Imagine a player posing with PEDs and a set of hypodermic needles, or pretending to inject himself with something on the field to make opponents wonder if he's on something. Wouldn't happen. And yet we not only tolerate it from spitballers and scuffers, we celebrate their actions by voting them into the Hall of Fame (Gaylord Perry, Don Sutton and Whitey Ford). Don't cite health concerns for the louder objections to PEDs, either. A big reason spitballs were banned is because a blemished ball led to the beaning and death of Ray Chapman. Pitchers caught cheating should be suspended for two weeks, and further offenders suspended for longer.)
OK. Time for me to take a deep breath and get back to the giveaways.
Astros Cap/Blindfold Night, Houston: The first 20,000 fans … wait, let's be realistic. Attendance being what it is this season in Houston, every fan who might possibly show up at the turnstile will receive an Astros Cap Blindfold, as well as one or two for their friends. The cap allows long-suffering Houston fans to show their stubbornly loyal support for a team that hasn't won a world championship in the franchise's 51-year history, while the blindfold allows them to avoid actually watching the Astros play (and lose again). Fans, however, will still be able to hear pitches pop into the catcher's glove as the Astros continue to swing and miss at a record pace of 10 strikeouts per game.
Yankees Orthopedic Shoe/Walker Night, New York: In a salute to aging, aching Yankees stars Derek Jeter, Mariano Rivera, Andy Pettitte, Ichiro, Curtis Granderson and others, the first 15,000 fans will receive Orthopedic Shoe/Walkers. These sensible white shoes provide plenty of arch support and come with either a cane or a walker for added balance and assistance during those long strolls to the concession stand. Note: Fans will also will receive confusing multiple bills for the items, with the final amount due dependent on their insurance company and Medicare status.
iCubs Night, Chicago, July 9: Facing opposition to their plan to erect a 6,000-square-foot video board at Wrigley Field, the Cubs will instead give all fans in the left field bleachers free iPads before each game. Those fans will then be asked to sit really, really, really, really close together and hold up their tablets after each pitch to provide a virtual Jumbotron for video replays, statistics and, most importantly, advertisements. Note: Fans are not to throw their tablets on the field when an opponent homers.
Nationals Sequestration Night, Washington: Due to sequestration budget cuts that are forcing closures and furloughs throughout the National Park Service, all fans* will be locked out of Nationals Park for the entire game against the Dodgers. (*Air traffic controllers, however, will be allowed in.)
Orioles "Iron Man 3" Night, Baltimore: In conjunction with the release of the new Marvel Comics movie, the first 10,000 fans 12 and under will receive replicas of the body armor worn by the true Iron Man superhero -- stirrup socks, white polyester baseball pants, an Orioles cap and a Baltimore jersey with the No. 8.
Pirates Refrigerator Magnet Nights, Pittsburgh: Fans who attended Pittsburgh's home opener in April received magnet schedules that listed games for the first four months of the season. Having learned the painful lessons of 2011 and 2012, the Pirates will hand out magnet schedules at the end of July for August and September … only if the team is still above. 500.
Josh Hamilton Trick Wallet Night, Anaheim: Have you seen these mini-wallets? You store your cash under two elastic bands on one side and then fold it closed. When you open the wallet again, the cash has somehow moved under the elastic bands on the other side. The difference with the Josh Hamilton wallets is that when you place $125 million under the elastic bands and open the wallet back up again, that money has magically disappeared! All you have for signing the slugger is a .208 average, nine RBIs and 38 strikeouts!
(This is similar to last year's Albert Pujols Trick Wallet, only worse.)
CSI: Box Score
Each week, I provide a fragment from an old box score and challenge you to determine what game it is from and why it's significant. I give this one a difficulty rating of 6.5. Answer below:
Baseball Card of the Week
Returning to our trip through the time machine that is the 1988 Topps set …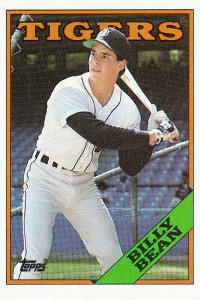 Note that this card (1988 Topps, No. 267) is of Billy Bean -- that's Bean without an "e" at the end -- and not Billy Beane, the future general manager who was also a player at the time. This Billy Bean hit five home runs in a brief and otherwise forgettable career. He became much better known after his retirement, when he announced that he is gay.
Last week, the NBA's Jason Collins became the first active (that is, he's "active" if he signs with another team before next season) male player in major U.S. team sports to announce that he is gay. There still are no openly gay active players in baseball. This perhaps is understandable, due to concerns about how teammates and opponents might react. But society's attitude toward gays has changed dramatically in the past 25 years. It's only a matter of time before a gay player comes out during his career -- and is also accepted by the majority of fans and his fellow players.
Box Score Line of the Week
Cincinnati's Donald Lutz became the first player raised in Germany to get a hit or drive in a run in the major leagues on Sunday (2 AB, 1 R, 1 H, 1 RBI) . "Hopefully, this will be big [in Germany]," he said of reaching the majors. "I just want to give kids a little more inspiration that they can do this, too. And also show people there's talent there in Germany, too. Maybe get a little more attention and awareness that there are some good young kids over there."
Meanwhile, Anaheim reliever Michael Kohn gave up an earned run in two-thirds of an inning last Wednesday despite striking out two batters and not allowing a walk or a hit (2/3 IP, 0 H, 1 R, 1 ER, 0 BB, 2 K, 1 HBP). Miami's Adeiny Hechavarria drove in seven runs Sunday (4 AB, 1 R, 2 H, 7 RBIs), while Roy Halladay had another bad game (2 1/3 4 H, 9 R, 9 ER, 4 BB, 4 K) and was placed on the disabled list.
But this week's award goes to Mets starter Matt Harvey, who continued his great season by retiring the first 20 batters he faced Tuesday and finishing just an infield single shy of nine perfect innings. His line:
9 IP, 1 H, 0 R, 0 ER, 0 BB, 12 K
As outstanding as the performance was, Harvey did not get the win because the Mets failed to score in those first nine innings. They finally won in the 10th after Harvey was out of the game.
Yeah, Well, That's Like, That's Just Your Opinion, Man
This Screed Guarantees Strasburg Throws A Two-Hit Complete Game And Fans 16 His Next Start. This was the headline on our Associated Press recap of the Nationals' come-from-behind victory over the Pirates on Saturday: "Stephen Strasburg strikes out 8, earns no-decision in Nationals' win." No mention up top that he gave up four runs or that he again failed to pitch more than seven innings. The AP story itself does not note until the seventh paragraph how the Nationals won in the ninth inning.
Now, I understand that after the concerns about Strasburg's arm, his performance in Pittsburgh was of considerable importance and interest. And I think he is a very good pitcher, who could be great. But the hype about him and the attention on him are totally beyond his performance so far. You can't be considered an ace when you have never pitched more than seven innings in a game, let alone thrown a shutout. You can't be considered an ace when there is a better pitcher on your own roster (Gio Gonzalez last year, Jordan Zimmermann this year). And you can't be considered an ace when there is always some concern about the health of your arm. I know strikeouts are the latest craze, but everyone strikes out lots of batters these days. The name of the game is still giving up the fewest runs in the most innings possible. And Strasburg simply hasn't done that well enough yet to justify the hype.
Drunk Bullies On Steroids Would Be The Worst Of All. A survey sponsored by the Hall of Fame and others reported last week that "only" 19 percent of Americans consider possible steroid use by athletes under 18 to be a big problem. The study's authors reacted as if this is an alarmingly low percentage, but I disagree. As the survey noted, the areas of concern for adolescents that ranked ahead of possible steroid use are alcohol abuse, bullying, obesity, marijuana use and eating disorders. I'm not saying steroid use by high school athletes isn't a real problem, but those other issues are definitely more pressing and farther-reaching concerns.
CSI: Box Score Answer
There were a couple of clues in the box score fragment, and one clue very much outside the fragment. First, the clues inside the box. The name Ripken identifies this as a Baltimore box score, and the names around it -- Palmeiro, Bonilla, Baines, Hoiles -- indicate this is a game from the mid-1990s. But which game? That's where the clue from outside the box score comes into play. "Iron Man 3" generated nearly $175 million in box office revenue when it opened last weekend. But for big days, we'll go with Sept. 6, 1995, when Cal Ripken Jr. became baseball's all-time Iron Man by breaking Lou Gehrig's record for consecutive games played.
That's the box score this fragment comes from. Regardless of the final box office haul for "Iron Man 3," I'll take the original Iron Man over Tony Stark.