Is there a better occasion to celebrate a landmark birthday than Turn Back the Clock Day? Probably not. But unfortunately for my friend, Sarge, who will celebrate his 50th birthday this weekend by watching the Cubs play the Mariners on Turn Back the Clock Day at Safeco Field, you can't turn the clock back far enough.
As I've written a number of times over the years, Sarge is such a devoted Cubs fan that he got engaged in front of the Wrigley Field marquee on Opening Day 1993 and later named his three wonderful daughters Kerry (for Kerry Wood), Sammy (for Sammy Sosa) and Addison (for the street bordering Wrigley).
Yes, his wife is a saint.
Sarge, meanwhile, is a martyr. I mean, we're talking about a Cubs fan who grew up and lives in Seattle. His favorite team has not been to the World Series in 68 years (and won't get there this year, either) and hasn't won a world championship in more than a century. And he lives in the only major league city that has NEVER hosted a World Series, and also once lost a Major League Baseball team to another town.
What fan could possibly have suffered more in the past half-century?
Indeed, this weekend's Cubs-Mariners series is such a matchup of baseball's "Les Miserables" that instead of "Take Me Out to the Ballgame," they should have Anne Hathaway sing "I Dreamed a Dream" while getting her hair shorn off during the seventh-inning stretch.
They play each summer in the park
They fill my days with endless losses
Their top prospects always fail
And they are always gone when autumn comes.
But which team's fans are baseball's most "Les Miserables?" Before answering that, we must first determine this: Is it more miserable to feel agonizing pain in October or to never reach October at all?
Having experienced both growing up as a Giants fan -- until its two recent World Series titles, San Francisco alternated between long stretches of despair and short bursts of pain -- I can assure you that having your hopes occasionally crushed in the postseason is nowhere near as miserable as having no hopes at all from Opening Day to the final pitch of the regular season.
After all, Red Sox fans had their moments of pain prior to their 2004 and 2007 World Series wins, but they were by no means alone in that regard. Besides, most fans would gladly opt for a team that gives them cause to feel some emotion at season's end -- aside from the anger over their last-place team raising ticket prices again.
The following, thus, is a revision of my original Misery Index from the spring of 2004. Back then, I weighed the pain of heart-wrenching late-season endings equally with the despair of season-long (and longer) losing. But having the local Mariners suffer through seven losing seasons in the nine years since then has changed my view.
So this time around, historic and recent pain is worth no more than five points, while historic and recent despair still are worth 10.
My earlier Misery Indexes (here's the 2006 and 2011 versions) ranked every team, but let's be honest. What misery have Cardinals fans endured aside from the Don Denkinger call and Tony La Russa's frequent pitching changes? So this edition includes only teams that have been around long enough and suffered enough to be considered among baseball's true "Les Miserables."
Yes, they've had some great teams in recent seasons, including the 2008 American League champions. But thanks to nine last-place seasons in their first 10 years, they also still have the majors' lowest winning percentage (.456). Plus, their fans have lived with the threat of relocation for virtually the team's entire history. Well, the few actual Tampa Bay fans in existence have lived with that threat.
Some will question why a team that has been to the World Series twice in the past three years is on this list. Well, first, Texas fans have endured decades of awful teams. And second, after finally reaching the World Series, they endured an embarrassing five-game defeat to the Giants followed by a painful ending when they TWICE came within one strike of a championship against the Cardinals. Sigh. If only Nelson Cruz had caught that ball.
Aside from the Rockies' magical late-season comeback in 2007 (which resulted in a World Series sweep at the hands of the Red Sox), Coors Field has mostly provided Colorado fans with a good site to drown their sorrows.
The saddest thing about the end of the 1992 National League Championship Series? That as painful as that was, it probably was the Pirates' high point of the past 20 years, all of which have resulted in losing seasons. And while they are currently 17 games above .500 and only a game out of first, forgive Pittsburgh fans if they feel like they've seen this summer movie plot a time or two or three or four or five … before.
The Royals won the World Series in 1985, which is fortunate because they have had nothing to celebrate since. They've gone longer than any other current team since their last postseason appearance (28 years), and in the past 20 years they've had twice as many 100-loss seasons (four) as winning seasons (two). No wonder their fans were so quick to boo at last year's All-Star Game.
The Brewers have been to the postseason just four times and been to the World Series only once, and that was 31 years ago. (Naturally, they lost.) Sheesh. No wonder they drink so much at their tailgate parties. Then again, maybe this is just payback for stealing the Pilots from Seattle in 1970.
The team hasn't won the World Series in 65 years, and the two times it has appeared in the Series since then have been most painful (curse you, Jose Mesa!). No wonder the club served as the basis for the "Major League" movie trilogy. Say what you will about those films. At least they were occasionally funny.
During the 1974 home opener, then-owner Ray Kroc grabbed the public address microphone and told fans, "Ladies and gentlemen, I suffer with you … I've never seen such stupid baseball-playing in my life." Well, those fans would see more, much more. The Padres have finished in last place in just over one-third of their seasons (15 out of 44). They've been to the World Series twice but were routed both times. Worst of all, they wore those hideous chocolate-and-mustard uniforms.
Few teams have suffered more with less national attention than the Astros. They've endured both painful endings (1981 and 1986 playoffs) and years of despair (this could be their third consecutive 100-loss season). Even when they finally reached the World Series in 2005, they were swept by the White Sox (including a demoralizing 14-inning loss). Plus, they had to wear those awful rainbow jerseys.
Let me repeat: Seattle is the only city that has never hosted a World Series. Sure, the Mariners have only been around since 1977, but Seattle has finished in last place nearly as many times (13) as the Cubs (14) in 100 fewer seasons! And while Houston and San Diego had some bad unis, don't forget the Mariners had the upside-down trident. The Mariners haven't been to the playoffs in 12 years. I mean, we're talking about a team whose fans are forced to celebrate winning a division series 18 years ago as the greatest moment in club history.
By this time next year, the Cubs will have lost their 10,000th game. Plus, they have the Billy Goat Curse, the College of Coaches, the Bartman Game and Alfonso Soriano's contract. They are such a national punch line that Sarge's daughter, Sammy, recently saw them used as a cautionary tale in a drivers education video. Yes, a drivers ed video! When your fate is considered on par with footage of horrific car crashes, there is no way you cannot top the Misery Index.
So this weekend's Cubs-Mariners series matches the two franchises that top my 2013 Misery Index. Don't agree? That's OK. I can always re-evaluate. After all, I'll have ample opportunity. In addition to the upcoming three games against the Cubs, the Mariners host home series against the Rays, Rangers, Pirates, Brewers, Royals, Cleveland, Padres and Astros (three times) this year.
CSI: Box Score
Each week, I provide a fragment from an old box score and challenge you to determine what game it is from and why it's significant. I give this one a difficulty rating of 5. Answer below.
Baseball Card of the Week
Returning to our trip through the time machine that is the 1988 Topps baseball set . . .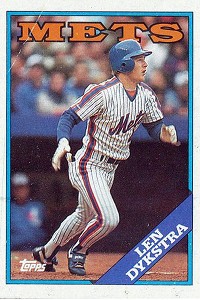 Lenny Dykstra (1988 Topps, No. 655) earned $305,000 in 1988 and another $36 million in his career – which, apparently, wasn't enough to keep Nails out of prison for a year for grand theft auto and bankruptcy fraud (but not for industrial waste from all the tobacco he spit on outfields across the country). Dykstra was released from Victorville Federal Correctional Complex in California last week. Here's hoping he learned his lesson (though, for some reason, I doubt he has).
Box Score Line of the Week
Minnesota's P.J. Walters had a terrible start on June 22 against the Indians despite allowing only one hit (2/3 IP, 1 H, 6 R, 6 ER, 5 BB, 0 K), while Tampa Bay's Alex Colome didn't fare well in his start against the Yankees on the same day, either, despite keeping his ERA at 0.00 (4 1/3 IP, 5 H, 3 R, 0 ER, 5 BB, 3 K). And then there was San Diego's Clayton Richard, who lasted just two pitches in his start on Friday against the Dodgers before walking off the mound with an injury. Doug Kern of ESPN Research points out that because the count was only 1-1 when Richard left, reliever Tim Stauffer was credited with the at-bat. So Richard officially faced zero batters (0 IP, 0 H, 0 R, 0 ER, 0 BB, 0 K, 0 batters). He's the first starter to be charged with zero batters since 1949.
But this week's award goes to Oregon State's Matt Boyd, who had a slightly more impressive start last week when he threw the first 1-0 shutout at the College World Series in 28 years. His line:
9 IP, 4 H, 0 R, 0 ER, 3 BB, 11 K
Apparently, the recent restrictions on non-wood bats in college ball are having an effect. There were only three home runs hit the entire CWS, the fewest since the introduction of metal bats in 1974.
Yeah, Well, That's Like, That's Just Your Opinion, Man
The Next Movie In The Series Will Be Titled "Before The Mariners Reach The World Series." "Before Midnight" is not the answer to the trivia question: "When will the Yankees-Red Sox game finally be over?" Rather, it is the antidote to the plague of the usual summer movie blockbusters. The new movie is the third in a series that began with 1995's "Before Sunrise," in which two twentysomething students, Jesse (Ethan Hawke) and Celine (Julie Delpy), meet on a train. They get off in Vienna and fall in love as they aimlessly wander the city -- they walk more in one night than Tony La Russa did in a career of visits to the mound. Nine years later came 2004's "Before Sunset," in which the two reconnected in Paris when they were in their 30s. In "Before Midnight," Jesse and Celine are still together and showing their age more than Jamie Moyer. But they are still walking, talking (and arguing) in a lush European locale (Greece's southern Peloponnese). If you want car chases, superheroes, guns and explosions, this is definitely not the movie for you. But if you appreciate great acting and provocative dialogue about life and relationships, and enjoy the presence of two friends we've come to know and love, then get to the theater. Because it will be nine long years before the next installment in 2022, when Jesse and Celine are 50 years old and discussing whether Bud Selig is ever going to rule on the Athletics' desire to move to San Jose.
CSI: Box Score Answer
Cubs fans undoubtedly got this one right away. The big clues were (A) the seven runs San Diego scored in its victory, (B) the mid-80s era names of the players (Sutcliffe, Gwynn, Sandberg, Dernier, etc.) and, of course, (C) that error for Durham. Yes, sadly for Cubs fans, this was Game 5 of the 1984 NLCS (back when it was a best-of-five) when the Cubs blew a two-game lead in the series, then blew a 3-0 lead in the deciding game, with the most painful blow coming when first baseman Leon Durham let a ball bounce between his legs for a crucial error in the decisive seventh inning.
Sorry to bring up the bad memories, Cubs fans.