I'm 51, but I honestly don't feel any older than when I was 21 or 31 … until I look in the mirror or at a recent photo or hear yet another piece of walk-up music that I can't identify.
Raul Ibanez shares that feeling, though he's probably better on the walk-up music.
"People ask me, 'Do you feel 41?' And I don't know what that's supposed to feel like," Ibanez says. "I don't really remember what it felt like to be 25, so it doesn't really matter. I feel good."
Actually, Ibanez should be feeling great. He turned 41 a month ago, and he already has 22 home runs this season. He is on pace to hit more home runs than anyone 40 or older ever has. Darrell Evans hit 34 home runs at age 40, and Ted Williams hit 29 at age 41.
Now, I know some people are looking at Ibanez's numbers with raised eyebrows. When he got off to an even better start in 2009 -- 20 home runs by early June -- there was a brief furor over a blogger raising the possibility of PED use (without directly accusing Ibanez). Such is the age we live in. Every great athletic performance faces such speculation. But Ibanez vigorously denied it, saying, "You can have my urine, my hair, my blood, my stool -- anything you can test. I'll give you back every dime I've ever made [if the test is positive]." And I believed him.
If Evans could hit 34 home runs at age 40, it is not a stretch for Ibanez to challenge that mark. The body is capable of more than we realize as we age.
"Your strength goes up in your late 30s, if you have a good base," Ibanez says. "I think the one thing you have to work on is your foot speed and your fast-twitch muscles.
"I'm physically stronger than I was five years ago. The weight doesn't lie. … Strength isn't the problem -- you have to make sure your reflexes and speed stay. And there's so much science that allows us to focus on that."
Plus, as we get older, he says, "Your training gets smarter and your eating habits get smarter and better. You learn how to do those things better."
Indeed. Talking with Ibanez about diet and conditioning is like a conversation with Dr. Oz. He is a good reminder that many performance enhancers are nothing more than a healthy diet and approach.
"I've eliminated some foods from my diet," Ibanez says. "I don't eat gluten anymore. I've had some intolerance to gluten and dairy and I don't eat that anymore. I try to eat more natural stuff that's been fished or hunted or picked or pulled. I don't eat many processed foods. [My diet] is not anything crazy. I don't eat gluten or dairy. I probably eat 80 percent nonprocessed foods. I still eat the other stuff sometimes. It's just a lifestyle. It helps with your soreness and it can help your energy levels."
Ibanez says his typical breakfast consists of three omega-3 eggs (eggs from hens fed with a heavy diet of omega-3 fatty acids), sweet potatoes chopped and cooked in olive or coconut oil, and perhaps some kale cooked with garlic.
Babe Ruth probably did not eat kale for breakfast. For that matter, there probably aren't many ballplayers who eat it now, either, for any meal.
Not that Ibanez is a vegan.
"I try to eat grass-fed beef only, because I notice a significant difference if I eat grass-fed beef in the way my body feels," Ibanez says. "My ankles feel better if it's grass-fed. I don't want to get the cattle ranchers pissed at me; but if it's something that's not grass-fed, I can feel a difference. My wife makes fun of me. I'll wake up and say, 'That wasn't grass-fed beef we had.' And she says, 'Ohhhhh, it's your ankles.'"
American tennis player Bethanie Mattek-Sands is 28 but has dealt with a long string of injuries much of her career. Last winter, she learned she had 26 food allergies and drastically changed her diet. She told me at the French Open that the new diet has helped her body recover from injury much faster and more consistently. When I related this to Ibanez, his eyes lit up.
"I love to hear that because when I say it sometimes to friends who don't believe in that, they go, 'Oh, c'mon,'" he says. "But if I drink 10 cups of coffee, is that going to make me feel a certain way? Probably. Forget the intolerance issue. If you go eat five bowls of ice cream, it's going to make you feel a certain way. Food will act almost like a drug if you use it the wrong way.
"Five cups of green tea a day are probably good for you. Twenty cups of caffeinated green tea a day? Probably not so good."
Ibanez draws some inspiration from Christopher McDougall's bestseller "Born to Run," about ultra-marathoners, including the Tarahumara Mexican Indian tribe, who are capable of running hundreds of miles and rely heavily on Chia seeds in their diet. McDougall also writes about a study of marathon times that revealed people who begin running marathons around age 19 will reach their peak in their late 20s. But their marathon times will not drop back to the level when they first started in their teens until they are in their 60s.
"I have a friend who is a Navy SEAL and he's 42," says Ibanez, who has added exercise routines that emphasize fast-twitch muscles. "He still has to do all the stuff they do. And he's still doing it. If he can do that, if Bernard Hopkins can defend a light heavyweight title at 48, if Randy Couture can fight at 47 in the world of UFC, [we can] play baseball later in our life."
An 80-year-old climbed Mount Everest in May. Last year, a 100-year-old man cycled 100 kilometers in 4 hours and 17 minutes -- roughly 14½ mph, a speed most Americans would struggle to match at any age.
Compared to that, what Ibanez is doing isn't so amazing.
"A lot of it has to do with your mindset," Ibanez says. "Not allowing what everyone tells you about how you're supposed to feel and what you're supposed to do, not allowing that in your head to the point where you start believing it or dwelling on it."
We can do more than people think we can. Last summer, I celebrated my 50th birthday by riding up Alpe d'Huez, the iconic climb of the Tour de France. I made it up the 21 switchbacks that rise 3,700 feet over 9 miles in 1 hour and 18 minutes. The rental car my wife drove, meanwhile, did not make it to the top, stalling on the steep incline. I wouldn't have made it either at age 40 or 30 or 20, before I got into cycling.
I'm 51, but I'm in better shape than I ever was before I started cycling. I know that at some point, I will decline. I will get old. Aging is inevitable. But I will postpone that for as long as possible.
Watching Ibanez hit home runs does not make me feel suspicious. It makes me feel younger.
Now, if I can just avoid looking in a mirror.
CSI: Box Score
Each week, I provide a fragment from an old box score and challenge you to determine what game it is from and why it's significant. I give this one a difficulty rating of 4. Answer below:
Baseball Card of the Week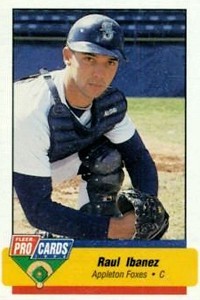 Yes, that is Raul Ibanez (1996 Fleer U81) behind that catcher's gear. A 36th-round draft pick in 1992, Ibanez began his career behind the plate, though by the time this card came out, he had been shifted to the outfield and first base. He played catcher in only two games after the start of the 1996 season -- one game in the minors (1996) and one game in the majors, when he caught four innings of a 1999 game for the Mariners.
Box Score Line of the Week
Pablo Sandoval was charged with an at-bat and a catcher-unassisted out he never had on Saturday, while Buster Posey was charged with only one at-bat despite batting twice in a row (doubling and flying out). How did that happen? In the first inning, Posey batted third and doubled, but Sandoval was the No. 3 hitter listed on the lineup card. So when Dodgers manager Don Mattingly pointed this out, Posey was called out and the at-bat charged to Sandoval. And then because Posey was the No. 4 hitter on the lineup card, he immediately batted again.
Meanwhile, Miguel Cabrera had his sixth 4-for-4 game of the season on Sunday (4 AB, 1 R, 4 H, 2 RBIs). And Anaheim reliever Kevin Jepsen had an odd three-hit game, in which he allowed hits to the only three batters he faced, retired no one and yet escaped without allowing a run (0 IP, 3 H, 0 R, 0 ER, 0 BB, 0 K). But this week's award goes to Chicago's Alex Rios for his six-hit game on Tuesday. His line:
6 AB, 1 R, 6 H, 2 RBI
Rios is the 32nd player in AL history to get six hits in a nine-inning game. As Adam Dunn told reporters, "That takes people like me, two, maybe three weeks, to get six."
Yeah, Well, That's Like, That's Just Your Opinion, Man
A Great Honor (Though One You Want Delayed As Far In The Future As Possible). As colleague Paul Lukas points out, the Angels are wearing patches on their uniforms to honor the late Dr. Lewis Yocum, the Anaheim orthopedic surgeon whose skills helped save the careers of many, many players. But the Angels aren't the only ones wearing the patches. As Lukas reported, several players from opposing teams have worn the patch when playing games against the Angels in Anaheim. This is a wonderful thing and demonstrates that Yocum had a profound effect throughout baseball. These players aren't wearing the patch simply because the team makes them do so by sewing it on their jerseys; they are wearing it because they genuinely want to honor the man. It is a fine and deserved tribute.
Alas, Craig Biggio Didn't Make This Hall, Either. The Baseball Reliquary will induct several new members into its Shrine of the Eternals later this month. Among those being honored are San Francisco legend Lefty O'Doul, who led the National League in batting twice (once with a .398 average) and hit .349 for his career. He was part of the 1934 baseball tour of Japan with Babe Ruth, Lou Gehrig and others, and also played a large role in promoting baseball in Japan. (He already is a member of Japan's baseball Hall of Fame.) His restaurant, Lefty O'Doul's, remains a beloved eatery where I have watched a game or two in San Francisco. Softball legend Eddie Feigner -- who struck out 140,000 batters, won 9,700 games and threw 930 no-hitters as the head of The King and His Court touring team -- also will be inducted, as will pinch-hit artist Manny Mota. The Baseball Reliquary honors players based less on their statistics and more on their cultural contribution to the game. Among previous inductees are Jim Bouton, Jackie Robinson, Jim Abbott, Pam Postema, Pete Rose, Marvin Miller, Bill James, Mark Fidrych and even Charlie Brown and Annie Savoy.
Anna Benson Might Be Another Possibility. Looking for a good summer read? I just finished yet another entertaining and insightful novel about the wife of a more famous husband: "Z'' by Therese Anne Fowler. Like "The Paris Wife'' about Ernest Hemingway's first wife (Hadley Richardson) and "The Aviator's Wife'' about Charles Lindbergh's wife (Anne Morrow Lindbergh), this novel sympathetically focuses on the trials and tribulations of F. Scott Fitzgerald's wife, Zelda. Fowler provides a vivid portrayal of the Fitzgeralds' wild life from Zelda's perspective. I love this new genre and can't wait until someone gives us a similar take on "The Slugger's Wife'' and what it was like to be Babe Ruth's first wife. (I would suggest Rachel Robinson as another fascinating study, but she is still very much alive and so can tell us first-hand what it was like to be Jackie Robinson's spouse. )
CSI: Box Score Answer
There were a lot of clues in this fragment. First, there are all those names -- Hernandez, Gooden, Dykstra, Darling, Backman, Murphy, Forster, Sutter -- which are a pretty good indication that this game took place in the mid-80s. Then there was the time of game (6:10) and all those innings (19, if you added them up). And finally, there was the home run (Camp, 1). Put them all together and it becomes clear that this box score fragment is from one of the most famous Fourth of July games ever played, the 1985 game between the Mets and Atlanta.
Fans were invited to stay after the game for a July 4 fireworks display that night, but a long rain delay and many comebacks sent the game deep, deep, deep into the night. The Mets finally appeared to have the game in hand with a 10-9 lead and two out in the bottom of the 18th. Because Atlanta was out of pinch hitters, pitcher Rick Camp had to bat for himself. He fell behind 0-2 … and then hit the only home run of his career to tie the game and send it into yet another extra inning.
The Mets scored five runs off Camp in the 19th, then held off yet another comeback, with Camp making the final out. The game ended at 3:55 a.m. and the fireworks started at 4:01 in the morning.