Russell Wilson, the dynamic young quarterback for the Seattle Seahawks, is all too aware of how demanding, draining and yes, painful, the sport can be.
After all, he endured those miserable, body-stiffening, butt-aching, 10-hour minor league bus rides, too.
"People don't realize how much you have to travel and how much you have to continually mentally grind [in baseball]," says Wilson, who played two summers in the minor leagues. "I think that's the thing that's helped me in football, too. The idea of staying focused on one pitch at a time, one play at a time. And also having amnesia. You have to forget about the pitch before, the inning before your last at-bat. You have to have that type of mentality."
"When you can do that and relax and stay focused on the moment, the better off you are."
Wilson was drafted out of high school by the Baltimore Orioles in the 41st round of the 2007 draft. He chose to go to college at NC State instead, then was drafted again by the Colorado Rockies in the fourth round in 2010. He signed with Colorado as a second baseman and played two seasons at Class A, hitting .230 with a .713 OPS in the Northwest League in 2010 and .228 in the Sally League in 2011.
Like Crash Davis, he ended his minor league baseball career with the Asheville Tourists. Unlike Crash, instead of returning to Annie Savoy and a possible winter job at Sears, Wilson transferred to Wisconsin for his senior year of football in 2011. The Seahawks drafted him in the third round a few months later, and he went on to a dazzling rookie season last year.
"There wasn't anything I didn't like about baseball," Wilson says. "It was obviously a struggle, and you have to continue to fight through it, but that's part of the game and that's why you love the game of baseball. But I just knew I had this other love, this crazy passion about football and nothing was like it. I was absolutely in love with it. I knew that playing with two minutes left in the game and 80,000 people either rooting against you or cheering for you, that's what I wanted to be a part of, and that team effort.
"At the same time, I also did love playing baseball. I played it since I was three years old. I never didn't like it.
Joe Mikulik, who managed Wilson at Asheville, told ESPN Playbook that Wilson had the best work ethic on the team and that "I'd have put a paycheck on it that this kid was going to make it to the big leagues."
"People think baseball is so easy but it's not," Wilson says. "I have a lot of respect for pro baseball players because they're mentally tough, physically tough. They don't go in there and get hit by 250-linebackers or 350-pound defensive lineman, but at the same time, it's an everyday thing. You have to be mentally tough to do it."
Wilson is just the latest of more than a dozen NFL players since 1980 who also have played pro baseball. Among the notables:
• John Elway hit an impressive .318 with four home runs, 13 stolen bases, 26 runs and 25 RBIs in 42 games for the Yankees Class A Oneonta team in 1981. He gave up baseball to play in the NFL and crush the hopes of Cleveland Browns fans rather than those of Cleveland Indians fans. George Steinbrenner probably referred to him as "Mr. January."
• A second round pick in 1990, Chris Weinke played six seasons in the Toronto Blue Jays farm system, reaching Triple-A but never the majors. He gave up the sport and entered college with Florida State in 1997 at age 25, possibly looking to be known as "Chris Football" rather than "Chris Minor League Baseball." Good decision. As the Jamie Moyer of college football, Weinke won the Heisman Trophy at age 28 in 2000, then played seven years in the NFL.
• While at the University of Texas, Ricky Williams played four seasons in the Phillies system, batting .211 with a .526 OPS and never rising above Class A. He was a little more successful in football, winning the 1999 Heisman Trophy and rushing for 10,000 yards in the NFL despite testing positive for more weed than a Deadhead bus tour.
• DJ Dozier helped lead Penn State to the 1987 national championship and played in the NFL until 1991. He signed with the Mets in 1990 and reached the majors briefly in 1992. He hit .191 in 25 games, which was almost good enough to be named the MVP on what was termed as "The Worst Team Money Could Buy."
• Brian Jordan played briefly with the Atlanta Falcons before giving up football to concentrate on baseball. He played 15 seasons and made an All-Star team. When I asked him several years ago about the rigors of spring training compared to football training camp, he said that in baseball, "You have to make sure you get your suntan lotion on right so that you don't burn in the sun."
• And, of course, there are Bo Jackson and Deion Sanders. The 1985 Heisman Trophy winner, Bo might be the most famous multisport athlete in history ("When is that Tour de France thing?") while Sanders famously played in Game 4 of the 1992 NLCS one night, played in an NFL game the next afternoon and then helicoptered back to baseball to be available for that night's Game 5 of the NLCS.
"I always wanted to be like Deion and Bo," Wilson says. "I wanted to do that two-sport thing. But playing quarterback is a little different than playing running back or defensive back. It takes more time."
"I've always had that dream of playing two sports. That's never really faded away from me, but at the same time, I love my job so much I wouldn't change anything."
Bo's career was cut short due to a hip injury that required an artificial replacement after he was tackled on a run. He isn't the only football player who had injuries ruin a promising career. Injuries and brain damage in football also can lead to serious long-term post-career problems as well. Baseball is far healthier and safer. Wilson says he took the risk of injury into account when choosing football over baseball, but figured he would be OK if he took care of himself in football. Here's hoping he's right and has a long, healthy and successful career.
And if he one day changes his mind, decides to give that two-sport thing a try and leads Seattle's baseball team to the postseason, that would be nice, too.
CSI: Box Score
Each week, I provide a fragment from an old box score and challenge you to determine what game it is from and why it's significant. The challenge for you is to figure out why. I give this one a difficulty rating of 8. Answer below:
Baseball Card of the Week
We know what Wilson looks like with a football in his hand. Here's what he looked like with a bat in his hands while playing for the Northwest League's Tri Cities Dust Devils (2010 Topps Pro Prospects No. 435)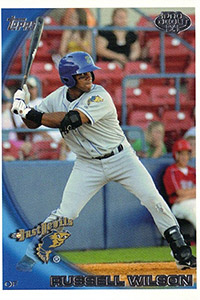 Boxscore Line of the Week
Matt Harvey (9 IP, 4 H, 0 R, 0 ER, 0 BB, 6 K) and Stephen Strasburg (9 IP, 4 H, 0 R, 0 ER, 1 BB, 10 K) both threw their first major league complete games and shutouts last week (though Harvey had previously thrown nine scoreless innings in a start but that did not count as either a complete game or shutout because the game went 10 innings). And Yu Darvish once again took a no-hitter into the eighth inning against Houston (8 IP, 1 H, 1 R, 1 ER, 1 BB, 15 K).
Meanwhile, St. Louis rookie Shelby Miller's start Wednesday was a tad shorter -- he threw just two pitches before leaving after being hit by a line drive (0 IP, 1 H, 0 R, 0 ER, 0 BB, 0 K). Jake Westbrook filled in later and allowed 13 hits (4 2/3 IP, 13 H, 9 R, 9 ER, 2 BB, 1 K), the most hits given up in a relief appearance since Elmer Dessens allowed 14 in 2000.
Then there was Boston knuckleballer Steven Wright, who also didn't make it past the first inning last Tuesday (1 IP, 1 H, 3 R, 3 ER, 2 BB, 1 K, 1 WP). His knucklers were dancing so much that Red Sox catcher Ryan Lavarnway takes home this week's award with this line:
PB-Lavarnay 4.
The four passed balls tied the record for the most by a catcher in one inning (most recently done by Geno Petralli in 1987).
Yeah, Well, That's Like, That's Just Your Opinion, Man
Will He Wear A Backwards Mariners Cap On His Cooperstown Plaque? The Mariners finally had their first sellout of the season Saturday night when they played Milwaukee. That wasn't because fans wanted to see Seattle shut out 10-0 by the last-place Brewers but rather because the Mariners inducted Ken Griffey Jr. into their Hall of Fame before the game. Many players paid tribute to Griffey over the weekend, including Bo, Willie Mays and Ichiro. In his video tribute, Mays talked about how Junior will be inducted into another Hall of Fame in Cooperstown in a couple years, while Ichiro called Griffey his hero in another video and then turned his cap around backwards. And the Mariners players also wore their caps backwards while watching the ceremony from the dugout. Griffey said that he didn't wear his cap backwards as a fashion statement, but because when he was a kid, if he wore his father's cap, it would bounce around too much due to the extra large size Senior wore when he had an afro. Griffey said he had to turn the cap around so that he could see.
Work Caps Count But Stirrup Socks Probably Don't. One of the more natural endorsement deals is that between Dickie's work clothes and R.A. Dickey. "We don't spell our name the same but the brand likes attaching itself to someone who has a journey like mine," Dickey said. "I would have to change my name before they change theirs." Under the current promotion, people can submit photos of themselves in Dickie's work clothes to the company's Facebook page with multiple winners receiving free clothing and the grand prize winner receiving free tickets to the World Series.
CSI: Box Score Answer
The clues for this week's fragment were the story on Russell Wilson, plus the names of those early 1990s White Sox and this bit: HR-Jackson (1). That's because this boxscore was from the 1993 game when Bo returned to baseball after missing a season because of hip replacement surgery necessitated by the tackle he took while playing for the Raiders. In typical dramatic fashion, Bo homered in a pinch-hit appearance that day.
Sigh. If only Bo had not played football.