He began his major league career wearing a Seattle Mariners uniform and he might finish it wearing the dreaded New York Yankees pinstripes. Regardless of what uniform he has been in, though, the former MVP and many-time All-Star has always been the focus of an entire nation. His every movement, action and photo has drawn disproportionate media coverage, and still the demand of baseball fans and celebrity gawkers somehow is never satisfied. Even the man holding his country's highest office cannot help occasionally weighing in on his exploits.
By the way, I'm not talking about A-Rod. I'm talking about Ichiro, the clean ex-Mariner.
While the attention of the media has been glued to the increasingly ugly Alex Rodriguez story almost exclusively, Ichiro Suzuki has been approaching an incredible milestone. Ahead of Wednesday night's game against Toronto, he was just one shy of a combined 4,000 hits over the course of his career in Japan and our major leagues. But after getting a first-inning single off R.A. Dickey, he had 1,278 hits in Japan, and currently has 2,722 and counting here.
This is a staggering accomplishment. There are only two players who reached the 4,000-hit mark in major league history: Pete Rose and Ty Cobb. According to various sources, only five players had 4,000 hits in the majors and minors combined: Rose, Cobb, Hank Aaron, Stan Musial and Jigger Statz (a little-known player because 3,356 of his hits were in the old Pacific Coast League). Whether you count Japan as a major league or a minor league -- or something in between -- Ichiro is about to join that elite fraternity.
So can we please briefly change channels from the annoying reality show that is "Keeping Up With the A-Rod" and give proper attention to what Ichiro has done?
Ichiro moved from Japan to our majors in 2001, when A-Rod signed his enormous contract and purportedly began (wink, wink) using steroids. That was the peak of the PED era; but while a certain infielder might have been bulking up, Ichiro showed that an outfielder smaller than some players in the Little League World Series could be a dazzling All-Star and MVP. The highlights remain devoted to hulking sluggers, but Ichiro is a refreshing reminder that infield singles and gappers can be just as exciting as tape-measure home runs.
Forget the way A-Rod treats his body. The near-religious care Ichiro shows for his bats is far more interesting.
He famously keeps his bats in a humidor containing a chemical rod that prevents the bat from gaining or losing moisture. He does not allow batboys to carry his bats. He was so particular about keeping his game bat in a select spot in the Mariners' dugout that Seattle drilled a hole in the bench for it. Early in his Japanese career, he lost his temper after an out, threw his bat to the ground in frustration -- and then felt such remorse for this abuse that he took the bat back to his hotel room in apology. Call me nuts, but I find that a more compelling story than taking Madonna to your hotel room.
He is a man of ritual and careful preparation. While in the on-deck circle, Ichiro stretches in a semi-Sumo crouch that would burst Bartolo Colon's hamstrings. He steps to the plate, points his bat skyward and touches his shoulder in what became as much a signature Seattle gesture as a barista pulling an espresso shot.
And then there are the hits, 4,000 of them now. Ichiro finishes his swings in such a way that he is almost on his way to first base before he even makes contact. Usain Bolt could not reach first base faster than Ichiro did in his prime. There was never such a thing as a routine grounder with him. Every ball he hit on the ground was an adventure. Would the throw beat him, or would he beat the throw? A simple grounder to short would leave fans on the edge of their seats.
Of course, many of Ichiro's grounders are not simple. The advanced-stat guys insist that once a batter makes contact, it's mostly a matter of luck whether the ball finds a hole or a glove. It never seems that way with Ichiro. He seems able to deftly place the ball with the skill of Phil Mickelson chipping onto the green. I still recall a ball he lifted just above the pitcher's reach that landed and absolutely stuck in the ground behind the mound for a mesmerizing single. Verne Lundquist should have been doing the play-by-play and a caddy should have followed Ichiro to first base.
While he is best known for his singles, Ichiro also has hit more than 200 career home runs (counting his nine seasons in Japan). His first career home run in Japan was off Hideo Nomo. His 100th was off Dice-K. He's an equal opportunity slugger -- in addition to Japanese and Americans, he has homered off pitchers from Australia (Grant Balfour), Taiwan (Chien-Ming Wang), South Korea (Hyun-Jin Ryu) and many more countries. He has homered off Roger Clemens, Justin Verlander, Mike Mussina, CC Sabathia (three times) and Mariano Rivera (a game-winning shot). He hit an inside-the-park home run to earn MVP honors at the 2007 All-Star Game.
Ichiro was the first Japanese player to reach the 200-hit mark in a single season (back when the Japanese season was only 130 games). He reached 200 hits in each of his first 10 seasons here, including in 2004 when he broke George Sisler's 84-year-old single-season record with 262. He led Japan's Pacific League in batting seven consecutive times, and he led our American League twice. He was a three-time MVP in Japan in addition to his 2001 MVP here. He hit .353 in Japan, has a .320 average here and a.330 average between the two leagues.
Oh, Ichiro has his negatives. He can be selfish and so focused on his hit total that he has occasionally put his spot in the order (and position in the field) ahead of the team's interest. He can be standoffish from teammates. He routinely conducts interviews with his back rudely turned to reporters. He still holds such a petty grudge against Hideki Matsui dating to a perceived slight in high school that he didn't even go onto the field when Matsui was honored for his retirement ceremony last month.
All that seems trivial, though, compared to the black eye A-Rod is currently giving the game. Rather than focus exclusively on the guy who is dragging baseball through the sewer, better to pause and celebrate the little guy from Japan who treats the game with reverence and respect. When the All-Star Game was held in St. Louis in 2009, Ichiro took time to visit Sisler's grave outside of town. He also has made the trek to Cooperstown in the winter several times to tour the Hall of Fame.
Six summers after he finally retires, Ichiro will journey again to Cooperstown to become the first Japanese player inducted into the Hall. I don't know how many hits the Hall will list on his plaque by then, but the final total will be as impressive as anything that could ever go on A-Rod's plaque. If he ever gets one.
CSI: Box Score
Each week, I provide a fragment from an old box score and challenge you to determine what game it is from and why it's significant. I give this one a difficulty rating of 5. Answer below:
Baseball Card of the Week
Who knew that 20 years after the release of this card (1993 ID Tomy No. 102), the player on it would reach 4,000 career hits and the acclaim of fans on two continents?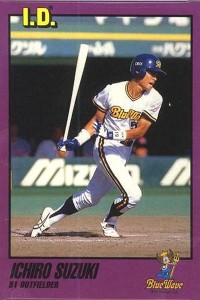 Box Score Line of the Week
Felix Hernandez came one strikeout shy of the elusive golden line on Saturday (5 IP, 5 H, 5 R, 5 ER, 5 BB, 4 K), while Alfonso Soriano had four RBIs too many (3 AB, 3 R, 3 H, 7 RBIs). Among other impressive lines, Miami's Nate Eovaldi gave up 11 runs in three innings (3 IP, 12 H, 11 R, 9 ER, 1 BB, 3 K) on Friday night, and Joe Mauer had a five-hit game (7 AB, 2 R, 5 H, 4 RBIs).
But this week's award goes to Stephen Strasburg. In his first start after his first career shutout and complete game, Strasburg lasted just one official inning Saturday because he was ejected after throwing three wild pitches with none out in the second, evidently trying to hit Atlanta's Andrelton Simmons. Two of the pitches were thrown behind Simmons' back, and the three wild pitches allowed Jordan Schafer to score from first base. Strasburg's line:
1 IP, 2 H, 2 R, 2 ER, 1 BB, 1 K, 1 HBP, 3 WP
Was he trying to hit Simmons, or was it just a lack of control? Well, consider the three wild pitches matched his season total entering the game. And according to ESPN researcher Doug Kern, no pitcher had thrown three wild pitches in the same plate appearance since Jason Grimsley in 1995.
Yeah, Well, That's Like, That's Just Your Opinion, Man
One More Request: Can We Make Review Retroactive To The Phil Cuzzi Call On Joe Mauer's Obvious Double? I welcome expanded replay that will allow baseball to correct mistaken calls by umpires. But I also agree with colleague Tim Keown, including his point that fans enjoy watching managers and umpires argue. I do not want to see replay abused by allowing managers to "challenge" calls once apiece in the first six innings and twice in the final three innings. Does anyone really think umpires miss six calls a game? I don't. They occasionally miss a call, and sometimes blatantly. They're human. But don't let managers continually challenge a call again and again. Leave it up to that unbiased league official who is supposedly watching the game on a monitor in some New York office. If he sees an argument develop, then he should immediately watch the replay to see if the call was right or clearly wrong enough that it should be reversed. And he should make the decision quickly. Baseball will be helped by having some calls reviewed. It will be hurt by having too many reviewed.
A Scene With The Freak, Panda Or Buster Would Have Helped, Too. I enjoyed Woody Allen's new movie, "Blue Jasmine," which can be considered as either a dark comedy or a drama with some light moments. Cate Blanchett delivers an Oscar-worthy performance, and Alec Baldwin is entertaining as usual as a Bernie Madoff-type guy who, in one scene, cheats on his wife by taking a younger woman to a Yankees game (and evidently takes her somewhere else after the game). Allen has lovingly portrayed New York City (plus Paris and Rome) in many movies, but his depiction of San Francisco leaves much to be desired. For one thing, most of the San Francisco characters speak with New York accents. For another, he makes one of the world's most beautiful cities look drab and unappealing. And third, you do not see one person wearing a Giants cap in the background of any of the San Francisco scenes. As anyone who has visited San Francisco since the 2010 World Series knows, that's even more unlikely than finding someone wearing a Dodgers cap in peace at San Francisco's ballpark.
CSI: Box Score Answer
The only clue you needed was the HBP line. This box score fragment is from the May 2, 2001, meeting between the two players who sparked the rise of Japanese baseball here. Facing each other for the first time, Hideo Nomo hit Ichiro with a pitch in the fifth inning. "I can imagine that was the start of civil war in Japan," Seattle catcher Tom Lampkin said that night. "Can you imagine what it was like when he hit Ichiro if they were watching the games in public? You could have had one half of them being Ichiro people and the other half Nomo people and then they see that and go after each other."