Major League Baseball sweats its postseason schedule, providing ample travel days to keep the players as fresh and sharp as possible for those World Series games in the snow. In recent years, they've even built in the occasional off-day when the teams weren't traveling between cities.
Now if only baseball could find a way to improve the regular-season travel schedule for West Coast teams.
For example, the Dodgers just completed their fourth trip to the East Coast to play against NL East opponents. (It was their fifth overall cross-country trip.) The Athletics are at the tail end of their fourth trip to the East Coast to one of the five AL East teams; and next month, they will make their fifth trip to the state of Texas. The Mariners, likewise, have four trips to the East Coast and five trips to Texas this season. The Angels have four trips to the East Coast and SIX trips to Texas on their schedule.
Meanwhile, the Yankees and Red Sox make just one trip each to the West Coast to play the three AL West teams. They also make a single trip to play interleague games against NL West opponents; but even so, they are only making half as many cross-country trips as the West Coast teams do to play the same number of series on the other side of the country.
I'm not the first person to write about this. It's a geographical fact that West Coast teams will have to travel great distances more often during the season than East Coast teams do. There are 22 teams east of the Mountain time zone and only seven in the Pacific time zone. But the schedule, the way it's currently constructed, makes that geographical imbalance even worse.
"The Mariners are disappointed with the schedule that the American League West always seems to come out with on the wrong end," Mariners president Chuck Armstrong says. "I'm not happy with the schedule for next year and I'm not happy with the schedule for this year."
Katy Feeney, baseball's senior vice-president for scheduling and club relations, says the schedule disparities are due to geography, as well as the interleague matchups, the makeup of the divisions, team requests for specific home dates and union rules regarding West-to-East travel.
"Nobody is ever happy with their schedule," Feeney says. "As much as we would like to try and accommodate everyone with all their wishes, they are often in conflict with each other."
Granted, major league players don't face the same travel rigors the rest of us do. They do not have to schlep their bags through overcrowded airports; the clubhouse crew transports luggage from locker to hotel for them. They do not stand in security lines behind parents with strollers, seniors with wheelchairs and first-time travelers with no clue. They are not cramped in middle seats; they fly comfortably in business-style seats (even when they're next to Bartolo Colon). They fly nonstop. They don't have to pay for a weak in-flight Wi-Fi connection, a lousy movie starring Vin Diesel, a tiny plastic glass of wine conservatively poured from a carton or a dreary meal of mystery origin.
They don't have to listen to babies whining behind them. Unless Alex Rodriguez is a teammate.
But still. All that extra travel can have an effect on performance, especially if a player already has a sore body from a summer of games.
"It's something you can never figure out mathematically in black and white [terms], but it definitely is a disadvantage," Seattle shortstop Brendan Ryan says. "If you're arguing otherwise, then you're not being fair."
Ryan wants to be clear that he isn't complaining. He's a professional and a well-paid major leaguer. But having played in both St. Louis and Seattle, he knows firsthand the difference in travel schedules. And when teams on one coast have to travel twice as often to the other coast for the same number of series, it's simply not fair.
The travel disparity might be worse next year. A preliminary 2014 schedule has the Mariners making FIVE trips to the East Coast to play the five AL East teams, plus a sixth trip to play an NL East opponent, plus six trips to the state of Texas. The Angels also make six trips to Texas, including a bizarre road swing in which they play a series in Houston, then fly to Minnesota for a series, then fly back to Texas for a series against the Rangers. Six trips to Texas? Really? There are two Lone Star State teams in the AL West and this is the best the schedule makers can come up with?
Look, I don't think anyone is trying to intentionally screw West Coast teams. And I realize creating an equitable schedule is difficult. Everyone wants more home games in the summer and fewer home games during the school year. Everyone wants games against the Yankees to boost attendance. Everyone wants as many off-days at home as possible. Ichiro (and probably a few others) don't want to go to Cleveland at all. (Ichiro once said, "If I ever saw myself saying I'm excited going to Cleveland, I'd punch myself in the face, because I'm lying.")
But even so, baseball needs to work harder to make the travel schedules more equitable.
"Sure, there's no perfect schedule-making, and I'm sure it's a headache of a job," Ryan says. "But can we do better?"
Yes, we can. Schedule fewer trips to the East Coast for West Division teams by letting them play three East Division series in a single road trip. Make sure the three AL West coast teams play the Rangers and Astros on the same trip as many times as possible. To share the travel burden, have the Yankees and Red Sox travel cross-country at least twice to play AL West opponents (as the Red Sox are tentatively scheduled to do next year).
And if baseball can't do that, at the very least it should contact Alec Baldwin so the West Division players can get frequent-flier miles for all their charter flights (with no blackout dates).
CSI: Box Score
Each week, I provide a fragment from an old box score and challenge you to determine what game it is from and why it's significant. I give this one a difficulty rating of 7. Answer below:
Baseball Card of the Week
Returning to our trip through the time machine that is the 1988 Topps baseball card set ...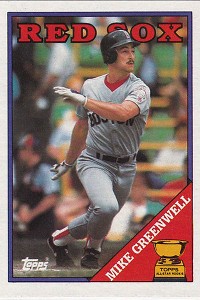 Although he finished second to Jose Canseco in the MVP vote, Mike Greenwell (1988 Topps, No. 493) led the American League in one department in 1988: game-winning RBIs, with 23. That season was the last that baseball officially recognized the GWRBI. Yes, we lived in a different world of baseball analytics in 1988.
Granted, the GWRBI was a little silly. How was a one-run, first-inning single any more important than any other RBI in a 9-3 victory? But at least people regarded the stat with appropriately raised eyebrows back then, compared to the unquestioned allegiance modern day stat-heads give WAR, which they consider absolute and infallible.
Speaking of eyebrows, do you think Greenwell dyed his that season? Nice 'stache, as well.
Box Score Line of the Week
In his last start before his season ended with a ligament tear in his pitching elbow, Matt Harvey threw a 13-hitter last Saturday but allowed only two runs (6 2/3 IP, 13 H, 2 R, 2 ER, 0 BB, 4 K). San Diego's Edinson Volquez, meanwhile, allowed the first eight batters to reach safely on Friday (2/3 IP, 5 H, 6 R, 5 ER, 1 BB, 2 K, 1 HBP), didn't get out of the first inning and received a pink slip after the game. And somehow, the Mariners allowed just four hits and struck out 15 batters that same night and lost.
This week's award, however, goes to Philadelphia outfielder Casper Wells, who made his second appearance as a pitcher in Saturday's 18-inning, seven-hour, six-minute marathon against the Diamondbacks. Wells, who pitched a scoreless inning for the White Sox earlier this season, took over in the top of the 18th with the game tied 7-7 and the Phillies out of pitchers. He retired the first two batters before things fell apart. By the time the inning ended, Wells had allowed five runs and took the loss. His line:
2/3 IP, 3 H, 5 R, 5 ER, 3 BB, 0 K
Oh, and Wells also went 0-for-7 with four strikeouts.
He's had a very interesting season. He went to spring training with the Mariners. Seattle waived him at the end of spring and the Blue Jays picked him up. Two weeks later, Toronto sold him to the Athletics. A week after that, Oakland sold him to the White Sox. In August, Chicago waived him and the Phillies picked him up. Wells has played for five organizations, scored four runs, pitched twice and driven in exactly one run this year.
And he just went on the disabled list.
Yeah, Well, That's Like, That's Just Your Opinion, Man
Hopefully, I Didn't Just Jinx Pittsburgh. In perhaps the most refreshing possible headline other than "Democrats and Republicans Agree on Budget," the Pittsburgh Post-Gazette posted this story this week: "Pirates Announce Postseason Ticket Purchase Plans." Pittsburgh is 22 games above .500 with 32 games left, virtually assuring the Pirates their first winning season in 21 years. More importantly, they also will almost certainly make the playoffs for the first time since 1992 as well. The only unfortunate thing is that due to the additional wild card, the National League postseason teams are all but determined with five weeks to play. We don't know who will win the NL Central, but it seems highly likely that the five NL playoff teams will be Pittsburgh, Los Angeles, Atlanta, St. Louis and Cincinnati. Had there not been the added wild card, we would be looking at an exciting finish in the NL Central. Instead, the second wild card looks like it will just limit the September excitement for the second year in a row.
Can't Wait To See What They All Do On Labor Day. When Roy Halladay made his return from the disabled list over the weekend, did anyone else notice that, at least for a day or two, we had a Halladay (Roy), a Holliday (Matt) and a Holaday (Bryan, who was sent down on Tuesday) in the majors?
CSI: Box Score Answer
The first clue in this fragment is the linescore that shows Los Angeles playing at San Francisco. The next clue is the name Reese as the Los Angeles shortstop. That would be Pee Wee Reese, who played only one season in Los Angeles -- 1958, the year the Dodgers moved from Brooklyn. So this box score has to come from 1958. Put that together with the theme of this week's column about West Coast travel and you might have guessed this was the first major league game ever played on the West Coast: April 15, 1958.
What's really interesting is that after an opening three-game series in San Francisco, the Dodgers played a 22-game homestand in Los Angeles. Then they played two more games in San Francisco, followed by two more games at home before playing their first game outside California on May 14. Following a similar schedule, the Giants played their first game outside California on the same day.
Sigh. If only baseball took the hardships of cross-country travel into as much consideration these days.