Barring an extremely unlikely finish in the AL wild card chase, Mariano Rivera will pitch his final game this week. And thus will end the career of one of the most respected, most beloved and most overrated players in recent memory.
Wait, before you release the hounds, let me make myself clear. Rivera is an outstanding pitcher who has had a long and wonderful career. He played an important role in the Yankees' return to dominance and their five World Series championships. He is a shining role model for major leaguers. He was a fitting person to be the last player to wear No. 42. I will be sad to see him retire.
But Rivera is not Superman. He wears pinstripes, not blue long johns and a red cape. Rivera is a closer. And like all closers in this modern "They Pitch Only The Ninth Inning" era, he is overvalued.
I have read and heard a lot of people -- from bloggers to folks in major leaguer dugouts -- contend that Rivera has been more important than Derek Jeter to the Yankees' success. Really? Including the postseason, Rivera has pitched 1,423 innings in his career. Jeter has played in more than 23,400 innings. That's about 22,000 more innings than Rivera played -- 15 entire seasons' worth of games. And yet some think what Rivera did in his 1,423 innings was more important than what Jeter has done in his 23,400? Please.
Put it this way: Rivera could not have earned a single save had teammates such as Jeter, Andy Pettitte, Jorge Posada and Bernie Williams not obtained a lead in the first place. What they and others did in those first eight innings were more important than what Rivera did in the final national spotlight.
Don't believe me? Before you bring the tar to a boil and gather more feathers, let me again cite the work of Project Retrosheet founder Dave Smith. He thoroughly and tirelessly researched games from more than seven decades and found that the rate at which teams win games with late-inning leads basically has not changed. Teams leading by one run after eight innings have gone on to win 85.7 percent of the time. That number goes up to 93.7 percent when leading by two runs, and 97.5 percent when leading by three runs.
Mull that over, and then please tell me why Rivera is so amazing for having an 89.1 percent career save rate (which, by the way, is lower than Joe Nathan's). Because, basically, Rivera was not used except in games the Yankees were going to win 88 percent of the time anyway. Actually, the percentages were usually higher than that. According to Elias, of Rivera's 652 career saves, just under a third (210) were with a one-run lead when he took the mound while 216 were with a two-run lead, 180 with a three-run lead and 46 with a lead of at least four runs.
(I will now again stress that Mariano Rivera is a really good guy, an outstanding pitcher and that I am sad to see him retire.)
Remember the All-Star Game this season, when fans were outraged that American League manager Jim Leyland pitched Rivera in the eighth inning rather than reserve him for the ninth and a save? The explanation was that the AL could have blown the lead in the eighth inning. Which made sense because, after all, the greatest closer in history simply could not be asked to enter a game in the eighth inning in case he was needed to put out a fire with runners on base. No, these days closers can only be used at the start of the ninth, when nobody is on base.
This is why, despite being the all-time leader in "saves" and a reliever for 18 years, Rivera ranks 142nd all-time in inherited runners, tied with the immortal Boone Logan and Fred Gladding, according to baseballreference.com. This isn't Rivera's fault at all; he's been used in the eighth inning more often than most of his contemporaries. It's due to the by-the-book managing approach that reserves the closer for situations when a team is most likely to win anyway.
This is absurd. It would be like keeping Miguel Cabrera or Mike Trout on the bench until the last inning just in case they were needed to pinch-hit in a "crucial" situation.
(Let me again reiterate that Mariano Rivera is a really good guy, an outstanding pitcher and that I am sad to see him retire.)
Will Rivera reach the Hall of Fame? Undoubtedly. But other than being the greatest closer ever, his numbers aren't as overwhelming in that regard as many assume. I'm not a disciple of WAR, but even that statistic doesn't rank Rivera high enough to warrant the gushing. FanGraphs lists his WAR at 40.2, or 12.3 points lower than that of Jack Morris, who still isn't in the Hall after 14 years on the ballot. Evidently, pitching one inning with a lead isn't considered as important as pitching the first eight innings to establish the lead.
While Baseball-Reference.com gives Rivera a significantly higher WAR of 56.5 -- don't you just love a stat that differs according to the source? -- this is still well below Mike Mussina (82.7), Curt Schilling (80.7) and even Rick Reuschel (68.2). Baseball Reference also gives Rivera a score of 29 on its "Hall of Fame standards test," which is far lower than the average of 50 for a Hall of Famer. (He fares better when compared solely to the very few Hall of Fame relievers.)
I'm not saying Rivera does not deserve to be in Cooperstown alongside Hall of Fame relievers Goose Gossage, Hoyt Wilhelm, Bruce Sutter and Rollie Fingers. Personally, I would much rather have Rivera than Fingers, Wilhelm or Sutter. I'm simply saying that because of his limited role, his career wasn't as extraordinary as we're led to believe.
What separates Rivera from other closers is his great longevity. (Well, his longevity and playing in the narrative-setting New York media market.) Most closers are good for a handful of seasons, then break down from the physical and/or mental stress. Rivera never broke down, never produced ulcers in his managers. He was consistent and reliable throughout his career. But he was consistent and reliable while performing an easier task than pitching an entire game every fifth day or 200-plus innings during a season.
After all, Rivera had a 5.94 ERA as a starter before the Yankees decided he was better suited to the bullpen.
(And, oh, before you force me to seek asylum in Russia, did I mention that Mariano Rivera is a really good guy, an outstanding pitcher and that I am sad to see him retire?)
CSI: Box Score
Each week, I provide a fragment from an old box score and challenge you to determine what game it is from and why it's significant. I give this one a difficulty rating of 7. Answer below:
Baseball Card of the Week
Meanwhile, another great player who spent his entire career with one team will be saying farewell this week amid considerably less hype and fanfare.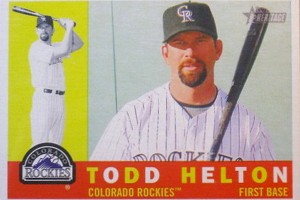 But Rockies fans -- and fans of great hitting -- will miss Todd Helton (2009 Topps Heritage No. 348) and his .316 career average, even if Sports Illustrated doesn't put him on the cover and Metallica doesn't play at his final game.
Box Score Line of the Week
Rays rookie Wil Myers went 0-for-8 (8 AB, 0 R, 0 H, 0 RBIs) in Tampa Bay's 18-inning victory over Baltimore on Friday, a game in which the two teams combined to use a record 21 pitchers. And still the Orioles somehow did not manage to use closer Jim Johnson in a crippling loss. (Hey, it was never a save situation.) The next day, Raul Ibanez tied Ted Williams for the most home runs by a player age 41 or older -- HR-Ibanez (29) -- prompting the Mariner to humbly tell reporters after the game, "Obviously, Ted Williams is the greatest hitter who ever lived. I am not. To be in that company means that I'm old."
And on Tuesday night, St. Louis rookie Michael Wacha fell one out short of a no-hitter in his ninth career start (8 2/3 IP, 1 H, 0 R, 0 ER, 2 BB, 9 K).
But this week's award goes to White Sox closer Addison Reed for his amazing line when Chicago blew a 6-0 lead to the Tigers in the ninth inning on Saturday:
2/3 IP, 0 H, 1 R, 1 ER, 4 BB, 0 K
OK, yeah, sometimes it is good to have a reliable closer around.
Yeah, Well, That's Like, That's Just Your Opinion, Man
Now This Was A Man Who Came Through With A BIG Save. It was sad to hear about the passing of Mariners owner Hiroshi Yamauchi last week at age 85. The head of Nintendo for half a century, Yamauchi deserves high and lasting praise for buying the Mariners in 1992 and keeping them in Seattle. (Why did people think Tampa Bay and its dome were a better market back then?) He also warrants high marks for insisting the team sign Ichiro in 2001. But otherwise, he was pretty hands-off, and sometimes being a meddlesome owner can be a good thing for a team. Where Yamauchi failed was as an absentee owner who was so far removed from Seattle (5,000 miles away and across the international date line) that he never seemed to care much about the Mariners' day-to-day or season-to-season fortunes. Yamauchi effectively owned the team for two decades but never once went to see them play in person. Because he wasn't constantly surrounded by people who cared about the team, he never got sufficiently excited by the good seasons or sufficiently disturbed by the poor ones. His loyalty to Howard Lincoln, the former lead counsel and chairman of Nintendo of America, meant that he left Lincoln in charge as Mariners CEO even though he has been a complete disaster in that post, overseeing a perennial losing team and alienating what had been a huge fan base. But enough of such complaints. Right now, it's better to remember that thanks to Yamauchi, Seattle fans at least have a team to bitch about.
If A Team Loses Its 105th Game And No One Watches It On TV, Will There Be A Geico Ad Anyway? The only reason the Mariners aren't finishing in last place for the eighth time in 10 years is because Houston moved to the AL West this season. En route to their worst record ever, the Astros lost their 105th game on Sunday, and according to the Nielsen ratings, absolutely no one watched the game on TV. That's right. The game received a Nielsen rating of 0.0! Not only were more viewers tuned into the Houston Texans' loss to the Baltimore Ravens, more people were watching reruns of "Law and Order," "The Cosby Show" and "21 Jump Street." Then again, wasn't Sunday's Astros game just a rerun of the previous 104 losses this season? And the previous 317 losses since the start of the 2011 season? Plus, who wouldn't prefer watching Johnny Depp to Eric Bedard?
Fingers Crossed That Pittsburgh's Postseason Lasts Long Enough For Fans To Enjoy An Entire Primanti Brothers Sandwich. Congratulations to the Pirates for reaching the postseason for the first time in 21 years. Way to go, Bucs! But that also sparks my weekly rant against the second wild card. The second wild card is supposed to raise tension, excitement and attendance, but with six days left in the regular season, the NL playoff teams were already determined. What could have been a tense fight for the NL Central and a single wild card slot has been replaced with anxiety that the team most everyone will be rooting for this October could be gone after just one game. And it isn't any better in the American League, where the speculation is over who will be the odd team out: the Rays (a game under .500 since the end of July), the collapsing Rangers (7-15 in September) or the underwhelming Indians (4-15 against the Tigers this year and still drawing weekday crowds of sub-13,000 in the past week).
Speaking of the Rangers' collapse, here's a final reason closers are overrated: During this wretched month of September for Texas, Nathan has pitched only seven innings. That's the worst thing about the way the current role is used. When the team is really struggling, the closer is essentially useless because he can pitch only when there is a lead in the ninth. If you don't have leads in the ninth, how can they help?
CSI: Box Score Answer
Did you spot the multiple clues in this fragment? The first clue is the names of the Pirates players -- Clemente, Mazeroski, Stargell, Sanguillen, Ellis -- which should have given you a good idea that this game was played in the early '70s. Which year? Well, the name Fregosi in the Mets lineup indicates this game had to be from 1972 because that was the only season he was with New York when Roberto Clemente was in Pittsburgh. The next clues are that Clemente had a base hit but left the game early (Bill Mazeroski pinch-hit for him). And that, along with the double listed for Clemente, should have been enough for you to determine that this was the Sept. 30, 1972, game when Clemente reached his 3,000th and final hit.
Clemente also had four hits in the NLCS that October, but this was his last official hit in a regular-season game. He died while flying to Nicaragua on a relief mission following the devastating earthquake there three months later.