Bartolo Colon was suspended for 50 games last year after testing positive for performance-enhancing drugs, and then was linked to the Biogenesis scandal this year. He also was 18-6 with a 2.65 ERA for the Athletics this season. So when he took the mound in Game 1 of the American League Division Series against the Tigers on Friday night, the Oakland fans roared in support.
Jhonny Peralta was suspended for 50 games this season for his involvement in the Biogeneis scandal. He also was an All-Star who hit .303 with 11 home runs and 30 doubles for the Tigers this year. So when he stepped to the plate to pinch-hit in the ninth inning of Game 1, the Oakland fans vehemently booed him.
This, in a nutshell, captures our inconsistent stance about performance-enhancing drugs. Take PEDs to help the local team and you're a hero worthy of loving standing ovations. Take PEDs for an opposing team and you're an evil, no-good cheater who should be banned for life.
I'm not singling out Oakland fans, though. Their cheers and jeers Friday were not an isolated example. After all, Detroit fans cheered Peralta in Game 3, and they probably would have booed Colon if he'd been on the mound. That's because we are all consistently inconsistent on this issue.
We vilify some users (Barry Bonds and Roger Clemens) and forgive others (Jason Giambi and Andy Pettitte), just as long as they help our team win with dramatic, goosebump-raising home runs and postseason victories. Major League Baseball seems to hand out something less than the minimum sentence to some players (Manny Ramirez), while it levies a sentence in such excess of the stated penalties to others (A-Rod) that an inevitable lawsuit results. Some sports (baseball) are subject to constant media criticism and become national punch lines, while others (football) by comparison seem to get free passes for obvious PED abuse.
Furthermore, our responses often depend on how an athlete performs after he's tested positive, been disciplined and returns to the lineup. Put up great numbers and we will praise you for taking advantage of a "second chance." Play poorly and even the local fans will hound you for the rest of your days.
We wonder why multi-millionaire athletes never seem to learn the lesson about PEDs. But how can they when we don't give them a clear message?
True, we are like this in most aspects of sports. The home-team players are always cheered (unless they screw up in Boston or Philadelphia) and the opposing players are always jeered. Rooting for our guys and rooting against theirs is part of the fun of sports. But this is a far more serious subject than whether a player wears your team's uniform or that of another team. When it comes to accusations and punishments regarding performance-enhancing drugs, inconsistency should not be tolerated.
We cannot pick and choose. We cannot condemn PED use unless we are willing to condemn all who are caught, rather than just the athletes from other teams and other countries. (Our Olympians are always clean; Olympic champions from foreign countries are dirty, especially if we don't like their government.) If we don't think it is so terrible when one of our players is caught using PEDs, then we shouldn't consider it any worse when an opposing player is.
It will be interesting to see how Milwaukee fans and media react when Ryan Braun returns next season. With abuse? With forgiveness? Whatever the response, it should not be based on his play or productivity, and it should be consistent with how they treat Peralta or any other PED-linked player who comes to town.
Athletes who break the rules are cheaters and liars. But fans and media who condemn some but forgive others based on little more than the laundry those players wear are just as bad. We're hypocrites.
CSI: Box Score
Each week, I provide a fragment from an old box score and challenge you to determine what game it is from and why it's significant. I give this one a difficulty rating of 3. Answer below:
Baseball Card of the Week
You can almost hear Billy Beane's thoughts in this card (1987 Fleer No. 535): OK, sure, I only hit .213 last year. But did you check out my OPS+?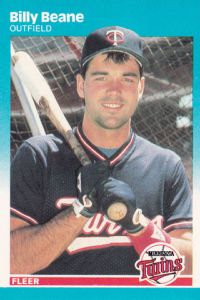 Actually, Beane didn't have a very good OPS+, either. But boy, has he made such statistical knowledge and alternative views pay off as a general manager. The postseason, as he has said, is a crapshoot with so many teams in the mix, but here's hoping he finally takes one of baseball's poorest teams to its richest reward.
Box Score Line of the Week
Veteran Justin Verlander pitched another great postseason game Saturday night (7 IP, 4 H, 0 R, 0 ER, 1 BB, 11 K), while Oakland rookie Sonny Gray bettered him in his first postseason appearance and just his 13th game at the major league level (8 IP, 4 H, 0 R, 0 ER, 2 BB, 9 K).
But this week's award goes to St. Louis rookie Michael Wacha.
In his final start of the regular season on Sept. 24, Wacha took a no-hitter into the ninth inning. In his first start of the postseason -- and just his 10th at the big league level -- he took a no-hitter into the eighth inning of Monday's Game 4 against Pittsburgh. Pedro Alvarez finally broke it up with a home run in the eighth, but Wacha's performance extended the series to a Game 5 finale. His line:
7 1/3 IP, 1 H, 1 R, 1 ER, 2 BB, 9 K
And remember, Wacha was the Cardinals' compensatory pick for losing Albert Pujols to free agency. How is that Pujols contract looking in Anaheim now?
Yeah, Well, That's Like, That's Just Your Opinion, Man
Feel Free To Boo Any Yankee At Any Time, However. I'm always impressed with the way fans show up in the postseason even though the tickets are incredibly expensive and must be purchased in prohibitively-expensive strips, and the game times sometimes aren't announced until the day before. But the merciless taunting by fans in some games this postseason has not been quite so impressive. Pittsburgh fans wait 21 years for a postseason game and then single out Johnny Cueto with those mocking chants? Boston fans pick on Tampa Bay rookie Wil Myers like he was A-Rod just because he made an error? Please. Show some class. You can jeer opponents for taking PEDs, for saying something inappropriate, for mistreating someone, for sending out a bad tweet -- or for the worst crime of all, not hustling. But for an error? Save your voice to cheer your players, not abuse a player who simply messed up while trying his best.
Jack Ryan Certainly Would Have Done Better Than Dave Trembley. When Tom Clancy passed away last week, there was little mention that the best-selling author was a minority owner of the Orioles. Clancy bought nearly a quarter stake in the team as part of Peter Angelos' ownership group in 1993. Clancy hit the big time with his best-seller, "The Hunt for Red October," but the Orioles' hunts for any Octobers were not so successful during his time in the owner's suite (only three postseason appearances and just one since 1997). Perhaps Clancy should have insisted that Baltimore hire Jack Ryan as manager. RIP, Tom.
CSI: Box Score Answer
There wasn't a lot of information in this fragment, but what was there should have been sufficient because this was one of the most memorable postseason games ever played. Those who saw Game 5 of the 1986 ALCS between the Red Sox and Angels will forever remember California reliever Gary Lucas hitting Rich Gedman with a pitch in the ninth inning (Gedman was the only batter he faced) and then Donnie Moore giving up a go-ahead home run to Dave Henderson. But how many recall that Moore stayed in the game until the 11th inning when he hit Don Baylor with a pitch and Boston scored the deciding run?