Wake me up when the current ALCS at-bat is finished.
I wrote earlier this year that when games go into extra innings, I never want the drama to end. Regular nine-inning games are different, though, because barring a tie, there is a set length. Those nine innings can be brisk. They can be long and filled with drama. They can be tense pitchers' duels. They can be action-packed and high-scoring. They can be many things.
But what they should not be is much, much, much longer than necessary.
Which brings me to the 2013 postseason. On Saturday afternoon, the Cardinals shut out the Dodgers 1-0 in the NLCS. On Saturday night, the Tigers shut out the Red Sox 1-0 in the ALCS. Identical scores, but there was a big difference: The National League game took a nice 2 hours, 40 minutes. The American League game took 3:56, nearly 80 minutes longer than the NL game.
Almost four hours for a 1-0 game in which one team didn't get a hit until the ninth inning? What, are they trying to keep pace with the Republicans and Democrats in Congress?
And no, the American League broadcast did not include more commercials, although you could probably air a couple of Geico ads during a typical Boston at-bat and not miss anything important. A big reason for the time difference was the number of pitches thrown. The Cardinals and Dodgers combined to throw 247 pitches, while the Red Sox and Tigers threw a whopping 322 pitches thanks in large part to Detroit pitchers striking out 17 batters and walking six.
Throwing 322 pitches takes a long time. For example, during Game 2 of the ALCS, Boston's Clay Buchholz took two minutes to throw a single pitch. Two minutes! Mark Buehrle could throw three innings in that span.
In the Red Sox's 1-0 shutout of Detroit on Tuesday, the two teams threw 269 pitches, and the game still took 3 hours, 20 minutes, which doesn't include the 17-minute delay due to the lights going out at Comerica Park. That's still 40 minutes longer than Sunday's 1-0 NLCS shutout.
Much of the blame for these lengthy games goes to the Red Sox, who grind out at-bats until the starter reaches his pitch limit or simply falls asleep on the mound. But it's not just them. The Athletics and Tigers played a 1-0 game in their division series that lasted nearly three and a half hours. Sonny Gray's mustache had almost filled out by the time that game ended.
This length-of-game trend is reflective of the growing number of strikeouts in Major League Baseball, hitters working the count and constantly stepping in and out of the box. More strikeouts equals more pitches, which equals more times stepping out of the box to fiddle with batting gloves, which equals longer games, which equals more people changing the channel to HGTV for "House Hunters International."
It's like movie theaters showing more commercials and coming attractions before a film. It doesn't enhance the experience in any way -- it just gets you home later.
Batters will contend that working the count wears down the pitcher, gets them better pitches to hit and makes them more successful. But mostly, it just means they strike out more often. Batting averages are lower than they've been since before the DH era began. Strikeouts are at an all-time high. Players are not hitting any better; they're just taking longer to fail.
Look, if you aren't going to hit the ball, don't waste our time. Stay in the box. Don't fiddle with your gloves. Just get it over with in three pitches and grab some bench.
We don't want to finish the game with beards that would shame the Smith cough drop brothers.
CSI: Box Score
Each week, I provide a fragment from an old box score and challenge you to determine which game it is from and why it's significant. I give this one a difficulty rating of 3. Answer below:
Baseball Card of the Week
You really have to respect Tigers pitching coach Jeff Jones. After all, he has helped develop the league's best starting rotation even though those pitchers must be snickering behind his back about this card (1985 Topps, No. 319).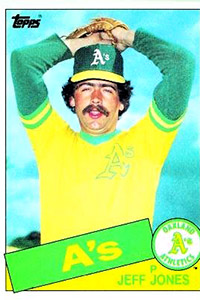 (Thanks to baseballcardbust.com for pointing out this card.)
Box Score Line of the Week
Justin Verlander continued his postseason domination of the Athletics on Thursday, shutting them out again and holding them hitless into the seventh inning of the division series finale (8 IP, 2 H, 0 R, 0 ER, 1 BB, 10 K). And Yasiel Puig had a hitless string himself in Game 2 of the NLCS on Saturday (4 AB, 0 H, 0 R, 0 RBIs, 4 Ks). But this week's line has to go Anibal Sanchez for his performance in Game 1 of the ALCS on Saturday, when he held the Red Sox hitless for six innings before taking a seat because (what else?) he had reached his pitch limit.
His line:
6 IP, 0 H, 0 R, 0 ER, 6 BB, 12 K
No team had ever taken a no-hitter into the seventh inning of two consecutive postseason games until Detroit did it this past week. And the next night, Max Scherzer took a no-hitter into the sixth inning of Game 2. And Verlander took one into the fifth inning of Game 3.
Yeah, Well, That's Like, That's Just Your Opinion, Man
Hey, At Least He Didn't Take A Selfie On Third Base. I thought Carlos Beltran's comments about Puig's behavior on the basepaths when he tripled in Game 3 were reasoned, thoughtful and not too judgmental. He made some good points. However, if he really was irritated by Puig's celebratory antics on the field, perhaps he should have retrieved the ball and gotten it into the infield faster than he did. That way, a player who flips his bat, points at the sky, stares at the flight of his drive and starts to first base on a slow home run trot might not be able to reach third base for a triple. I don't mind Puig's exuberance, either. It at least seems genuine and spontaneous compared to the now-orchestrated celebrations when teams always rush onto the field to celebrate a last-second victory, as if they don't win 70 to 90 games a season anyway.
Now, If Bartman Had Brought A Goat Into Wrigley Field With Him, That Would Be A Different Matter. This week marks the 10th anniversary of the Bartman game -- man, does time fly. A decade later, Bartman doesn't deserve the forgiveness of Cubs fans; he deserves their apologies for making him the scapegoat for that loss. It is simply ridiculous that people blame a single fan just because he reached out to catch a foul ball -- just as we all would have -- that quite possibly would not have been caught anyway. The problem was not Bartman interfering with what would have been a tough catch; it was shortstop Alex Gonzalez butchering what should have been a routine, inning-ending double-play ball.
CSI: Box Score Answer
The only clue necessary in this fragment is this line: Gibson ph 1 1 1 2 -- although I guess the name Eckersley probably helps as well. Yes, this box score is from Game 1 of the 1988 World Series, played 25 years ago this week, when Kirk Gibson limped to the plate and hit a game-winning, pinch-hit home run off Dennis Eckersley. Whatever happened to the home run ball? No one knows for sure, although here is one possibility.