George Steinbrenner and Marge Schott would absolutely hate this World Series. And not just because the Red Sox and Cardinals are playing instead of the Yankees and Reds.
Those two late owners were notorious for banning beards on their teams. Steinbrenner was so obsessive about such things that he had Don Mattingly benched one season despite a .305 batting average just because his hair was too long. If Steinbrenner were alive for this year's World Series, he would want the players banned for life.
When the players line up on the field before Game 1 Wednesday night, they will be sporting such long, full beards that it will look like the Union and Confederate armies lining up for the battle of Antietam. And no, it isn't just the Red Sox. Aside from the Yankees, most teams in baseball sport beards these days, and that most definitely includes the Cardinals.
"I read an article that said it will be the Red Sox beards against the Cardinals' baby-faces," St. Louis reliever John Axford said. "I talked to all the guys and said, 'Apparently, none of the writers think you have facial hair. They just can't see it, apparently, when you're on TV.'"
If so, they must not have paid their cable bills, because like so many other players throughout baseball -- think Josh Reddick (check him out here) -- the majority of the Cardinals have some very extensive facial hair. Few of their beards are quite as outrageously over the top as those of Boston's Jonny Gomes and Mike Napoli (though injured Jason Motte comes pretty close), but they are substantial, nonetheless.
"The Red Sox have the bigger, fuller -- I'm not going to say outlandish -- but their beards are a little gaudier than ours," St. Louis infielder Daniel Descalso said." There are a lot of guys on our team that have been sporting beards all year, just not as scruffy as theirs."
The Cardinals and Red Sox each had their league's best records this season, with 97 wins. They both won their LCS in six games. They both have strong pitching staffs and strong offenses. But which team has the edge in facial hair? That depends on your personal preference. The Cardinals have the neater, better trimmed, more presentable beards. The Red Sox have the, uhhh, longer beards.
"We like to say over here, there are no bad beards, there are just different ones," Boston catcher David Ross said. "Some of them may be ugly, but you've got to rock what you've got."
No bad beards? Evidently, someone removed the mirrors from the Red Sox clubhouse.
There are many ugly beards on the Boston roster, including the ones owned by Dustin Pedroia and Shane Victorino. The two worst, however, are Gomes, whose beard has grown so out of control that his face has become a human Chia Pet, and Clay Buchholz, whose beard is so scraggly that he looks like he should be cooking meth with Walter White.
The Cardinals' worst beard belongs to Motte. He missed the entire season because of injury, but that didn't keep his beard from growing. What once was a pretty decent look has morphed into something with such a lengthy growth that Descalso can only describe it as "that thing on his chin." I don't know what to call it either, but I shudder at the thought of Motte eating a bowl of clam chowder.
Asked if he planned to shave after the World Series, Motte replied, "No shot. I haven't shaved since about 2008. Unless I go somewhere where they make me shave it, I won't. I don't think my wife or my little girl would know what to do if I came home clean-shaven."
Well, they might faint with relief.
Meanwhile, the three players in the World Series with the best facial hair are Adam Wainwright, who sports such a simple, manly and reasonable beard that even a mother would approve; David Ortiz, who pays as much attention to maintaining his detailed style as he does his at-bats; and, of course, Napoli.
True, Napoli's beard is a trifle long -- teammate Ryan Dempster says it's so thick and long it has its own locker and seat on the team plane -- but it's also scrupulously well-groomed. Napoli does not look like he simply lost his razor or lost a bet.
"I don't have hair on my head so I shampoo and condition it," Napoli said. "I comb it. I blow-dry it every once in a while. Beard oil. There are all kinds of things that get sent my way."
We'll see which team's beards wind up dripping with champagne. But in the meantime, Axford has the best take on the facial hair trend.
"Maybe everyone is getting ready for Halloween and they have their costumes prepared," Axford said. "I think it's great to grab onto something on that. And have fun with something that is that simple and that some people think is stupid."
CSI: Box Score
Each week, I provide a fragment from an old box score and challenge you to determine what game it is from and why it's significant. I give this one a difficulty rating of 5. Answer below:
Baseball Card of the Week
This is the fourth time the Red Sox and Cardinals have met in the World Series. The Cardinals won the first two meetings in 1946 and 1967, with each of those Series going seven games; the Sox swept in 2004. The man who made the difference in 1967 was Bob Gibson, who is shown here in this card (1968 Topps, No. 154) amid a Game 4 shutout.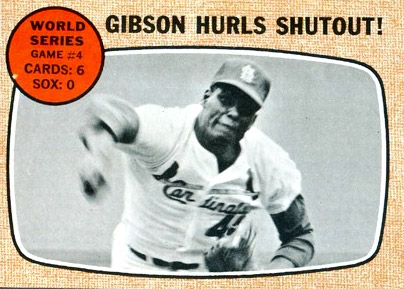 This was Gibson's fourth consecutive complete-game victory in the postseason. From 1964-68, he won seven consecutive postseason complete games.
Gibson did not need a closer.
Box Score Line of the Week
In a win-or-go-home game last Friday, probable Cy Young winner Clayton Kershaw allowed seven runs in four innings (4 IP, 10 H, 7 R, 7 ER, 2 BB, 5 K). Ronald Belisario relieved him and gave up two runs without allowing a hit (1/3 IP, 0 H, 2 R, 2 ER, 1 BB, 0 K). But this week's award goes to St. Louis rookie Michael Wacha for his NLCS-clinching victory. His line:
7 IP, 2 H, 0 R, 0 ER, 1 BB, 5 K
Wacha has allowed only one run in three postseason starts and only nine hits in his past four starts, or one fewer than Kershaw allowed in four innings in Game 6. He has held opponents scoreless in five of his past eight starts, allowing only seven runs in 52 1/3 innings.
CSI: Box Score Answer
There were a couple of clues in this fragment, and the two biggest were the names Pesky and Slaughter. If you spotted those names, and saw the run scored on Slaughter's line, you should have guessed that this was Game 7 of the 1946 World Series. That's when the Cardinals beat the Red Sox, scoring the winning run in Game 7 after Enos Slaughter scored all the way from first base on Harry Walker's drive to center. For decades, Red Sox fans moaned about how shortstop Johnny Pesky "held the ball" on the relay throw, though film of the play and later accounts make it clear that this was unfair. Even if Pesky hesitated at all to make the throw for whatever reason, it almost certainly didn't make a difference in Slaughter scoring. What was more significant is that center fielder Dom DiMaggio, who had a great arm, had been replaced because of injury by Leon Culberson.
Contrary to popular belief, Walker's hit was a double. A player scoring from first base on a double is not unusual at all, and certainly does not require a fielding mistake or goat status for any player.