When 2016 ended, the Chicago Cubs were on top of the baseball world as World Series champions for the first time since 1908. With the bulk of their team returning, the Cubs unsurprisingly open 2017 in the same place in our rankings. Who else rounds out the top 10? Will the Indians be able to break their own curse and win their first World Series since 1948? Can Chris Sale lift the Red Sox to the top of the AL East? Who will challenge the Cubs in the National League?
In addition to rankings, we've charted the projected results for each team by month, identifying the highs, lows and turning points of the season as "best case," "worst case" and "swing factors," combining information from Dan Szymborski, David Schoenfield and Bradford Doolittle. Each point on the graph represents a team's projected record for that entire month, giving a picture of the stretches that will determine who is battling for playoff spots in October. And each chart is scaled to reflect the individual performance range for that team.
Editor's note: While the rankings were voted on by a panel (Jim Bowden, Eric Karabell, Tim Kurkjian, Schoenfield and Jayson Stark), the projected records and division standings were determined by ESPN Insider Szymborski using his ZiPS system.

2017 projected record: 98-64 (first in NL Central)
World Series odds: 7-2 (Westgate) | Betting guide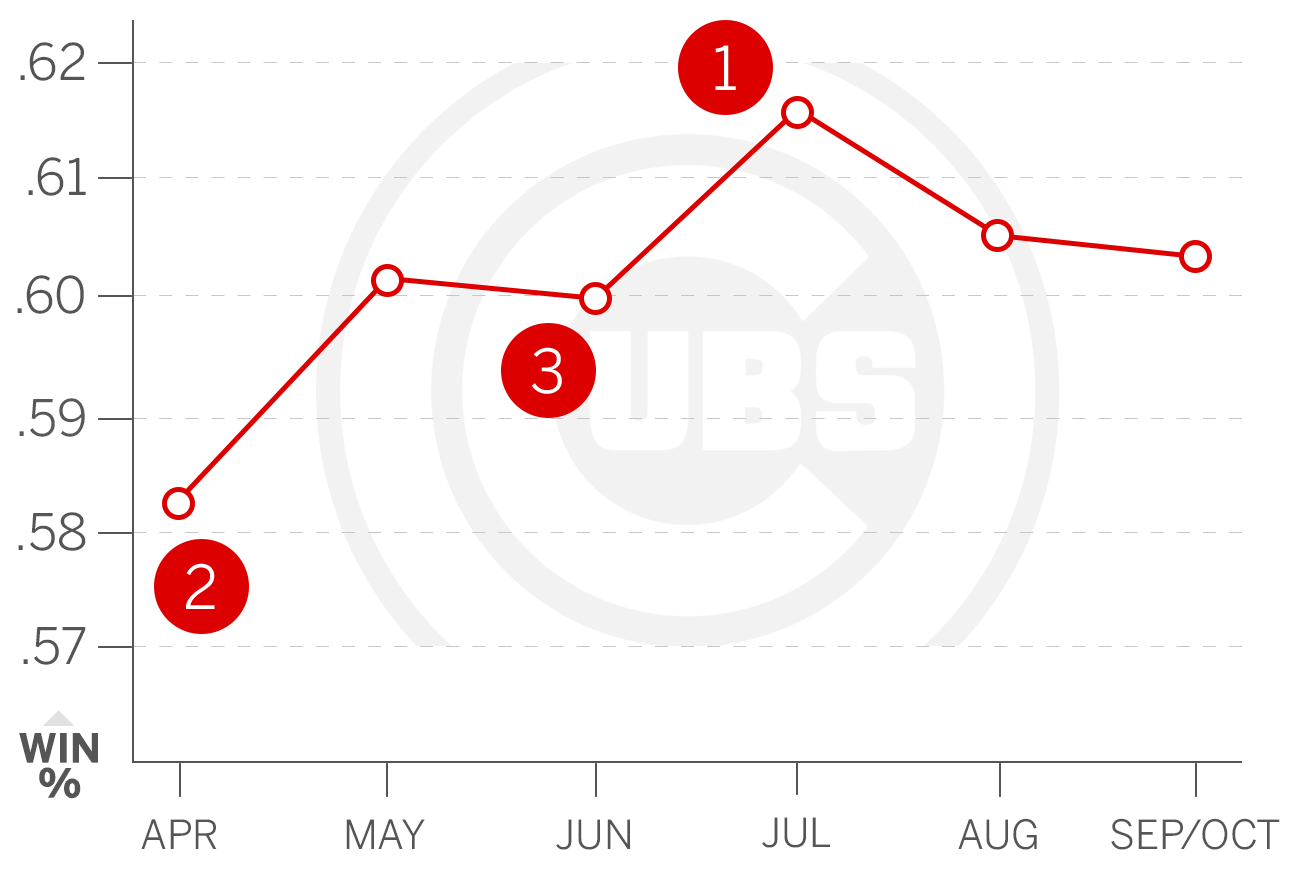 1. Best case: With series against the Reds, Braves, White Sox and Brewers early in the second half, the Cubs might not feel particularly motivated to make an addition at the trade deadline. They could win 100 games again even without a full season of good health from their rotation -- within reason. Kris Bryant is only two years into his meteoric career, Jason Heyward should rebound and Kyle Schwarber will be back for a full season. What was already a very good offense should be even better. Barring the unforeseen, Chicago's real tests start in October.
2. Worst case: A low point, relatively speaking, comes early for the defending champs. ZiPS projects Chicago's April schedule to be its toughest, as the Cubs face opponents with a projected winning percentage of .506. This is where the health of the rotation could be cause for concern. Chicago's top four hurlers all rank among the top 20 in innings thrown over the past two years, including the postseason. If the Cubs have to dip too far into their rotation depth, they might have to outscore a lot of teams.
3. Swing factors: When the calendar turns to June, the Cubs' biggest question is likely to be whether they are running away with the NL Central or merely holding on to a division lead. The answer could come down to Heyward. After plummeting from a 120 wRC-plus to 72 -- good for 143rd out of 146 qualified regulars -- Heyward spent the offseason trying to retool or rediscover his swing. The Cubs will probably be pretty good again even if Heyward doesn't hit. But it wouldn't hurt if he did!
---
2017 projected record: 87-75 (first in AL Central)
World Series odds: 5-1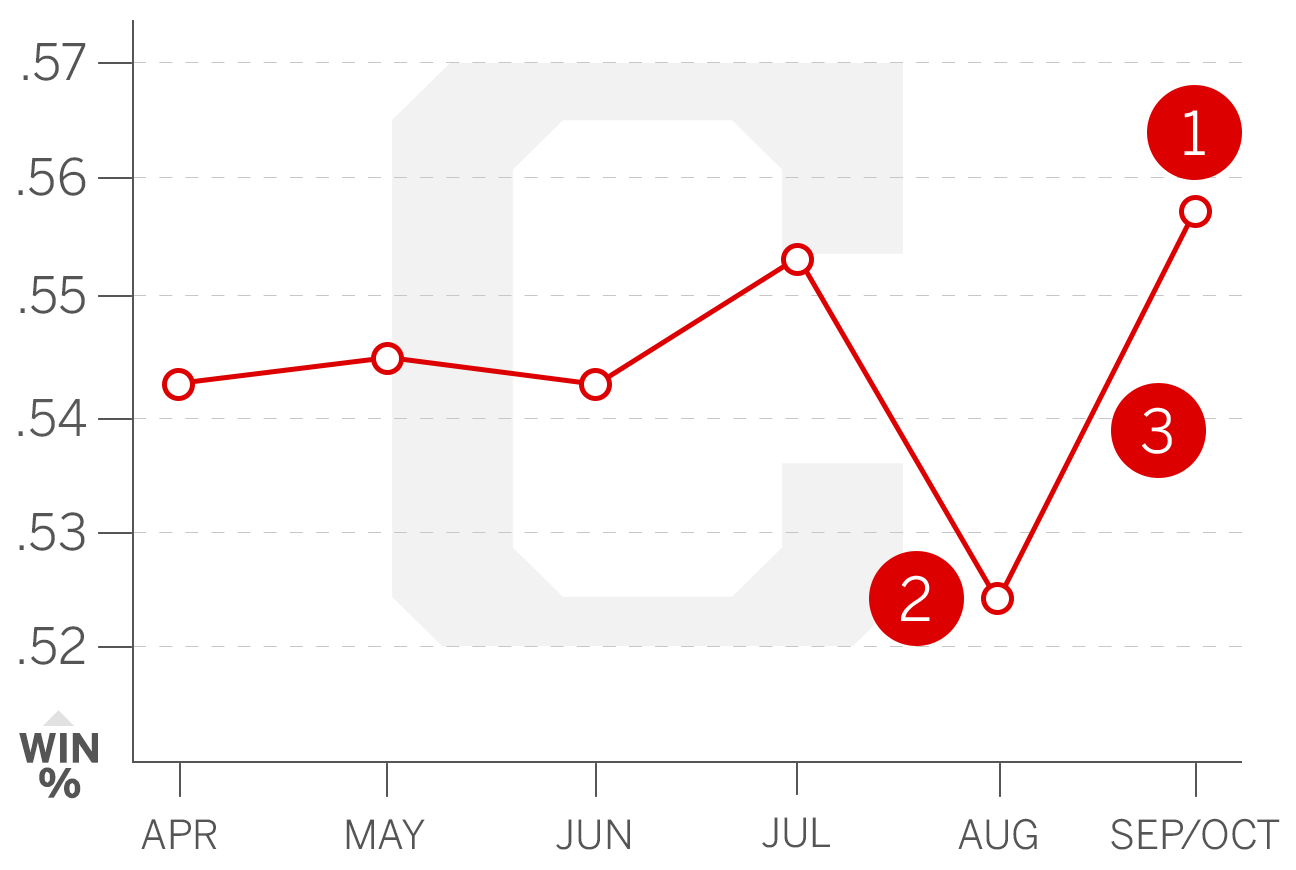 1. Best case: While other teams fight for their lives in September, the Indians get 20 games against projected losing teams. If they can overcome their injury problems and the offense is as good as expected, they might even clinch early enough to rest their pitching staff in time for the postseason.
2. Worst case: Seven games against the Red Sox in August contribute to the team's toughest month. If injuries to Jason Kipnis, Michael Brantley, Carlos Carrasco and others linger, it could snowball and let one of Cleveland's AL Central rivals sprint past its preseason forecast.
3. Swing factors: If the Tigers or Royals are threatening Cleveland's spot in the standings, 10 games against those two teams in September may decide the issue. And the health of Brantley will be key. Brantley, who finished third in MVP voting in 2014 and hit .310/.379/480 in 2015, had right shoulder surgery in November 2015, right biceps surgery in August 2016 and played just 11 games in 2016. He throws left-handed, so the comeback is all about his ability to swing the bat. The Indians have worked him slowly in spring training and are counting on having him in the lineup for the bulk of the season.
---
2017 projected record: 93-69 (first in AL East)
World Series odds: 7-1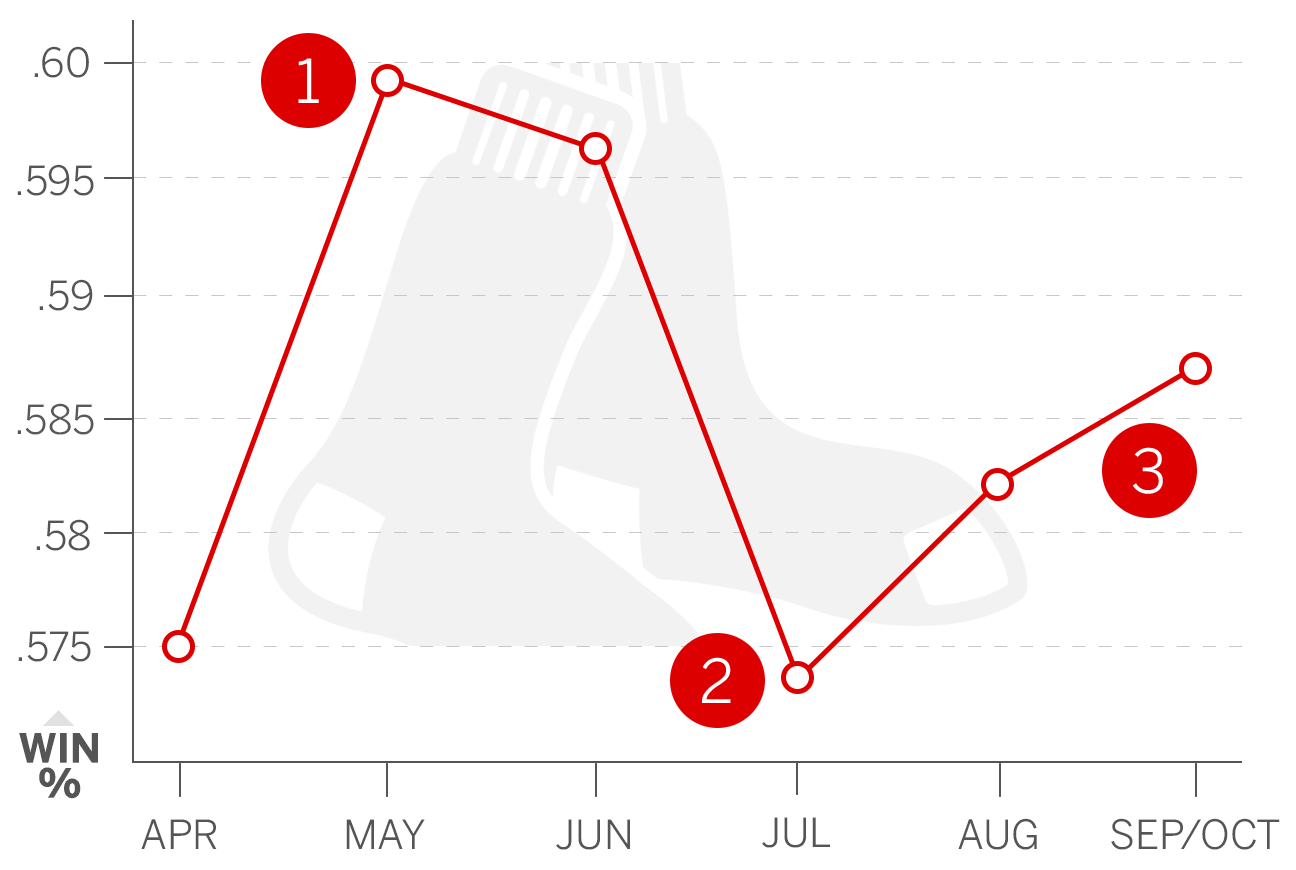 1. Best case: Sprinkled liberally with rebuilding teams, May is the only month in which the Red Sox play against teams with overall projected losing records. If David Price gets healthy and returns to form and the Red Sox sweep the postseason awards -- Chris Sale (Cy Young), Mookie Betts (MVP) and Andrew Benintendi (Rookie of the Year) -- they should be tough to beat. This time they hope the momentum holds up through October.
2. Worst case: While still favored to be an excellent team (a .574 projected record in July), the Red Sox match up against playoff contenders for most of the month. If Price's injury lingers or gets worse, Sale buckles in his new town, Rick Porcello regresses and the offense struggles to score runs consistently because of a relative lack of power, the Red Sox could disappoint. In the brutal AL East, small wounds can become festering sores.
3. Swing factors: Not only do they play most of their divisional contenders in August, the Red Sox get tested with series against the Indians and Cardinals. If Boston is in a tight battle in the AL East, this stretch could be key. That and Price. As important as replacing David Ortiz's production will be for the offense, the health of Price looms just as large over the starting rotation. He's going to miss the start of the season after experiencing elbow discomfort, and while he doesn't need surgery now, his health is a big question mark. Even though Price's first season in Boston is widely viewed as a disappointment, he led the majors with 35 starts and 230 innings and was worth 3.0 WAR. And he leads the majors in innings over the past three seasons, which reduces stress on the bullpen. Not having him for an extended stretch will hurt Boston's chances.
---
2017 projected record: 93-69 (first in NL West)
World Series odds: 8-1 | Betting guide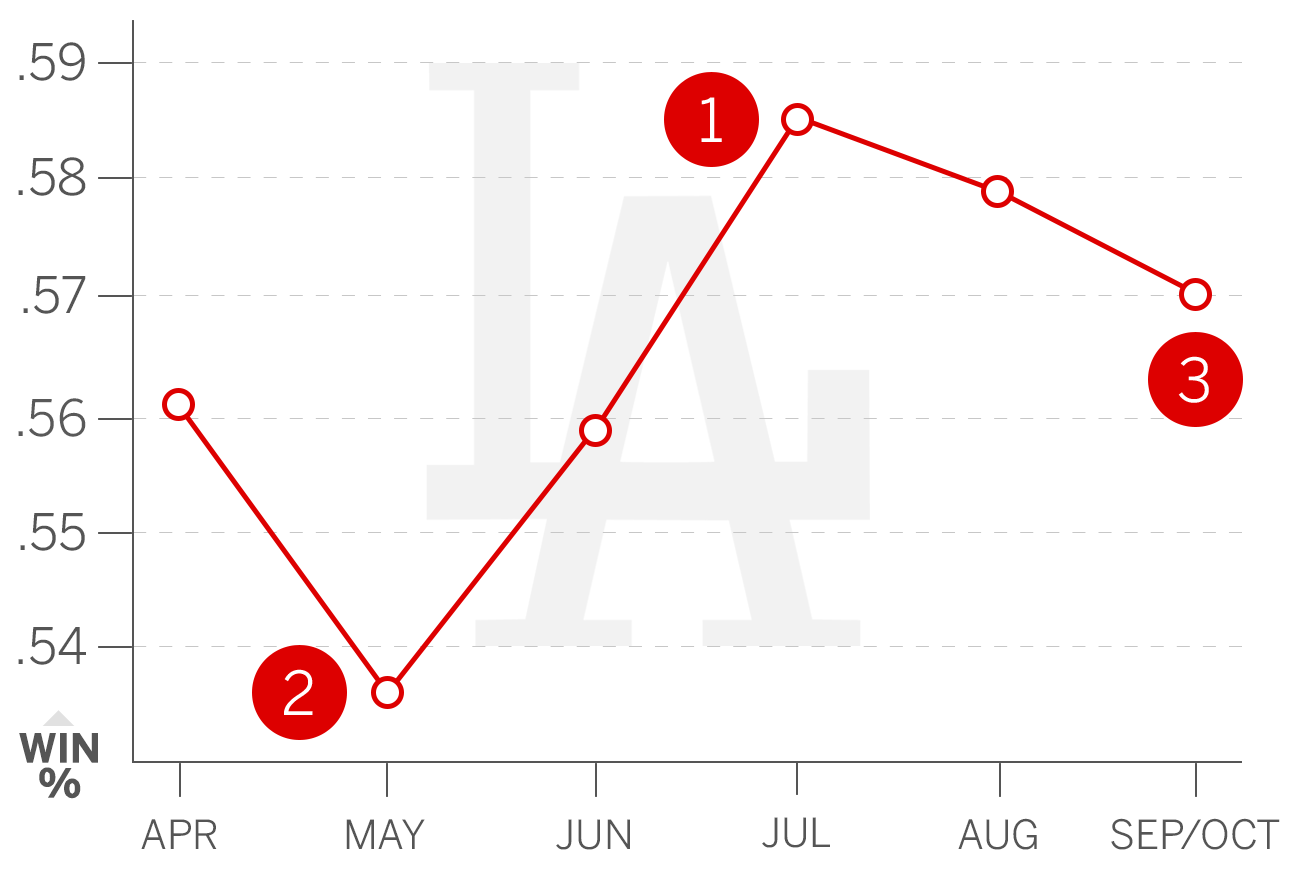 1. Best case: The NL West favorites should have plenty of momentum as they look to stock up at the trade deadline. The Dodgers don't play a projected winning team in July until a home set against the Giants to close out the month. At that point, we could see Corey Seager on his way to NL MVP honors, Clayton Kershaw clearing room for another Cy Young, and the Dodgers challenging to win 100 games for the first time since 1974.
2. Worst case: June dates with the Cubs, Giants and Cardinals will test the Dodgers. Those series could be playoff previews, unless Seager runs into a sophomore slump, the Dodgers show their age in a few key lineup spots and the rotation depth turns into a morass of uncertainty. Even then, it would be a surprise if the Dodgers didn't challenge for the postseason.
3. Swing factors: Six September matchups with the Giants could decide the NL West. Who will be starting those key games for L.A.? The Dodgers have many options, but 20-year-old Julio Urias is the guy they need most behind Kershaw and Rich Hill. They're going to be careful with his innings early on to have him available down the stretch and in the postseason. You can see why: After a couple of rough outings to start his career, Urias posted a 2.73 ERA and allowed just two home runs over his final 69 1/3 innings.
---
2017 projected record: 90-72 (first in AL West)
World Series odds: 10-1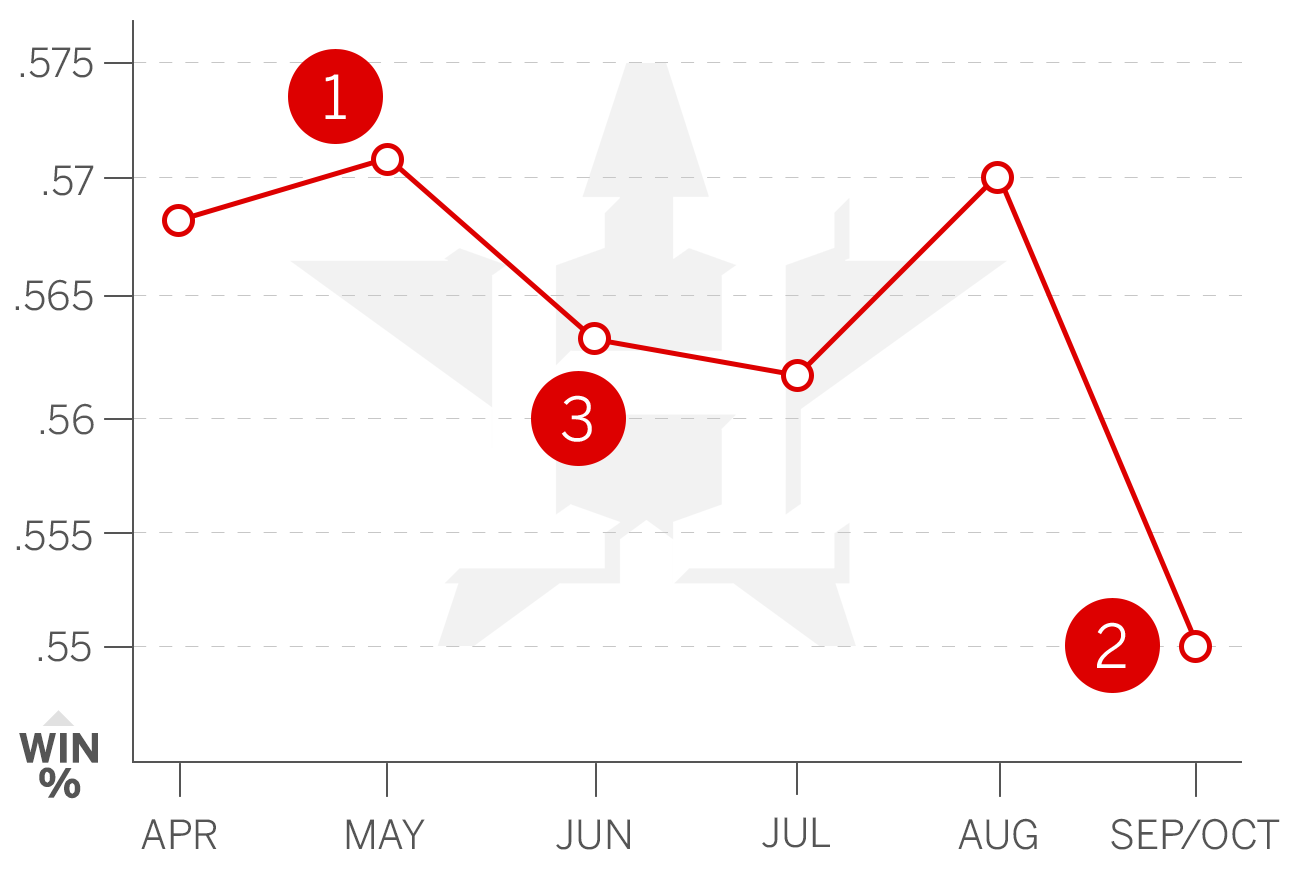 1. Best case: After a tough April against their main divisional contenders, the Astros could have a nice break in May with series against the Angels, Braves, Marlins and Twins. Rolling through that stretch could mean Carlos Correa, Alex Bregman and George Springer are battling for MVP, Dallas Keuchel has returned to form and Lance McCullers has become a legit No. 2. If Houston wins the pennant, the Astros could be on their way to a World Series showdown with the Cubs, a matchup that could occur more than once over the next half-decade.
2. Worst case: In September, Houston's opponents project above .500 overall, the only month this is the case. The Astros' offense seems like a good bet, but the pitching could be reason for concern. If Keuchel and McCullers pitch more like No. 3 and No. 4 starters than No. 1 and No. 2, they never swing a trade for another impact starter and the bullpen logs too many innings, the Astros could stumble.
3. Swing factors: If the Astros fumble a soft portion of the schedule in June -- with a series against the Rangers in the middle -- Texas might once again build an insurmountable midsummer lead. But more than anything, Keuchel's 2017 will decide whether the Astros are leading the AL West or chasing this season. The 2015 Cy Young winner saw his ERA rise over two runs per game in 2016 and his record decline from 20-8 to 9-12. If you don't like wins, his WAR fell from 7.2 to 0.5. The Astros missed the playoffs by five wins -- the difference between a good Keuchel and bad Keuchel.
---
2017 projected record: 89-73 (first in NL East)
World Series odds: 10-1 | Betting guide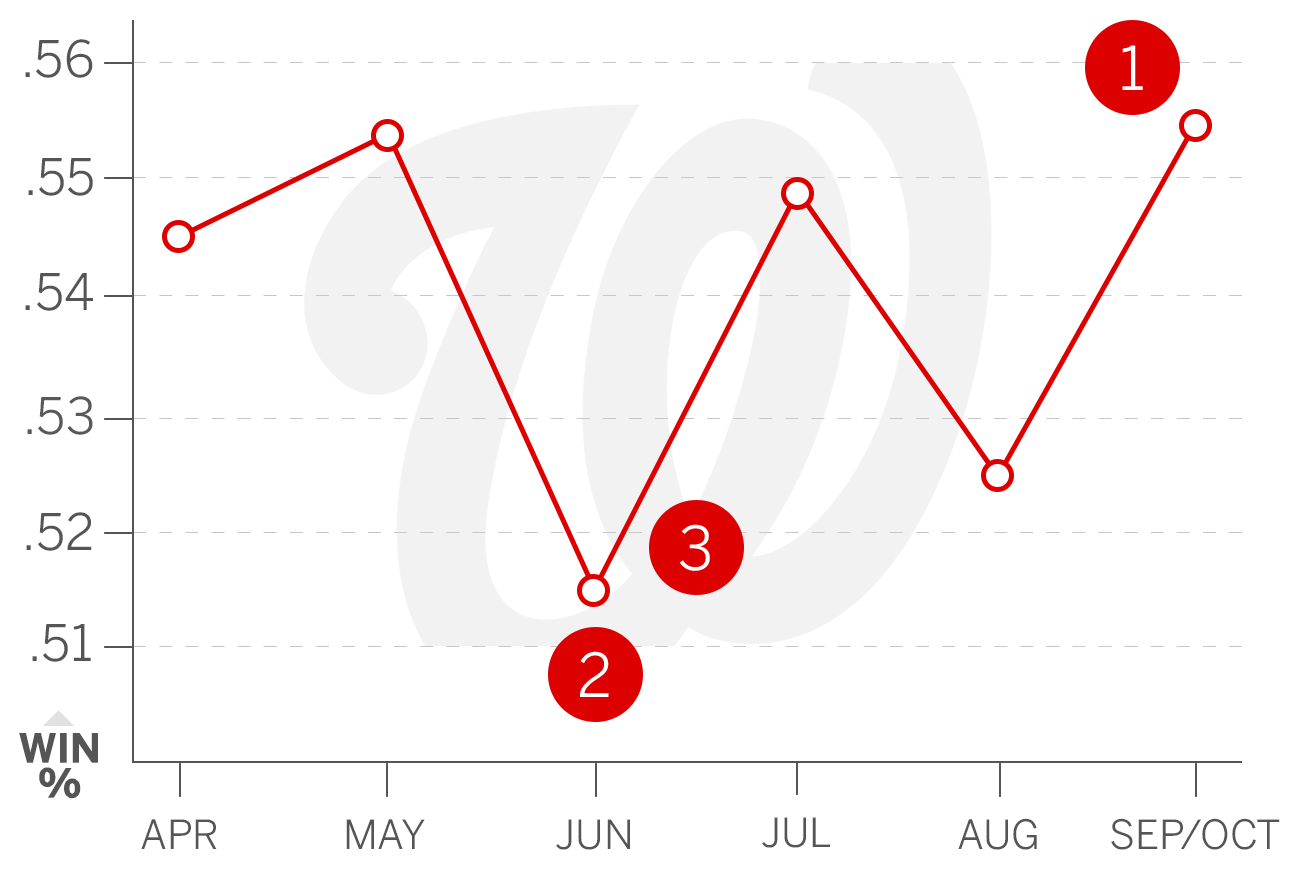 1. Best case: Washington is favored in each May game until its home series against the Mariners that starts on the 23rd. A Bryce Harper bounce-back more than compensates for a likely Daniel Murphy regression, Adam Eaton plays Gold Glove defense in center, and Trea Turner becomes a household name. Koda Glover brings the bullpen into clear focus for Dusty Baker, and a healthy rotation pitches the Nats to the NL's best record.
2. Worst case: ZiPS projects Washington to win the division, but its .506 projected record for June will look like a slump no matter what. If Harper is more 2016 than 2015, injuries eat away at the lineup's depth, Max Scherzer and Stephen Strasburg battle injuries and Dusty ends up playing the closer-of-the-day game, June will be hard to get through. Even then, the Nats would still probably challenge for a wild card.
3. Swing factors: The mid-June Mets-Nats series sits smack-dab in each team's toughest month and looms just as large for Washington as New York. A series against their NL East foe could show the Nationals what they have in Shawn Kelley. Among relievers with at least 100 innings over the past two seasons, Kelley ranks 20th with a 2.55 ERA, seventh in strikeout rate (33 percent), 21st in batting average allowed (.207) and seventh in OBP allowed (.252). So why is everyone concerned? Primarily because he doesn't have the "proven closer" label. He can pitch, but he has never pitched 60 innings in a season, he's a little prone to the home run, and as a setup guy and fastball/slider pitcher, managers have been able to match him up against more right-handed batters.
---
2017 projected record: 88-74 (second in NL west)
World Series odds: 12-1 | Betting guide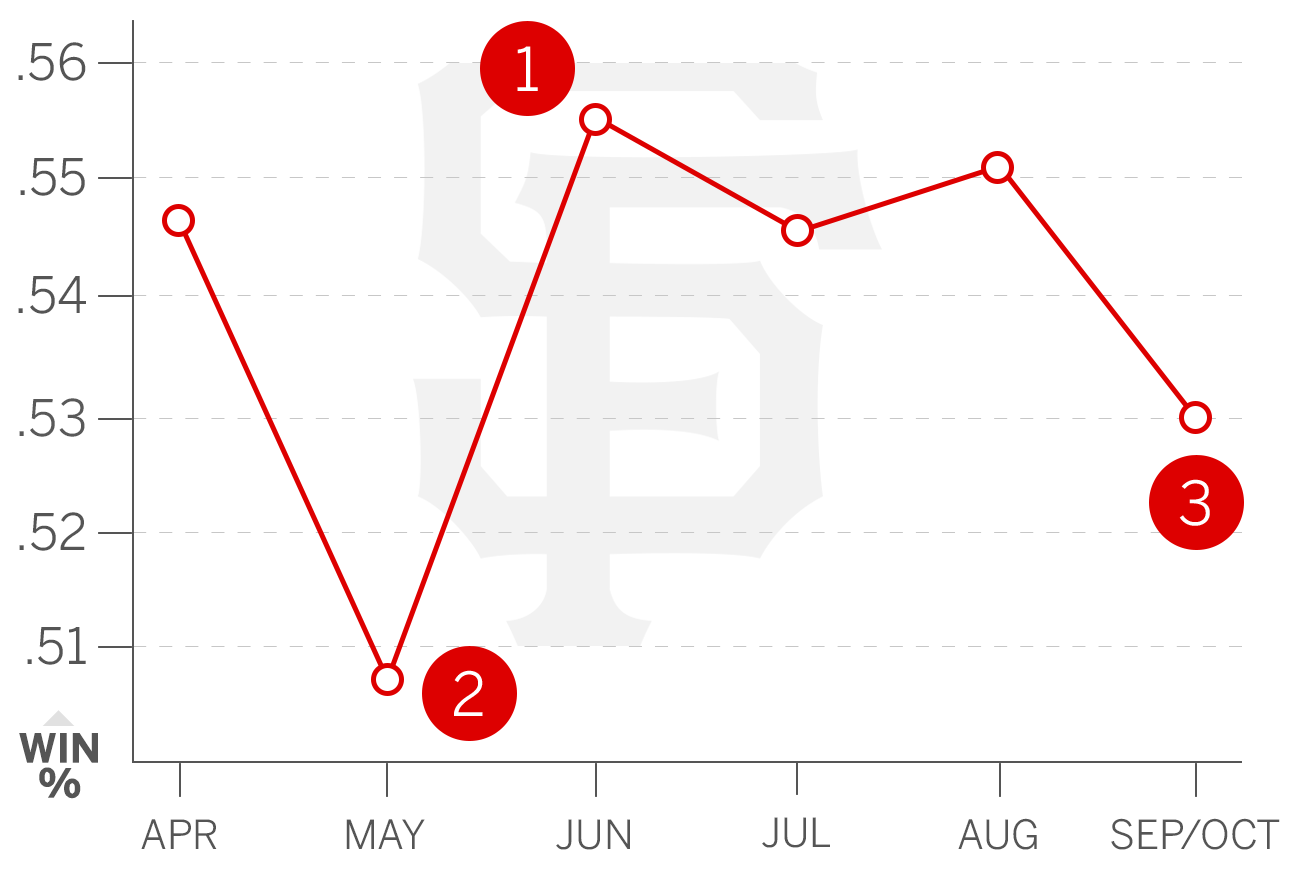 1. Best case: A weak relatively weak June schedule gives the Giants a chance to solidify their place in the NL West race. After a stretch run filled with questions at the back of the bullpen last season, the addition of Mark Melancon crystallizes Bruce Bochy's reliever pecking order. If the starting pitching comes through behind Madison Bumgarner and the lineup gets a couple of career seasons to support Buster Posey and Hunter Pence, even-year magic could be replaced by odd-season glory in San Francisco.
2. Worst case: Could a May stretch featuring matchups with each of last season's other National League playoff teams sink the Giants? The middle of the NL is likely to be better this season, and San Francisco will find itself in that crowd if Melancon proves to be a bad investment, the rotation becomes taxed and the top-heavy offense struggles to score runs. The Giants always seem to find a way, but there is a sub-.500 floor to this team.
3. Swing factors: The outcome of six September matchups with the Dodgers could be the difference between a division title, a wild-card spot or a missed postseason for San Francisco. You can bet Giants fans will be watching the bullpen extra closely during that series, and all season long, after last year's late-season meltdown. Giants relievers had a 3.65 ERA in 2016, which was middle of the pack, but the pen slowly broke down as the season progressed, culminating with a painful NLDS collapse. Enter Melancon. No, he doesn't have the big K rate of some other closers, but only Wade Davis and Zach Britton have a lower ERA out of the bullpen over the past four seasons.
---
2017 projected record: 84-78 (third in AL West)
World Series odds: 30-1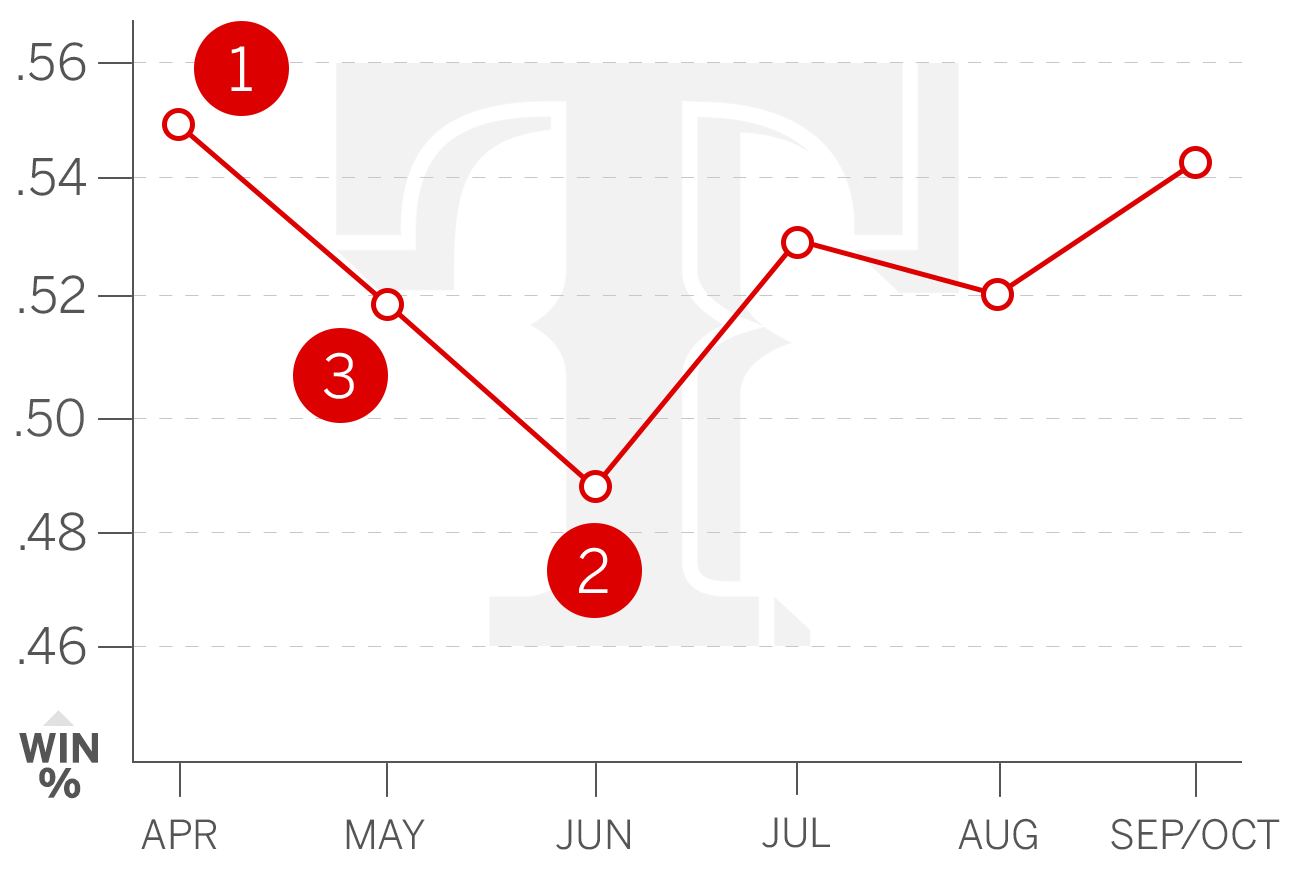 1. Best case: Another April, another hot start? ZiPS projects the Rangers to play winning teams in just six of the first 25 games, finishing the month with a winning percentage of .548. If Yu Darvish puts in a full season, the bottom half of the rotation pitches consistently enough to justify a midseason acquisition and the lineup becomes one of the league's best two-way units, the Rangers could be back in the playoffs.
2. Worst case: The June schedule is loaded with four 2016 playoff teams: the Mets, Nationals, Blue Jays and Indians. Add in six games against the Astros, and the Rangers could struggle in June. If the rotation implodes, Darvish gets hurt again and the Rangers decide to turn over most of the lineup to their younger players, 2017 could end up being more about building for 2018.
3. Swing factors: If the Rangers can't build a cushion in the AL West after games against the A's, Royals, Twins and Angels early in the season, they likely never will. Texas has a thin rotation behind Darvish, Cole Hamels and Martin Perez; the Rangers gambled $16 million on one-year contracts on two pitchers -- Andrew Cashner, who's coming off a terrible year, and Tyson Ross, who had thoracic outlet surgery. Ross, who had the same surgery as Matt Harvey, has been limited to bullpen sessions so far this spring and is aiming for a mid-May return. Meanwhile, Cashner has come down with a lingering biceps injury and won't be ready for Opening Day. Will either gamble pay off?
---
2017 projected record: 85-77 (second in NL East)
World Series odds: 12-1 | Betting guide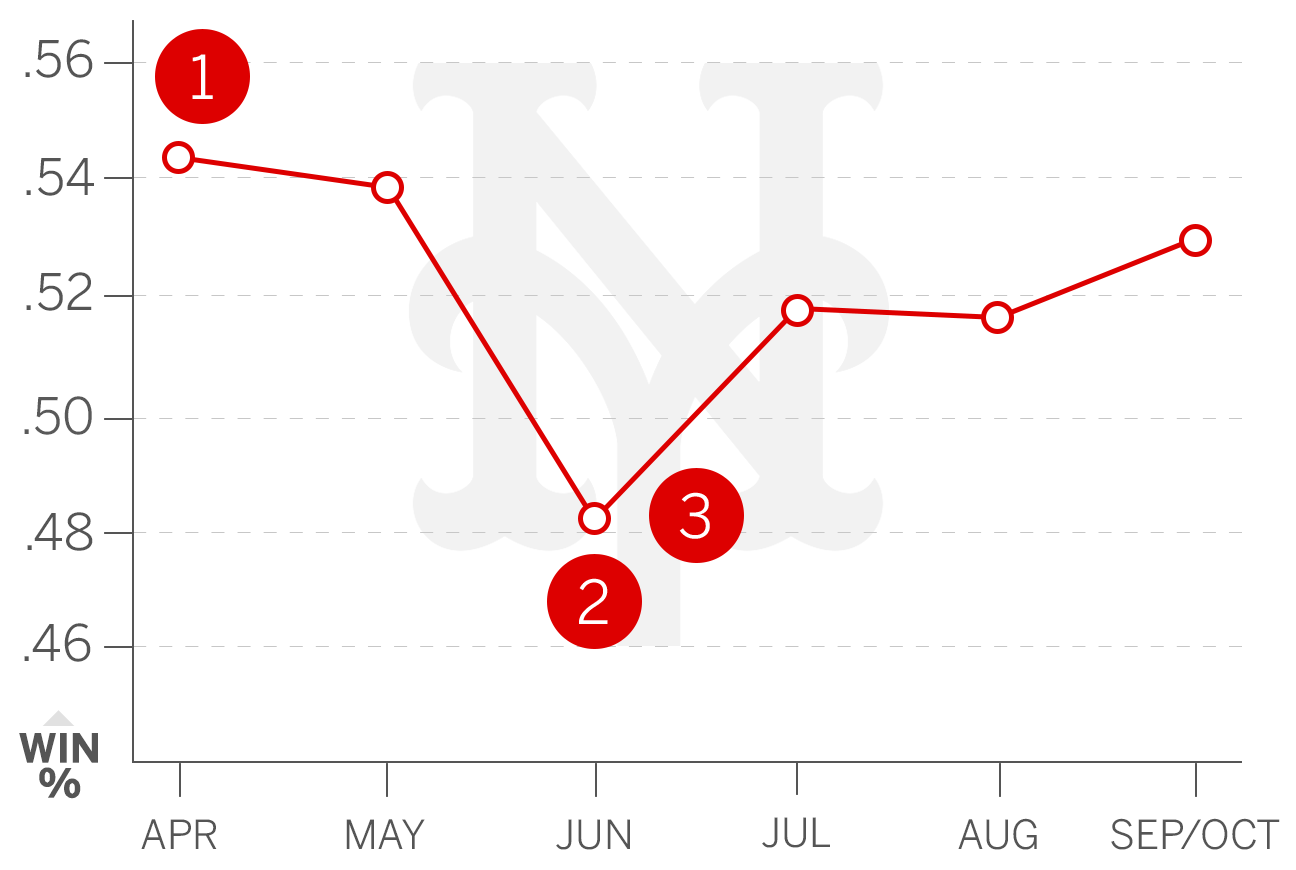 1. Best case: ZiPS projects the Mets to not play a .500 team until the 17th game of the season. With a boost at the start of the season, the Mets ride their seven high-quality rotation options all season and get enough offensive support for Yoenis Cespedes to make a run at the NL East crown.
2. Worst case: In mid-June, the Mets have to run the gauntlet against all four of the other 2016 National League playoff teams. If injuries are piling up at this point and the Mets don't have enough quality innings to prop up a staggering offense, they are just a Cespedes injury away from a dive to the lower half of the division.
3. Swing factors: The Nats have a tough June too, meaning this series could be the Mets' best opportunity to really twist the knife. Of course, you can point to the health of the entire rotation, but Matt Harvey's comeback from thoracic outlet surgery is the big swing factor here. When healthy in 2015, he produced a 2.71 ERA and 4.3 WAR. In 17 starts last year before finally shutting it down, he had a 4.86 ERA and 0.0 WAR. The returns in spring training have been mixed, with Harvey sitting 92-93 mph instead of the 94.4 mph he averaged last year and below the 95.8 mph he averaged in 2015.
---

2017 projected record: 87-75 (second in AL East)
World Series odds: 25-1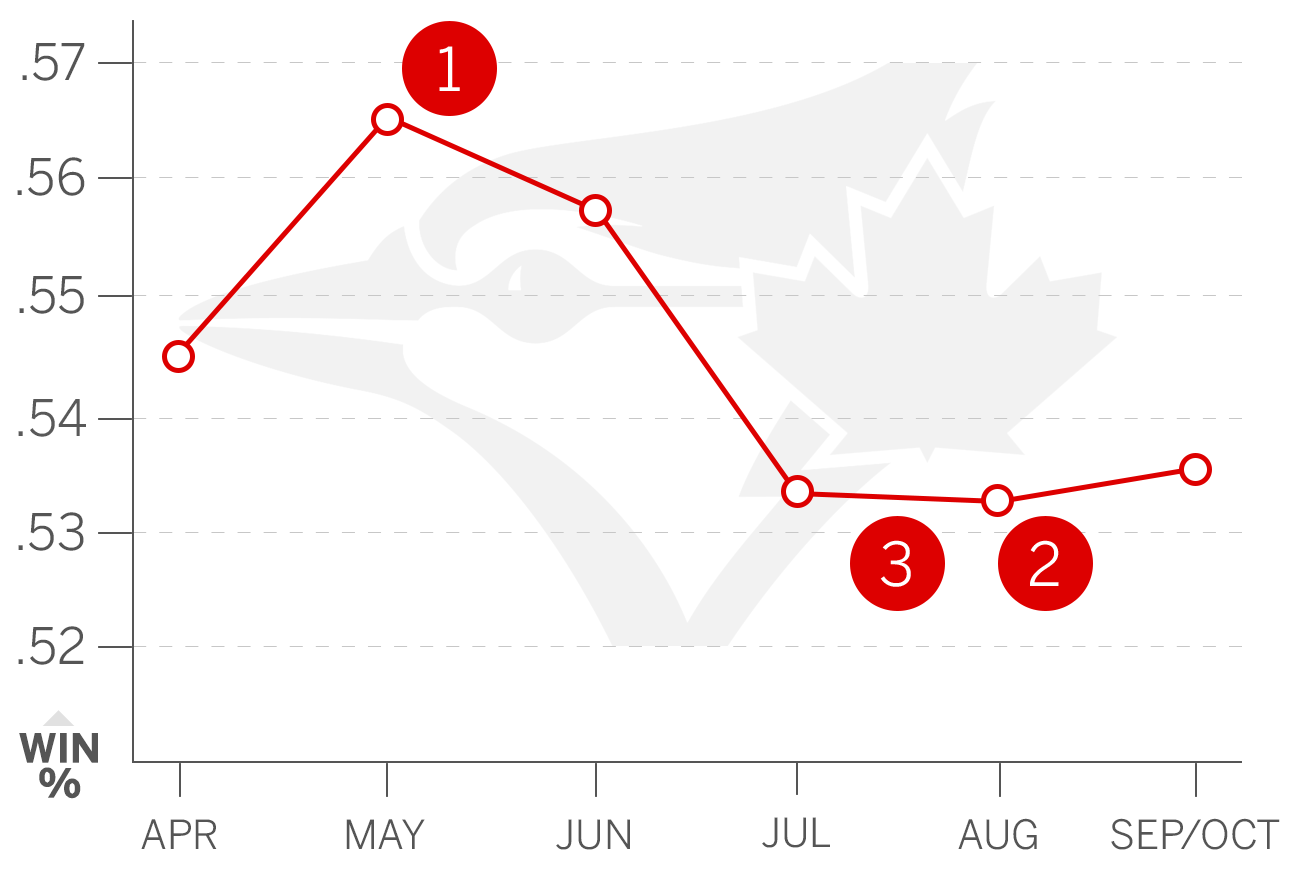 1. Best case: ZiPS projects a .565 winning percentage for the Jays in May, thanks to series against the Brewers, Reds and Braves. Winning against those teams would put the Jays on a good pace early in the season. If Troy Tulowitzki stays healthy, Kendrys Morales picks up the slack for Edwin Encarnacion and Jose Bautista slows signs of decline, the Jays should score runs again. That will allow Aaron Sanchez to mount a Cy Young campaign and get the Jays into October.
2. Worst case: With a number of strong opponents, including the Cubs, Toronto could have a postdeadline downturn. The player to watch is Bautista. If his bat continues to fade and he becomes unplayable in the outfield, the rotation might not be good enough to compensate for the slipping offense.
3. Swing factors: The Jays have series against all three projected division winners in mid-July, testing the team's claims to the top tier. If the Blue Jays are going to reach that level, one of the keys is Marcus Stroman. Sanchez and J.A. Happ went a combined 35-6 last year while ranking first and sixth in the AL in ERA. You have to expect some regression from that pair, which means Stroman needs to improve for the Jays to maintain their status as the best rotation in the AL. Stroman was much better in the second half, upping his strikeout rate from 16.9 percent to 22.7 percent, in part by simplifying his repertoire and throwing his sinker more often. He was great in the World Baseball Classic, giving up four earned runs in 15 1/3 innings and leading the U.S. past Puerto Rico in the title game.
---
2017 projected record: 85-77 (second in NL Central)
World Series odds: 30-1 | Betting guide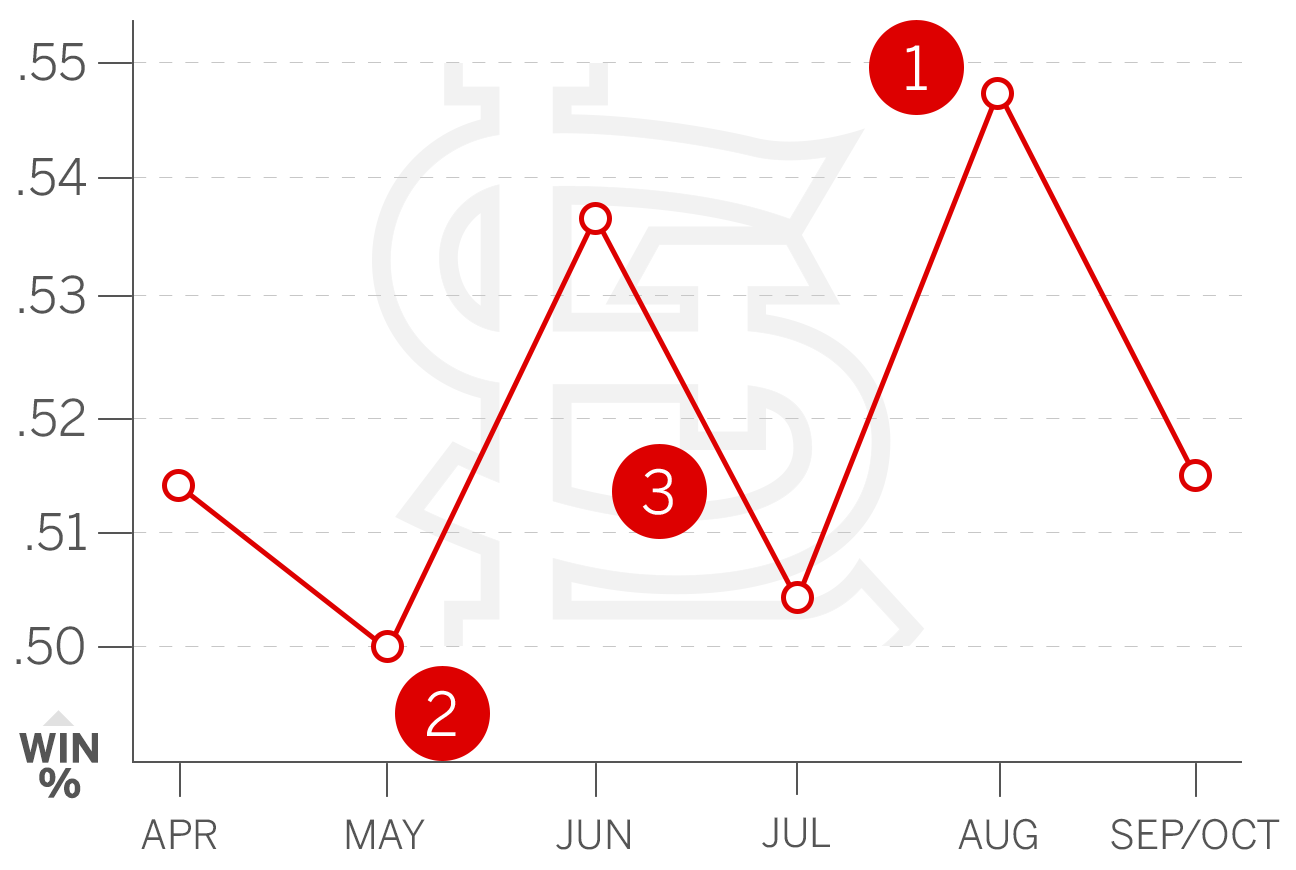 1. Best case: August is the Cardinals' best month to make a run at the Cubs, featuring their tour of the NL's rebuilding teams. They play 14 games against the league's lesser lights. If the Cardinals get full seasons from their starters and can use Luke Weaver and others as needed, St. Louis could have one of the better run-prevention units around, particularly if the realigned defense jells. That would be enough to support the Redbirds' always-steady offense.
2. Worst case: They're projected as a wild-card contender, but ZiPS shows the Cardinals below .500 after a late-May stretch against the Cubs, Red Sox, Giants and Dodgers. The Cardinals might have enough arms to cover for the loss of Alex Reyes, but would look a whole lot better with him in the rotation. The recent injury history of St. Louis' starters is worse than most, and if Lance Lynn, Adam Wainwright and Michael Wacha falter again, the wheels could come off.
3. Swing factors: If St. Louis can't get back above .500 by the time they finish with the Reds, Phillies and Brewers in early June, they might end up below it at season's end. The consensus is the Cardinals weren't a good defensive team in 2016, though the metrics gave them mixed reviews -- they had a plus-4 rating in defensive runs saved (13th in MLB), but UZR put them at minus-27 (24th). Inconsistent lineups were part of the problem as only Yadier Molina and Stephen Piscotty stayed at one position. Fowler was the big offseason move, allowing Randal Grichuk to slide over to left field to replace Matt Holliday. Aledmys Diaz looked better at shortstop in the second half, and the Kolten Wong outfield experiment won't happen again.
---
2017 projected record: 85-77 (second in AL West)
World Series odds: 25-1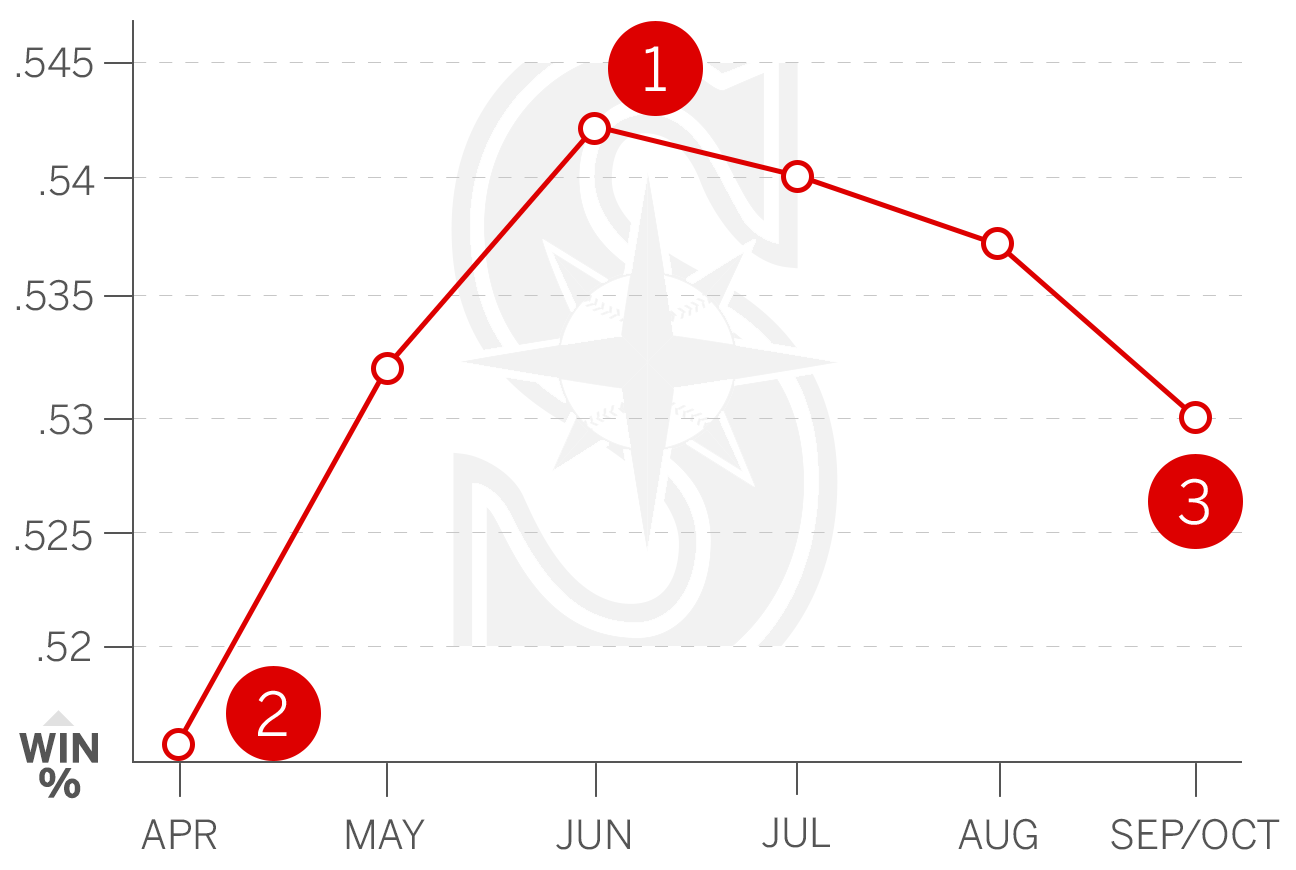 1. Best case: Starting on the first of June, the Mariners are favored in 19 of their next 22 games on their way to a .542 winning percentage in the month. The Mariners have a chance to be a playoff team if the new-look outfield catches everything, the offensive core stays healthy and Felix Hernandez reverts to King Felix-like stuff. If that happens, the Mariners could find themselves in a three-team race for the AL West title.
2. Worst case: Ten games against the Astros and Rangers and series against the Indians and Tigers gives the Mariners their lowest monthly projected winning percentage in April (.516). A slow start to the season could put the Mariners in a big hole early. If the offense outside of Nelson Cruz, Robinson Cano and Kyle Seager falters and Hernandez continues to decline, the Mariners' busy offseason could be rendered useless.
3. Swing factors: Ten consecutive games against the Astros and Rangers starting Sept. 11 could be when the season is won or lost for the Mariners. And the biggest question mark remains Hernandez. In 2014, Hernandez led the AL with a 2.14 ERA and finished second in Cy Young voting. In 2015, he won 18 games and finished seventh in Cy Young voting. In 2016, he had his worst ERA (3.82) since 2007, a career-worst walk rate and missed time with a calf injury.
---
2017 projected record: 80-82 (fifth in AL East)
World Series odds: 40-1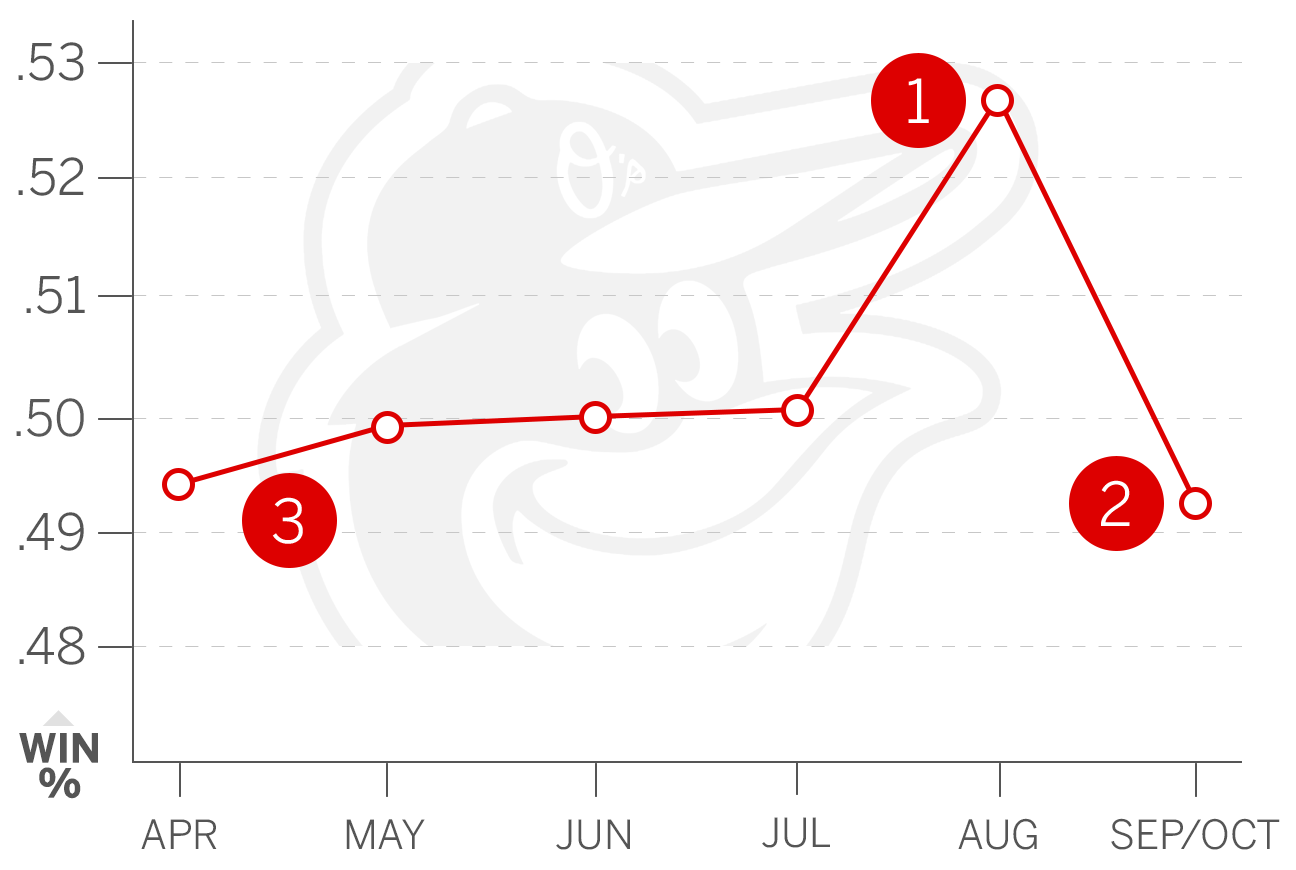 1. Best case: Starting at the trade deadline, the O's are favored in 16 of 23 games and projected to have their best monthly win percentage (.527) in August. There are reasons for optimism in Baltimore. Manny Machado should be in the MVP race. If Chris Tillman can stay healthy and Kevin Gausman and Dylan Bundy can emerge, the Orioles could have one of the AL's top starting trios. Then Baltimore can add a bat during the season and look forward to its bullpen dominating in October.
2. Worst case The O's have a tough stretch to end the season, last playing a team with a projected record under .500 on Aug. 23. The Orioles' projected September/October winning percentage (.492) is their worst monthly record of the season. While the O's could contend, there are several stumbling blocks -- Machado missing time; Chris Davis having one of his low-average, massive-strikeout seasons; and no real solution emerging in left field. If the starting rotation isn't healthy or effective, it would tax the team's biggest strength -- the back of the bullpen. If things go wrong, all of the last-place forecasts come true, leaving the Orioles scrambling to determine their next step with Machado one year away from free agency.
3. Swing factors: A poor April -- in which all but three games are against divisional rivals -- could push the Orioles under or keep them surprising and beating projections. One area to watch in 2017 is defense. The Orioles ranked last in the majors with minus-51 defensive runs saved in 2016, so it's definitely an area in which they could improve.
---
2017 projected record: 81-81 (second in AL Central)
World Series odds: 30-1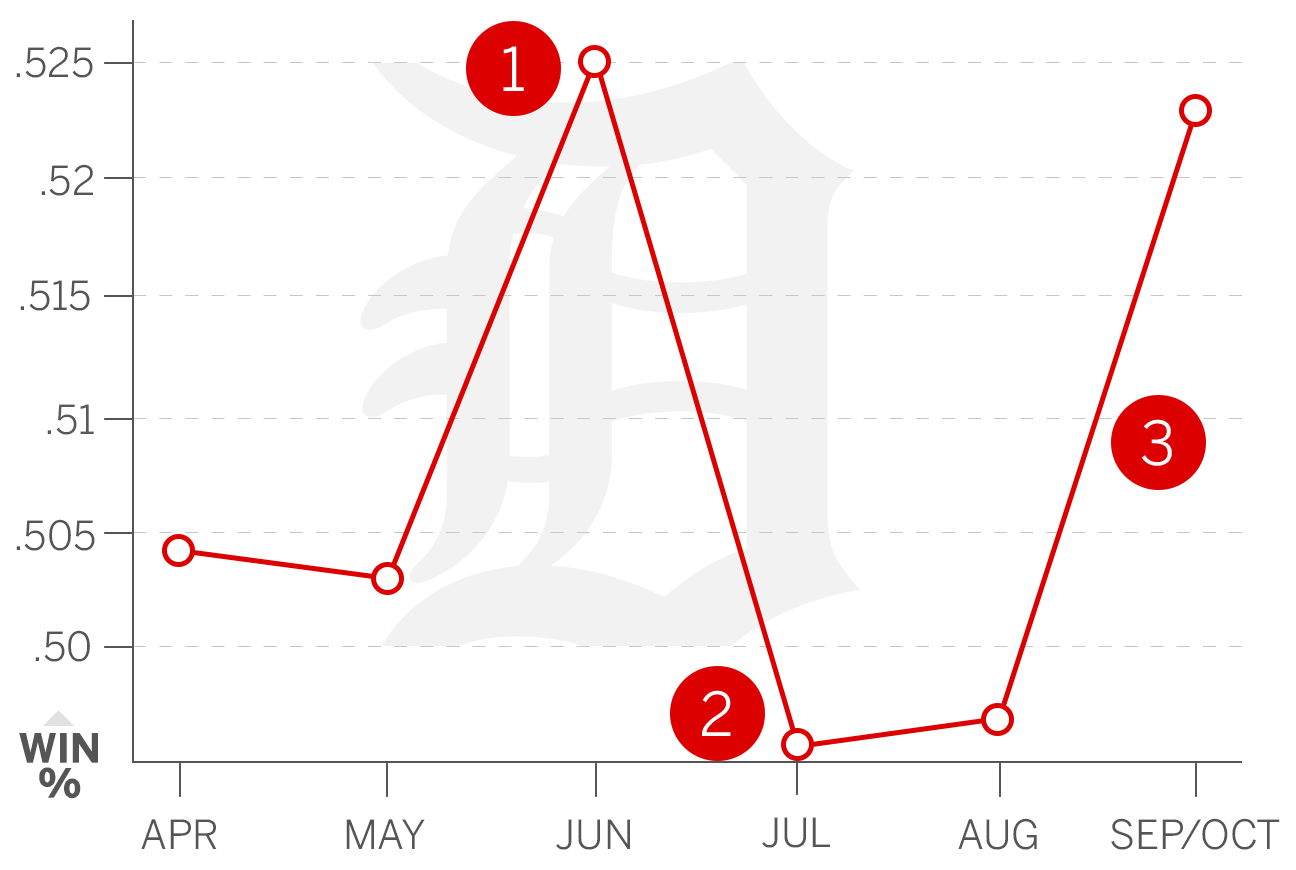 1. Best case: June projects as the Tigers' best month (.525 winning percentage). If they finish the month below .500 after late-June series against the Padres and Royals, they are likely to stay there. But the Tigers' aging core could be durable enough for one more run as a group. The offense has the potential to rank among the AL's best, but the starting rotation must perform well enough to justify midseason acquisitions. otherwise there is no reason to foresee a second-half boost.
2. Worst case: Series against the Indians, Blue Jays, Giants and Astros make July Motown's toughest month. If Miguel Cabrera and Victor Martinez can't stay on the field and the team is struggling at the end of July ahead of the trade deadline, the imminent sell-off could commence.
3. Swing factors: The Tigers have an easy last couple of weeks of the season, but they'll have to survive nine games against the Indians and Blue Jays in early September for it to matter. The Tigers entered the offseason in sell mode with an aging roster but were unable to find takers for impending free agent J.D. Martinez. Will trade rumors put a drag on the clubhouse? Besides Martinez, others on the block could include Victor Martinez, Ian Kinsler, Francisco Rodriguez and maybe even Justin Verlander. If Detroit can ignore the trade rumors and capitalize on weak AL Central competition, this final stretch of the season could be important.
---
2017 projected record: 83-79 (third in NL Central)
World Series odds: 60-1 | Betting guide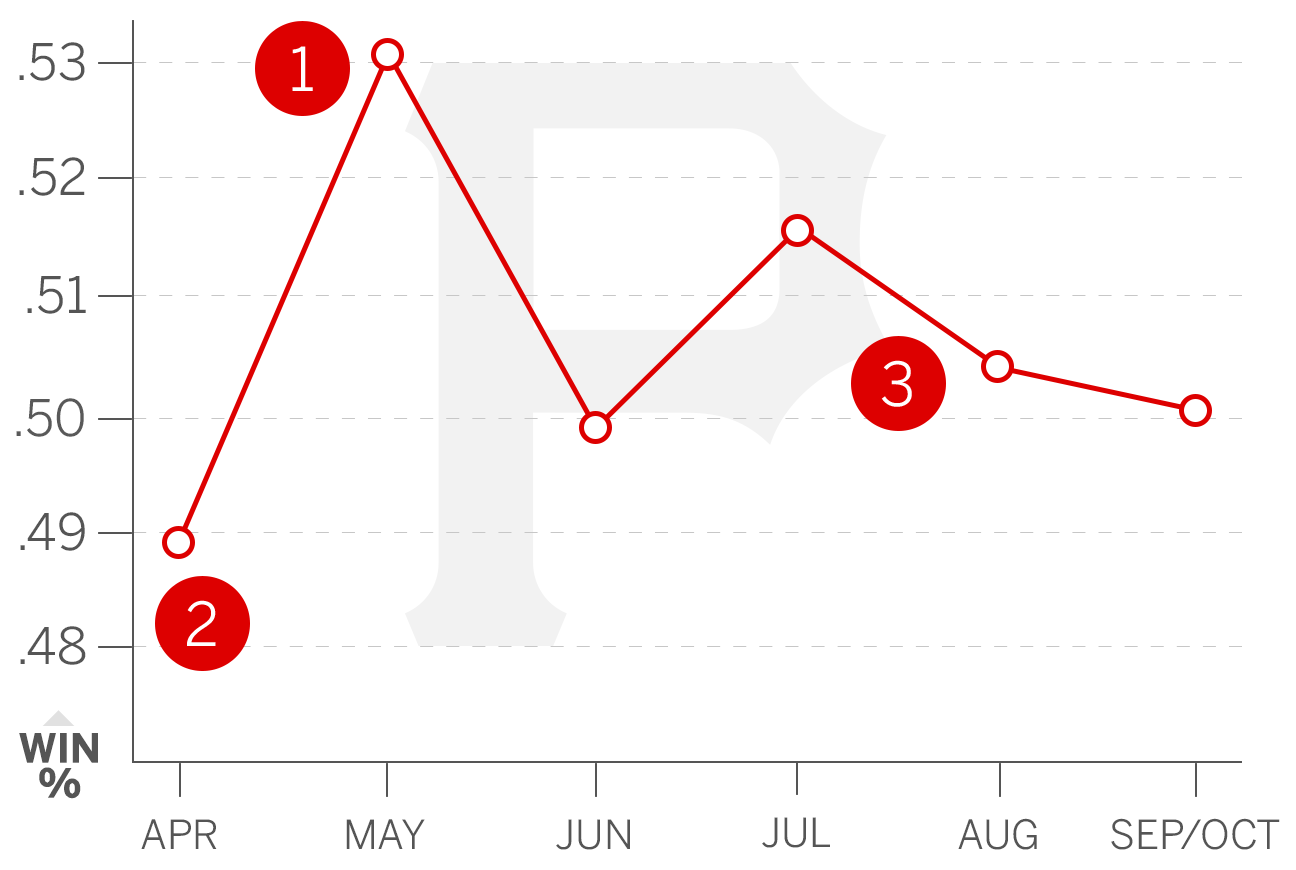 1. Best case: ZiPS picks the Pirates to finish above .500, and that's fueled in part by the opponents the Bucs face in May -- a group that projects at a .479 clip. The Pirates will be dangerous if Gerrit Cole and Jameson Taillon put in full seasons and evolve into one of the best one-two rotation punches in the NL, Tyler Glasnow joins them as a legit No. 3 and Andrew McCutchen bounces back to give Pittsburgh one of the best outfields in the game.
2. Worst case: The Bucs will play nearly a third of their April games against the ZiPS World Series favorites thanks to a series against the Red Sox and two against the Cubs mean. Things will go wrong in Pittsburgh if Cole and Taillon aren't quite ready for dual stardom, Josh Bell struggles at first base and McCutchen's off-year becomes a career dive.
3. Swing factors: If the Pirates fall back to earth after a mid-July run of divisional games, whispers of a McCutchen trade will get louder. The Pirates need their franchise superstar to play like a superstar. McCutchen's WAR has declined each year since 2013, from 8.1 to minus-0.7 in 2016, with his increasingly problematic defense in center field and his OBP dropping to .336 after four straight seasons above .400. The Pirates hope the new defensive alignment of McCutchen in right, Starling Marte in center and Gregory Polanco in left will pay off, but they also need McCutchen's bat to return to elite status.
---
2017 projected record: 82-80 (third in NL West)
World Series odds: 50-1 | Betting guide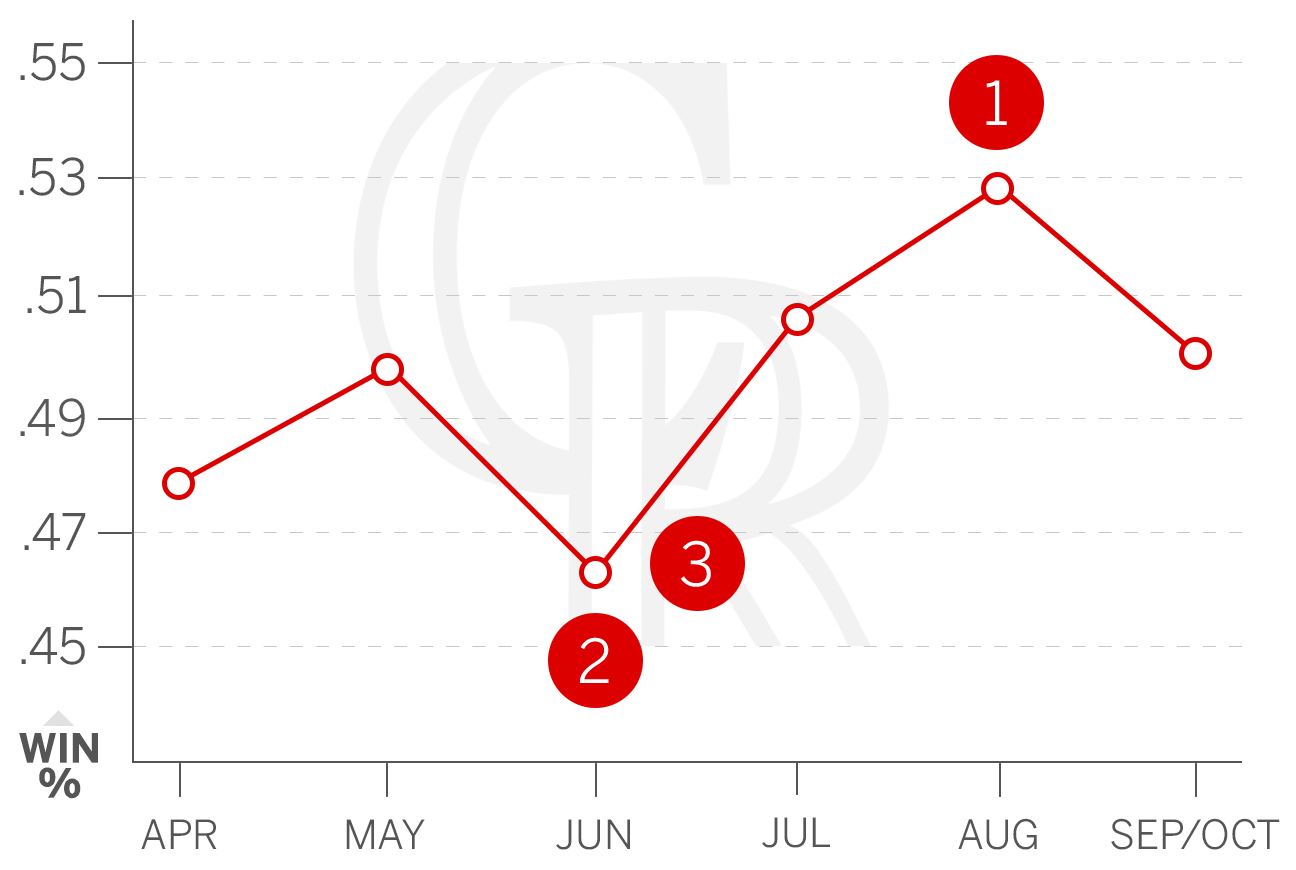 1. Best case: If the Rockies take advantage of a friendly August schedule, they could find themselves in contention heading into the stretch. As long as Colorado's early rash of injuries subsides, David Dahl has breakout-star potential and Ian Desmond might be the final piece of a lineup with outstanding potential, both around and including Nolan Arenado.
2. Worst case: If Colorado can't clear its disabled list, a tough June could sink any chance of a surprise season. The pitching has promise but lacks proven depth, and that could spell trouble in a very competitive race for the NL postseason bracket.
3. Swing factors: Life in the NL West means a heavy dose of the Giants and Dodgers on the schedule. The Rockies face 10 matchups with the two division powers in the second half of June alone. If Colorado wants to make a statement there, the bullpen must be better. The Rockies ranked dead last in the majors in 2016 with a 5.13 bullpen ERA. Even at Coors Field, that's not going to cut it. When the Rockies have made the playoffs -- 2007 and 2009 -- they've had good bullpens. They'll get Adam Ottavino back for a full season after he returned from Tommy John surgery last year to pitch well in 27 innings. Former Royals closer Greg Holland, returning from his own Tommy John surgery, is the bigger question mark. He just made his spring debut Wednesday and topped out at 94.7 mph on the radar gun.
---

2017 projected record: 81-81 (fourth in AL East)
World Series odds: 30-1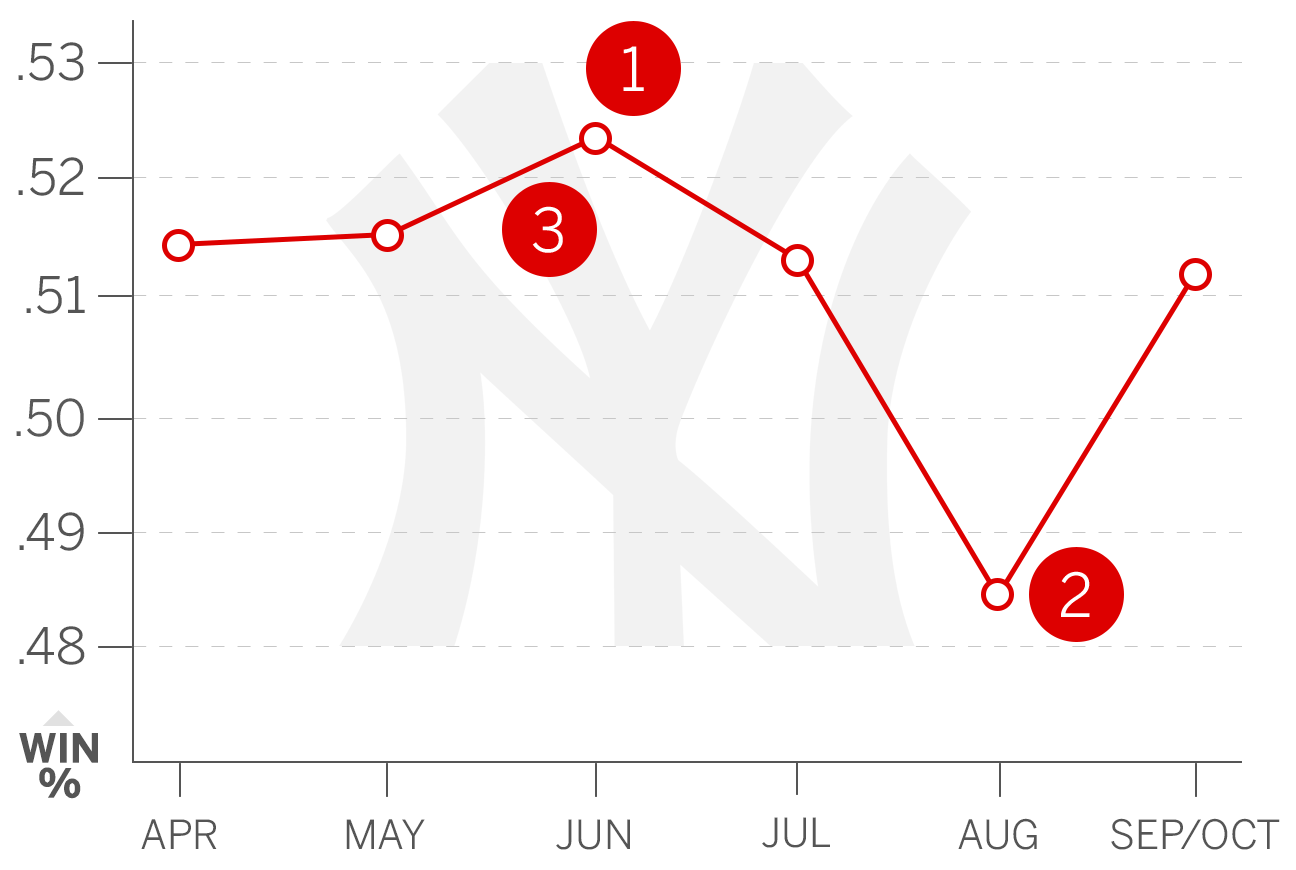 1. Best case: A healthy dose of below-.500 opponents (Reds, Royals, A's) in June gives the Yankees their best projected month. This month the young hitters burst onto the scene, Gary Sanchez becomes an MVP candidate and Gleyber Torres forces his way into the big-league lineup. With the offense back among the elite, the starting rotation does just enough to put a great bullpen in plenty of high-leverage situations, and this easier stretch in June feeds the young squad's confidence.
2. Worst case: The Yankees have 21 games against 2016 playoff teams and an additional nine against the Tigers and Mariners over a stretch starting on July 31. If the young hitters are slow to acclimate and the rotation blows up in the negative sense, a month with no easy games could cause their lowest point of the season. If they already sold their veterans in late July, the main storyline in August will be how to set up for a 2018 breakthrough.
3. Swing factors: New York jumps right back into divisional play in late May after a few weeks fighting it out with some weaker teams. The Yankees are leaning heavily on three youngsters to boost the offensive production. Greg Bird, returning from shoulder surgery, replaces Mark Teixeira at first base; Aaron Judge is being given the opportunity to win the right-field job; and Sanchez enters the season with as much buzz as any player in the majors after slugging 20 home runs in 53 games. After hitting .389 and slugging .832 in August 2016, Sanchez fell to .225 and .520 in September. Projections suggest a .265 hitter with 25 to 30 home runs in 2017. How the young ones are performing at this key time could determine the team's strategy for the trade deadline and whether they are relevant down the stretch.
---
2017 projected record: 77-85 (fourth in AL Central)
World Series odds: 60-1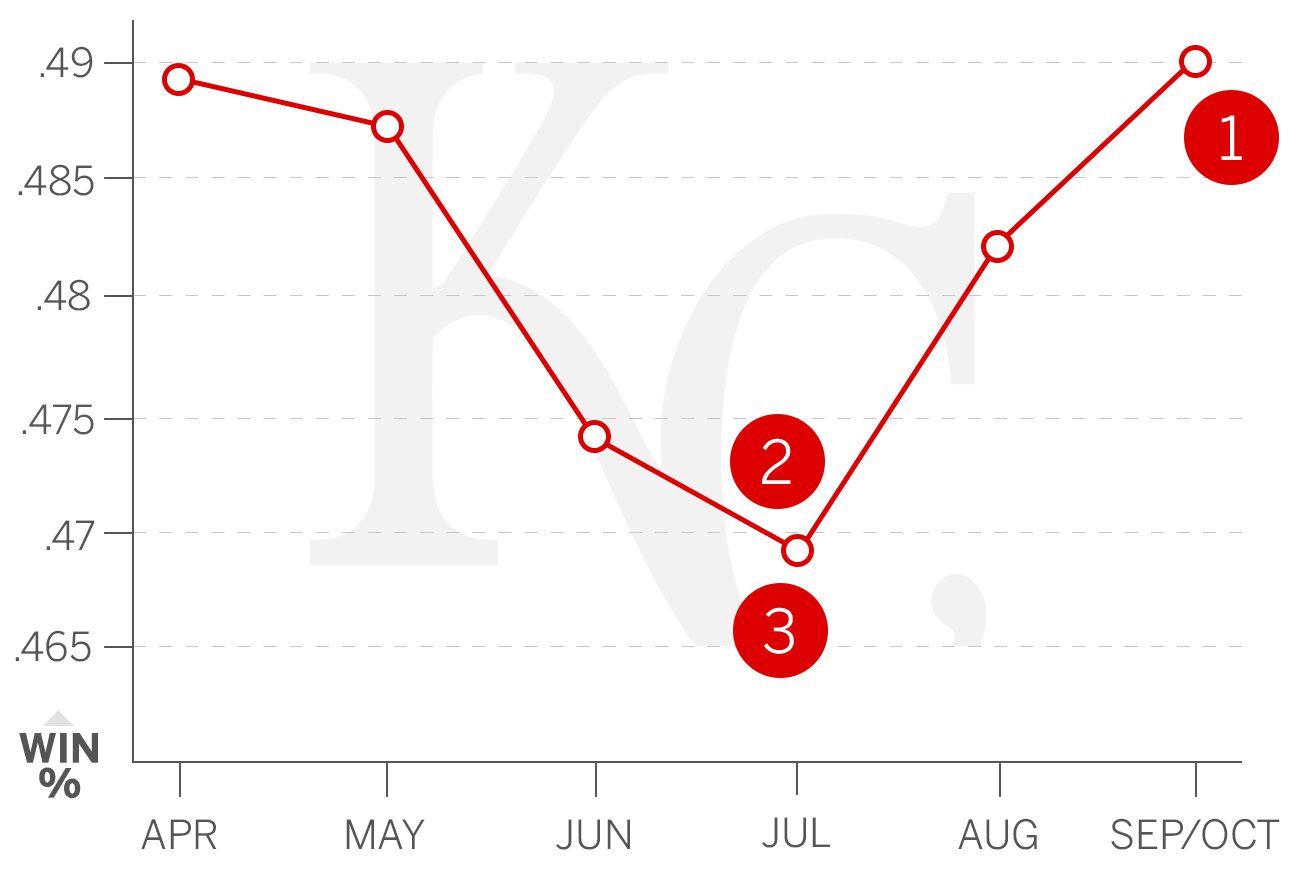 1. Best case: If the team pulls off another miracle, seven games against the Twins, six against the White Sox and a finale series against Arizona might be why. If the Royals get off to a fast start, announce a couple of extensions with their pending free agents and add at the deadline, K.C. could be challenging the Indians for an AL Central crown in September and October when the schedule looks soft.
2. Worst case: The Royals opponents' project to a .515 record in July, the team's toughest month of the entire season with the trade deadline looming. If the Royals can't score and the remade bullpen blows a few leads, GM Dayton Moore might have to buy another phone to keep up with the volume of trade-related inquiries after the team falls below .500 leading into the deadline.
3. Swing factors: In a three-week period (June 19-July 9), the Royals get the Red Sox, Blue Jays, Dodgers and Rangers, providing clarity as the team heads to the trade deadline. Lorenzo Cain, Eric Hosmer, Mike Moustakas and Alcides Escobar are all free agents at the end of the season. With long-term commitments to Alex Gordon, Salvador Perez, Ian Kennedy and Danny Duffy already on the books, the Royals won't be able to afford bringing everyone back. The farm system is relatively weak, so Moore will have some tough choices to make depending on where the Royals stand in the playoff race.
---

2017 projected record: 77-85 (fourth in AL West)
World Series odds: 60-1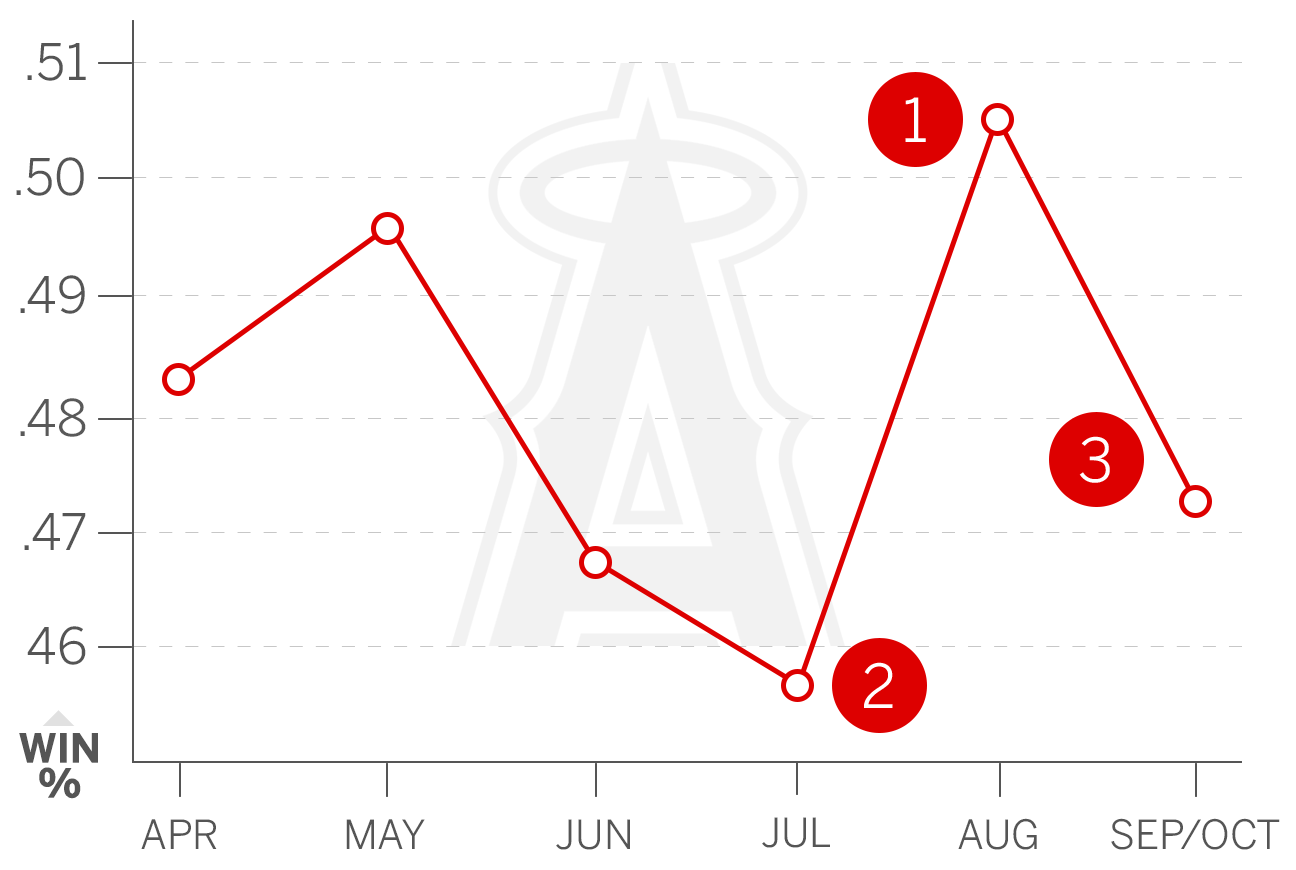 1. Best case: With 15 games against below-.500 teams, August appears to be the Angels' easiest month. If Mike Trout is on pace for both Triple Crowns (AVG/HR/RBI, plus AVG/OBP/SLG), Albert Pujols has a strong late-career surge, the starting rotation stays healthy and the back of the bullpen holds up, a late August run could propel them to a wild-card spot.
2. Worst case: July (.457 winning percentage) projects as the Angels' worst month of the year and could put them in a hole that's too big to get out of in August. If Trout proves to be the only plus performer on the roster and the system remains thin, the Angels will have little choice but to consider moving their star sometime over the next couple of years for a mega-package of prospects.
3. Swing factors: A final stretch filled with divisional matchups gives the Angels a final chance to make noise in the AL West. One thing that could determine whether the Angels can stay in the race is defense. The Angels were actually a pretty good defensive team last year with plus-31 defensive runs saved. With a payroll that was already maxed, GM Billy Eppler took a more creative approach to the offseason, looking to make the defense even better. Nationals shortstop Danny Espinosa was signed to play second base. Cameron Maybin and Ben Revere, two players capable of playing center field, will share time in left. Martin Maldonado, a good pitch framer, was acquired from the Brewers. Will an improved defense lead to more wins in 2017?
---
2017 projected record: 75-87 (third in NL East)
World Series odds: 80-1 | Betting guide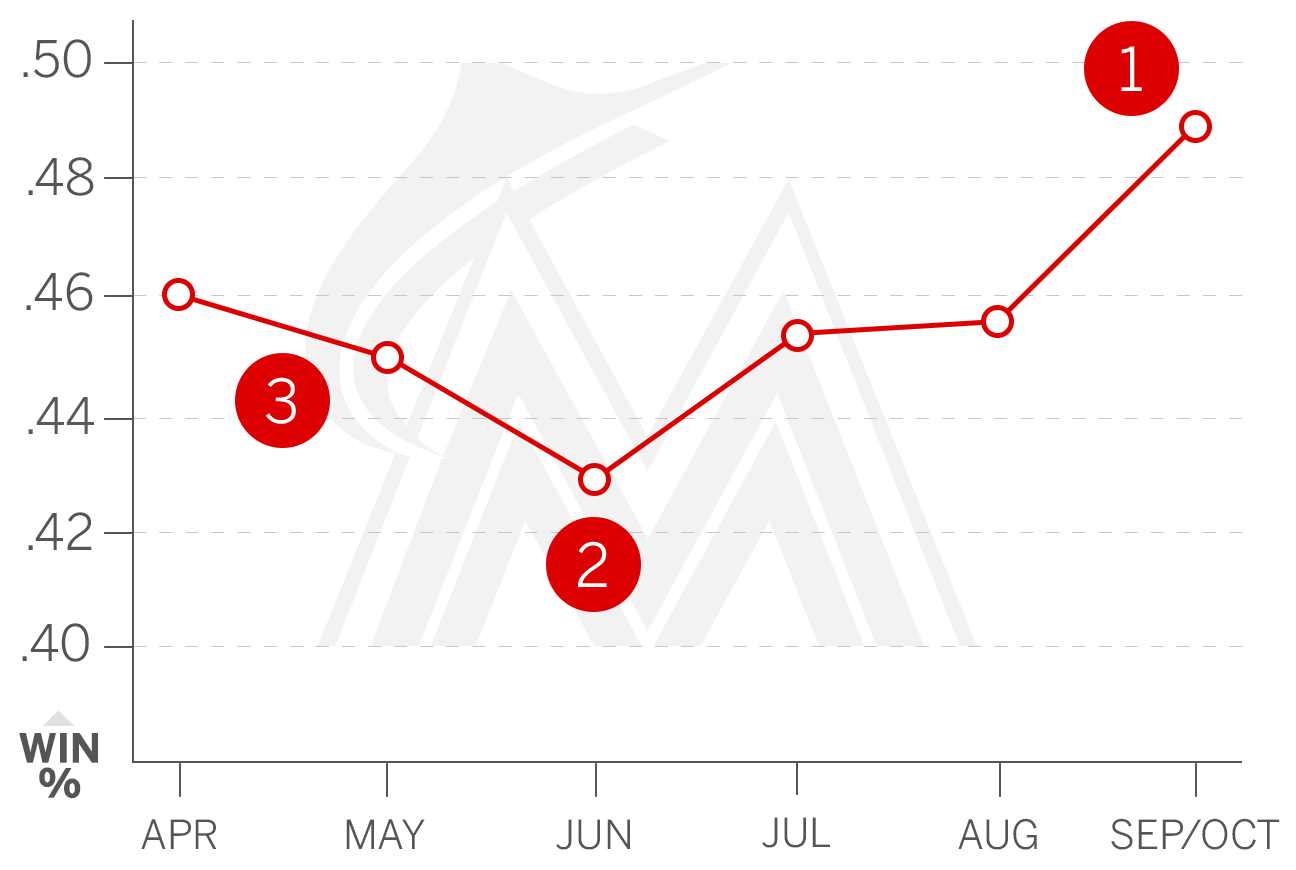 1. Best case: During a September in which the team plays many divisional rivals, the Marlins only have six games left against the Mets and Nationals, but 14 against the Phillies and Braves. A best-case scenario for Miami also involves a full season for Giancarlo Stanton, which, in conjunction with further improvements from Christian Yelich and Marcell Ozuna, would give the Marlins one of baseball's best outfields. But a realistic Miami postseason push depends on a stable starting rotation. If they get that, they can challenge for a wild card in September.
2. Worst case: Late June features a long homestretch against the Nationals, Cubs and Mets, giving the Marlins a .415 projected record for the month. If the outfield is just good, not great, and Don Mattingly finds no solace in filling out his pitching probable, things will bottom out for the Marlins just as the summer is heating up.
3. Swing factors: With the Marlins not projected to be close in roster quality to the Nationals or Mets, April's 10 games against these NL East powers could put Miami in a hole. Dee Gordon was a tremendous asset in 2015, hitting .333 while leading the NL in hits and steals and winning a Gold Glove. After signing a contract extension in the offseason, he tested positive for PEDs, was suspended for 80 and then ineffective when he returned, posting a .305 OBP with worse defensive metrics. Because he doesn't walk and has no power, he has to hit .300 to be an effective offensive player and set the table for the big boys following him in the lineup for the Marlins to have a chance to complete in the division.
---
2017 projected record: 82-80 (third in AL East)
World Series odds: 80-1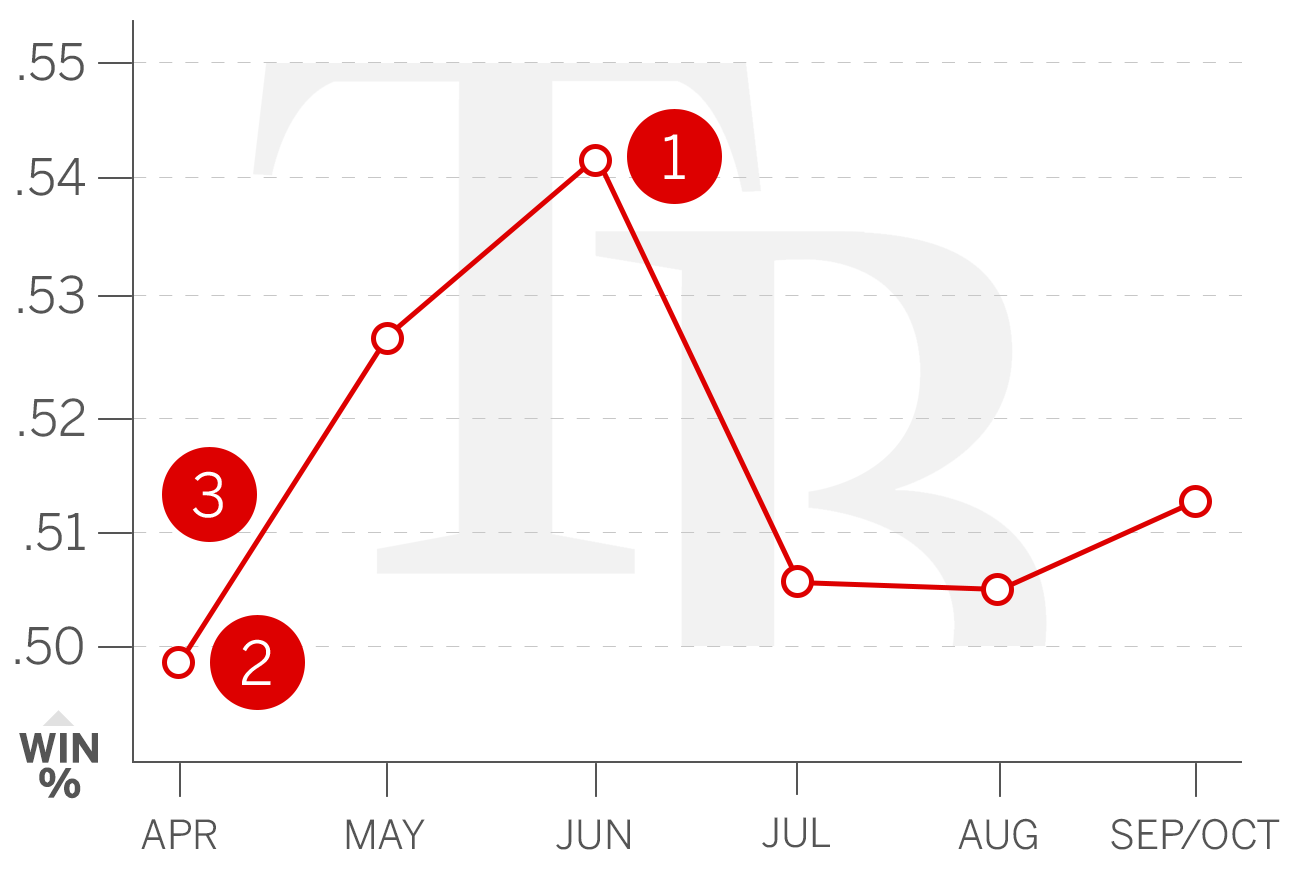 1. Best case: The Rays play opponents with a projected winning percentage of .487 in June, giving them their best chance for a big month. They're facing an uphill fight in the AL East, but there is a path to a playoff spot. If the Rays can lead the AL in run prevention and get career seasons from a couple middle-of-the order power hitters, they could score just enough runs to lock down a wild-card spot.
2. Worst case: April projects as the Rays' only month under .500 for the season (see swing factors below). If the Rays fall too far behind early in the year, they might look to deal starting pitchers ahead of the trade deadline.
3. Swing factors: If the Rays want to be in the division's top tier, a good start in April against a schedule full of playoff hopefuls and divisional rivals would be huge. Another thing to watch is how they perform in close games as the Rays have been victimized by poor results in tight contests for two straight seasons. In 2015, they went 2-13 in extra-inning games. In 2016, they went 13-27 in one-run games and led the majors with 33 bullpen losses.
---

2017 projected record: 77-85 (fourth in NL West)
World Series odds: 100-1 | Betting guide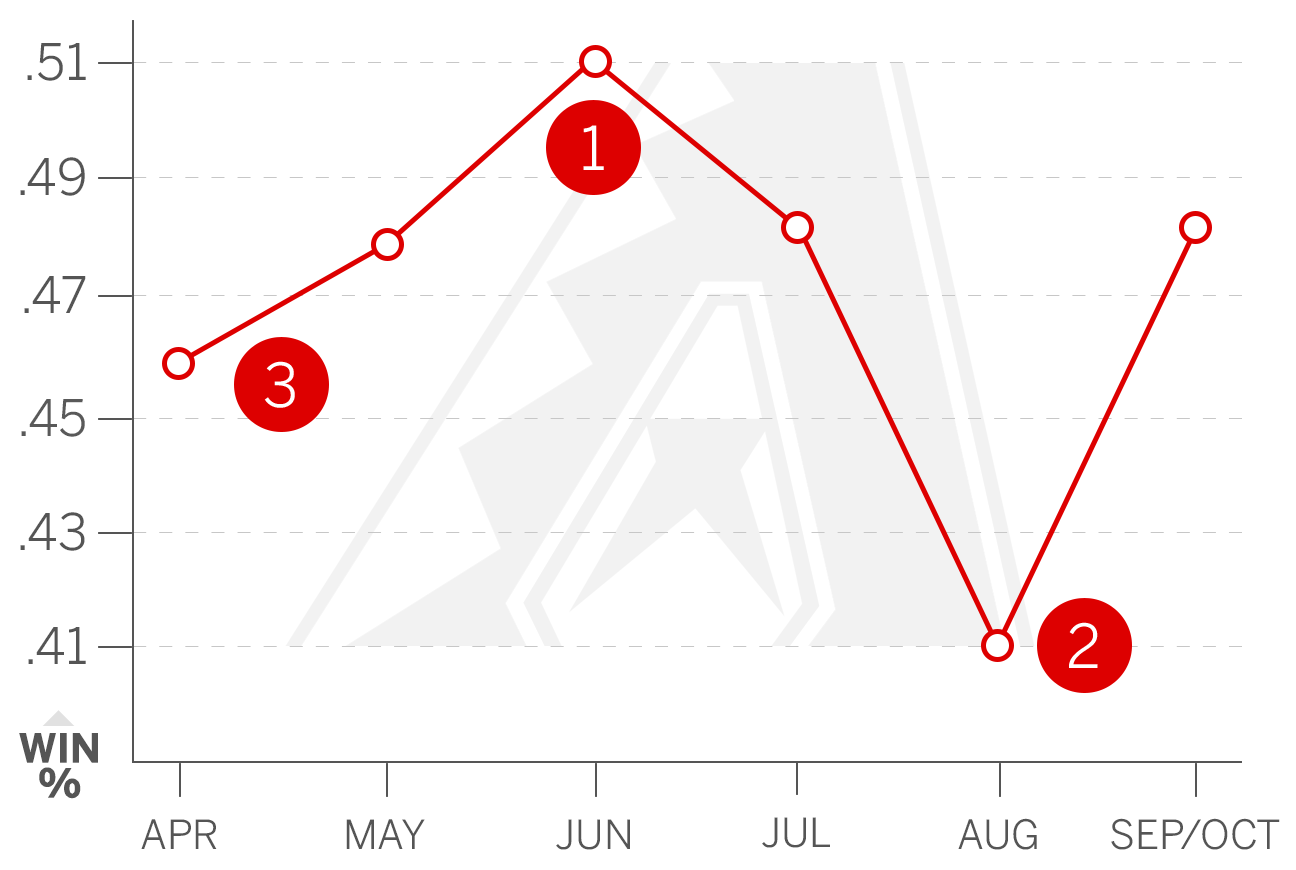 1. Best case: Arizona's best shot to play above-.500 ball is a June featuring a healthy dose of the Padres, Brewers and Phillies. This month Zack Greinke and Shelby Miller return to form, Taijuan Walker becomes a top No. 3 guy in the rotation and the offense breaks out thanks to the return of A.J. Pollock. Arizona needs almost everything to go right, but if that comes close to happening, there are enough impact players to climb over .500.
2. Worst case: ZiPS doesn't project Arizona to be the favorite in a single August game, which could expose a thin roster leaning heavily on a few stars. If the starters don't regress, the bullpen implodes and the so-so offense is exposed by an off-year from Pollock and/or Paul Goldschmidt, the D-backs will be feeling the heat over the summer.
3. Swing factors: Starting the year with 17 of 20 games against 2016 playoff teams is the best opportunity for Arizona to show last year was a fluke. To avoid another down season, Greinke must bounce back to his ace status of his Dodgers days. OK, the 1.66 ERA of 2015 is unrealistic, but he has to do better than 158 innings with a 4.37 mark. His numbers were inflated in part by some blow-up starts -- he had four outings of seven-plus earned runs, after having no such outings the previous three seasons. But there are obvious red flags as his strikeout rate has dropped from the 92nd percentile in 2014 to 73rd in 2015 and 57th last year. He's going to have to find a way to reverse that trend.
---
2017 projected record: 68-94 (fourth in NL East)
World Series odds: 80-1 | Betting guide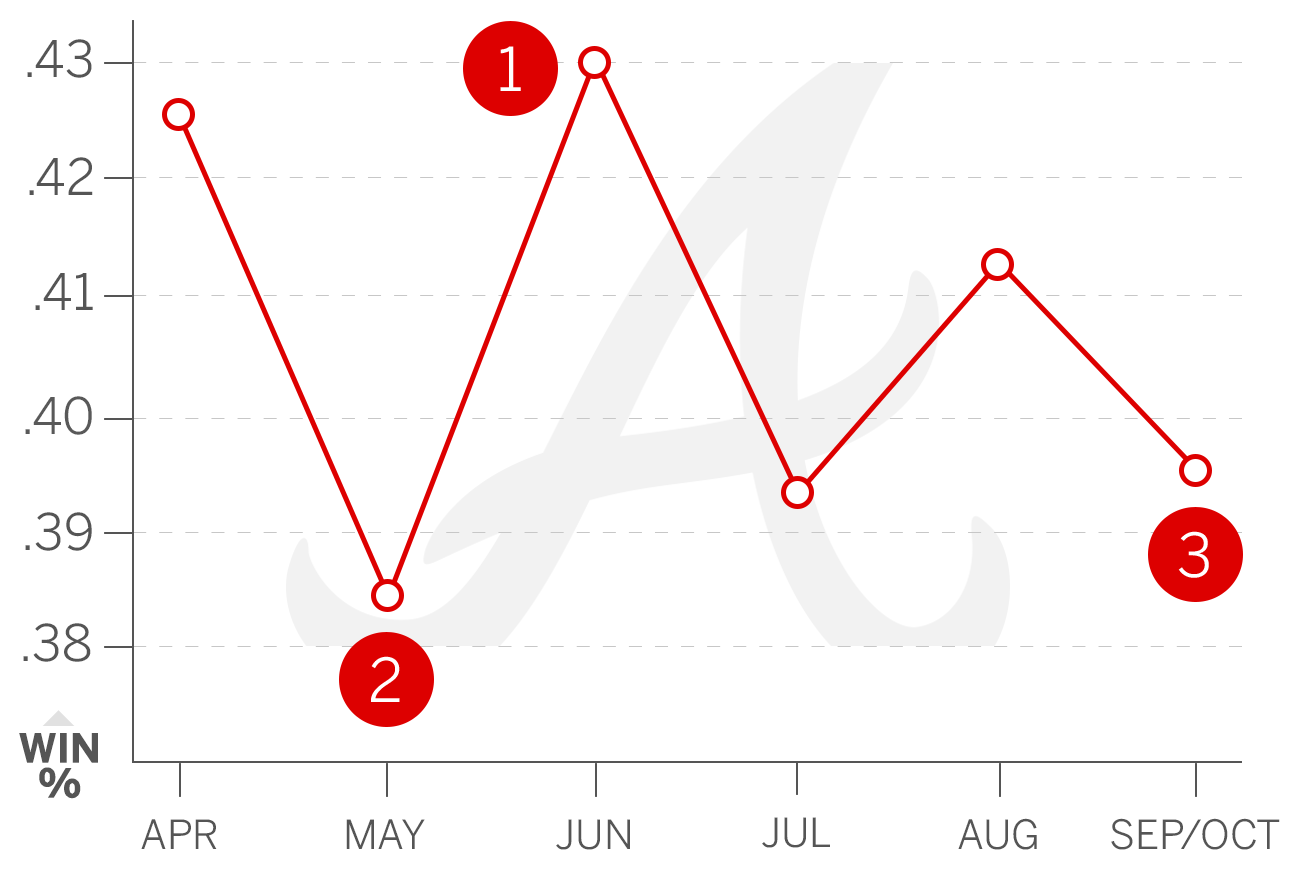 1. Best case: June's tour of rebuilding teams (Reds, Phillies, Brewers and Padres) gives the Braves a .423 projected month. Atlanta could be a factor if after a difficult May, Dansby Swanson emerges as a top-tier star and the lineup gets better-than-projected performances from Matt Kemp and Brandon Phillips in support of Freddie Freeman. With the improved offense, the Braves have more of a margin for error with their veteran-infused starting rotation and could continue last season's second-half success with a wild-card push.
2. Worst case: From late April to late May, the Braves play a stretch of 26 of 32 games against likely playoff contenders. If Freeman is a one-man offense and Bartolo Colon and R.A. Dickey pitch like the 40-somethings they are, the Braves could tumble into the NL East basement here.
3. Swing factors: If Atlanta is anywhere near competitive in September, four series against the Nationals and Mets will decide the issue. In Colon and Dickey, the Braves signed the two veterans to hopefully provide 400 innings or so of league-average pitching to help stabilize a rotation that is still waiting for some of the kids to step up behind Julio Teheran. A lot of things will have to break right for the Braves to challenge for the postseason, but if Colon and Dickey don't chew up innings, it could be a rougher first season in the new ballpark than the front office imagined.
---
2017 projected record: 67-95 (fifth in NL East)
World Series odds: 100-1 | Betting guide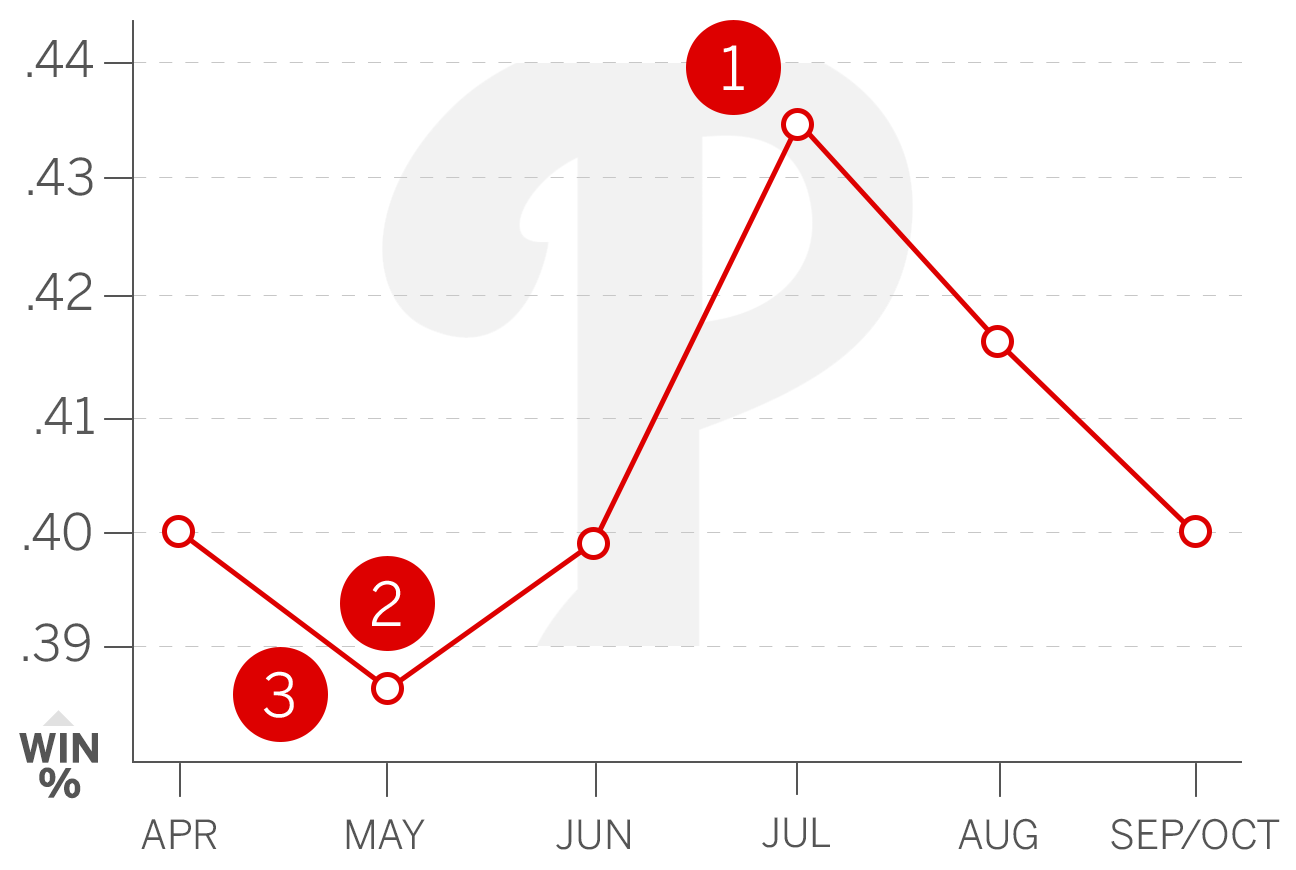 1. Best case: ZiPS doesn't think the Phillies are ready to compete, but they should rack up some wins in a July stretch of 19 games against losing teams. Maikel Franco and Odubel Herrera form an elite heart of the lineup, J.P. Crawford could force his way into an everyday big-league role, and a strong starting rotation can nudge the Phillies toward an improved season.
2. Worst case: Starting in late April, the Phillies play the Dodgers, Cubs, Nationals and Rangers. If this turns out to be a year too soon for the young Phils and the veteran starters struggle to stay healthy and productive, killing their in-season trade value, Philadelphia will find itself in the basement of the standings in the early going.
3. Swing factors: If a Cinderella story is in the works, mid-April is the best time for it to happen with 12 consecutive games against the Nationals and Mets. Franco's first full season was disappointing, even though he slugged 25 home runs. He hit .255 even with a below-average strikeout rate but walked just 40 times for a subpar .306 OBP. There were some hidden positives in his season, however, that indicate he can make a leap forward. His average exit velocity equaled Nolan Arenado's, and he had some bad luck on balls in play. He needs to hit more fly balls and cut down on his swings on pitches off the plate to tap into his power potential. If this doesn't happen early, the Phillies might not be able to recover.
---
2017 projected record: 74-88 (fourth in NL Central)
World Series odds: 300-1 | Betting guide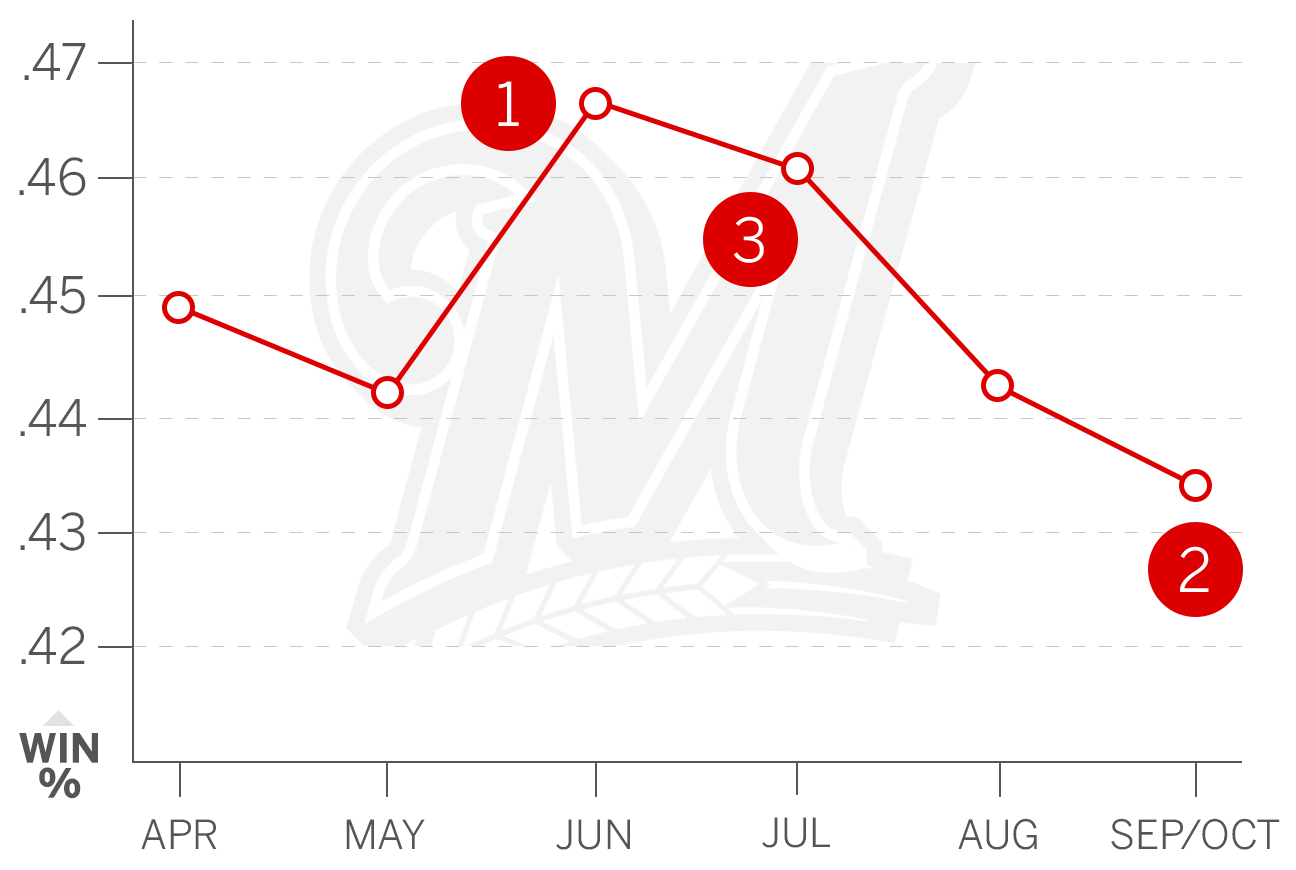 1. Best case: June is the only month in which the Brewers face opponents with an average winning percentage below .500 (.491). The Brewers can generate excitement for the future if their young position players dominate the basepaths like the 1980s Cardinals, the veteran starters pitch well enough to make it matter while generating trade value and Eric Thames proves his Korean numbers are somewhat translatable.
2. Worst case: They're likely to be out of the race already, but if they're not, September is a tough month, full of games against the Cubs, Nationals, Cardinals and Pirates. The Brewers will be a lost cause if they shuffle through a gaggle of starters, their young position players don't get on base enough for their speed to matter and Ryan Braun declines to the point that any hope of flipping him for younger talent fades away.
3. Swing factors: Breaking serve and winning four or five out of six against the Nationals and Cubs to end July would provide a swing that could give the Brewers their best shot at a .500 season. Rebuilding over the past couple of seasons has turned a farm system that ranked near the bottom of the league a few years ago into a top-10 group. Braun is the one veteran signed past 2017, and after a .305 season with 30 home runs, the longtime Brewer has rebuilt his trade value again. He's signed through at least 2020, but considering the Brewers have cut their payroll down to nearly nothing, keeping Braun for their next playoff chase is also possible.
---
2017 projected record: 73-89 (fifth in AL West)
World Series odds: 100-1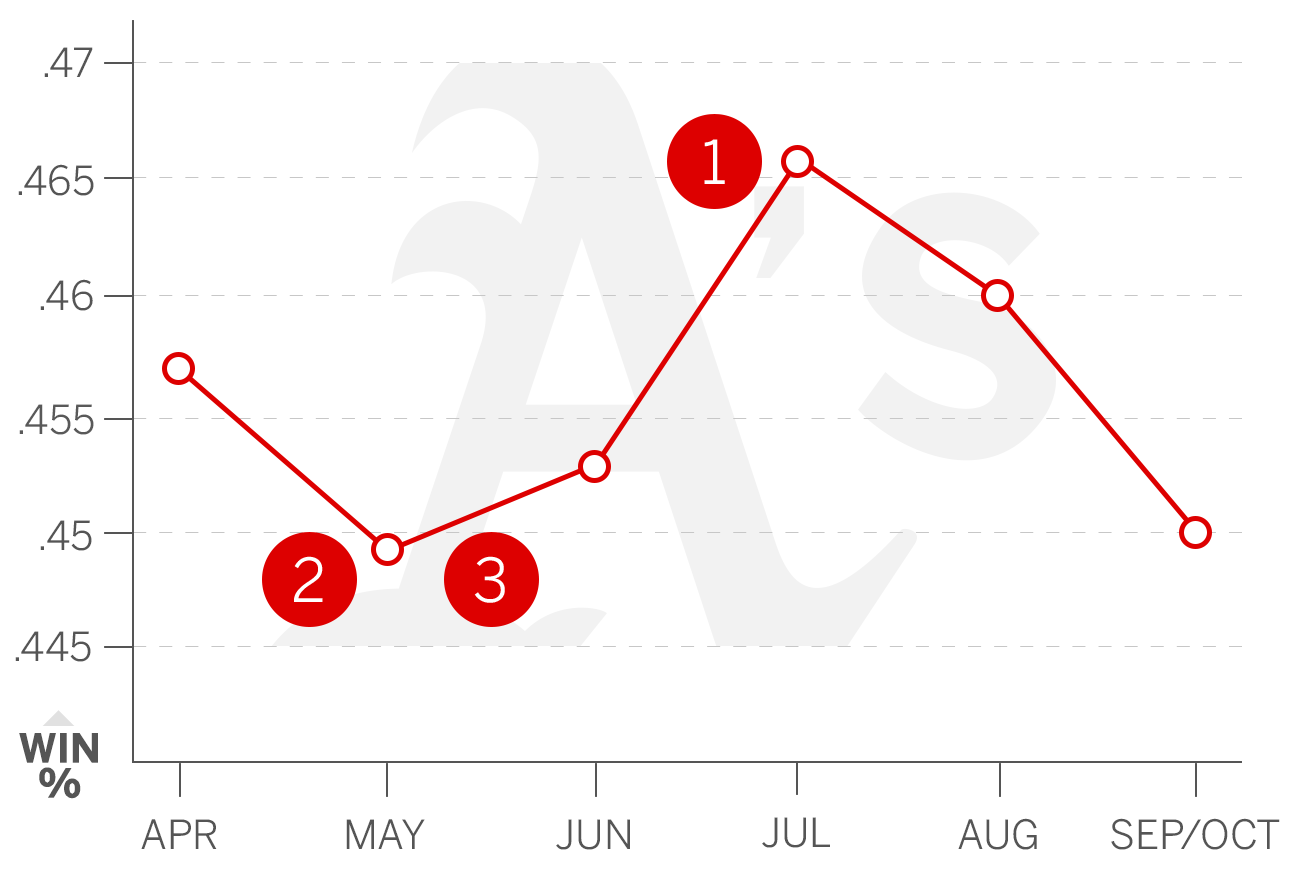 1. Best case: July projects as Oakland's best month (.466 winning percentage). If the A's can consistently beat the Braves, White Sox and Twins in July, maybe they will have a chance at another Moneyball miracle. The rotation could be one of the five best in the AL, and if the defense overachieves, the bullpen becomes a lockdown unit and the offense scores just enough, the A's could get back into playoff contention. That's a lot of ifs.
2. Worst case: The A's could struggle early in the season, with May (.449 winning percentage) projected to be their worst month. If staff injuries mount and the bullpen is disassembled ahead of the trade deadline, it could end up being another tough season in Oakland.
3. Swing factors: Oakland plays a 10-game stretch against the Rangers, Mariners and Red Sox starting on May 12. An above-average performance here could keep the A's dreaming about a playoff run. On the field, the biggest swing factor is Sonny Gray. After Gray finished third in the Cy Young voting in 2015, Billy Beane resisted trade rumors and kept his young star. Missed opportunity? Gray battled injuries and ineffectiveness in 2016, and now he's out until late April with a lat strain.
---

2017 projected record: 73-89 (fifth in AL Central)
World Series odds: 500-1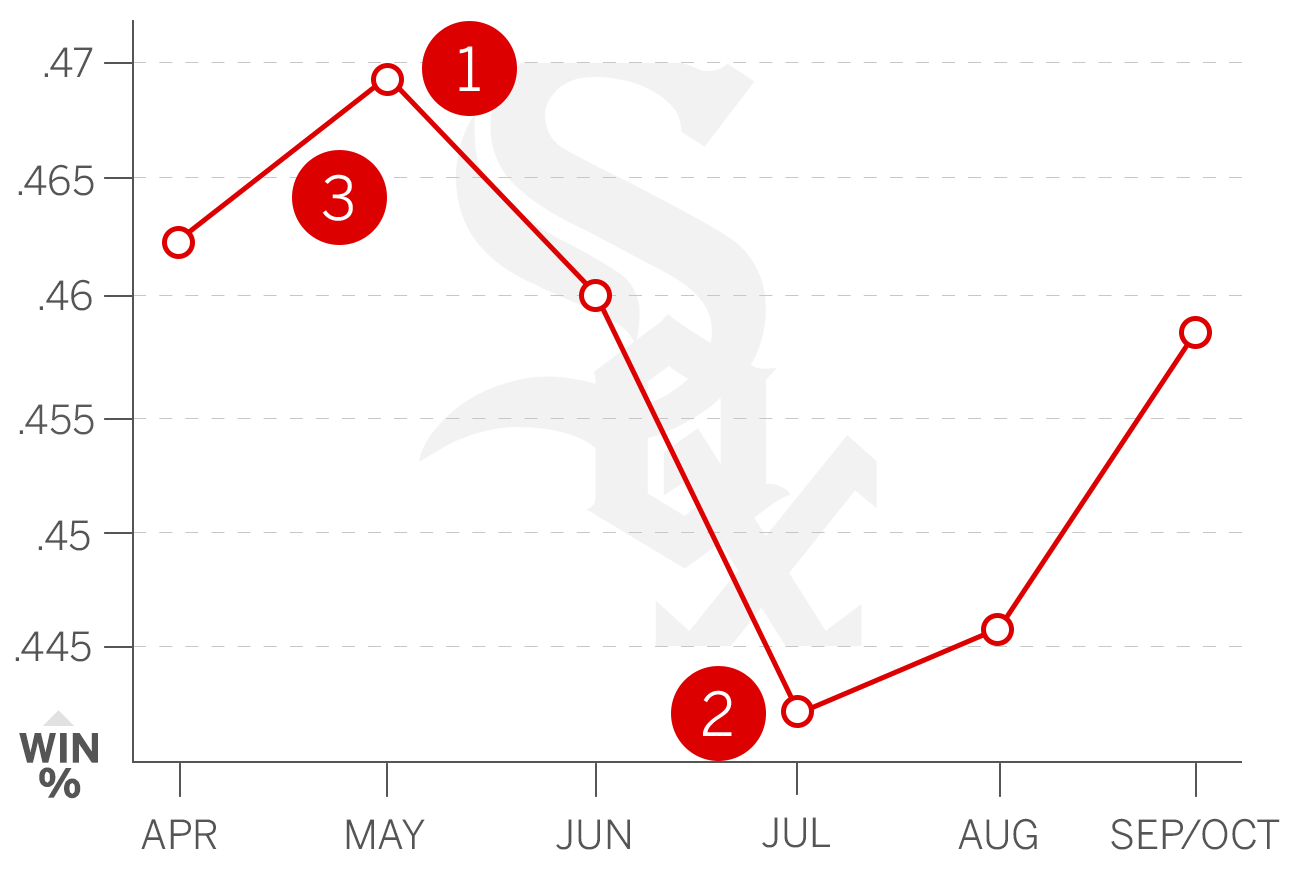 1. Best case: The White Sox don't project to finish any month with a winning record, but if they're going to surprise, May will be the best time to rack up wins against a number of other rebuilding squads. Success in 2017 for the White Sox probably doesn't revolve around contending. Instead, it includes promising prospects reaching the majors and showing good development while general manager Rick Hahn deals away more veterans (Jose Quintana, Todd Frazier, David Robertson, Jose Abreu) to add depth to the organization.
2. Worst case: Starting in late-June, the White Sox have 32 of 38 games against teams projected with winning records. Their projected record in July (.442) is the lowest of the season. With the trade deadline looming, what if nobody wants the White Sox's available veterans? That would really be the worst case for a team that needs to continue to rebuild.
3. Swing factors: If Chicago can't peel off some wins against the Indians, Tigers and Royals in late April, its slim chances quickly evaporate. In reality, the White Sox aren't going anywhere after trading Chris Sale and Adam Eaton. But do they also deal Quintana, who has a 3.35 ERA the past four seasons while topping 200 innings each year? His team-friendly contract runs through 2020 and totals just $38 million. If the White Sox think they'll be competitive again by 2019, you can argue that it's worth keeping Quintana. On the other hand, teams like the Astros or Yankees with strong farm systems and needing of a starter could send even more young talent to the South Side.
---

2017 projected record: 78-84 (third in AL Central)
World Series odds: 100-1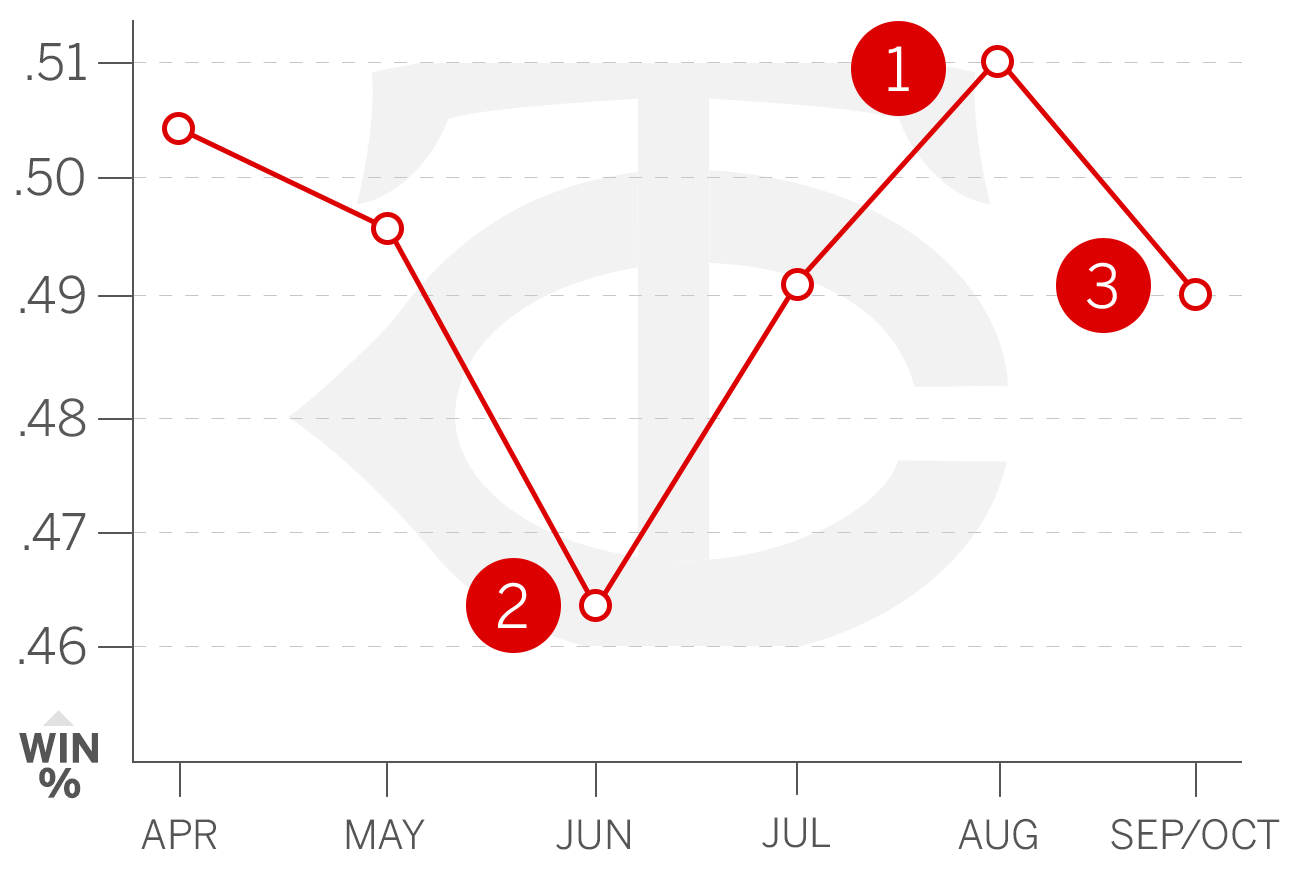 1. Best case: With opponents averaging a .482 winning percentage in August, the Twins have their best opportunity to sneak some wins on their quest for .500. If the Twins are going to contend, a few things need to go right on the field, starting with Joe Mauer finding his stroke and adding some balance to a lineup short on contact ability. If you add in an overachieving starting rotation, the Twins might have the pieces in place to make an outsider's run at a wild-card spot.
2. Worst case: Even with an overall optimistic projection, the Twins are underdogs for 20 straight games starting in late June. The pitching staff remains a big question mark, and the powerful young offensive core strikes out a lot and can be prone to slumps. The Twins could be better in 2017, but they could also lose 100 games and challenge for the top overall pick.
3. Swing factors: Minnesota is likely to be below .500 at this point, but with an easy schedule in August, winning against the Tigers and Indians (Aug. 11-17) could keep the team relevant into September. One player who could go a long way to making that happen is Miguel Sano. The Twins need Sano to turn into a star, but after a failed move to right field and 178 strikeouts in 116 games in 2016, his future is less certain after his promising rookie season in 2015.
---
2017 projected record: 73-89 (fifth in NL Central)
World Series odds: 300-1 | Betting guide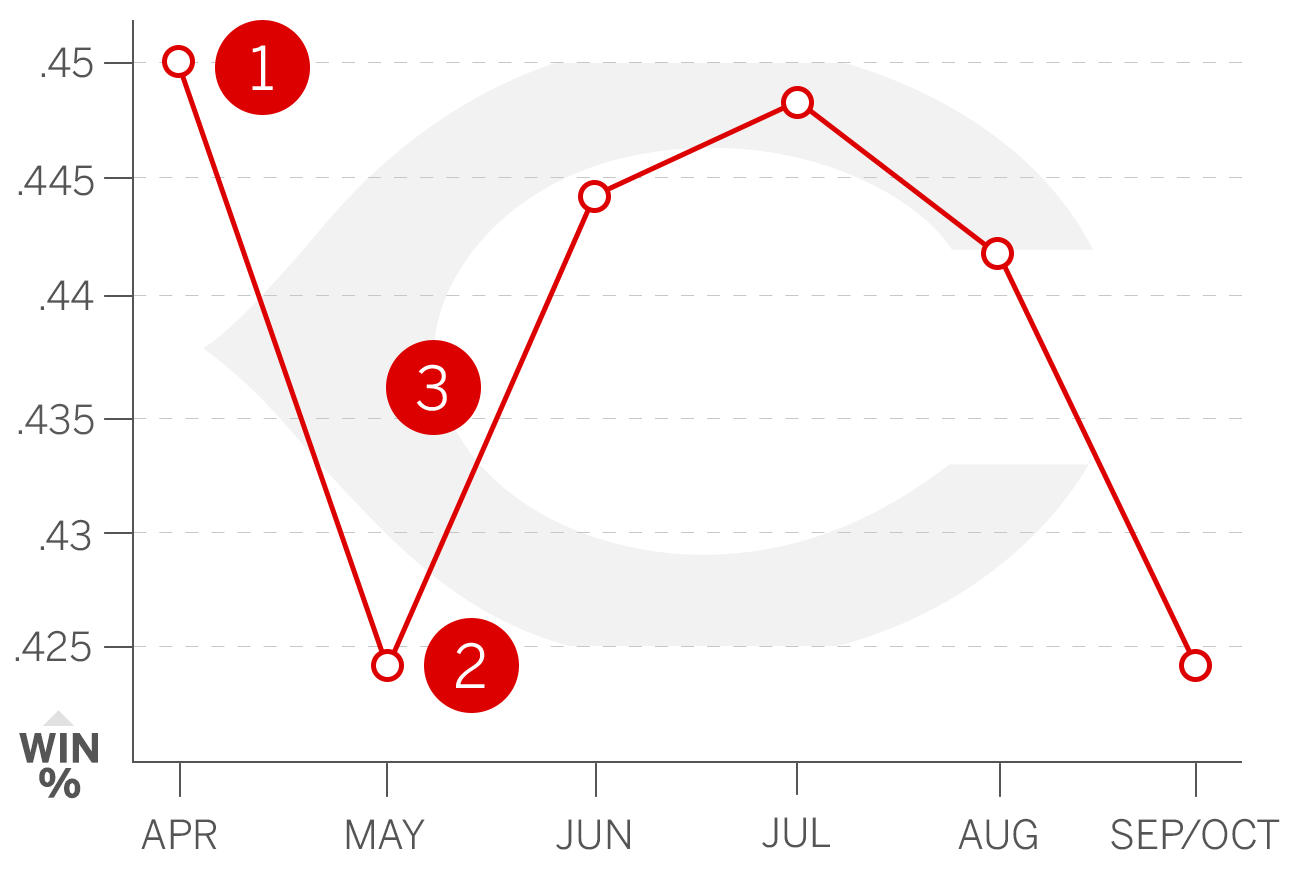 1. Best case: A .421 winning percentage isn't striking, but April is Cincinnati's best projected month, thanks to 10 games against the Brewers and Phillies. Contention for the Reds probably isn't in the cards, so their focus will be on generating momentum with their kids -- Robert Stephenson, Jose Peraza, Dilson Herrera, Cody Reed, Amir Garrett -- while finding a congenial trade partner for Zack Cozart.
2. Worst case: A three-game set against Philadelphia in late May is the Reds' only scheduled series against a team with a projected losing record that month. The nightmare scenario? The kids flop. It's really that simple, and that outcome would only be worse if Joey Votto has any injury issues, taking away the one guy Cincinnati fans can still buy into as the face of the franchise.
3. Swing factors: A run for the division crown is unrealistic, but if the Reds are going to surprise, a bunch of games against the Cardinals, Pirates and Giants as April turns into May provides their best opportunity to get into the wild-card conversation. Reds pitchers allowed 258 home runs in 2016. That was the worst in the majors -- 37 more than the Twins. That was also a franchise record, topping their 236 allowed in 2004. It was, in fact, a major league record; the 1996 Tigers surrendered 241. Bad news has already arrived as Anthony DeSclafani will start the season on the DL with a UCL sprain. Have we mentioned Joey Votto is still awesome?
---
2017 projected record: 65-97 (fifth in NL West)
World Series odds: 500-1 | Betting guide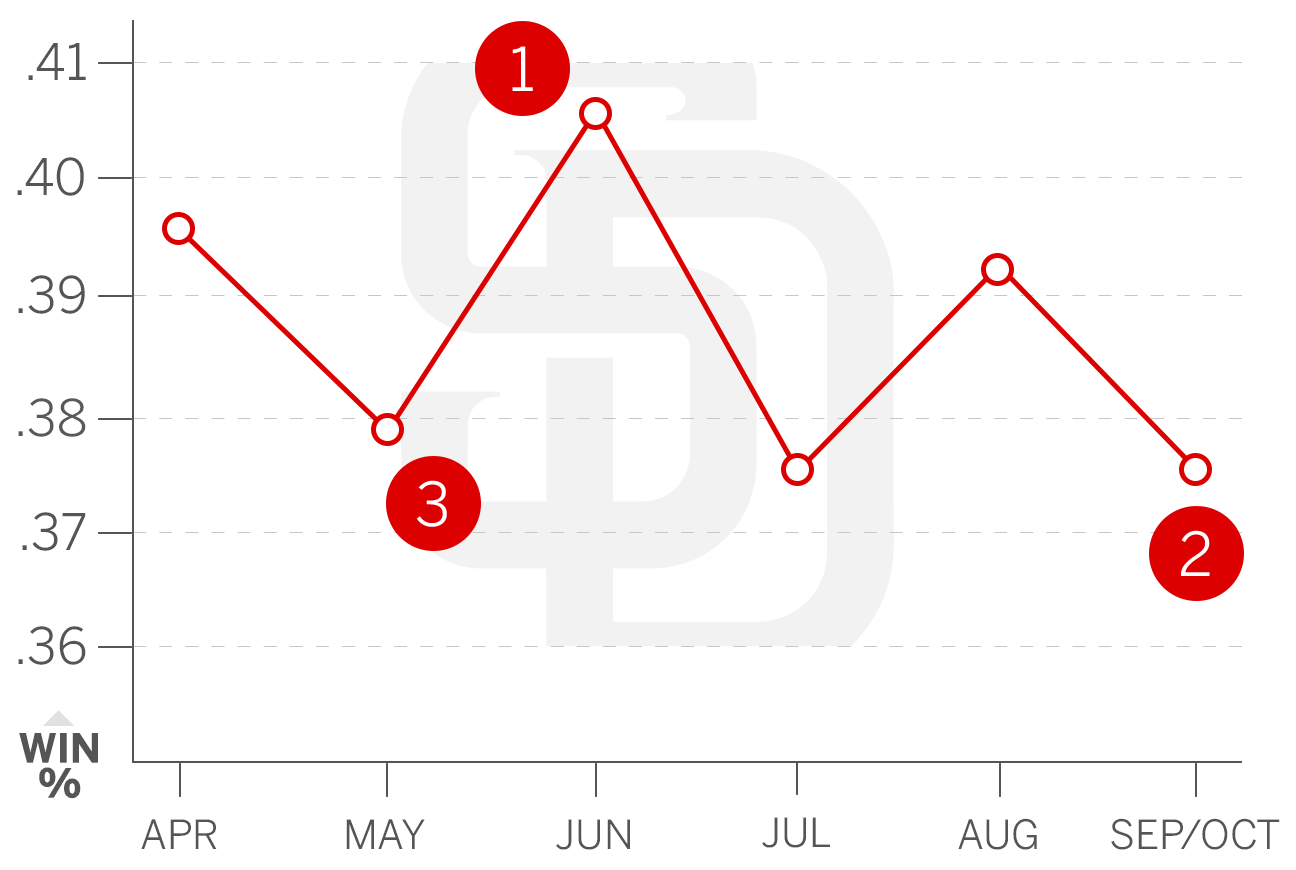 1. Best case: ZiPS projects the Padres to play nearly .400 ball for the month of June. So, yeah, the computer doesn't see them as a contender. Even if San Diego solidifies a couple of long-term solutions and Wil Myers plays well enough to either establish himself as a franchise anchor or become a prime trade asset, the Padres aren't expected to make much noise, even at their peak. You'd like to see Yangervis Solarte and Manuel Margot emerge as two young stars who actually develop some recognition outside of Southern California.
2. Worst case: With a .354 projected record in September, the Padres have their best month to score the No. 1 pick in 2018. The Padres set a record for fewest runs scored in the live-ball era and the no-name rotation indeed lives up to its reputation. Triple-digit losses are a real possibility. This is only good news when you are looking forward to the draft.
3. Swing factors: If the Padres shock the world, the late April/early May run against San Francisco, Colorado, the Dodgers and Texas would be a fabulous time to start doing that. This season is really all about seeing what the kids can do though. Hunter Renfroe will start in right field, and he's a player with a wide range of outcomes. He has double-plus raw power, which he finally learned to tap into it in 2016, closing his stance, shortening his swing and leading the Pacific Coast League with 30 home runs, then adding four more in 11 games with the Padres. Throw in a big arm and he has All-Star potential if he can learn to improve his plate discipline.