News item: Babe Ruth's former home outside Boston is on the market for $1.65 million …
Put a down payment on baseball history! This is the original House that Ruth Built, back when the "Sultan of Sweat Equity'' was honing his carpentry skills in preparation for building Yankee Stadium.
HISTORY
The Babe began building the 5,200-square-foot home in 1918 while he was still with the Red Sox; but due to the length of the baseball season, lingering stomach aches, frequent hangovers and typical contractor delays, he did not finish until 1921, after he had been traded to the Yankees.
Ruth had trouble with his initial Greek revival design that was heavily influenced by Fenway Park architect James E. McLaughlin. A chance meeting with Columbia engineering student Lou Gehrig outside a New York speakeasy in 1921 solved that. Gehrig suggested that while he appreciated the architectural nods to Fenway Park, Ruth might better enjoy a more open plan that did not include several three-foot wide steel columns in front of the windows and in the kitchen and dining rooms, nor the claustrophobic ramps leading from the master bedroom to the bathroom. Gehrig also suggested replacing the eight narrow, uncomfortable folding seats in front of the fireplace with a large sofa that offered more than 10 inches of leg room.
Construction was swift after that. The house was finished in December 1921, thanks to the entire Yankees roster helping in the spirit of an Amish barn-raising (well, everyone on the roster helped except for that lazy Wally Pipp, who complained all the hammering gave him a headache). Ruth moved into the house at the start of 1922 and told Yankees owner Jacob Ruppert to give Gehrig a tryout in exchange for his engineering help.
Ruth and his wife, Helen, divorced and moved out of the house in 1926 after repeatedly bickering over whether his World Series bonuses should be spent to remodel the kitchen and bathrooms or to mount a 72-inch flat screen above the fireplace, even though television had not been invented yet.
FEATURES
Fully updated gourmet kitchen with beer taps and antique hot dog grill capable of cooking five dozen wieners at a time for late-night snacks/breakfast.
Five bedrooms, not including hidden boudoir with an on-deck circle that was constructed for the Babe's "special guests.''
Basement man cave with 1926 model Philco AM radio set/entertainment center, 20-foot-long bar, hot dog cart, walk-in humidor and two part-time food vendors.
Three and a half bathrooms, three of which have historic urinal troughs, and one of which still has a persistent odor of stale beer and sauerkraut. (Note: The only facility for women is the half-bath.)
Master bedroom includes adjoining 2,500-square-foot changing room with wood benches, lockers and iron nails for hanging up clothes, plus en suite bath with small metal tub capable of fitting a 300-pound Bambino.
White copper frieze throughout.
Three-car garage/batting cage.
Spacious backyard that stretches back one-quarter mile along the left side of property line, one-half mile in the center of property and a cozy 295 feet down the right side of property line. Plenty of room to plant a garden or erect a set of monuments.
LOCATION
Located in the heart of Red Sox Nation and within minutes of several taverns and a Popeye's chicken franchise, this $1.65 million bargain would make an ideal October retreat for a Boston multimillionaire pitcher.
CSI: Box Score
You know the drill. Each week I provide a fragment from an old box score and challenge you to determine what game it is from and why it's significant. I give this one a difficulty rating of 5. Answer below.
Baseball Card of the Week
Perhaps the only thing worse than possibly having your 18-year major league career end due to a knee injury shagging fly balls would be your career beginning with this as your rookie card (1992 Bowman No. 302). Get well soon, Mariano.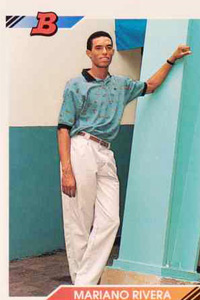 Box Score Line of the Week
What a week. Felix Hernandez just missed a no-hitter (8 IP, 1 H, 0 R, 0 ER, 2 BB, 9 K) while Jered Weaver threw a no-hitter (9 IP, 0 H, 0 R, 0 ER, 1 BB, 9 K). Then there was Baltimore's Chris Davis, who went 0-for-8 with five strikeouts and a GIDP as the Orioles DH but earned the victory with two scoreless innings as an emergency reliever in Sunday's 17-inning game against Boston. That was the first time someone got a win while going 0-for 8 since Rube Waddell in 1905, and the first time since 1925 that both teams used a position player to pitch.
It's hard not to reward either Weaver or Davis, but Josh Hamilton topped them both with his record-tying four-homer game Tuesday. Throw in his final at-bat from the previous game and Hamilton had five two-run home runs, a double and 10 RBIs in six plate appearances. He's hitting .406 with a league-leading 14 home runs and 36 RBIs.
His winning line:
5 AB, 4 R, 5 H, 8 RBI, 4 HR, 1 2B
So if you're the Rangers, what do you do with Hamilton, who is eligible for free agency after the season? On the one hand, he's a fantastic player, one of the game's absolute best when healthy. On the other hand, he's missed an average of 44 games in each of the past three seasons, is about to turn 31 and has substance abuse issues. If it was your money, how much would you be willing to invest to sign him to a long-term contract?
Yeah, Well That's Just Like Your Opinion, Man
To Show His "Old School'' Cred, Perhaps Hamels Would Have Preferred A Kenesaw Mountain Landis-Style Lifetime Ban: Whether Cole Hamels deserved a suspension for what he said is a matter of debate, but I will say this: If baseball wants to punish a starting pitcher, it must actually punish him. Giving a starting pitcher a five-game suspension amounts to nothing more than an extra day of rest. That's not even a slap on the wrist. Put some teeth in the suspension, baseball. Give starting pitchers a 10-game suspension that would mean they truly lose a start.
The Longest Baseball Road Trip That Does Not Include A Bus And Nuke LaLoosh Singing "Women Get Wooly:'' On one of Seattle's few sunny and warm days this spring, I had the pleasure of sharing a wonderful ride Monday with Darren O'Donnell, the guy who rode his bike to see a game in every major league stadium last year. That journey took more than five months and covered more than 12,000 miles, and he didn't need to go on the 15-day DL, either, like Rockies pitcher Jeremy Guthrie did after crashing on a ride to the ballpark last week. So what does O'Donnell have planned next? Something even more ambitious. He wants to ride to see a game in all 30 NHL arenas. He thinks he might need studded tires.
Not Even Lou Piniella Would Kick Dirt On Umps For This: Looking for a graduation or Mother's/Father's Day present? Or perhaps just something for yourself? Then do yourself and some deserving kids a favor by bidding on the items available through Sunday at the Umps Care charity auction. Among the memorabilia are autographs from past and present players such as Frank Robinson and Bryce Harper, along with the opportunity to throw out the first pitch at Wrigley Field. Proceeds go to children with cancer and adopted children.
Worst Of All? In 2030, A Hot Dog And A Beer Costs $50 (Not Including Tax): My book of the week is "2030'' by Albert Brooks. Yes, that Albert Brooks. Just released in paperback, "2030'' is both funny and very serious, a frightening tale of life in the year 2030. Cancer has been cured, which leads to baby boomers living longer and further burdening the younger generations under enormous debt. The United States is likewise straining under its debt and unable to afford health care for everyone. And then Los Angeles is leveled by a 9.1 earthquake that kills 50,000. The only negative to this entertaining, thought-provoking novel? Brooks does not reveal whether the Cubs reach the World Series by 2030. That Brooks is a talented writer in addition to a great comedian and actor should not be surprising. He is the half-brother of the late author Charles Einstein, who compiled the classic "The Baseball Reader,'' as well as the Pulitzer-nominated Willie Mays biography: "Willie's Time.''
CSI: Box Score Answer
Sneaking a peek down to Box Score Line of the Week and the note about position players pitching would have given you a big clue to this one. Otherwise, the clues were the names Cobb and Sisler among the pitchers. Yes, that was Ty Cobb and George Sisler pitching for the Tigers and Browns, respectively -- the last time before Sunday's Orioles game that both teams used position players on the mound in the same game (Oct. 4, 1925). Sisler actually pitched a fair amount in his career, including 1915, when he went 4-4 with a 2.83 ERA in 15 games (including eight starts).
And if you also noticed that this game only went eight innings, give yourself bonus points. I assume the game was cut short due to darkness -- it was the second game of a season-ending doubleheader in October.
By the way, both the Red Sox and the Orioles carry a 12-man pitching staff, so why did both resort to pitching a position player Sunday, especially in the American League, where there is no DH? Couldn't either manager have had a single reliever pitch more than two innings at some point? Or gone to their next day's starter on short rest? It was as if they were managing an All-Star Game.