I shudder at the prospect of the media overkill if Bryce Harper ever dates a Kardashian. Or is discovered to be related to Tim Tebow. Or plays for the Red Sox or Yankees. Or, heaven forbid, gets his batting average up to .280 with three home runs.
No criticism intended toward my colleagues throughout the country who simply feed the insatiable media beast the same as I do. But is anyone else tired of hearing endless hype about a rookie who is hitting .264? I realize we're living in a Linsane era of social media where trending is the equivalent of actual accomplishment, where analysis is considered in-depth as soon as it uses all 140 characters of a Tweet and where the shelf life for "What's Popular Now" is shorter than the attention span of an 8-year-old (or an entertainment "news" show producer).
I also recognize that "What's Hot Now" is not nearly as urgent as "What Will Be Hot Tomorrow." And that tomorrow is already yesterday's news, so we must spend today looking ahead to next year (or next decade) to seem fresh.
But can we all just take a step back and wait for young players to, you know, develop before we focus the media's entire wattage on them? Before we enshrine them in Cooperstown, can we follow those profoundly wise words of the Astrodome crowd in "The Bad News Bears in Breaking Training" and just let them play?
I mean, all this over-the-top media attention on Harper comes at the expense of the more important over-the-top media attention on whether Albert Pujols is going to hit.
Look, I have nothing against Harper. I wish him (and Stephen Strasburg) long and successful careers. But as glowing as the scouting reports and career projections are, I'll wait until he actually does something remarkable before my blood pressure rises. After all, at last glance, six rookies had higher batting averages than Harper, including his teammate Steve Lombardozzi. Five rookies had higher on-base percentages, and three had a higher OPS. Anaheim's Mike Trout was hitting .350. Seattle rookie Alex Liddi, the first major leaguer born and raised in Italy, has as many home runs in fewer at-bats than Harper, and nearly as high a batting average. And then there's Arizona's Wade Miley, who is 5-1 with a 2.14 ERA.
Not that I'm saying we should go overboard about the other guys, either. Follow them, yes. Root for them, certainly. And enjoy the stories that introduce you to them. But the excessive hype and unavoidable 24/7 wall-to-wall media scrutiny does a disservice to the players. It sets up such unrealistic expectations that they're almost guaranteed to disappoint.
It also prompts established veteran big leaguers to throw at them.
Early hype certainly is not a new phenomenon. A company began selling Ken Griffey Jr. chocolate bars one month -- one month! -- after his major league debut in 1989, and collectors were also storing away his rookie card in hopes it would one day pay for their children's college tuition. (Sadly, it did not.)
But the coverage still was a matter of degree. We lived in a different world of communications in 1989, so we weren't smothered with Griffey stories by a media trying to fill every second of air time on every cable channel and every inch of space on the Internet.
That allowed us to sit back and let the players grow up and grow on us. You didn't feel like you were being force-fed a player and told to like him. His popularity grew as he played more games compared to today, when the relentless coverage means we're tired of hearing about a rookie even before the Cubs or Pirates are eliminated from the division race.
All I'm asking for is a little restraint with the Harper coverage. There's no need to be told repeatedly that the kid is going to be awesome. He either is or he isn't. Let us find out the old-fashioned way, over the long haul, by watching him play game after wonderful game this season and the next and all those after that.
CSI: Box Score
Each week, I provide a fragment from an old box score and challenge you to determine what game it is from and why it's significant. I give this one a difficulty rating of 2. Answer below:
Baseball Card of the Week
Like so many of us, Dmitri Young says his parents threw away his baseball card collection -- three times! -- for bad grades or not cleaning his room. Unlike us, his collection recovered. As I wrote a couple weeks ago, Young put his collection of mint and near-mint rookie cards up for auction. The auction ended over the weekend and the collection went for $2.4 million, including $432,690 for this Roberto Clemente PSA 10 Gem Mint rookie card (1955 Topps No. 164).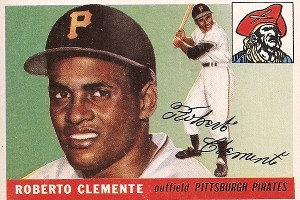 Feel free to send your mom and dad a copy of this story and a bill for your lost fortune (minus whatever you owe for college).
Box Score Line of the Week
Justin Verlander nearly pitched another no-hitter (9 IP, 1 H, 0 R, 0 ER, 2 BB, 12 K) last Friday, while teammate Max Scherzer struck out 15 batters in seven innings Sunday (7 IP, 4 H, 2 R, 2 ER, 1 BB, 15 K). C.J. Wilson followed up starting games on consecutive days by walking six batters (3 2/3 IP, 4 H, 4 R, 1 ER, 6 BB, 3 K) then giving up one hit in his next start (8 IP, 1 H, 0 R, 0 ER, 2 BB, 7 K), while the man the Rangers signed to replace him, Yu Darvish, struggled against Seattle again (4 IP, 4 H, 5 R, 4 ER, 6 BB, 5 K). And Jamie Moyer pitched in his record 50th major league stadium Monday night when he took the mound in Miami (3 2/3 IP, 9 H, 6 R, 6 ER, 4 BB, 5 K).
But this week's award goes to Kerry Wood, who retired after an occasionally dazzling, often injured 15-year career. He went out in style, pitching to one batter Friday, striking him out on three pitches and then saying good-bye at Wrigley Field. His final line:
1/3 IP, 0 H, 0 R, 0 ER, 0 BB, 1 K
My good friend, Sarge, whom I reference from time to time for his insane but endearing loyalty to the Cubs, named his second child Kerry in honor of Wood. (Sarge had named his first child Sammy in honor of Sosa. His wife took charge of their third daughter's name and named her … Addison. Had there been a fourth child, I have no doubt she would have been named Three-Finger.)
Anyway, Sarge saved the game on DVR and showed Wood's final appearance to his daughters when they got home from school. "All three of my girls were sad, but especially Kerry," he wrote. "She regularly wears a Cubs t-shirt to school and occasionally her Kerry Wood jersey. After watching Wood walk off the mound into the dugout, my Kerry asked, 'What is he going to do now that he is retired?' Her older sister, Sammy, answered: 'Sit on piles of money.' They loved the fact that his son got to celebrate the moment and will now get to spend a lot of time with his dad.
"We talked about the time they visited in the Cubs dugout with Wood (as well as Sosa and Ron Santo) on the Cubs first visit to Seattle. I remember that Wood acted surprised that some girl from Seattle was named after him. Wood said he was honored to meet her and share his name. As for my youngest daughter, hopefully Wrigley Field won't be retired anytime soon and will reside on Addison for many more decades."
Yeah, Well, That's Just Like Your Opinion, Man
And Since I'm Tired of Bryce Harper Coverage, Let Me Bring Him Up Again. Interesting how Cole Hamels received essentially no suspension -- which is what a five-game suspension effectively means for a starting pitcher -- for intentionally throwing at Harper, while Toronto's Brett Lawrie received a real four-game suspension for his batting helmet accidentally glancing off an umpire due to a bad bounce. What sort of message is baseball sending with that?
The One Percent Also Owns The Vast Majority Of Our Country's Hypocrisy. Isn't it interesting, too, how the blowhards who so publicly condemn government spending are always the same people receiving the biggest government subsidies for their businesses and stadiums?
We're All Too Busy Maintaining Our Fantasy Teams To Invent A Transportation Machine. I attended a recent lecture on the 50th anniversary of Seattle's 1962 World's Fair. The two lecturers brought up the 1909 fair Seattle held as well, remarking how much the world had seen and changed in that half-century. That got me thinking. My grandfather was born in the 19th century and traveled west in a covered wagon. By the time he died, we had put men on the moon. In his lifetime, the world had invented/developed movies, radio, TV, automobiles, airplanes, spaceships, nuclear power and computers. Einstein developed the theory of relativity. Doctors discovered cures for polio, cancer treatments and performed heart transplants. But what have we done in the past 50 years? Not much. We've improved computers, phones and electronics and developed the Internet, but aside from finding new ways to communicate quicker and entertain ourselves better, we haven't accomplished much. That doesn't have anything to do with anything; it's just something to think about, in addition to wondering whether Seattle will host a World Series by the Space Needle's 100th birthday.
CSI: Box Score Answer
This should have been an easy one, even if you didn't get the additional clue from the Box Score Line of the Week. There were two big clues in the fragment: the one hit compiled by the Astros and the name "Wood" in the Cubs' lineup. Yes, this was the famous game when then-rookie Kerry Wood struck out 20 batters, walked none and one-hit the Astros in 1998. By doing so, the 20-year-old became the second player in history to strike out his age. (Bob Feller fanned 17 at age 17 back in 1936.)
Enjoy your retirement, Kerry. We'll miss you.