Another downside to the possible end of Jamie Moyer's career last week? There are no active pitchers left to teach proper etiquette for riding in a bullpen cart. Just ask Sugar Land Skeeters reliever Will Startup, who is dealing with that very issue now.
"You have these awkward situations where [the drivers] want to talk with you,'' Startup says. "It's like a blind date. It's our bullpen crew who drives the cart and they're great guys, but they don't know what to say, either. 'Hi.' 'How are you doing?' 'Good.' It just really isn't a good time to talk."
For that matter, Startup asks, what do you do when the bullpen cart driver drops the pitcher off at the mound?
"Do you hug him? Do you shake his hand? Do you fist-bump? I feel rude just getting out of the cart," Startup says. "Do you say, 'Talk to you later?' It's just awkward. There is no standard etiquette. Maybe at the end of the season, we can write some rules down."
Last month, Startup and his Sugar Land teammates became the first relievers in almost two decades to ride to the mound in a bullpen cart when the Skeeters of the independent Atlantic League started using one. It isn't just the biggest development for bullpen cart fans since Tom Berenger drove one in pursuit of Rene Russo in "Major League," it's also the best news for the U.S. automotive industry since the turnaround.
"The reaction has been amazing," Skeeters vice president Christopher Hill says. "You don't really know what to expect; and the first time it rolled on the field, a bunch of people stood up and started applauding. It was really cool. I like seeing the fingers pointing to it. You can always tell when someone is at the park for the first time because they'll be tugging at the person next to them and pointing to the cart."
The relievers, though, were somewhat less enthusiastic.
"I've got so many emotions when it comes to the bullpen cart," Startup says. "I understand it was used back in the day and there is some history behind it. On the other hand, there is probably a reason there has not been a bullpen cart for so long."
Startup says relief pitchers are so used to seeing the bullpen gate swinging open and then running onto the field with music blaring and adrenaline pumping that they were all reluctant to get in a cart for a slow, 45-second ride to the mound. But, he says, "With the Texas heat, to not have to jog from the mound and instead be able ride in an air-conditioned cart with great music playing, I'm not hating it so much.
"I want to hate it but I want to love it. I don't know if I'm wrong for loving it."
Which pretty much sums up how I feel about the bullpen cart as well.
Like so many bad ideas, bullpen carts were all the rage in the 1970s and early '80s; but by the '90s, they had gone the way of the DeLorean, the Pinto and the AMC Pacer. (Here, perhaps, is one reason for that.) The last such motorized shuttle in the majors is believed to be the Brewers' Harley Davidson motorcycle and sidecar in 1995. So the Skeeters are taking an inspired drive back to the future. Only instead of slipping under the gull wings of Doc Brown's DeLorean, relievers are riding in a customized golf cart topped with a giant Sugar Land baseball cap.
"It brings back fun memories," Hill says. "It's like when you see a Zamboni. You think, 'Wow, it would be cool to be on the Zamboni.' I remember as a youth what that was like."
Since this is 2012, the Skeeters' cart is suitably eco-friendly -- it runs on a battery -- and has air-conditioning (a 'must' for a team located just outside Houston), leather seats, a backup camera, a sound system and a cup holder. (Hey, pitchers need to hydrate.) Startup says the cart must also have GPS "because we have yet to get lost going from the bullpen to the mound."
The only thing missing is a St. Christopher's medallion to ward against accidents and blown saves. The Skeeters have something else in mind, though: They plan to add a bubble machine to the cart so it will leave a trail of bubbles floating behind it. You know, just to add another layer of dignity.
"We had a lot of other ideas, similar to the Batmobile, where we would have flames shooting out the back," Hill says. "But with the cart being near players, we decided the risk did not equate the rewards."
SUGAR LAND SKEETERS: An unidentified team employee was cited for negligent driving and LHP Will Startup, RHP Sean Morgan, RHP Ryan Houston and LHP Kelvin Villa were placed on the 15-day disabled list with second-degree burns.
Still, the Skeeters could be on to something here.
"I don't want to call us the first, because it's been done before," Startup says. "But we may not be the last."
In fact, several Japanese teams still use a bullpen cart. I just hope the bullpen cart returns to the majors soon as well, because they might finally lead to the end of the one-inning closer.
You wouldn't think jogging 100 yards from the bullpen to the mound would wear out a pro athlete, especially when there is stirring, heavy metal "closer music" blaring. But evidently, closers do get weary. Atlanta closer Craig Kimbrel averaged just under one inning per appearance while leading the National League in saves last year. Back in the golden era of bullpen carts, 1978 AL saves leader Goose Gossage averaged more than two innings per appearance. He pitched three innings or more 16 times, including seven innings twice!
And he wasn't alone. Rollie Fingers, Dan Quisenberry, Bruce Sutter -- they all averaged at least 1½ to two innings per appearance during the '70s and early '80s. Why were they able to pitch so much compared to modern closers? Bullpen carts, obviously. Riding to the mound in a bullpen cart might be as slow as riding down an L.A. freeway between O.J. and Al Cowlings in a Ford Bronco; but evidently, those carts kept relievers as strong and powerful as the aroma of fresh garlic fries.
"Maybe this will be a good thing for the pitchers," Sugar Land marketing and communications manager Bryan Hodge says. "They won't have that long walk to the mound. Plus, there is music pumping inside the cart. They're pretty pumped up by the time they get to the mound."
I ran the idea past Seattle Mariners reliever Tom Wilhelmsen, who is usually game for anything. He was initially interested, joking that a cart "might save us enough energy to get that much-needed extra out. I can see it now: The team battles the whole game, and it comes down to that bullpen cart guy who picked us up and got us out there to the mound.''
The more we talked, though, the less enthusiastic Wilhelmsen became.
p>"Personally, it would feel a little weird warming up and getting all pumped up and then getting in a cart and sitting my lazy butt down for a ride," Wilhelmsen says. "I just picture this overweight bullpen guy who gets the call and he's halfway through smoking a cigarette and he puts it out and gets in the cart. I think it's unnecessary."
Wilhelmsen thinks bullpen carts would appeal to fans but not relievers, saying, "You get your blood going, and the last thing you want to do is relax and sit down." Plus, like Startup, he wonders about the pitcher/driver etiquette.
"Do you tip the driver? 'Here's a bag of sunflower seeds.' Or 'Have some Double Bubble Bazooka gum.'"
Proper passenger/driver manners aside, Startup says the Skeeters relievers have pitched better at home since the team started using the bullpen cart. And that might not be due just to being better rested.
"It's helped with my mental toughness because I have to block out the laughter,'' Startup says. "If you can survive that bullpen cart ride with your dignity intact, you should be able to be ready to pitch."
CSI: Box Score
Each week, I provide a fragment from an old box score and challenge you to determine what game it is from and why it's significant. I give this one a difficulty rating of 5. Answer below:
Baseball Card of the Week
I'll Have Another goes for horse racing's first triple crown since 1978 this weekend. If you're like me, though, you don't think Affirmed when you hear the words "The last Triple Crown winner." You think this guy (1967 Topps, No. 355).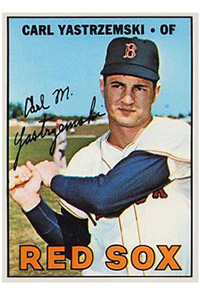 People always ask whether there will ever be another .400 hitter, but whatever happened to the Triple Crown winner? There were 13 Triple Crown winners from 1901 to '67, including four from 1947 to '67. But there have been none in the 44 years since Carl Yastrzemski.
Box Score Line of the Week
Seattle DH Jesus Montero had an astounding line for a Mariner (4 AB, 4 R, 3 H, 4 RBI) when the M's scored an improbable 21 runs against the Rangers last Wednesday, which allowed reliever Hisashi Iwakuma to somehow earn his first major league save by protecting a 12-run lead despite giving up three runs (3 IP, 5 H, 3 R, 3 ER, 1 BB, 0 K). And San Francisco's Buster Posey scored two runs despite having no official at-bats thanks to four walks (0 AB, 2 R, 0 H, 0 RBI).
But this week's award, of course, goes to Johan Santana, who threw the first no-hitter in the Mets' 51-season history. His line:
9 IP, 0 H, 0 R, 0 ER, 5 BB, 8 K
Thanks to the five walks, Santana threw 134 pitches, 11 more than his previous career high. We'll see whether that has any effect on him. He is coming off shoulder surgery that cost him the entire 2011 season.
Yeah, Well, That's Just Like Your Opinion, Man
Maybe More Fans Would Come Out If They Replaced The Home Run Sculpture With A Bullpen Cart. Despite playing in a new stadium, the Marlins have drawn fewer than 28,000 fans in 11 of their past 14 home games and are ranked 15th in the majors in attendance. That's a significant improvement over recent years, but still underwhelming for a contending team playing in a new ballpark.
And If Tony La Russa Was Manager, It Would Run Out Of Gas In The Eighth Inning. One argument against the bullpen cart is that to make sure it appeals to modern athletes, the cart would probably have to be a fully loaded SUV that gets seven miles to the gallon and leaves behind six-inch-deep ruts in the field. The Yankees, of course, would have the largest and most expensive. After all, back in the 1970s, New York didn't use one of those cheap little golf carts with the big goofy team cap. They had an actual car -- a Datsun, of all models. How George Steinbrenner approved a Datsun rather than insisting on an eight-cylinder American car large enough to carry the entire Yankees bullpen, I'll never know. But the car led Orioles pitcher Mike Flanagan to deliver one of the great quotes in baseball history. "I could never play in New York," he said. "The first time I pitched there, I got in the bullpen car and they told me to lock the doors."
Jamie Could Still Be An Effective Reliever, Except He Can No Longer Remember Where He Put The Keys To The Bullpen Cart. When the Rockies designated Jamie Moyer for assignment last week, a friend emailed to ask, "Designated to which rest home?" Moyer is free to sign with another team, though the challenge is finding one interested in a 49-year-old with a 5.70 ERA. I hope he finds another employer; but if not, congratulations on a wonderful career, Jamie, and thanks for showing everyone the value of persistence and dedication.
CSI: Box Score Answer
The 1-0 Los Angeles victory and the one hit allowed by losing pitcher Bob Hendley are big clues. Another clue was the one you don't see: i.e, Chicago had zero LOB. That's because no Cub reached base. This box score fragment is from Sandy Koufax's 1965 perfect game in which there was only one hit the entire game -- Lou Johnson's double. But that didn't lead to the game's only run. That happened when Hendley walked Johnson in the fifth inning. Ron Fairly bunted him to second and Johnson stole third. Catcher Chris Klug threw to third but his throw was wild and Johnson scored.