The late Dan Quisenberry once said of the Metrodome, "I don't think there are any good uses for nuclear weapons, but then, this may be one."
And he only pitched in 16 games there his entire career.
Torii Hunter, on the other hand, played 10 full seasons in the Metrodome, so maybe he had a better read on it. This is what he told me about his former home just before the Twins moved out: "If they need any kind of help blowing it up, I will definitely be there. I will push the plunger. Boom. Boom. I will not miss the Metrodome at all."
The funny thing is, I kind of do. As much as I love the Twins' new field, I had a lot of great times at the Metrodome. (I asked my future wife out on our first date from the pressbox phone while covering the Twins' 1991 worst-to-first championship season.) Or, as my mother frequently told me, if you grew up in hell, you would miss it when you left. But even as much as I enjoyed the actual games on the field, I have to admit the Metrodome was not a good place for baseball.
But was it so bad it deserves detonation, either via dynamite or nuclear weapon? Was it the worst stadium in baseball history? Or even in the bottom 10? Read on to find out. As you continue to vote this week on what current ballpark is baseball's best, here is one man's list of the worst stadiums over the years, in descending order.
10. Veterans Stadium, Riverfront Stadium and Three Rivers Stadium. Jim Kaat once said, "Every ballpark used to be unique. Now it's like women's breasts -- if you've seen one, you've seen both." He's right, but with one slight amendment. If you saw one of these stadiums, you saw all three. Multipurpose is fine -- do we really need to build $500 million to $1 billion stadiums for the sole purpose of hosting eight NFL games a year? -- but sterile, devoid of character and artificially turfed is not. Plus, there was the biohazard of playing on fields covered in Schotzzie's droppings or Lenny Dykstra's tobacco juice.
9. Colt Stadium, Houston. Houston's original field was a shade-less, blistering-hot facility that was nicknamed Mosquito Heaven. According to Philip J. Lowry's "Green Cathedrals," the mosquitoes were so bad it had to be sprayed for bugs between innings. Joba Chamberlain wouldn't have stood a chance there.
8. The Astrodome, Houston. But at least Colt Stadium didn't introduce the two evils of domed stadiums and artificial turf to baseball, as did its successor. For that, the Astrodome cannot be forgiven. (By the way, a good rule of thumb when judging baseball stadiums: It's never a good sign when the name includes "The.")
7. Exhibition Stadium, Toronto. They squeezed a baseball field into a football stadium, resulting in such terrible sightlines and badly angled seats that they didn't even bother selling tickets in many sections. It could be bitterly cold and plagued by seagulls. But worst of all, for the first five years, Toronto committed an unpardonable sin: It didn't sell beer at the stadium! Imagine watching Dave Lemanczyk and Rick Bosetti without the benefit of alcohol. You'd want Dave Winfield to put you out of your misery with a thrown ball, too.
6. Los Angeles Coliseum. The left field fence was so close (250 feet down the line) that even this year's Mariners might have hit home runs there. It was so far down the right field line (390 feet) that to chase down a fly to the warning track, you should probably have been dressed as a Roman centurion and riding a white horse named Traveler.
5. Arlington Stadium. Death Valley in California, located in a narrow valley 234 feet below sea level, once recorded a temperature of 134 degrees, had 42 consecutive days above 120 degrees one summer and had a stretch of 154 consecutive days above 100 degrees last year. The average high for July is 116. Nonetheless, the hottest points in the United States were the 43,000 seats at the Rangers' old stadium, almost all of which were completely exposed to the sun.
4. The Metrodome, Minneapolis. Billy Martin once complained, "This place stinks. It's too bad a great guy like [Hubert H. Humphrey] had to be named after it." Well, you know what he meant, especially if you went inside on a sunny summer day, fought your way through the narrow concourses, squeezed your way to the middle of a 40-seat row and then looked straight ahead to see … not home plate, but a hefty bag in right field. Hmmmm. Maybe Quiz was right.
3. Tropicana Field, St. Petersburg. Like the Metrodome, only more cluttered, and with a fish tank. Every time I walk out of the Florida sun and inside this dome, and see the A, B, C and D rings that are within play, I always wonder, "And there were teams that successfully blackmailed their communities by threatening to move to this dump?"
2. The Kingdome, Seattle. What's worse than playing under a concrete ceiling in a city with some of the most glorious summers in the country? (Well, summer for two months, at least.) How about a concrete ceiling that falls on your head? That's what happened in July 1994, when 26-pound tiles fell 200 feet from the Kingdome ceiling before a Mariners game. Ceiling repairs cost $70 million.
The bad news is that meant the Mariners had to play the season's remaining games on the road. The good news is that meant the Mariners got to play the season's remaining games on the road.
1. Olympic Stadium, Montreal. Le Stade Olympique (which is French for "The @#&$ Roof Doesn't Work!") was built for the 1976 Olympics and it was, indeed, impressive. Or it would have been, had it not taken until 1987 to actually finish the retractable roof. And had the roof worked when it was finished. And had it not leaked due to rips and tears. And had a support beam not collapsed. And had the retractable roof not been closed permanently.
Not that it deserves destruction, either. Not with the great games and memories -- Dawson, Raines, Carter, Pedro, Vlad, Youppi! -- it provided Montreal fans before the Expos were yanked out of town.
Unless, of course, former Expos owner Jeffrey Loria happened to be inside when the plunger went down …
CSI: Box Score
Each week, I provide a fragment from an old box score and challenge you to determine what game it is from and why it's significant. I give this one a difficulty rating of 5. Answer below:
Baseball Card of the Week
What is Danny Ainge thinking in this card (1982 Fleer, No. 608)? I'm guessing, "My batting average would be way higher if baseballs were the size of basketballs."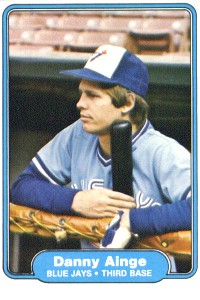 Box Score Line of the Week
There were some great candidates in the world of BSLOTW last week. The Blue Jays had two starters -- Brandon Morrow (0 IP 1 H, 1 R, 1 ER, 0 BB, 0 K) and Drew Hutchison -- leave in the first inning due to injury. Detroit's Jose Valverde melted down thanks to some bad command and bad defense (2/3 IP, 3 H, 6 R, 1 ER, 2 BB, 0 K); while Houston's Brett Myers was even worse, allowing eight hits in the ninth inning on Monday (2/3 IP, 8 H, 5 R, 5 ER, 0 BB, 0 K). Tampa Bay's Carlos Pena scored four times without the benefit of a hit, thanks to drawing four walks (1 AB, 4 R, 0 H, 0 RBI); while rookie Bryce Harper, who has been on a tear, went hitless with five strikeouts (7 AB, 0 H, 0 R, 0 RBI) in a 14-inning loss on Saturday.
And, of course, Matt Cain threw the first perfect game in Giants history last Wednesday (9 IP, 0 H, 0 R, 0 ER, 0 BB, 14 K).
Now, that line normally would win, but no-hitters and perfect games are almost commonplace these days. And while Cain had the one perfect game, R.A. Dickey had two one-hitters last week, giving him this winning combined line:
18 IP, 2, H, 1 R, 0 ER, 2 BB, 25 K
I'll need to double-check with the Elias Sports Bureau, but I believe Dickey is the first pitcher in history to throw consecutive one-hitters, write a New York Times best seller and climb Kilimanjaro in the same year.
Yeah, Well, That's Just Like Your Opinion, Man
Perhaps Eric Holder And The Justice Department Might Want To Switch Tactics From Now On And Prosecute, Like, Actual Criminals. Can the Roger Clemens trial please, please PLEASE mark the end of baseball's steroids saga, which, like the "Real Housewives" franchise, has gone on far too long? Why did our government spend such a fortune to prosecute a baseball player for not telling the truth to Congress? This is beyond a waste of time, money and manpower -- it also shows a flagrant disrespect for our country's value system. It's not supposed to work this way. If you say something obviously false or patently ridiculous inside the Congressional halls, you're not supposed to be tried for perjury; you're supposed to be re-elected. Sheesh, after Clemens, Armstrong and Bonds, Jeff Novitzky is virtually the Kansas City Royals of federal investigators.
And while the government hounds baseball over steroid cases from a decade ago, there is this ongoing epidemic of brain damage among NFL players. I would suggest Congress start looking into that tragedy, except I want something actually done about it.
Of Course, His HOF Plaque Might Look Awkward With The Third Ear. As for whether Clemens is a Hall of Famer, there should be no question about it. Yes, he belongs in. Yes, he gets my vote. Even if he used PEDs, they were not specifically banned during the time Brian McNamee alleged he used them. Further, as long as there is room in the Hall for acknowledged spitballers such as Gaylord Perry (who threw spitballs when they were specifically banned), you can scarcely bar Clemens (or Bonds). You can't condone one method of cheating while condemning another. Unless, of course, you're a hypocrite.
CSI: Box Score Answer
I should have had this fragment last week, but like all dutiful sons, I forgot Father's Day was coming up until the day was upon us. Anyway, the two obvious clues were the only ones you needed -- the names Raines and Raines. Because this was the box score from the Oct. 4, 2001, game in which Tim Raines Sr. and Tim Raines Jr. became the second father-son pair to play in the same outfield. (The Griffeys were the first.)