Baseball's Hall of Fame inducts its newest class this weekend -- congratulations, Barry Larkin and Ron Santo -- and once again, Pete Rose will not be among the honorees. But just because Cooperstown is out doesn't mean there aren't plenty of other halls of fame out there that might have a place for baseball's all-time hits king.
Off Base went in search of them.
For example, Rose is eligible for the Canadian Baseball Hall of Fame in St. Marys, Ontario. After all, he played one season for the then-Montreal Expos.
"He was nominated at one point, but I don't think he's still on the ballot," says Scott Crawford, the Hall's director of operations. "You stay on the ballot for nine years and then you go off the ballot."
Oh, well. Crawford says Pete can go back on the ballot; all he needs is to get nominated again.
How about the nation's original Hall of Fame, the Hall of Fame for Great Americans, which opened in 1900 and is located at Bronx Community College? Sadly, Wendell Joyner, its director, says Charlie Hustle does not have a place there among already-inducted luminaries such as Thomas Jefferson, Abraham Lincoln, Franklin D. Roosevelt and George Washington Carver.
"The HOF for Great Americans would probably not accommodate Pete Rose because when nominations were being considered for over seven decades, you had to make a major contribution to society," Joyner said in an email. "Since there are no athletes depicted in the HOF, I believe they did not consider sports as something noteworthy that should be remembered in the colonnade."
Evidently, they never saw Pete sing the Aqua Velva commercial.
Pete probably wouldn't want to be in the Hall of Fame for Great Americans, anyway. Back when the Hall was still considering members, you had to have been dead for at least 25 years.
Charlie Hustle has spent almost as much time along the rail as he did on the base paths; but unfortunately, he is not eligible for the Official National Thoroughbred Racing Hall of Fame in Saratoga, N.Y., either. "No, you either have to be a horse, a trainer or a jockey," communications coordinator Brien Bouyea says. "A horse has to be retired for five years, a jockey has to be a licensed jockey for 20 years and a trainer has to be licensed for 25 years. We don't really have a category for anyone else."
So that's out. Unless Pete drops about 100 pounds and starts riding.
As you might have heard, Rose also hangs around a lot of casinos, but the Poker Hall of Fame in Las Vegas says he's not eligible, either. Spokesperson Seth Palansky emailed me the list of qualifications -- you must have played against top competition, played for high stakes, played consistently well, gained the respect of peers and stood the test of time -- and low-stakes clubhouse games of poker don't count.
"Sorry," Palansky wrote. "He's got no shot."
Even so, I suspect Pete will keep trying to pad his résumé for that one.
Carnegie Mellon University's School of Computer Science is just a short walk from the site of old Forbes Field, where Pete often played against the Pirates during the first half of his career. Alas, mere proximity does not make him eligible for the school's Robot Hall of Fame.
"When Forbes Field was here, our robotic institute did not exist," Carnegie Mellon's Byron Spice says.
Plus, even if it had existed, Rose still wouldn't be eligible. "As far as I know," Spice says, "Pete Rose isn't a robot."
Perhaps. Like the man said, "as far as we know." But what about Rose's robotic ability in accumulating 4,256 hits? Or in repeatedly denying he bet on baseball?
"He had a certain reproducible quality about him," Spice acknowledges. "But unless he is a robot or if he directly played against robots, I don't think so."
Well, the good news is that there is at least one Hall of Fame for which Pete is not only eligible but which is also eager to induct him. The bad news is that, right now, the Cockroach Hall of Fame and Museum lacks a location.
For years, the Cockroach Hall of Fame and Museum was located in a pest control store in Plano, Texas. Then the owner, Michael Bohdan, sold the business, and the new owner wasn't interested in maintaining the Cockroach Hall. (Hard to believe, I know.) So Bohdan brought the Hall with him when he moved to the Phoenix area, where he plans to re-open it.
"It's very fragile," Bohdan says with a chuckle. "I have 25 or 35 dioramas. I couldn't put it in a moving van. They would demolish it."
Induction into the Cockroach Hall of Fame is no insult. Rather, it's quite the honor. Heck, Pete would be enshrined alongside Elvis Roach-ly, Marilyn Mon-Roach and Libe-Roachi (who has a tiny piano). He could possibly go into the Hall in the same class as Ellen Degene-Roach.
OK. So the Cockroach Hall wants Pete. But here's the key question: What cap will Pete Roach wear? Reds? Phillies? Caesar's Palace?
"That's a good question," Bohdan says. "Maybe we'll put two heads on him and have a two-headed cockroach."
Hmmmm. Sounds like there might be hope for Barry Bonds as well.
CSI: Box Score
Each week I provide a fragment from an old box score and challenge you to determine what game it is from and why it's significant. I give this one a difficulty rating of 4. Answer below:
Baseball Card of the Week
Congratulations, Ron Santo. A pity Hall of Fame voters didn't send you to Cooperstown while you were still alive. But we'll always remember you this way (1970 Topps, No. 220): as a strong young man who overcame diabetes to become one of the best third basemen in history.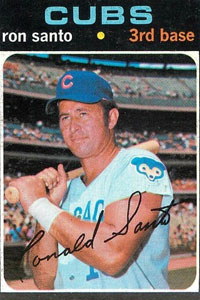 Box Score Line of the Week
Minnesota's Francisco Liriano struck out 15 batters on Friday -- and lost (8 IP, 4 H, 4 R, 3 ER, 1 BB, 15 K). Milwaukee's Yovani Gallardo struck out a career-high 14 batters in just seven innings on Sunday (7 IP, 4 H, 1 R, 1 ER, 0 BB, 14 K). Baltimore's Chris Tillman, meanwhile, allowed seven runs, only one earned, for this ugly line (2/3 IP, 5 H, 7 R, 1 ER, 2 BB, 1 K).
But this week's award goes to Milwaukee's Zack Greinke, who became the first pitcher to start three consecutive games for his team since Sam McDowell in 1965-66 (the last game of the 1965 season, the 1966 season opener and the second game of the 1966 season due to rainouts) and the first to do it in one season since Red Faber in 1917. (Faber's team won all three of his starts.)
Greinke started the Saturday before the All-Star break but was ejected after four pitches. He started the next day and went three innings. He started the first game after the break last Friday and lasted five innings. His combined line from the three starts:
8 IP, 14 H, 10 R, 9 ER, 4 BB, 11 K
He started three consecutive games but still didn't pitch the equivalent of a complete game. And afterward, he apparently felt so tired the Brewers are skipping his start Wednesday. Red Faber wouldn't have been impressed.
Yeah, Well, That's Like, Just Your Opinion, Man
And Oddly, The First Pick Will Go To The Knicks. Wednesday marks the first competitive balance draft lottery under the new basic agreement. The lottery involves the 10 teams in baseball's smallest markets and the 10 lowest-revenue teams for one of six extra picks at the end of the first round of next year's draft. Because of overlap in those groups, there will be 13 teams in the lottery -- Arizona, Baltimore, Cincinnati, Cleveland, Colorado, Kansas City, Miami, Milwaukee, Oakland, Pittsburgh, St. Louis, San Diego and Tampa Bay.
The intent of the lottery is a good one. It will give the poorest teams a shot at an extra pick. But the execution leaves much to be desired.
As you might have noticed, the reigning world champion Cardinals, who have played in three World Series in the past nine years, are in the lottery. And the Mariners, who have not reached the postseason in the past decade, are not. Basing the criteria on revenue and market size is valid, but it also must be balanced with recent success. The Cardinals play in a small market, but with two world championships since 2006, they clearly don't need draft help. The Mariners obviously do, regardless of their revenue. And although there is a large difference between the New York and Tampa Bay markets/revenue, there isn't nearly as much of a difference between, say, Minnesota and St. Louis. The lottery is a good first step but needs tweaking.
CSI: Box Score Answer
Before we get too far into the second half, here was another obvious All-Star Game fragment. Which one? The names indicate it was the mid-'80s; and the presence of Fernando Valenzuela's name, along with Roger Clemens as the starting pitcher, might have been enough for you to identify this as the 1986 game in which Valenzuela matched Carl Hubbell's record by striking out five consecutive batters.
Valenzuela's five strikeout victims weren't quite as impressive as Hubbell's five Hall of Famers: Babe Ruth, Lou Gehrig, Jimmie Foxx, Al Simmons and Joe Cronin. Fernando's were Don Mattingly, Cal Ripken Jr., Lou Whitaker, Jesse Barfield and Teddy Higuera. Yes, Teddy Higuera! For some reason, he batted even though Clemens was the starting pitcher.
All-Star Games were different back then.