News Item: Five seasons after his last game, four years after telling "60 Minutes" that if he took steroids he would have "a third ear coming out of my forehead and be pulling tractors with my teeth," two months after being acquitted of lying to Congress, two weeks after his 50th birthday and four months before he goes on a Hall of Fame ballot, Roger Clemens signed with the Sugar Land Skeeters of the independent Atlantic League.
The oldest pitcher in pro baseball, Clemens is scheduled to start Saturday night. So …
"The Expendables 3: The Un-Naturals''
SCENE 1:
We see the Sugar Land Skeeters team bus as it hurtles down an expressway pursued by three black SUVs with gunmen firing AK-47s. Bullets shatter the bus' rear window and ricochet off the bumper.
The Skeeters bus approaches a police blockade, with officers crouched behind their vehicles, guns drawn. The bus driver briefly considers braking before pushing down on the accelerator. The bus smashes through the blockade, sending police cars spinning and exploding.
The bus comes to an opening drawbridge. The driver again floors it. We see the bus fly over the yawning gap in slow motion, then land on the other side. It smashes through a gate and into a parking lot, where it flips over several times before exploding into a fireball.
The Skeeters pull themselves from the wreckage without a scratch and pick up their equipment bags. As they walk toward the clubhouse, we see that among the various minor leaguers are "The Hall of Fame Expendables": ROGER CLEMENS, BARRY BONDS, MARK McGWIRE, RAFAEL PALMEIRO, SAMMY SOSA, JOSE CANSECO, MANNY RAMIREZ and PETE ROSE.
CLEMENS turns to ROSE.
CLEMENS: For the last time, Pete -- no more betting on baseball! Remember, we're trying to get into the Hall of Fame. At the very least, pay your bookie. That's the third bus we've lost this week.
SCENE 2:
Because they play in an independent league, the Expendables must help with basic maintenance at the Skeeters ballpark. For instance, we see CLEMENS pulling the team's bullpen cart with his teeth. He stops at the batting cage where the other Expendables are taking BP.
McGWIRE: So explain this to me again, Roger. How is playing for a minor league team that pays $700 a month going to convince baseball writers to vote us into the Hall?
CLEMENS:It's like Barry said a couple weeks ago. Baseball's all-time home run king belongs in the Hall. So do you. And me. All of us.
But baseball writers are hypocrites. They praised us when we played, even though they suspected we were taking something. I mean, our baseball caps were so big that Bruce Bochy could have worn them with room to spare.
PALMEIRO: Barry's batting helmet was so large he looked like the Great Gazoo.
CLEMENS:Then the writers turned on us as soon as we retired. They called us cheats and said we tarnished the records of past Hall of Famers. Those old guys popped amphetamines that were illegal and are now officially banned. But they're still heroes while we're villains because we supposedly took something that wasn't against the rules when we played.
SOSA:And Flintstone vitamins still aren't banned.
CLEMENS: The point is, ain't none of us going to Cooperstown based on what we've done previously. Which is why I invited y'all here.
BONDS slams a pitch against the scoreboard, which explodes in a fireball. As stadium workers scatter, he approaches CLEMENS.
BONDS: So let me get this straight. We're gonna play with an independent team, hoping our minor league stats sway the writers in our favor? Or that maybe major league clubs that blackballed us before will sign us now? Then, even though we're in our late 40s and early 50s, we play at an All-Star level and those baseball writers who have ripped us the past decade will be so overwhelmed they vote us into the Hall? Even I wouldn't be able to keep a straight face telling that plan to a grand jury.
CLEMENS: You're right, Barry. But that isn't the plan.
See, the real plan was hatched by me and another aging star. Like us, his reputation has suffered because of performance enhancers. Like us, he's got Hall of Fame issues. More importantly, unlike us, he's got expertise in plastic explosives.
CLEMENS points to the dugout.
ROSE: Him? You gotta be kidding me. I blew a thousand bucks on him when he lost to Apollo Creed the first time.
Yes, it's SYLVESTER STALLONE, aka ROCKY BALBOA.
ROCKY: Yo, Pete. Sorry about that, but you had plenty of chances to make it back on me. I made six sequels.
ROSE: That's the problem. I bet on Clubber Lang and Ivan Drago, too.
CLEMENS: Water under the bridge, boys. Rocky/Sly, how about you explain our little plan?
ROCKY: Here's the deal. I was inducted into the Boxing Hall of Fame; but because I was busted for human growth hormone in Australia, they want to vacate my championships and kick me out. So I understand what you guys are going through. That's why I came up with a plan to get you into Cooperstown and keep me in the Boxing Hall.
SCENE 3:
Dressed in drag, the Expendables roam the halls of Cooperstown.
McGWIRE: Tell me again why we're dressed as women.
CLEMENS: Because we need to scout out the Hall of Fame; and to do that, we need to disguise ourselves because the writers won't let us in.
PALMEIRO: Ummm, I could be wrong, Roger, but I think the writers just won't vote to induct us into the Hall. I think we can buy a ticket like everyone else.
CLEMENS: Well, I'm not taking any chances. Besides, Manny doesn't look half-bad. Those fake breasts are mighty convincing.
MANNY: They aren't fake. It's just what happened after I took fertility drugs as a masking agent.
SCENE 4:
The Expendables wade through the filth of a long-forgotten sewer tunnel beneath the Hall of Fame.
McGWIRE: So explain again why we're in this hole.
ROCKY: We're breaking into the Hall of Fame, like I told you a dozen times already. But thanks for asking again so the theater audience understands what's going on.
CLEMENS: Used to be you got into the Hall of Fame by winning 354 games and seven Cy Youngs. But nowadays you gotta crawl through 500 yards of sewer pipe, smelling foulness even worse than any story a sportswriter produced.
ROCKY reaches up to the ceiling of the sewer tunnel.
ROCKY: All I need is to apply the precise amount of plastic explosive and it should blow a hole big enough for us to crawl up into the Hall.
ROCKY hits the detonator. There is a blinding explosion. A 700-degree fireball roars through the sewer tunnel, incinerating everything it touches. Pressing their backs against a narrow gap in the wall, the Expendables survive with just some singed eyebrows.
ROCKY: Hmmm. I think I may have used a little more than I should. Oh well. We've got our opening. Let's go in.
SCENE 5:
The Expendables stand admiring the plaques of all the Hall of Famers. Interestingly enough, their own plaques are now mounted on the wall with the others.
McGWIRE: I gotta hand it to you guys. I never thought this would work. But we pulled it off.
CLEMENS: And ain't no one ever gonna pull our plaques off, neither. We got those permanently stuck to the wall.
ROSE: What did you use for glue, anyway?
BONDS: A secret substance they developed at BALCO. I'm not sure what it is. You just rub it on. I think it's flaxseed oil or something.
PALMEIRO: I see you avoided the controversy about whether you should be wearing a Red Sox or a Yankees cap.
CLEMENS: Yeah, there just wasn't any room for a cap due to this third ear on my forehead.
CANSECO examines the CLEMENS plaque a little more closely, reading the final lines.
CANSECO: Hey, Roger. It says here you played for the Nationals. When was that?
CLEMENS: Next month. The Nats just signed me.
McGWIRE: They were that impressed by your Sugar Land Skeeters start?
CLEMENS: Well, that and my acquittal for allegedly lying to Congress. They said that made me the biggest winner in D.C. since Walter Johnson retired. So they want to add me to the rotation when they sideline Strasburg.
CSI: Box Score
Each week, I provide a fragment from an old box score and challenge you to determine what game it is from and why it's significant. I give this one a difficulty rating of 3. Answer below:
Baseball Card of the Week
With Roger Clemens about to put on a Sugar Land Skeeters uniform, I give you his rookie card (1985 Topps, No. 181).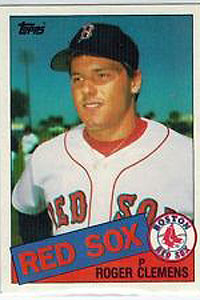 Why is a seven-time Cy Young Award and 354-game winner coming out of retirement to pitch for an independent minor league team named the Skeeters? Probably because Clemens is 50 years old and the Skeeters are the only team with a bullpen cart to drive him to the mound.
Box Score Line of the Week
Atlanta's Kris Medlen threw a shutout (9 IP, 5 H, 0 R, 0 ER, 0 BB, 6 K) to become the third pitcher this year to have thrown a shutout and pick up a save. Arizona's Joe Saunders gave up 12 hits in just over three innings (3 2/3 IP, 12 H, 9 R, 9 ER, 0 BB, 2 K), while Tampa Bay's Alex Cobb allowed his 12 hits in less than three innings (2 2/3 IP, 12 H, 8 R, 8 ER, 0 BB, 1 K). And Cardinals outfielder John Jay, batted nine times (9 AB, 0 R, 3 H, 0 RBI) Sunday when St. Louis and the Pirates played 19 innings.
But this week's award goes to Pensacola Blue Wahoos shortstop Billy Hamilton for this line Tuesday night:
SB-Hamilton 4 (43).
Stealing four bases in a game is always significant. But what makes this really noteworthy is that when you combine Hamilton's 43 steals for Double-A Pensacola with the 104 bases he stole earlier this season at Class A Bakersfield, you get 147 bases, which breaks Vince Coleman's minor league, single-season record. BTW: Hamilton stole third base twice Tuesday.
For more on Hamilton, read Jerry Crasnick's fine story.
Yeah, Well, That's Like Just Your Opinion, Man
And That Unspecified Ex-Cub Better Not Be Kevin Orie: Groupon built its business by offering half-price discounts (and leaving the merchants with roughly one-quarter of their normal revenue for a good or service). Now it's offering one of the most expensive tickets you'll ever see that doesn't involve a TicketMaster convenience fee. One "lucky" Cubs fan will get a ticket to Thursday's Chicago-Milwaukee game at Wrigley, plus a suite for 13 friends, plus the opportunity to watch BP around the batting cage, meet with an unspecified ex-Cub during the game, receive a full Cubs uniform (including socks), have his/her name listed on the marquee board and answer questions posed by fake reporters during a postgame "interview" session. All for the special price of just $30,000. That's right, $30,000! The only way such an experience could possibly be worth it is if Groupon guaranteed it would be at a World Series game at Wrigley. Then again, while $30,000 is a lot of money, it still might be a better investment than the $75,000 the Cubs pay Alfonso Soriano to hang around Wrigley every home game.
Fortunately For Catchers -- And Fans Seated Behind Home Plate -- The Dodgers Wear Pants: Beach volleyball legend Misty May-Treanor won her third Olympic gold medal this month and was rewarded with sports' ultimate honor: her image on a Wheaties box. She and Kerri Walsh Jennings are the most accomplished pair in their sport's history, but Dodgers catcher Matt Treanor hasn't been able to watch his wife win any of her gold medals in person. That's because he's always busy with the baseball season. Even when he was hurt in 2008, he couldn't get permission to go to Beijing to see her play. He stays here, playing ball and hearing some interesting comments about his wife's beach volleyball attire.
"You get harassed on occasion," Treanor acknowledged earlier this summer. "We just came from Philadelphia, and they're not going to be too nice about your wife being in a bikini. It's just one of those things -- she just happens to be wearing a bikini while she's doing her job." And what do the fans say? "Nothing you could print. They'll say -- awww, I don't even want to repeat what they say. It's pretty crude, most of it. The people I acknowledge are the ones who talk as if there is national pride to it. That she's an Olympian and she represents our country and we're real proud of her. Those are the people I'll acknowledge and sit and talk to a bit. But for every one of those people, there are two who want to tell you your wife has a beautiful ass.''
And Imagine Your Beer Bill After 18 Innings: Due to a scheduling conflict, the Diamondbacks are hosting their first-ever doubleheader Wednesday in Phoenix, which is also the first twinbill at a retractable dome since 2007 when the Mariners made up two games from a previously snowed-out series in Cleveland. Owners catch some flack for not scheduling doubleheaders anymore, or for charging for both games in a day-night split; but does anyone really want to see two games in one day? Like movie double features, baseball's doubleheaders have lost their appeal. Sitting through a single game -- especially a Red Sox marathon -- can be time-consuming enough. Sitting through two game is way more than the modern fan wants. Sheesh, less than a quarter of the fans made it all the way through Sunday's 19-inning Pirates-Cardinals game.
CSI: Box Score Answer
You needed only two clues here. The first is the name Clemens, and the second is the Off-Base lead about the Rocket making his return to pro ball at age 50. Then it was merely a bit of guesswork to determine this is a box score fragment from Clemens' major league debut, 28 years ago.