As amazing as it might seem to the national media, there actually are many baseball fans who don't live and die over whether the Washington Nationals shut down Stephen Strasburg. Or whether Bryce Harper emerges from his slump in time to win the Rookie of the Year award.
Oh, many of these fans wish the Nationals well in their quest to bring a World Series to Washington for the first time in nearly eight decades. They just wish they had their old team back in Montreal, which never enjoyed the pleasure of playing any World Series there, ever.
"I'm heartbroken," said John Cuccioletta, a retired Montreal-area school teacher who estimates he attended 50-to-60 Expos games a season. "People talk to me about the Expos and I still have a really sore spot. I get really sentimental. I mean, it's just a sport -- what does that have do to do with life? But it was a great entertainment; and for me, it was a pastime. Like baseball is in the United States. It's the North American pastime."
Eight years have passed since the Expos officially left Montreal, but you could hear the moving vans start their engines longer ago than that. First, Jeffrey Loria took over the team and ran it into the ground, marketing the Expos so poorly that for a while, he didn't even offer English-language radio broadcasts. Then the league short-listed the Expos for contraction. Then MLB took over the team and scheduled the Expos to play home games in Puerto Rico. Which, oddly enough, did not help ticket sales in Montreal.
"It was like they were saying, 'We're going to kill this franchise so it dies and then we can move it someplace else,'" Cuccioletta said.
The shame of it is that the Expos once were the best team in baseball, and they also were well supported. They outdrew the Yankees in the early '80s and the Mets in the early '90s. But the 1994 strike put an end to the World Series hopes of a first-place team that had Pedro Martinez, Larry Walker, Moises Alou and Marquis Grissom on the roster. The Expos never recovered, thanks in large part to Loria. After he salted the earth, poisoned the water and released radiation in Montreal, baseball finally moved the franchise to Washington in 2005.
"I can't really root for the Nats and I don't hold them accountable for the plight of the Expos," Cuccioletta said. "But I do hold Jeffrey Loria and his minions in high contempt for what they and [former managing general partner] Claude Brochu did to this franchise."
Fortunately, there is hope for Montreal, even if it is only a glimmer at the moment. Former Expo Warren Cromartie has begun working with Montreal businessmen to bring Major League Baseball back to the city. Not right away. Perhaps not for seven years or more. But sometime.
"A lot of things have changed [since the Expos moved], and a lot of things have changed for the better," Cromartie said. "We understand that Montreal has a lot of proving to do. We understand that. We plan to have our guns loaded to make this happen. We understand there are some skeptics, there is some caution. We also know that Montreal is a great city."
Montreal IS a great city with a great baseball heritage; Jackie Robinson played there with the Dodgers' farm team before being called up to Brooklyn. More importantly, Montreal is one of the larger broadcast markets in North America. And the old Expos fans remain. As others have noticed, the ExposNation Facebook page wasn't far behind the official Washington Nationals page in "likes" (151,000 to 181,000). The city could easily support a team again.
"I want to be just like Magic Johnson," Cromartie said. "I don't have the pockets like Magic, but I've got the smile and the personality like Magic. And I would think baseball would like to see another black owner, especially in Montreal where Jackie Robinson started his career."
It won't be easy. Cromartie does not have Magic's wealth, and Johnson's ownership group drove up the price of baseball teams this spring when it paid $2 billion for the Dodgers. The Padres are reportedly selling for $800 million. Plus, Montreal almost certainly would require a new stadium to replace Le Stade Olympique.
So Cromartie will need to get some very rich partners on board, and they will need to sell a lot of Youppi! bobblehead dolls.
"This is an ambitious project. I understand that, but it's a journey," Cromartie said. "Washington had three chances, and they're doing well with it now. They look like a playoff team. We're hoping that somewhere down the line, MLB will give us a second chance."
I hope so, too. I'm rooting hard for Cromartie. Montreal deserves baseball. While I'm happy for D.C. fans who might see a postseason team for the first time since the Depression, this wonderful summer could -- and should -- be happening in Montreal.
Wherever the postseason is played, Cuccioletta will watch it on TV, whether those games involve Strasburg, Harper and the Nationals or whomever. That's because he's a baseball fan, even if he hasn't had a local team for eight years.
"It's really too bad because Montreal is a great city, a great place," Cuccioletta said. "Of course, it would be that much better a city if we had baseball here again."
CSI: Box Score
Each week, I provide a fragment from an old box score and challenge you to determine what game it is from and why it's significant. I give this one a difficulty rating of 3. Answer below:
Baseball Card of the Week
Have you ever seen a worse bit of photo-shopping than this card of Manny Mota (1969 Topps, No. 236)? It's like Topps didn't even try to make the cap look decent, or worse, went out of its way to make it look hideous. Just another sign of how the Expos never got the respect they deserved.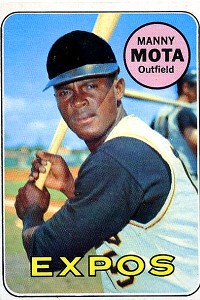 Box Score Line of the Week
There were a lot of interesting lines last week.
Despite allowing no runs, Colorado starter Tyler Chatwood needed 65 pitches to get through three innings (3 IP, 3 H, 0 R, 0 ER, 3 BB, 3 K). Boston's Alfredo Aceves didn't throw quite that many pitches (37), but he fared much worse in blowing another lead on Thursday (1 IP, 6 H, 5 R, 5 ER, 1 BB, 1 K). Baltimore's one-time emergency reliever, Chris Davis, hit three home runs, joining Jim Tobin and Babe Ruth as the only players to win at least one game and hit three homers in a game in the same season. And Texas third baseman Adrian Beltre became the first player to have a three-homer game and a cycle in a three-game span. (Thanks to ESPN's Doug Kern for those last two.)
But this week's award goes Roger Clemens, who returned to the mound for the first time since 2007 last Saturday for the Sugar Land Skeeters. His line:
3 1/3 IP, 1 H, 0 R, 0 ER, 0 BB, 2 K
And Clemens did it at age 50, making him both the only pitcher this season who can refer to Jamie Moyer as a "young punk" and the only pitcher for the Skeeters who had actually ridden a bullpen cart before the team brought back the 1970s fad this year.
Yeah, well, that's like, just your opinion, man
Playing home games in Puerto Rico might actually boost attendance. The Rays are playing some of the best baseball in the game. They have a good chance to reach the postseason for the fourth time in five years. Yet last week, they drew 9,913 fans for one game and fewer than 45,000 for the final four games of a homestand that included a three-game series against a rival for a wild-card spot (Oakland). That's fewer fans than the Phillies drew for one game last Sunday. Hey, I want baseball to succeed in Tampa Bay. I know the recession hit the area very hard, and I know the Rays play in a lousy stadium. But Seattle had a lousy stadium, and fans poured into the Kingdome when the Mariners finally started winning. Unfortunately, the Rays are still waiting for their fans to support them. Not that I'm drawing any connection to Montreal. (Based on attendance at this week's White Sox series, Baltimore fans also have been slow to return. But the Orioles are also coming off a long stretch of losing.)
Although, like the GOP candidates, they are against higher taxes on the wealthy. I received notice this week that I'll have a vote this year for American League MVP -- which, unlike my presidential choice, is still very much up in the air. With more than a month still to go, the top candidates include Miguel Cabrera, Mike Trout, Robinson Cano, Paul Konerko, Adrian Beltre, Derek Jeter, Austin Jackson, Josh Hamilton and Adam Jones. A more promising list of candidates than we saw in any debate last winter.
Remember, if you want to boo a player, wait until he's in a Yankee uniform. Insurance agent Joel McKinnon posted a poem titled "He's Just a Little Boy" on Facebook last month, and struck a chord. The poem by Chaplain Bob Fox is a simple message to cut Little League players some slack with a gentle reminder that they're just kids. Now, with funding from Farmers Insurance, that message and poem will be posted at as many as 1,500 youth fields across the country. It's a nice gesture, and hopefully it will remind some parents to behave themselves while sitting in the stands and thinking the game is as important as Game 7 of the World Series.
Don't worry, I won't sing "Happy Birthday." On a personal note, Happy Birthday to one person who provided nothing but support at the Little League field and always made baseball fun wherever we watched it: My father. I can't begin to thank you enough for everything, Dad. And I still don't know how you were able to manage a Little League team with 18 -- count 'em, 18! -- players.
CSI: Box Score Answer
The two biggest clues -- and the only ones necessary -- are my lead item about Montreal losing the Expos and the Montreal pitching lines. Put them together and it doesn't take much to guess this was the last major league game played in Montreal, at the end of the 2004 season. It wasn't a sellout; but by then, the powers that be had pretty much destroyed interest in baseball in Montreal.