Hey there. Any chance you've got $50 million or so lying around on your kitchen table? If so, we're guessing that Alfonso Soriano could be all yours if you'd like to pay him. And the Cubs probably wouldn't even ask for your best pepper mill in return.
Or if you have $60 million stuffed in your mattress, there's an excellent chance the Angels would gladly send Vernon Wells over to recline on it for the next three years.
But here at World Rumblings Headquarters, we're betting you're probably not interested. Not in Soriano or Wells. Not in Barry Zito or John Lackey. Not in any of the members of the all-star team we're about to roll out for you today.
It's the All-Most-Immovable Contracts team. And we've assembled it this week with the help of nine general managers, assistants and high-ranking executives who contemplate this stuff all the time.
Astounding Facts of the Week
The long and short of the Jon Rauch-Jose Altuva matchup, noteworthy ejections and a Cubs outfielder finally goes deep. Blog »
Scheduling changes for 2013
Nothing is close to being finalized, but here's more detail on some of the scheduling changes being contemplated. Blog »
But you should know something, right off the top: However many names you'll find on this list, they're just the tip of the immovable iceberg.
We counted 17 active players who began this season with more than $100 million left on their contracts -- "and I don't know if any of those contracts can be moved," said one American League GM. "I'll put it this way: If you put all those names on outright waivers right now, would any of them get claimed?"
Hmmm. Excellent question. So we posed it to a few other GMs. And we came up with this list of players who were at least likely to have some team put in a claim: Matt Kemp, Troy Tulowitzki, CC Sabathia, Adrian Gonzalez, Matt Cain and Cliff Lee. Possibly Matt Holliday. But even that group wasn't unanimous.
So you get the idea. We could easily nominate two or three dozen players for this All-Most-Immovable team -- if the definition is "contracts clubs couldn't move without eating any money." But the survey has spoken. So these were the guys who made the cut:
Albert Pujols and Prince Fielder
Wait. Did we just say Albert (10 years, $240 million) and Prince (9 years, $214 million)? Didn't they just sign their contracts like 20 minutes ago?
Fielder
Pujols
Well, it was actually several months ago. But as you may have noticed, these were lonnnngggg deals. And how many teams out there (A) need a first baseman and (B) have a quarter-billion dollars or so freed up to make dealing for these guys palatable?
In Albert's case, he'd be a tough sell "not just because he is underperforming right now," one AL executive said. "More so because this was a 'win-now' signing, which gets progressively more difficult to handle as the contract progresses. I don't believe anyone would be eager to carry the close to $120 million due between 2018-21 on Albert into his 40s."
And Prince? Same deal: "He's a great player right now," another AL exec said. "But I don't know anyone that believes it's going to hold up for much longer."
Incidentally, in their case (and others), we should probably concede that this entire discussion is totally academic -- because their teams have no interest in moving them in the first place. But let's just say that, well, that could change.
Carl Crawford (6 years, $127 million left)

Crawford
Poor Carl Crawford. Not only is he apparently stuck in extended spring training for perpetuity, but he got more votes than any other player in this poll.
"Between his wrist and his elbow, that would scare me," an AL GM said. "And the wrist scares me more than the elbow. How many guys hurt their wrist and take forever to get back to what they were? And some don't ever get back. So that's a contract that would have to get paid down so much, it wouldn't make sense for the club to move him."
Ryan Howard (5 years, $125 million left)

Howard
Here's a scary thought about Howard's deal with the Phillies: It didn't kick in until this year. So he still hasn't played a single game to start convincing his many critics that he's worth it -- or even half of it. And now he has the uncertainty of Life After A Ruptured Achilles to make the masses even more wary of him.
"I don't think anyone would take Ryan Howard right now," one GM said. "Even before he got hurt, he wasn't hitting left-handers anymore and he has defensive problems. At $25 million a year, I wonder if we're looking at a modern-day Mo Vaughn deal."
Alfonso Soriano (3 years, $54 million left)

Soriano
He's been the captain of this team for so many years, we could include him just from force of habit. But Soriano still belongs, because he's a guy his team would gladly move -- even for a deep-dish pizza -- and has tried to, with zero success. It also isn't doing wonders for his marketability that he's now up to 80 at-bats without a home run this year.
"That isn't helping," an NL GM laughed. "But you know what? With the length of this deal [shrinking], somebody might take him. I actually think they can move him if they choose to. They'd just have to eat a significant amount of money. At least you can see the finish line now."
Barry Zito (2 years, $46 million left)

Zito
If Soriano is the captain of this squad, what does that make Zito -- the poster boy? His deal looked like a disaster when it still had five years to go. Now, even though he's down to the final two years and pitching respectably, he still got a slew of votes.
"I know he only has two years left," one GM said. "But I still think Zito is totally not moveable."
Jayson Werth (6 years, $112 million left)

Werth
The good news: Werth is playing a lot better in Year 2 of his monster deal than he played in Year 1.
The bad news: The many teams that hated that contract when he signed it haven't learned to hate it any less now. Consider this sampling of reviews:
"He was overpaid from the beginning." … "He's not a bad player, but he's not that kind of player." … "I can't imagine anyone biting into that one."
Joe Mauer (7 years, $161 million left)

Mauer
Even in a year in which Mauer has played in every game but one and racked up the best on-base percentage (.394) among AL catchers, he still got a bunch of votes in this poll. Too many years. Too many dollars. Too many doubters.
"You can't count on him to stay behind the plate, and you've got a severe injury risk," a National League GM said. "Even if he moves to first base, it's still an albatross. You know, I understand why the Twins did what they did. But it's still a contract they'd have an extremely difficult time moving."
Alex Rodriguez (6 years, $143 million left)

Rodriguez
Other teams watch A-Rod gimping up the line with his sore hip, covering less and less ground at third base, and racking up a lower early-season OPS (.796) than Robert Andino and Alejandro De Aza.
And it doesn't particularly inspire them to say, "Wow. I sure wish our team could pay this guy another $143 million."
"I'll be honest," one AL executive said. "I don't think anyone would take him."
Vernon Wells (3 years, $63 million left)

Wells
C'mon. Admit it. You've been waiting all along for this name. We're talking about a fellow who last year compiled the lowest on-base percentage (.248) of any qualifying outfielder in the live-ball era -- and has actually seen that OBP drop this year (to .237). But there was still one compelling argument against including him: How could he make the Most-Immovable Contracts team when his contract has already been moved, a little over a year ago, when it had even more dollars remaining?
"I just think that won't happen again," one GM said. "The next move that happens will be somebody signing him for the minimum -- after the Angels release him."
John Lackey (3 years, $45.75 million left)

Lackey
You hate to pick on players who are out for the year. But it's basically unanimous: This contract is a nightmare. Not only are we talking about a guy with health issues, personal issues and the worst ERA in baseball (5.26) over his two years with the Red Sox, but he'll get another half-million bucks if somebody ever does trade for him.
So is he the ultimate All-Most-Immovable-Contract luminary of 2012, or what?
"Yeah," one exec said. "I think he'd lead the charge."
What does it all mean?
When you look at this collection of contracts, you don't need to be Bud Selig to see the common theme: They're all way too long, at dollars that look like the gross national product of Samoa.
TRIVIALITY
"With no steroids and no amphetamines to keep these guys going, I don't care who the player is," an official of one team said. "You really shouldn't go more than five years anymore -- even for a special player."
Sounds logical enough. … So how come we've seen seven $100 million deals longer than that just in the last six months?
"Hey," the same official chuckled. "I never told you baseball owners are smart."
Rumblings

Young
• It's hard not to wonder about the future of Delmon Young after his latest meltdown. So we asked a few executives whether they would take a chance on Young next winter, even if he's priced as a relative free-agent bargain.
"I wouldn't deal with him," said one NL exec, in what was pretty much a typical response. "I'd rather reward a guy from Triple-A than go that route. I don't know who would mess with him, really -- except maybe Bill Belichick."
• If the Rays and Giants decide to shop for third basemen to replace Evan Longoria and Pablo Sandoval, we wish them luck. The only potentially available names we've heard, for now, are the Orioles' Mark Reynolds (31 strikeouts, 9 hits, 0 homers so far) and the Twins' Danny Valencia (.244/.250/.372).
One exec on the Rays: "They're looking for more of a versatility guy they might be able to move into another role after Longoria comes back."

Ethier
• In the last two weeks, we've heard executives from three other teams say that if they were running the Dodgers, they wouldn't jump at handing a massive new contract to Andre Ethier -- a fellow they view as being in classic salary-drive mode.
But other clubs look at Ethier, then look at the free-agent outfield market and think the Dodgers have no choice. Why? Because the cost of replacing Ethier in right field, and in the middle of the order, figures to be just as high. And are Josh Hamilton, Nick Swisher or Torii Hunter really going to be any better, more trustworthy or more cost-effective investments?
"The free-agent market is really just a very public lesson in supply and demand," one GM said. "And the supply never equals the demand. So you end up doing stuff you really don't want to do. Look what teams pay every year for guys, based just on wishing and hoping. So if your alternative is wishing and hoping, you're usually better off paying your own player."
• Another team poking around for a young third baseman is the Phillies, who are trying to assemble a shopping list of potential replacements for impending free agent Placido Polanco.

Rodriguez
• A number of clubs are bearing down early on the Astros, who have let teams know they'll make pretty much everyone available who isn't viewed as part of their future. But the reviews are still mixed on Wandy Rodriguez, who figures to be their No. 1 trade attraction in July.
"He's a No. 2 starter at times," one NL scout said. "But for me, what you're really getting is a fourth starter on a good team who can throw a curveball. Unfortunately, if you look at his paycheck, he's getting paid like a No. 2. And that's a problem."
• Bryce Harper wasn't the Nationals' only noteworthy call-up last weekend. This is a team that's also getting increasingly intrigued by the other player they called up, outfielder/first baseman Tyler Moore, who has averaged 31 homers a year the last two seasons. "This guy's power is unbelievable," one scout said. "Those guys could be two of the main guys in that lineup for a long time."
TRIVIA ANSWER
If Moore keeps pounding homers and attracting eyeballs, and Harper proves he can handle center field, it could mean the Nationals may not chase a pure center fielder in the next few months after all -- and Moore could wind up as the first baseman of the future, with Michael Morse remaining in left field.
"That could change their whole equation," said an exec of one team that has talked to the Nationals, "in terms of going out and getting a center fielder."
• When Nationals GM Mike Rizzo headed off to the International League last week to check out Bryce Harper, he had another big item on his agenda -- to have a heart-to-heart with the highest-paid pitcher on the Syracuse Chiefs, John Lannan. After getting sent down and asking to be traded, Lannan got off to an awful start (1-2, 6.63 in his first four starts). And his team found no takers when it tried to move him. But last Sunday, after his chat with the GM, Lannan spun a seven-inning four-hitter against Charlotte. And Rizzo believes the 27-year-old left-hander has finally come to grips with his lot in life.
"He sees it for what it is now," Rizzo said. "He sees five starters [in the big leagues] really getting after it. And he understands he just has to follow suit and keep pitching well. … I think he had to come to grips with: 'These are the realities of baseball, so just control what you can control.' And that means: Go out there every five days and pitch well."

Utley
• One member of the Phillies hierarchy now says it wouldn't shock him if Ryan Howard remains out until mid-June or later, because he's done so little physically for so long, and he's trying to make it back from such a tough injury for a power hitter. But the club now appears much more upbeat about Chase Utley's prognosis after seeing Utley in person last week in Arizona.
After several weeks of rehab on his knees and legs, Utley stunned his teammates with his ability to use his lower half to drive the ball in batting practice. For the first time in months, people around the club believe it's possible that when Utley does return -- possibly sometime late this month -- he could look a lot closer to the Utley of old than the stiff, one-legged hitter they saw most of last season.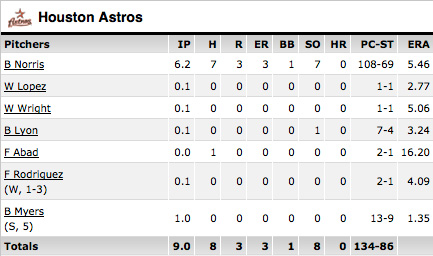 • Finally, if you love the Tournament of Roses Parade, the Macy's Thanksgiving Day Parade and Mardi Gras parades, you had to love the most historic procession of them all this week -- the Parade of the Astros Bullpen.
Astros manager Brad Mills made Tony La Russa look laid-back Monday by becoming the first manager in history to use seven different pitchers to face seven different batters in a win over the Mets.
"I think he got a couple of the Mets' relievers up at one point," Astros broadcast-quipster Jim Deshaies told Rumblings. "Anybody in a uniform was fair game."
What made this event especially fascinating is that the first five relievers out of Mills' bullpen all faced exactly one hitter apiece -- and threw a total of 13 pitches.
"It was like a relay race," Deshaies said, "where you just hand off the baton after like 20 yards. It was the 7-by-25-yard relay, an event you don't see very often."
There had never been any other game in history (fortunately) in which that many relievers went one-and-done. So in retrospect, this was way more historic than, say, Philip Humber's perfect game.
"Oh, absolutely," Deshaies agreed. "That had happened 21 times. This had never happened before. So this was obviously much more historic."
Tweets of the Week
• No one in the Twitter-verse provides more incisive historical perspective than the legendary 19th-century twirler, @OldHossRadbourn, whose ability to keep on tweeting, 115 years after his death, never ceases to astound us:
Padre N. Hundley will soon cross the Mendoza Line. In my day this was a violation of the Monroe Doctrine.

— Old Hoss Radbourn (@OldHossRadbourn) April 27, 2012
• From Late Show tweeting witticist @EricStangel, on the thrill of seeing Orioles count-working machine Nick Johnson manage to get his first hit of the year and stay off the disabled list in the same euphoric moment.
Congrats to Nick Johnson, who not only broke an 0 for 29 slump, but didn't break anything when breaking the slump

— Eric Stangel (@EricStangel) May 2, 2012
Headliner of the Week
And this just in from the fictitious investigative team at the rollicking parody site, theheckler.com:
WRIGLEY FIELD REVEALED TO BE DOMINICAN-BORN AND ACTUALLY 13 YEARS OLDER THAN FENWAY