UFC 239 was a card that won't be soon forgotten.
Jorge Masvidal earned the fastest knockout in UFC history, stopping Ben Askren with a running knee in just five seconds. Amanda Nunes handed Holly Holm the first KO loss of her career, knocking Holm out with a head kick. Jon Jones won, but by split decision -- the first time he has lost a fight on a judge's scorecard in his illustrious career.
With so many storylines coming out of one of the wildest nights of fights in recent memory, our expert panel -- Ariel Helwani, Brett Okamoto, Marc Raimondi and Jeff Wagenheim -- is here to break down five of the biggest questions raised at UFC 239.
What do you make of how the main event played out?
Marc Raimondi: As much as Santos deserves a ton of credit for fighting a terrific fight on a bad knee for most of the bout, I still can't help but think this was not the kind of performance from Jones that we're used to seeing. After two rounds, I was expecting Jones to turn it around, to have figured Santos out. Either he never did or he simply never asserted himself the way he has in recent victories over Alexander Gustafsson and Anthony Smith.
Santos is a very dangerous guy. He has big power, and he has looked fantastic since moving up to light heavyweight. But Jon Jones is Jon Jones. He didn't even try to take Santos down at any point. It was weird.
Ariel Helwani: I thought it came down to the second round. I thought Santos won the first and fifth and Jones won the third and fourth. I don't think it was a robbery by any stretch, and I leaned toward Jones in the second, so that means I agreed with two of the three judges.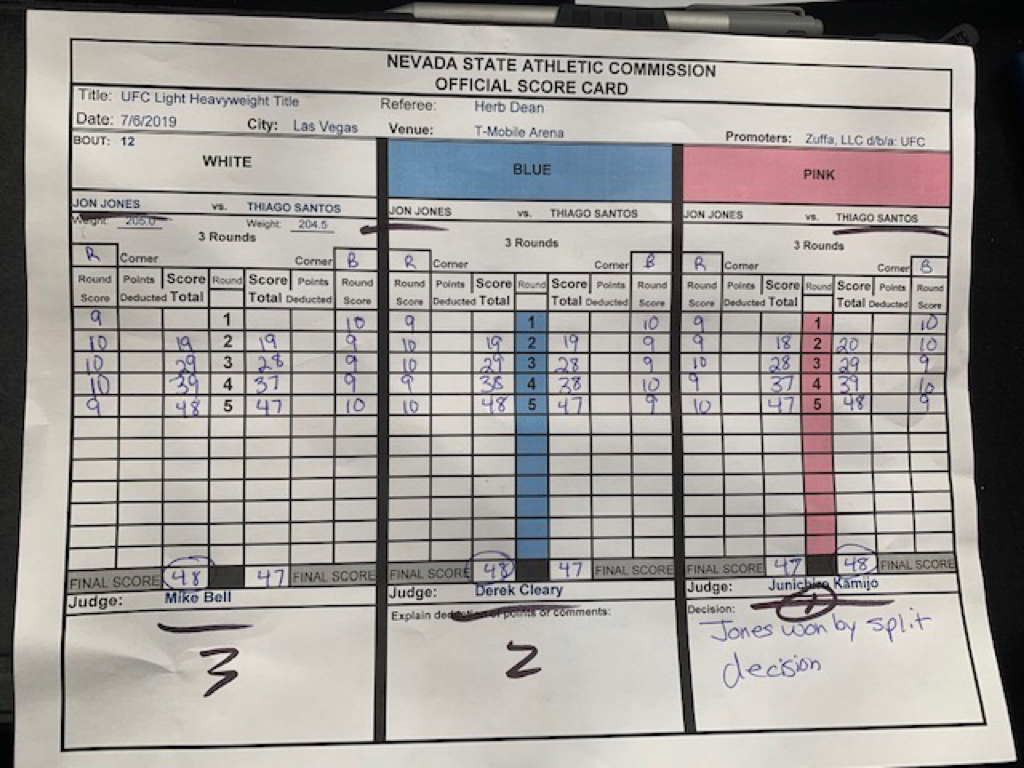 Judge Junichiro Kamijo had Santos beating Jones. Kamijo had Santos winning rounds 1, 2 and 4.
Brett Okamoto: I scored the fight for Thiago Santos 48-47. Like always, I'll have to watch it again and see if I change my mind. It's not unusual for me to do that. During a fight, I'm taking notes, staying active on social media, sending various emails. Don't get me wrong, I have confidence in my live scoring, but occasionally I go back and admit I'm wrong.
Either way, I don't think there's any controversy here. It was a close fight with close scores. The bigger question here is: Why was this fight so close? This was Jon Jones, against a former middleweight who, from the second round on, appeared to have one good leg. Where was Jon Jones "the lion"? Why didn't he throw Santos on his back and elbow him through the canvas like I'm picturing "old Jones" would have done. We're nitpicking here. This guy is the greatest to ever do it. But this was not one of Jones' best performances. It just wasn't. Is he overthinking things? Is he being too cautious at times? Look, all's well that ends well -- he won this fight. But he should probably take a close look as to why this matchup went the way it did. Feels like there are some things to address.
Jeff Wagenheim: Jon Jones has this quirk in his game where he always wants to beat his opponent at the opponent's game. It's an ego thing. And while it has worked out for him in the past -- no one in MMA has the résumé that "Bones" does -- it very nearly cost him his championship on Saturday. Thiago Santos is a flashy striker with knockout power, and Jones seemed determined to stand with him for five rounds. So he stalked and stalked ... but did little in the way of attacking. Call Jones patient. Call him mesmerized. Whatever it was, he did not look like the No. 1 pound-for-pound fighter in the world on this night.
Did Jones deserve to win the decision? That's a loaded question, because we tend to grade Jones on a curve. That's what happens with the greats: They need to rise even above their greatness to impress us. Watching Santos hang with the champ for 25 minutes in a fight in which Jones did little of significance, it was understandable one judge scored the fight for the Brazilian, who was the aggressor and clipped Jones a few times. My takeaway is not so much about Santos, though, as it is about the rest of the light heavyweight division: There's hope.
Every rising contender -- and there are several -- watched what Santos did and told himself, "I can do that and more." So Jones now has a gang of emboldened potential challengers on his hands.
If ESPN's pound-for-pound rankings included both men and women, where would Amanda Nunes fall?
Wagenheim: Nunes is top three for me, for sure, when I assess her performance against the competition she faces in comparison to the performances of other men and women within their weight classes. After watching Jon Jones' lackluster performance on Saturday night, I'm even tempted to put Nunes at No. 1. But Jones' track record is too good to downgrade him, even after a night when he was not at his best. So I'll slot Nunes at No. 2, slipping her in right ahead of Daniel Cormier. "The Lioness" is a two-division champ, and DC was one, so there's no edge for either there. But Nunes' going up to featherweight and knocking out Cris Cyborg seals it for me. Her quick KO of Ronda Rousey and two victories over flyweight champ Valentina Shevchenko bolster her case, and this KO of former boxing champion Holly Holm is icing on the cake.
Raimondi: That's a tough question, because it's hard to compare across divisions, let alone genders. But if forced to choose, I'd say No. 4. Jon Jones is first, Daniel Cormier is second. Khabib Nurmagomedov is undefeated and dominant -- he's No. 3. I'd slot Nunes right after them, despite the setbacks she's had in her career. Think about this: Nunes has beaten every fighter who has ever held the UFC women's bantamweight or featherweight titles. Crazy.
Okamoto: I'll be real honest on this one: I hate this question. Personally, I think including men and women into one pound-for-pound rankings system is downright moronic. It's not done in other sports. Men and women have completely different physical makeups, and men's mixed martial arts is more advanced than women's, simply because it's been around much longer. I'm sorry, but this is a little bit of a pet-peeve topic for me, because I truly think it makes no sense to combine the two genders into one ranking. And that's all I have to say about that.
Helwani: I like to keep the men and women separate when it comes to pound-for-pound. Why? I don't know. It's just my personal preference. Do we mix the male and female tennis players in rankings? Nah. She's no doubt the best female fighter ever. Isn't that enough? I mean, isn't that even bigger than a pound-for-pound list? If we must do this, though, she'd be top five.
Is Jorge Masvidal's KO of Ben Askren the best you've ever seen?
Okamoto: No. Come on. I'm as guilty as anyone when it comes to recency bias, but let's be real. It was the perfect game plan, drawn up in the perfect moment and executed in the most perfect way ... but it's not even the best knockout I've seen in the past year. Yair Rodriguez's no-look, behind-the-back, buzzer-beater knockout over Chan Sung Jung last November was far more impressive than this one. (And, of course, I say that was the utmost respect. Masvidal's knockout was freaking incredible. I'm taking nothing from it.) My biggest question is whether or not it will catapult Masvidal into a welterweight title fight. I think we'll have to wait to see Colby Covington vs. Robbie Lawler on Aug. 3 before we know the answer to that one,
Raimondi: The only one that could even compare is Yair Rodriguez's last-second, winging-elbow knockout of Chan Sung Jung from UFC Denver last November. As impossible as that one was -- Jung would have won had that elbow not landed -- it feels like the stakes were higher on Saturday. And the degree of difficulty was right there, too. Masvidal might have earned a welterweight title shot with this five-second knockout. Askren was undefeated coming in. There was legit heat between the two men. It's the perfect storm. Best knockout of all time.
Helwani: It's certainly the quickest. It was brutal and well-timed. The best part was that was the actual game plan. No one can say it was a fluke or Askren got caught. So with all that considered, it's definitely in the conversation.
Wagenheim: Tough to beat a five-second knockout that would have clocked in at around three seconds if the referee had a quicker first step to save an unconscious Askren from additional head trauma. But as instant KOs go, I've still got to go with Conor McGregor's 13-second shocker over Jose Aldo in 2015. Nobody had ever done that to the great Aldo. Yes, I know no one had ever beaten Askren before Masvidal raced across the cage and stiffened him with a flying knee. But Askren is a wrestler with severely limited standup skills, making him a KO waiting to happen. Aldo, on the other hand, is the greatest featherweight ever and a standup master, and McGregor KO'ing him was two-pronged: The prefight mental warfare got the Brazilian to charge out of his corner with uncharacteristic emotion, and the Irishman then landed the perfectly timed and perfectly accurate counter punch he had to land to finish the job.
However, if we're ranking greatest UFC knockouts overall, I'm going with not an early one but a late one: Yair Rodriguez's crazy, no-look elbow that put out Chan Sung Jung's lights at 4:59 of Round 5 in a fight last November that Rodriguez would have lost by decision if he hadn't pulled a rabbit out of his hat. It had drama. It had creativity. It had surprise. It was the biggest "Wow!" I've ever screamed while watching a fight.
What kind of future does Luke Rockhold have at 205?
Helwani: I'm wondering about Luke Rockhold's future, period. That's three vicious knockout losses in his past four fights. I think he should take some time and assess, but that was a scary loss. He has a lot of options outside of fighting, after all. I thought he had a real future at 205, and he still might, but for now he needs rest.
Raimondi: Never mind light heavyweight -- what kind of future does Rockhold have in MMA? It's gotten to a concerning level for the former UFC middleweight champion. He's been knocked out in three of his past four fights, and in the other one, he was rocked in the first round by David Branch. Hard Knocks 365 coach Henri Hooft told me recently that he feels like Rockhold is the most skilled fighter he has ever coached, and this is someone who trains UFC welterweight champion Kamaru Usman every day. No one is doubting Rockhold's technical proficiency or athleticism. But this recent stretch makes you wonder if he's taken too much damage over the course of his very successful career.
Wagenheim: Rockhold is no longer Big Man on Campus. He can't overwhelm light heavyweights with his size and range like he did in becoming middleweight champion. But he approached Saturday's fight like he was the same old BMOC, and he has to learn from his mistake. He needs to fight smarter and utilize the speed he brought up with him from the 185-pound division. Fortunately for Rockhold, his training home, American Kickboxing Academy, is one of the best camps in the sport. And he works in the gym every day with bigger guys such as Daniel Cormier and Cain Velasquez. So Rockhold certainly has what he needs to show up for work better prepared next time.
But, boy, was that a brutal knockout Jan Blachowicz dealt him. And that makes it three nasty KOs in Rockhold's past four fights, as he took it on the chin from both Michael Bisping and Yoel Romero before departing 185. You can't withstand too many of those, and they only get worse when they're administered by bigger opponents. To succeed, especially at his new weight class, Rockhold needs to get over himself and go back to the basics of winning fights -- or at least surviving to the final horn.
Okamoto: I don't know. I'm nervous about Rockhold's future, as I'm sure many are. He's had trouble staying healthy. He's fought only once in 2016, 2017, 2018 and 2019. Look, I'm not a coach. I wouldn't try to parade myself around as one. Take any technical advice from me with a grain of salt. But Luke Rockhold isn't defending himself very well, lately.
I asked Jan Blachowicz if he had any advice for Rockhold following this loss, and he said Rockhold seems to underestimate his opponents. He has this air of arrogance around him when it comes to the standup side of the fight. He keeps his hands low. And it's resulting in him taking some very hard, unguarded shots. I am not 100 percent giving up on Rockhold's potential in this new weight class. But I'm curious as to how long he'll be out after this one and what adjustments he'll make in the next one.
Which fighter do you most want to see immediately get back into the Octagon?
Raimondi: Song Yadong, please. I spent time with Team Alpha Male patriarch Urijah Faber recently and he could not stop gushing about how good Yadong is, and could be. Yadong, at 21 years old, is the second-youngest fighter in the UFC. The China native knocked out Alejandro Perez with a crushing right hand Saturday night, and grappling is actually his strongest attribute, those who train with him say. Faber believes Yadong will be a big part of the UFC's future plans in China, and after UFC 239, it's hard to disagree.
Okamoto: Edmen Shahbazyan. I don't want to see the kid get rushed too fast. I don't want to see any of the young talent get rushed too fast. I brought that up to UFC president Dana White in fact, after the event. He recently admitted the promotion probably rushed Darren Till too quickly. The consequences of that can be long lasting. But then again, there are examples of athletes hitting the fast track and handling it very well.
It's a hard balance to strike, especially with a guy like Shahbazyan, 21, who wants to break the record for youngest champion in UFC history. I guess we'll see how Shahbazyan's immediate future plays out, but I like seeing him active. He's fought four times in the last year, and it's working for him. He told me he wants to keep that up.
Wagenheim: Both of the 21-year-old prospects made eye-opening impressions: Edmen Shahbazyan with a slick submission in barely a minute to remain undefeated, and Yadong Song with a heart-thumping, first-round knockout that promises more to come. Then there's Jorge Masvidal, of course, for his record-breaking KO of Ben Askren, and 15-1 Arnold Allen, who put it on veteran Gilbert Melendez over three dominant rounds. When they return to the Octagon, I'll be watching all of them.
But the fighter I came away most excited to see again is Michael Chiesa, who took dominance to a whole new level. Yes, I know the 2019 version of Diego Sanchez is not the proving ground that determines contendership, but Chiesa was so utterly in control from the opening engagement to the final horn that I'm intrigued to see how far he can go. Was the weight cut he used to make to get to lightweight holding his career back? The welterweight Michael Chiesa is someone to watch.
Helwani: Easy. Jorge Masvidal. That was really fast. But, I don't think we will see him soon. He will wait to see what happens Aug. 3 when Colby Covington meets Robbie Lawler, and welterweight champion Kamaru Usman is still a few months away from returning. But a man can dream.