We surveyed more than 100 of ESPN's writers, editors, broadcasters and other experts from a variety of sports to rank the 100 most stunning blowouts of all time. We're talking about more than just wildly lopsided scores, although that's a huge part of it. It's about overall wow factor -- taking into account level of play, level of competition, importance of the contest and historical perspective.
The second half of the countdown starts below with Nos. 50-26.
Nos. 100-76 | Nos. 75-51 | Nos. 25-1
---
50. NASCAR Southern 500: Ned Jarrett wins by 14 laps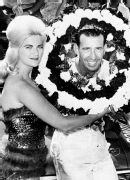 Sept. 6, 1965: Driving a Ford Galaxie, Jarrett posted a winning margin on the 1.375-mile Darlington Raceway track that calculates to 19.25 miles, a record for NASCAR's top level. Out of 44 cars that started the race, 29 were unable to finish because of crashes or mechanical issues. Earlier that season, Jarrett set the record for largest victory by laps (22) on Piedmont Interstate Fairgrounds' half-mile track.
49. World Series, Game 7: St. Louis Cardinals 11, Detroit Tigers 0
Oct. 9, 1934: The Gashouse Gang set a record for the largest World Series Game 7 victory (since tied) on the strength of a seven-run third inning. In the sixth, the Cardinals' Ducky Medwick and Tigers third baseman Marv Owen wrestled after Medwick slid hard into third on a triple that made it 8-0. Angry Detroit fans pelted Medwick with so much debris when he took his place in left field, commissioner Kenesaw Mountain Landis ordered him to leave the game.
48. NBA First Round, Game 4: Denver Nuggets 121, New Orleans Hornets 63
April 27, 2009: Nothing went right for Chris Paul and the Hornets, whose 58-point loss -- in a home game, at that -- tied the mark for the biggest rout in NBA postseason history. Paul finished with more turnovers (six) than points (four), and New Orleans scored a paltry 24 second-half points. The Nuggets, who would win the series 4-1, were stifling on defense with 15 steals and six blocks.
47. Women's Hockey: Slovakia 82, Bulgaria 0
Sept. 7, 2008: This Olympic pre-qualifying blowout was the largest ever for a senior IIHF event. Slovakia unleashed 139 shots, scoring on 58.9 percent of them, and averaged a goal every 44 seconds. The Bulgarians didn't just get shut out -- they didn't even put a shot on goal. There was even some legit hockey rough stuff. Because of the supposed level of play, this rout gets the nod over the South Korean women's 92-0 win over Thailand in a 1998 U18 tourney.
46. Football: Houston 100, Tulsa 6
Nov. 23, 1968: Since the NCAA began keeping official statistics in 1937, this game features the largest margin of victory and the most points scored against a major college team. Houston led 24-6 after an early third-quarter Tulsa touchdown, but the Cougars closed with a 76-point blitz. Golden Hurricane fans are irked to this day that Houston scored seven touchdowns in the fourth quarter, three on passes. Dr. Phil McGraw was a linebacker for Tulsa that day and talked about the game while on the Late Show with David Letterman in 2013.
45. NCAA Semifinals: UCLA 101, Houston 69
March 22, 1968: Two months earlier, Elvin Hayes and the Cougars had defeated Lew Alcindor (now Kareem Abdul-Jabbar) and the Bruins 71-69 in the Astrodome in a clash dubbed the "Game of the Century." Eventual champion UCLA got payback and then some by crushing top-ranked, unbeaten Houston in what at the time was the biggest blowout in NCAA semifinals history.
44. HS Baseball: Atlantic (Iowa) 109, Griswold 0
April 26, 1928: These were the days before mercy rules, although a newspaper report said the game was called after eight innings because the scorekeeper was exhausted. Atlantic scored in every inning, including 30 runs in the second. It was no vacation for Griswold's pitcher, who went the distance and allowed 92 hits. Atlantic's pitcher, meanwhile, threw a no-hitter.
43. Seattle Seahawks 58, Arizona Cardinals 0
Dec. 9, 2012: In a contest between teams heading in opposite directions, Seattle fell one point shy of the biggest regular-season shutout in NFL history. The Seahawks forced eight turnovers and scored 10 times -- seven touchdowns and three field goals -- as the Cardinals suffered their ninth straight loss after a 4-0 start. It was the second of five consecutive wins for playoff-bound Seattle in Russell Wilson's rookie season.
42. World Hockey Championships: Australia 58, New Zealand 0
March 14, 1987: Unbelievably, even though it suffered the worst defeat in men's international hockey history, New Zealand wasn't the worst team in Group D that year. That honor goes to Hong Kong, which lost twice to New Zealand by the same 19-0 score and was outscored 185-1 over six group games. But in that one game against Australia, no men's hockey team has ever been more overmatched than New Zealand.
41. Soccer: Vanuatu 46, Micronesia 0
July 7, 2015: Vanuatu can't be accused of running up the score because it needed to beat Micronesia by at least 37 goals to have any chance at reaching the knockout round of an Olympic qualifying tournament. Despite surpassing that number with the biggest win in international soccer history, Vanuatu didn't advance because Fiji and Tahiti played to a draw. Micronesia had been crushed by Fiji 38-0 and Tahiti 30-0 in its previous games.
40. ALDS, Game 4: Boston Red Sox 23, Cleveland Indians 7
Oct. 10, 1999: Presumed Cleveland starter Jaret Wright pitched in relief the night before and was unavailable, so Bartolo Colon started on three days' rest for the first time in his career. The Red Sox chased Colon in the second inning and kept on hitting to record the biggest blowout and score the most runs in postseason history. The Indians had won Game 1 and 2, but Boston scored 44 runs in the last three games to take the best-of-five series.
39. Cotton Bowl: Miami 46, Texas 3
Jan. 1, 1991: The Hurricanes took the field motivated by a week of slights by the opposing Longhorns. Texas was ranked No. 3 in the nation, one spot ahead of Miami, but Las Vegas wisely favored the Hurricanes by 6½ points. Craig Erickson threw for 272 yards and four touchdowns, bringing the Longhorns' Shock the Nation Tour to a disastrous conclusion. The Hurricanes hit ferociously and woofed continuously, incurring 202 penalty yards and nine flags for unsportsmanlike conduct.
38. Football: Portland State 105, Delaware State 0
Nov. 8, 1980: Future NFL quarterback Neil Lomax threw eight touchdown passes in the first half as the Vikings romped to the most lopsided victory in FCS history. PSU coach Mouse Davis was one of the first evangelists of the run 'n' shoot offense, and he showed little mercy for the visiting Hornets. "Obviously, they weren't prepared," Davis said afterward.
37. World Cup Soccer Qualifying: Australia 31, American Samoa 0
April 11, 2001: This was the worst shellacking in FIFA history. Thanks to passport problems, American Samoa could bring only one actual member of its senior national team to Australia and fielded a squad with players as young as 15. Australia, which got a record 13 goals from Archie Thompson, broke the scoring mark it had set just days earlier with a 22-0 win over Tonga.
36. NCAA Championship Game: UNLV 103, Duke 73
April 2, 1990: Thirty-point margins are common in college basketball but not when the national championship is at stake. Jerry Tarkanian's Runnin' Rebels are the only team to hit the century mark in an NCAA tourney final, and it was the biggest championship blowout ever. And Duke was no Cinderella upstart -- Christian Laettner & Co. would win it all each of the next two years.
35. Olympic Basketball: United States 116, Angola 48
July 26, 1992: There have been bigger Olympic basketball blowouts, but this game was the epitome of Dream Team domination. Team USA busted open a 7-7 game with a 47-1 run -- with Angola's only point coming on a free throw after a technical foul was called on Charles Barkley for elbowing Herlander Coimbra's scrawny chest.
34. World Series, Game 7: Kansas City Royals 11, St. Louis Cardinals 0

Oct. 27, 1985: One night earlier, Don Denkinger's infamous call at first base helped the Royals win Game 6 to stay alive. The Cardinals had Jon Tudor on the mound going for his third win of the series, but he got knocked out in the third inning after allowing five runs. A sixth-run fifth inning salted it away for the Royals, who got a shutout from Bret Saberhagen while tying the record for the most lopsided World Series Game 7 victory.
33. AFC Wild-Card Game: New York Jets 41, Indianapolis Colts 0
Jan. 4, 2003: In earning their first postseason shutout, the Jets handed Peyton Manning his worst playoff defeat. The score matched the last playoff game at the Meadowlands, when the Giants beat Minnesota in the 2000 NFC Championship Game. "I'm 82-0 in my last two playoffs here," said New York safety Sam Garnes, who was with those Giants. "It definitely feels good to do 41-0 as a Jet."
32. Football: Army 59, Notre Dame 0
Nov. 11, 1944: From the 1928 game in which Knute Rockne is said to have urged the Fighting Irish to "win one for the Gipper" through 1943, Notre Dame went 13-1-2 against Army in a nationally significant series. But in 1944, the famed duo of Doc Blanchard and Glenn Davis helped the No. 1 Cadets rout the No. 5 Irish before a sellout crowd at Yankee Stadium. It remains the worst loss in the history of Notre Dame, which also suffered a 48-0 loss to Army in 1945.
31. Cleveland Indians 22, New York Yankees 0

Aug. 31, 2004: After Cleveland matched the MLB record for largest shutout, Yankees owner George Steinbrenner and shortstop Derek Jeter left Yankee Stadium without talking to the media. As bad as that lost was, it would pale in comparison to losing to the Red Sox in the American League Championship Series less than two months later, when New York became the first team to lose a postseason series after taking a 3-0 lead.
30. HS Football: Haven (Kan.) 256, Sylvia 0
Nov. 16, 1927: Can't believe that score? Well, "Ripley's Believe It Or Not" once featured this game. Haven shut out all eight of its opponents in 1927, but this game was something else. Haven scored touchdowns on every possession -- all 38 of them. It could have been worse -- only 28 extra points were successfully converted.
29. NLCS, Game 7: Atlanta Braves 15, St. Louis Cardinals 0

Oct. 17, 1996: Three days after their postseason-record 14-0 shutout win in Game 5, the Braves outdid themselves in Game 7 of a crazy National League Championship Series. Atlanta hammered St. Louis starter Donovan Osborn for six runs in 2/3 of an inning and never let up. Tom Glavine and two relievers blanked the Cardinals, who had a 3-1 series lead before being outscored 32-1 over the final three games.
28. Football: Oklahoma 103, Arkansas 0

Nov. 16, 1918: When Arkansas and Oklahoma faced off in 1917, the game ended in a scoreless tie. When the two teams faced off again the following season, Arkansas once again was unable to score. The Sooners, though, weren't in the mood for another tie. Oklahoma scored 103 points and handed the Razorbacks their worst loss in program history.
27. Pittsburgh Pirates 22, Chicago Cubs 0
Sept. 16, 1975: The biggest shutout MLB had ever seen (a mark that's been tied) was over quickly with Pittsburgh taking a 9-0 lead in the top of the first. Rennie Stennett became the only player in the 20th century to go 7-for-7 in a nine-inning game. Stennett's first hit came off starter Rick Reuschel, and his seventh was off Rick's brother, Paul.
26. Football: USC 76, UCLA 0
Sept. 8, 1929: The inaugural meeting between USC and UCLA would not be a sign of things to come for this great crosstown rivalry. In fact, this drubbing, combined with USC's 52-0 shutout the following season, led to a six-year break in the series. USC ran all over UCLA in their first meeting, compiling 735 yards while limiting the Bruins to just 124 yards and four first downs.
---
Nos. 100-76 | Nos. 75-51 | Nos. 25-1
ESPN.com's Arash Markazi and John Banks and ESPN Stats & Info contributed to this article.