We surveyed more than 100 of ESPN's writers, editors, broadcasters and other experts from a variety of sports to rank the 100 most stunning blowouts of all time. We're talking about more than just wildly lopsided scores, although that's a huge part of it. It's about overall wow factor -- taking into account level of play, level of competition, importance of the contest and historical perspective.
The countdown of sports carnage concludes below with Nos. 25-1.
Nos. 100-76 | Nos. 75-51 | Nos. 50-26
---
25. New England Patriots 59, Tennessee Titans 0
Oct. 19, 2009: Tom Brady threw five second-quarter touchdown passes on a snowy day in Foxborough, Massachusetts, as the Patriots built the biggest halftime lead in league history (45-0) en route to tying the marks for the largest shutout and margin of victory since the NFL-AFL merger. Tennessee quarterbacks Kerry Collins and Vince Young combined for minus-7 passing yards. "I know the score got out of hand," Pats coach Bill Belichick said after his team piled up 619 total yards, "but we were just trying to run our offense."
24. NFC Divisional Playoffs: New York Giants 49, San Francisco 49ers 3
Jan. 4, 1987: En route to their first Super Bowl victory, the Giants smothered the 49ers' Joe Montana-led offense, picked off the Hall of Fame quarterback twice and knocked him out of the game with a concussion late in the second quarter. On the play Montana was hurt, Lawrence Taylor intercepted the pass and returned it for a touchdown to push the Giants' lead to 28-3 before halftime.
23. Football: Oklahoma 77, Texas A&M 0

Nov. 8, 2003: Under first-year head coach Dennis Franchione, the visiting Aggies ran into a buzzsaw against the No. 1 Sooners and limped away with the worst loss in school history. Oklahoma scored touchdowns on 10 of its first 11 possessions, and the final score could have been worse had coach Bob Stoops not shown mercy. The Aggies compiled more yards of penalties (63) than offense (54) and never advanced the ball beyond their own 40-yard line.
22. AFC Championship Game: Buffalo Bills 51, Los Angeles Raiders 3
Jan. 20, 1991: The Bills secured their first of four consecutive trips to the Super Bowl with the largest blowout win ever in a conference championship game. The Jim Kelly-triggered K-Gun offense was at its unstoppable best with 502 total yards. Kelly was an efficient 17-for-23 for 300 yards and two touchdown passes against a defense coach Art Shell called the best in franchise history.
21. Boxing: Mike Tyson def. Marvis Frazier, 30-second TKO
July 26, 1986: This was Tyson at his most devastating. Frazier, whose only previous loss was to heavyweight champion Larry Holmes, was expected to provide a test for Tyson. Instead, Tyson swarmed at the opening bell and didn't relent until Frazier was slumped in a corner just 30 seconds later -- the fastest KO of Tyson's career. "I threw a jab and I don't remember anything else," Frazier said about the bout earlier this year.
20. Fiesta Bowl: Nebraska 62, Florida 24

Jan. 2, 1996: Although the Cornhuskers were ranked No. 1 in the nation, few observers predicted the demolition that awaited No. 2 Florida with the national title on the line. Nebraska overwhelmed the Gators by rolling up 524 rushing yards. Tommie Frazier accounted for 304 total yards, and Lawrence Phillips -- controversially reinstated after sitting out six games because of a domestic violence incident -- rushed for three touchdowns. Gators quarterback Danny Wuerffel, who would win the Heisman Trophy the following season, was sacked seven times and had an interception returned for a touchdown.
19. Detroit Red Wings 15, New York Rangers 0
Jan. 23, 1944: The biggest blowout in NHL history could have been worse -- a shot went into the Rangers' net just after the horn sounded. Detroit scored an efficient 15 times -- the most in a game since the red line was introduced that season -- in 58 shots. The Red Wings' eight third-period goals were one shy of the Rangers' shot total for the entire game.
18. Orange Bowl: USC 55, Oklahoma 19
Jan. 4, 2005: This national championship game promised to be special with two 12-0 teams who had been 1-2 in the polls all year settling it on the field. It was also the first time two Heisman Trophy winners (USC's Matt Leinart and OU's Jason White) faced each other, but the dream matchup on paper quickly turned into a rout with Leinart throwing an Orange Bowl-record five touchdown passes. The win was vacated more than five years later when Trojans running back Reggie Bush was ruled ineligible.
17. NBA Finals, Game 3: Chicago Bulls 96, Utah Jazz 54
June 7, 1998: This blowout was an exclamation point of sorts on the Bulls' Michael Jordan era. The 42-point margin was the largest in a Finals game, and the Jazz scored the fewest points in postseason history. Karl Malone scored 22 points, but nobody else had more than eight for Utah, which was held to 30 percent shooting. After the Bulls won the series in six games, Jordan retired (he'd return with Washington after three years off) with his sixth ring.
16. French Open Final: Steffi Graf def. Natasha Zvereva 6-0, 6-0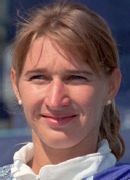 June 4, 1988: "I'm very sorry it was so fast," Graf told the Roland Garros crowd after the shortest Grand Slam final ever (32 minutes) and the only Open Era Slam final shutout. Zvereva had upset No. 2 Martina Navratilova earlier in the tournament, but the No. 13 seed won just 13 points against No. 1 Graf and left the interview room crying afterward.
15. Super Bowl XLVIII: Seattle Seahawks 43, Denver Broncos 8
Feb. 2, 2014: The highest-scoring offense in NFL history was in trouble on the first play from scrimmage. Denver center Manny Ramirez's snap whizzed past Peyton Manning, who had stepped up to make a call, and into the end zone for a safety. The Seahawks never let up, scoring on interception and punt returns as they built a 36-0 lead. Manning, who threw a record 55 regular-season touchdown passes and guided Denver to 37.9 points per game, was intercepted twice and rendered ineffective by the NFL's top-ranked defense.
14. AFC Divisional Playoffs: Jacksonville Jaguars 62, Miami Dolphins 7
Jan. 15, 2000: The Jaguars sent Dolphins head coach Jimmy Johnson and Hall of Fame quarterback Dan Marino into retirement with the largest postseason blowout and point total since the merger. Marino was 11-for-25 for 95 yards with two interceptions before Johnson pulled him early in the third quarter. Miami also lost five fumbles.
13. Super Bowl XXVII: Dallas Cowboys 52, Buffalo Bills 17
Jan. 31, 1993: The Bills came in with the AFC's highest-scoring offense, but they were no match for the Cowboys, who strolled to their first of three Super Bowl wins in the '90s. The Cowboys' winning margin would have been greater had defensive tackle Leon Lett not been stripped of the ball by Don Beebe just before crossing the goal line on a fourth-quarter fumble recovery.
12. NFC Championship Game: New York Giants 41, Minnesota Vikings 0
Jan. 14, 2001: Considered a fluke No. 1 seed by some, the Giants answered critics by reaching the Super Bowl with the biggest playoff shutout since the merger. New York held a 518-114 advantage in total yards against the league's fifth-ranked offense. Kerry Collins was Joe Montana-like for the Giants, completing 28 of 39 passes for 381 yards. His five touchdown passes tied Sid Luckman's 1943 mark for most in a conference championship game.
11. Big 12 Championship Game: Texas 70, Colorado 3
Dec. 3, 2005: The Longhorns punched their ticket to the Rose Bowl with the eighth-largest margin of victory in their 113-year history and by far the most lopsided of their 15 Big 12 Championship Games. Vince Young threw for three touchdowns and ran for another as No. 2 Texas maintained an undefeated season that would ultimately end with a national championship win over No. 1 USC.
10. Texas Rangers 30, Baltimore Orioles 3
Aug. 23, 2007: The Rangers, who had totaled 28 runs over their previous nine games, bludgeoned their way to the majors' most lopsided win and highest run total since 1897. The Orioles actually led 3-0 through three innings, but the Rangers started scoring runs in bunches, closing with 10 in the eighth and six in the ninth. Wes Littleton pitched the final three innings for the most comfortable save ever. Baltimore had no time to lick its wounds because it was the first game of a doubleheader. Texas won the nightcap 9-7 to break the 70-year-old record for most runs in a twin bill.
9. Super Bowl XX: Chicago Bears 46, New England Patriots 10
Jan. 26, 1986: In an era when blowouts were the norm in the NFL's showcase game, the Bears set Super Bowl records that have since been broken for margin of victory and points. The Bears' famed 4-6 defense spearheaded the rout, holding New England to 123 total yards, including a ridiculous minus-19 first-half rushing yards. Rotund defensive lineman William "The Refrigerator" Perry stole the show on offense, scoring Chicago's final touchdown on a 1-yard plunge in the third quarter.
8. Big Ten Championship Game: Ohio State 59, Wisconsin 0

Dec. 6, 2014: Wisconsin came into the game as a 4.5-point favorite over Ohio State, which because of injuries was giving third-string quarterback Cardale Jones his first start. But the one-loss Buckeyes did quite a bit more than just cover. Ohio State came into the matchup at No. 5 in the rankings for the inaugural four-team College Football Playoff, but the blowout win enabled them to sneak in as the fourth seed. The Buckeyes would go on to beat Alabama and Oregon to win the national championship.
7. World Cup Soccer Semifinals: Germany 7, Brazil 1
July 8, 2014: The host Brazilians didn't know what hit them after a whirlwind of four goals in six minutes gave Germany a 5-0 lead 29 minutes into the match. In 102 previous World Cup matches, Brazil had never trailed by more than three goals. Germany set World Cup semifinal records for most goals and largest margin of victory in a semifinal, all against one of the sport's giants.
6. Football: UCLA 66, Texas 3
Sept. 13, 1997: No. 11 Texas was a 10-point favorite against unranked UCLA, which came into Austin at 0-2. So it was quite unexpected when the Cade McNown-led Bruins scored on their first eight possessions and held Longhorns running back Ricky Williams to 36 rushing yards. At the time, it was the worst loss ever for a team ranked in the AP poll. "Rout 66" ultimately had a silver lining for some Texas fans, as it essentially sealed the fate of embattled coach John Mackovic. In retrospect, UCLA was much better than people realized. The win was the first of 20 in a row for the Bruins.
5. Football: Georgia Tech 222, Cumberland 0
Oct. 7, 1916: Yellow Jackets coach John Heisman was determined to exact revenge for a 22-0 baseball loss a year earlier to a Cumberland team that was suspected of using pro players. The Bulldogs disbanded their football program prior to the 1916 season, but Heisman insisted they fulfill their agreement to play or pay a $3,000 forfeit fee. Cumberland hastily assembled a team, setting the stage for the ensuing legendary blowout. Here are a few of the Yellow Jackets' superlatives: 32 touchdowns, 15 takeaways, 978 rushing yards. Cumberland, whose leading rusher had minus-2 yards, totaled minus-42 rushing yards.
4. Super Bowl XXIV: San Francisco 49ers 55, Denver Broncos 10
Jan. 28, 1990: The Super Bowl is the biggest annual event in sports, and this stands as the biggest blowout in Super Bowl history. The game couldn't have gone any differently for its two future Hall of Fame quarterbacks. San Francisco's Joe Montana was spectacular while winning his fourth Super Bowl, completing 22 of 29 passes for 297 yards and five touchdowns, three to Jerry Rice. Denver's John Elway saw his Super Bowl record drop to 0-3 after going 10-for-26 for 108 yards with two interceptions.
3. Tiger Woods wins 2000 U.S. Open by 15 strokes
June 15-18, 2000: In the first of what would be four consecutive wins in majors, Woods mastered a Pebble Beach course that devoured the rest of the field. With a U.S. Open-record score of 12-under-par, Woods' margin of victory over runners-up Ernie Els and Miguel Angel Jimenez, who tied at 3-over, broke a major tournament record that had lasted since 1862. "If you want to watch a guy win the U.S. Open playing perfectly, you've just seen it this week," Els, Woods' final-round partner, said afterward.
2. Horse Racing: Secretariat wins Belmont Stakes by 31 lengths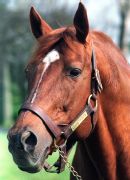 June 9, 1973: When you take into account the record margin, the record 1½-mile dirt-track time of 2:24 and the fact a Triple Crown was at stake, Secretariat's Belmont victory, with Ron Turcotte riding, qualifies as a blowout of epic proportions. By any measure, it's considered the greatest performance in horse racing history. We're calling it one of the most dominating performances in sports history.
1. NFL Championship Game: Chicago Bears 73, Washington Redskins 0
Dec. 8, 1940: This result must have been as surprising to observers as it was humbling for the Redskins. Washington had the better record -- 9-2 to 8-3 -- and had defeated Chicago 7-3 in a defensive struggle three weeks earlier.
But in the rematch, with the championship at stake, it turned out to be the most lopsided game the NFL has ever seen. The visiting Bears got on the board in the opening minute with Bill Osmanski romping around the right end for a 68-yard touchdown run.
On the next series, Washington quarterback Sammy Baugh appeared to connect with Charlie Malone for a 35-yard touchdown pass, but Malone dropped the ball, and the Redskins missed a subsequent field goal attempt.
After scoring two more rushing touchdowns in the first quarter, the Bears had no intention of pumping the brakes. Chicago racked up 45 of its points in the second half, and the ninth touchdown came on a double reverse when rookie Harry Clarke scored on a 44-yard run.
Asked after the game if the outcome would've been different had Malone not dropped that first-quarter pass, Baugh is said to have quipped, "Sure, it would've been 73-7."
A sampling of the carnage from our pick for the most stunning blowout in sports history:
• The game had to be completed using practice balls after the Bears kicked all the game balls into the grandstands on extra points.
• Washington had nine turnovers. Chicago had one.
• The Bears' defense intercepted more passes (eight) than their offense completed (seven).
• Chicago scored four times in the passing game -- one touchdown pass and three interception returns.
• Seven Chicago players attempted an extra point. Six succeeded.
• Chicago outgained Washington 519-231.
---
Nos. 100-76 | Nos. 75-51 | Nos. 50-26
ESPN.com's Arash Markazi and John Banks and ESPN Stats & Info contributed to this article.