The All-Star teams are now set. ... But are they right? Our team of five weighs in on the snubs and surprises of this year's 12-man squads.
1. Who's the biggest All-Star snub in the East?
Nate Drexler, Magic Basketball: Brook Lopez. He has the fourth-best player efficiency rating in the NBA, and there really is not much more to say about it than that. Unless you do not care about statistics, Brook Lopez is an outright All-Star and an outright snub.
Jason Gallagher, Ballerball: Brook Lopez. He's carrying a team that currently holds the 3-seed in the East while averaging 18.6 points and 7.4 rebounds a game. That's without the same Deron Williams we all know and love by his side.
Israel Gutierrez, ESPN.com: Brook Lopez. Think he was hurt by Brooklyn's poor stretch earlier in the season that got Avery Johnson fired? Because the numbers show he has been one of the league's most effective players. His PER is right there with that of Carmelo Anthony.
James Herbert, HoopSpeak: Brook Lopez. He has surpassed every expectation and had a phenomenal season, improving every aspect of his game and becoming the most important Net. It's a bit of a wonder he didn't make the team -- you can easily argue Lopez has been better than Kevin Garnett, who was named an All-Star starter.
Sean Highkin, Portland Roundball Soc.: Brook Lopez. He has been the Nets' most consistent player and arguably the best offensive center in the league this season. Lopez's defense and rebounding also are much improved. He should have been voted in.
---
2. Who's the biggest All-Star snub in the West?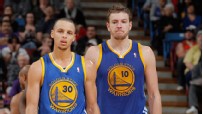 Drexler: Stephen Curry. It's hard to say David Lee did not deserve the nod, but he leapfrogged the better Warrior to make the team. Curry is not only a premier guard, but he's also the best and most valuable player on his own team.
Gallagher: Stephen Curry. This is one of the few times when I'm both emotionally upset and rationally upset. Curry is leading a very hot Warriors team into the tough Western Conference playoff race. Who am I kidding, though -- the All-Star Game is no place for a young, talented, deserving, exciting, efficient, awesome player everybody likes.
Gutierrez: Easily Steph Curry. He's absolutely an All-Star, maybe even more so than David Lee, his teammate. I would have gone with Curry ahead of LaMarcus Aldridge, if possible. And if not, ahead of Tony Parker.
Herbert: Marc Gasol. Coaches probably didn't want to vote for two Grizzlies, and Zach Randolph won out. Randolph is a deserving All-Star, but to my eyes, Gasol makes a bigger impact on most nights. Similar things could be said about the snubbed Stephen Curry and the All-Star David Lee in Golden State.
Highkin: There's no excuse for Stephen Curry not to be there. He is shooting 45.1 percent from 3-point range on a whopping 7.1 attempts per game and is the key to the offense of the Warriors, the biggest surprise in the West this season.
---
3. Which East All-Star is the biggest surprise?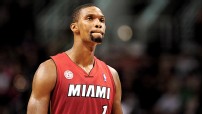 Drexler: Chris Bosh. This is perhaps the biggest surprise of the entire selection. Bosh over, say, Brook Lopez is especially crazy when you look at Bosh's 21 PER compared to Lopez's 25.4 PER. A curious pick indeed.
Gallagher: Luol Deng. I was torn between which Chicago Bull I'd pick, but Joakim Noah brings more to the table. Deng's presence wouldn't necessarily be missed. You'd miss Noah, both on and off the floor. Plus, this might be the first time we see someone play with "heart" at an All-Star Game.
Gutierrez: Luol Deng. Not that he's undeserving of All-Star recognition, but did the Bulls deserve two? I like the Joakim Noah selection because of his defensive play, but I'd say Deng is a minor surprise.
Herbert: Luol Deng. He has been great on the defensive end, and it warms the heart to see his consistent contributions finally commemorated this way. It still seems slightly strange, though -- the Bulls get two All-Stars while the Nets and Hawks get none.
Highkin: Paul George. In nearly every prediction story I've read throughout the media this week, George has been the odd man out. He's totally deserving, though. He has blossomed in a big way in Danny Granger's absence and is powering the Pacers' recent resurgence.
---
4. Which West All-Star is the biggest surprise?
Drexler: LaMarcus Aldridge. He's having a great offensive season, but did you know his opponents make more than 50 percent of the shots they take against him? All-Stars are two-way players. Aldridge seems a bit one-dimensional compared to his contemporaries.
Gallagher: Zach Randolph. The West is already pretty big, and if I had to pick a Grizzly, I'd go with Marc Gasol. I know "defense" and "All-Star Game" aren't two things you normally see together, but Gasol simply would be more valuable on that end than Randolph.
Gutierrez: LaMarcus Aldridge. His numbers don't stand out. He's having his worst season in three years. His team's record isn't great. His teammates Nicolas Batum and Damian Lillard could be considered more game-changing players. I'd rather see a Denver Nugget or Marc Gasol make the squad.
Herbert: LaMarcus Aldridge. The numbers are mostly stellar, but he's having the least efficient campaign of his career. Shooting long jumpers more frequently and less accurately, Aldridge is making just 46.8 percent of his field goal attempts. A terrific player, but not one who has particularly stood out this season.
Highkin: None of the three top reserve power forward candidates (LaMarcus Aldridge, Zach Randolph and David Lee) are surprises, per se, but the fact that all three got in at the expense of the best center in the West, Marc Gasol, was unexpected.
---
5. East or West: Which roster is better?


Drexler: West. The sheer offensive firepower is going to be too much for the defensive-heavy East. The West has a few more elite players, and no matter which way you look at it, it comes out on top.
Gallagher: West. Not only does the West have an older roster that will know when it's showtime and when it's time to win the game, but we know for certain the players will get along. I'm not sure we can say the same for the East.
Gutierrez: Love the idea of LeBron James and Carmelo Anthony playing together while having possibly their best individual seasons, but I'd have to say the West. All-Star Games come down to offense, and even without Curry, the West has more scorers. The presence of Noah and Chandler hurts the East in that area.
Herbert: West, and it isn't particularly close. Think of it this way: Would Curry, Gasol and Serge Ibaka have missed out on the All-Star Game if they played in the East? Can't say for sure, but I doubt it.
Highkin: West. Have to go with CP3, Kobe, Durant, Blake, Duncan, Westbrook, Parker and Harden. The All-Star Game is typically an offensive showcase, and that kind of firepower is hard to argue with.


ESPN.com and the TrueHoop Network
Israel Gutierrez covers the NBA for ESPN.com. Nate Drexler, Jason Gallagher, James Herbert and Sean Highkin are part of the TrueHoop Network.
• Follow the NBA on ESPN on Twitter | On Facebook | On Google+