All-Star Weekend is upon us! What can we expect from the host of prime-time ballers down on the Bayou? Our panel picks the winners from each of the next three days' major events.
---
1. Who will win the Rising Stars Challenge MVP?
Amin Elhassan, ESPN Insider: While I'm tempted to name a guard because they usually dominate the ball in these exhibition style games, I'm going with Anthony Davis! This weekend will be his coming-out party to the rest of the world as one of the best players in the league, and I think his full complement of skills will be on display.
Andrew Lynch, TrueHoop Network: Andre Drummond. There's something to be said for being the biggest guy on the floor, especially in a game where defense is optional. Drummond will dunk the ball a dozen times, grab every missed shot -- not that there will be many -- and lead Team Hill to victory. I see 35 points (including a 3-pointer!) and 13 boards for Big Penguin.
Darius Soriano, Forum Blue and Gold: Anthony Davis. In a game that typically features little to no defense and a lot of up-and-down action, give me Davis, who will provide some of the former and a lot of the latter. Add in that he's representing the hometown Pelicans and you can bet he shows out enough to win the award.
Ethan Sherwood Strauss, TrueHoop: Andre Drummond. Defenders won't be hacking him into embarrassing free throw attempts. With that deficiency in Drummond's game gone, he's set to make the Rising Stars Challenge his own personal dunk contest. I wouldn't be shocked if he throws down from the free throw line.
Brian Windhorst, ESPN.com: Bradley Beal. It sure as heck won't be a rookie! Davis or Damian Lillard are the easy picks but they might be saving up some energy for the real game. It's not cool for the All-Stars to dominate the non-All-Stars, ya know? I say Beal puts on a shooting show.
---
2. Who will win the Skills Challenge?
Elhassan: Team Two (Goran Dragic and Reggie Jackson). As the only squad that doesn't feature wet-behind-the-ears rookies, I am trusting that these vets won't be star struck by the spectacle of All-Star Weekend and will be ready to compete. Also, it doesn't hurt that Dragic is probably the fastest guard in this group end-to-end with the ball in his hands.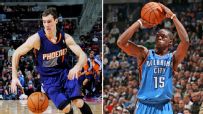 Lynch: Goran Dragic and Reggie Jackson. Consistency is the key with this year's new format, which pits teams of two against each other in the Skills Challenge. The Eastern Conference teams are saddled with guys still adjusting to handling the ball in Giannis Antetokounmpo and Victor Oladipo. Trey Burke and Damian Lillard are formidable competition, but I'm taking Dragic and Jackson.
Soriano: Goran Dragic and Reggie Jackson. The Slovenian southpaw may have been snubbed from the big game, but he'll take this opportunity to show everyone the quickness, passing and shooting he uses to terrorize defenses.
Strauss: Damian Lillard and Trey Burke. I can't really find a pattern for why anyone wins this, and it seems to be the contest players are most apathetic about. I'll go with Lillard's team because (A) he has won it before, and (B) he seems to actually care about winning, given that it's all part of his 900-event All-Star weekend plan.
Windhorst: Quick aside: How can the East team have only one point guard on it? This is a point guard event! I'll take Dragic and Jackson because Dragic believes he should be in the All-Star Game and this is his only chance to shine.
---
3. Who will win the 3-point shootout?
Elhassan: Wardell Stephen Curry II. It's incredible that he hasn't won one yet, so I feel like we are long overdue for one of those ridiculous streaks where he drains everything. I also want to see him take a couple of steps back and go through a rack from 30 feet.
Lynch: Kevin Love. We haven't had a two-time 3-point champion since Jason Kapono won in 2007 and 2008, but Love will change that Saturday. While he isn't the most accurate shooter in the field, I'm counting on him catching fire, especially with the money ball. Bonus prediction: Love makes all five money balls in the first round, either from the left corner or wing.
Soriano: Steph Curry. His percentages from behind the arc are down, but that's mostly a result to level of difficulty in the 3s he's taking and an increase in defensive attention. This contest provides neither of those variables. Uncontested 3-pointers will seem like layups to him.
Strauss: Bradley Beal. If this was a contest of which player could make the most 30-foot shots off the dribble, I'd pick Curry. I like Beal here because he's used to shooting off the catch and he begins his stroke low (where the ball rack is). Among contestants, he's second to only Kevin Love in 3-pointers off the catch, and he shoots 5.5 percent better on those than Love does.
Windhorst: Jason Kapono is the best stand-still practice shooter I've ever seen; he could probably still win this event even though he's out of the league. But since he's not an option, Curry, perhaps the best shooter of all time, is the easy pick. I'll pick him for rest of his career. ... But I'm telling you, I once watched Kapono make 23 of 25 shots in a practice session for the 3-point shootout. And then make 22 of them the next time around.
---
4. Who will win the slam dunk contest?
Elhassan: Paul George. I hope he's learned his lesson that nobody wants to see that Tron stuff. We just want to see you dunk.
Lynch: Damian Lillard. Lillard feels like a massive underdog, but he's got two factors working in his favor. First, dunks are more spectacular when they come from a little guy. It's simply more impressive. Second, Lillard has the name recognition, which matters in a competition determined by fan vote. And with the dunk contest the final event on Saturday as the East Coast drifts to sleep, I give that edge to a Western Conference player over someone like Paul George.
Soriano: Paul George is the biggest star and Terrence Ross is last year's champ, but give me Lillard in a mild upset. Everyone likes to see the "little" guys dunk, and as the smallest guy in the group, I think the Oakland native will surprise with a combination of athleticism and creativity fans haven't seen from him in game action.
Strauss: Paul George. My new (very specific) rule is that I'll pick the guy who pulled off a 360 windmill in a game. I'm intrigued by the buzz about Ben McLemore trying a 720, but I've seen too many ambitious dunkers fail.
Windhorst: Lillard. Ross is probably the best dunker in the field but people like seeing smaller guys throw it down. How else can you explain Nate Robinson's success in this event? George, for example, is so lanky that it's hard to be impressive. Lillard will be all over the court and TV that night, so if he executes he'll probably get the nod because it'll be a good story.
---
5. Who will win the All-Star Game MVP?
Elhassan: Chris Paul will win it for the West in his tribute/thank you game to the fans of New Orleans who stuck by him as he held the franchise hostage in an effort to relocate to Hollywood. Thanks, fans, for not painting me out to be a bad guy like LeBron!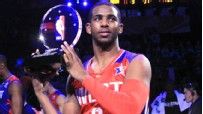 Lynch: Anthony Davis. Call it wishful thinking. Call it home cooking. But the 2014 NBA All-Star Game will be Davis' introduction to those still unaware of his looming domination of the league. The linchpin of Davis' MVP performance will be a half-dozen blocks, which would tie Kareem Abdul-Jabbar for most in a single All-Star Game. Defense might not matter here, but Davis won't be able to help himself. It's in his nature.
Soriano: I see the West winning the game and Kevin Durant winning the MVP. KD is out for blood this season and I don't see him taking it down a notch when the game's biggest stars all share the floor. I expect him to be at the top of his game as a shot-maker and to take over down the stretch for the West, clinching the award with a few clutch baskets that seal the win.
Strauss: Anthony Davis. Home-court advantage is a factor here, as is a small West frontcourt that will need plenty of Anthony Davis minutes. It also helps that Davis will be getting alley-oops from Chris Paul, instead of from, say, Austin Rivers.
Windhorst: Have the rest of the players been watching the league? Give the ball to Durant and get out of the way.


ESPN.com and the TrueHoop Network
Amin Elhassan, Brian Windhorst and Ethan Sherwood Strauss cover the NBA for ESPN.com. Andrew Lynch and Darius Soriano write for the TrueHoop Network.
• Follow the NBA on ESPN on Twitter | On Facebook | On Google+