I can see him yet.
Dennis Johnson walked the ball up. Fast breaking had long been the Boston trademark, from Bob Cousy to Sam Jones to Jo Jo White. Not with Johnson.
He took it slow, rea-l-l-l slow, as if determined to squeeze out each of the 10 seconds allotted to cross midcourt. He surveyed the court with a serene "I've got this under control" stroll. With that leisurely gait, he played like the anti-Cousy.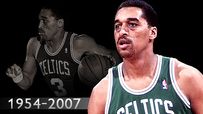 Johnson passed away on Thursday, at the early age of 52. He was coaching the NBA Development League Austin Toros, working his way back toward the NBA.
When people die, we have a tendency to make them better by half with praise. Dennis Johnson doesn't need it.
If career distinctions are to your taste, Johnson left you a smorgasbord to feast on. He played on three NBA champions, won a Finals MVP award and snatched six first team all-defense honors. In his autobiography "Drive," Larry Bird, a man not exactly given to blowing smoke, called Johnson "the smartest [player] I ever played with."
So I'll leave it to expert voters to explain just how a player of Johnson's accomplishments has been eligible for the Hall of Fame for 11 years without getting in. As I wrote last year, of all the players not enshrined in Springfield, he's one of the first five guys to whom I would give a Hall pass.
Before he directed traffic for the Celtics to secure titles No. 15 and 16, he was crucial to building the Seattle SuperSonics, in the league just eight years when Johnson came on board in 1976, into a world champion. If being underestimated was a leitmotif in Johnson's life, it showed early when he was drafted in the second round, 29th overall, in the 1976 NBA draft. He was signed to a four-year deal that started at $45,000 and reached $90,000 by the fourth season.
With Bill Russell as coach, Seattle won 40 games in his rookie campaign. The Sonics started 5-17 the following season before Lenny Wilkens took over the coaching reins from Bob Hopkins.
Said Wilkens on Thursday, "I had watched Dennis play, and I thought starting him and Gus [Williams] would make a difference. ... I thought [Dennis] was an outstanding player."
With the new tandem, Seattle won 42 and lost 18 down the stretch and built a 3-2 lead in the 1978 Finals. But they lost to Washington in seven games, with Johnson shooting 0-for-14 in Game 7.
The following year Seattle won a franchise-best 52 and zoomed past Washington in five games in the Finals. Johnson averaged 23 points and seven assists, adding 14 blocks -- including seven in the third game -- to take the Finals MVP award. Between backcourt mate Gus Williams and Johnson, the Seattle guards posted 51 points per game, more than half the team's Finals output.
"Talentwise, Gus and DJ are perhaps the best backcourt that ever played together in the NBA," Sonics forward Paul Silas said after the series. "I was sitting around the other day trying to think if there was a better backcourt, and I all I could come up with was the Knicks' Earl Monroe and Walt Frazier."
After winning 56 games the following year, Seattle lost in five to Los Angeles in the Western Conference finals. Following the playoffs, Johnson was traded to Phoenix for Paul Westphal. He played in two All-Star Games with Phoenix, made his only appearance on the All-NBA first team, but reached the second round of the playoffs just once.
His liberation came with a trade to Boston in 1983 for Rick Robey. It was one of Celtics patriarch Red Auerbach's greatest deals. Robey, a frontline player and pal of Larry Bird's, never averaged more than 5.6 points over three seasons with Phoenix, while Johnson became another name on the long list of great Celtics heists.
He helped deliver two titles in the next three seasons. With Johnson directing traffic, the 1983-84 Celtics won 62 games and, in five games in the East finals, avenged Milwaukee's sweep the previous year in the East semis. In the NBA Finals against Los Angeles, Johnson posted 23 points and 14 assists in a Game 4 overtime win, when the series turned. Early in the second half, Kevin McHale clotheslined a driving Kurt Rambis. The play upset the Lakers' fast break and incited the Celtics to more physical play. Johnson scored 22 points in a Game 5 victory. The Celtics got the series back to Boston Garden for Game 7, and their front line of Bird, Parish and McHale gathered 36 rebounds, three more than the entire Lakers team. Johnson scored 22 and the Celtics claimed their 15th NBA title. His defense on Magic Johnson over the last four games was essential: he held him to 17 points per game, as Boston won three of the four contests.
One of Johnson's greatest moments came in Game 4 of the 1985 Finals. The score was tied at 105 with 19 seconds left. The Celtics worked the ball to Bird, but he was double-teamed by Kareem Abdul-Jabbar and Magic Johnson 17 feet from the basket. Bird found Johnson, who nailed a 19-footer as the buzzer sounded. However, the Lakers won in six games, their first playoff victory in eight tries against Boston.
In 1986 Boston won 67 games before taking Houston in six in the Finals. As was the case throughout his career, Johnson's playoff numbers bested his regular-season averages.
After scoring his famous layup off a Larry Bird steal against Detroit in the Eastern Conference finals, Johnson had one of his best individual Finals in 1987, when he contributed 19 points, nine rebounds and four assists per game. But the Lakers, taking their first of consecutive titles, won in six games. Boston crept back to a conference final in 1988. That was as far as the Celtics would get, and their loss to Detroit signaled the end of the Bird-McHale-Parish-Johnson era.
It's hard to think of Johnson without thinking of the teams he played on, and likewise Auerbach focused on his contribution to the whole.
In his 1985 autobiography, "Red Auerbach: On and Off the Court," Red wrote, "Being a Celtic player is a hard thing to define. It's an attitude really. Sometimes I think it shows up most in players who started their careers somewhere else and wound up in Boston. Willie Naulls, Paul Silas, Wayne Embry, Charlie Scott, Dennis Johnson. The list goes on. Ask any of them, and they'll tell you what impressed them most upon joining the Celtics was that they were now part of a unit, part of a family whose only purpose was to win as a team."
Red was surely right. But I will remember the walk and style, too. Johnson took it easy, never looking stressed. He orchestrated the greatest front line ever -- Bird, McHale and Robert Parish -- and never looked too bothered doing it. Dennis Johnson was a thinking man's player, then and forever.
Kenneth Shouler is the editor of and a writer for Total Basketball: The Ultimate Basketball Encyclopedia.