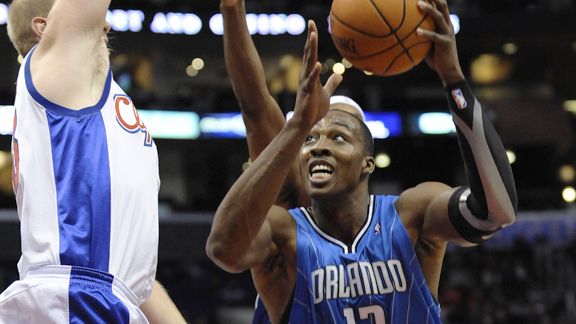 NBAE/Getty
Return to sender:
Orlando's Dwight Howard swatted away seven shots by the Clippers.
1. The Magic Are Winning And Having Fun
The Orlando Magic won their eighth consecutive road game to raise their record to 17-4, tied with Boston for the best record in the Eastern Conference. Serious numbers.
Dwight Howard had 25 points, 11 rebounds, seven blocked shots and five assists. Serious stats.
The digits all say we should take the Magic seriously. And yet this is still a locker room in which you can see Howard doing his impression of Stan Van Gundy as a sumo wrestler, hear Howard and Marcin Gortat argue over which Autobots they would be if they were Transformers, see Rashard Lewis break out a Flip camera to record Vince Carter's postgame interviews and hear Jason Williams, for no apparent reason, toss out a random Nice & Smooth lyric ("Sometimes I rhyme slow, sometimes I rhyme quick.")
Williams was on the fun-lovin', freestylin' Sacramento Kings teams at the end of the 1990s and he said this team is better ... and even looser.
"It's everybody," Williams said. "Coaches get involved, too."
Yes, Van Gundy can have his humorous moments. In the second half of Orlando's 97-86 victory over the Clippers on Tuesday night, Los Angeles guard Sebastian Telfair threw a no-look pass that landed right in Van Gundy's hands. Van Gundy squared to the basket and started to fire up a shot from the sideline, then thought better of it.
"He made a great pass," Van Gundy said. "I had the gun loaded and I was ready to go. I was probably 15 steps out of my range, however."
Everyone else is free to fire at will, however. The Magic take an average of 27.5 3-pointers a game and took 34 (making 14) on Tuesday.
But they also went inside to Howard, who converted 7 of 10 field goals -- and made 11 of 15 free throws. He scored 10 points in the first 5½ minutes, and then Lewis made three 3-pointers in just over a minute (two assisted by Howard), an extreme display of the Magic's inside-out game. If the score is close in the fourth quarter, they feel confident giving the ball to Carter.
"Whenever the going gets tough, it's having several different options to hang your hat on," said Magic guard Anthony Johnson, who once again is filling in well while Jameer Nelson is injured. "We have no weak links out there."
The road is where teams make definitive statements, and with a league-high 10 road victories, the Magic are as loud as a Van Gundy sideline squeal.
Howard does pretty good imitations of those. You wonder if the Magic will tire of hearing the real thing, but for now they're still alert and clearly much more responsive to the buttons he's pushing then the Clippers are to Mike Dunleavy.
Howard gave a five-minute tribute to Van Gundy that was at first overly tearful, like Terrell Owens' "That's my quarterback" speech, then went over-the-top to pour on the praise (I caught the second part on my cell phone camera). Later, a little more seriously, he said Van Gundy has been "a lot better. We want him to push us to get better. If he doesn't push us, who will?"
The burden is still more on Howard to lead them, to live up to his superstar billing. To strike the balance between goofball and Finals Most Valuable Player that Shaquille O'Neal straddled perfectly in his Laker days. One piece of advice in case the Magic get back to the Finals: If the other team's best player is making a reputation for faces like this, it might not be the best time to break out an ad campaign that has you looking like this.
For now, Howard is as funny as ever, especially with new comedy partner Brandon Bass. He is carefree enough to grab some popcorn from a courtside fan's bucket before the second half, or to smile in the middle of a play.
"A lot of people say I'm having too much fun, but hey, you only live once," Howard said.
Two reminders: He turned 24 on Tuesday. And the Magic turned into the best road team in the league so far.
J.A. Adande is an ESPN.com senior writer and the author of "The Best Los Angeles Sports Arguments." Click here to e-mail J.A.
Dimes past: Nov. 20-21 | 22 | 23 | 24 | 25 | 27-28 | 29 | 30 | Dec. 1 | 2 | 3 | 4-5 | 6 | 7
2. OJAM Leading Memphis Uprising
By Matt Moore
TrueHoop Network

By hook or by crook, the Grizzlies are starting to come together. I know. I wouldn't believe it if I wasn't seeing it with my own eyes. But after downing the Cavs in an all-out battle Tuesday night, the Grizzlies have now won three in a row and eight of their past 12, with wins over Portland, Dallas and Cleveland in that stretch. What's more, the wins aren't coming from inconsistent, high-octane offense or a random spectacular series of games from a star. Instead, these Grizzlies are hitting teams with a different attack each night.
They are, unbelievably enough, playing like a team and surprising their opponents with their effort. And the surprises come from a wide range of sources.
Take Mike Conley, who most people had written off after a terrible start to this season. In the past three games, Conley has nearly doubled his points per game and has only five turnovers. Throw on top of that Tuesday night's game-winning layup in overtime, dribble-hesitating to freeze Shaquille O'Neal (don't worry, Shaq will catch up on that pick-and-roll defense any day), and then bursting past for the win. This is a guy who the Grizzlies were so uncertain of that they brought in Jamaal Tinsley to put pressure on him. And finally the young point guard looks to be responding.
Or how about Zach Randolph? Constantly derided for his off-court antics and on-floor decision making, Randolph has been a rock for this squad. He was averaging just below the vaunted 20 and 10 mark coming into Tuesday night's 32-point, 14-rebound performance. But we knew he'd get the numbers. What we didn't know is how well he'd work in the flow of the offense with all these young guns, and how much of a floor leader he'd become. I was as much a preseason skeptic as anyone about Randolph's being able to change his rather large stripes, but you could not ask for more from him so far this season.
Then you've got O.J. "OJAM" Mayo. Mayo is starting to come into his own as the type of difference-maker the Grizzlies need. On Tuesday night, Mayo was lights out, blistering the Cavs from the inside and out, racking up 28 points on only 18 shots, with five rebounds and five assists. His progression has been phenomenal in learning how to run the offense. Mayo has become the trigger man for the Grizzlies, with his assists rising as the team comes together. Mayo was crucial down the stretch, nailing a huge 3 off a pinch-post with Marc Gasol that gave the Grizzlies the lead late in overtime.
Maybe most impressive about this Grizzlies win was that they did it without an impressive night from Gasol, who has been the Grizzlies' MVP this season. Gasol came into Tuesday 26th in PER. Even on what was a tough night against a physical Cavs team, Gasol made his impact with two key buckets late on hook shots, along with eight rebounds and four assists. His all-around game is reminiscent of a nastier version of his All-Star brother, complete with man-beard.
The Grizzlies have been nothing but a punch line for the past two seasons, most often referenced as "that team that gave the Lakers Pau Gasol for nothing." But with a strong young nucleus coming into its own and Randolph providing, gulp, veteran leadership, the Grizzlies may be turning into a team you can no longer consider a speed bump. Now, about drafting Hasheem Thabeet...
To read more, check out Moore's TrueHoop Network blog, Hardwood Paroxysm.
3. Daily Dime Live Recap
ESPN.com writers and TrueHoop Network bloggers chatted with fans and gave their in-game opinions throughout Tuesday night's slate of games -- all in Daily Dime Live.
By Maurice Brooks
ESPN.com
TUESDAY'S BEST

Howard

Dwight Howard, Magic: He made the most out of playing on his birthday, finishing with 25 points, 11 rebounds, five assists and seven blocked shots to lead the Magic past the Clippers.

TUESDAY'S WORST

Billups

Chauncey Billups, Nuggets: He had a game to forget, missing seven of 11 shots from the field. He also had more turnovers (five) than assists (1) for the Nuggets, who fell to the Bobcats.

QUOTE OF THE NIGHT

"It never feels good to lose to the team with the worst record in the NBA. It hurts."

-- Joakim Noah after the Bulls fell at home to the Nets (now 2-19)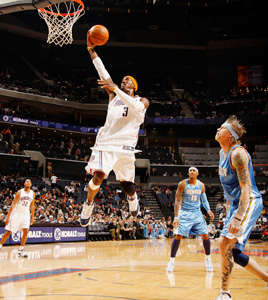 NBAE/Getty
Gerald Wallace, who leads the league in rebounding, grabbed 16 boards to go along with his 25 points as the Bobcats stunned the Nuggets.
By Chris Sheridan
ESPN.com

Iverson
PHILADELPHIA -- 76ers general manager Ed Stefanski was a man of mixed emotions Tuesday.
His Philadelphia 76ers were the talk of the town again for the first time in a long time, but for all the positive vibes that Allen Iverson's comeback game produced, the 76ers lost for the 10th straight time.
Next up is Wednesday night's home game against the Detroit Pistons, the first test of whether the Iverson buzz will sustain itself after the Sixers drew their first regular-season sellout crowd since April 10 against Cleveland -- which also happened to be the 76ers' only home sellout all of last season (excluding the one game they played at the Spectrum).
To read more, check out Sheridan's TrueHoop Network blog entry.
8.

Playoff Odds: Could Get Interesting
By John Hollinger
ESPN.com

I've been saying for a while that we have an unusually compressed league this season, with even the best teams piled up in close proximity to one another. I could show this with the Power Rankings, but because that's a bit of an abstraction from wins and losses, I'm not sure it hammers home how much parity we've had in the first month of the season.
Now we have a better tool to demonstrate this, because the Playoff Odds are ready to roll. And as you can see from Tuesday's odds, we've got some serious parity going on.
Haves and have-nots? I don't think so. More like 10 or 15 have-a-littles. And while we've seen some tiny hints of stratification in recent days, with the four teams everybody expected to contend moving into the top five in the Power Rankings, they haven't exactly laid an emphatic claim to being the league's top quartet.
To read more, check out Hollinger's PER Diem.
Rajon Rondo recorded 13 assists, nine rebounds and five steals to help lead the Celtics to a victory over Milwaukee on Tuesday night. Rondo is the only Celtics player to register those numbers in each of those categories in a single game since the NBA began tracking steals in 1973-74.