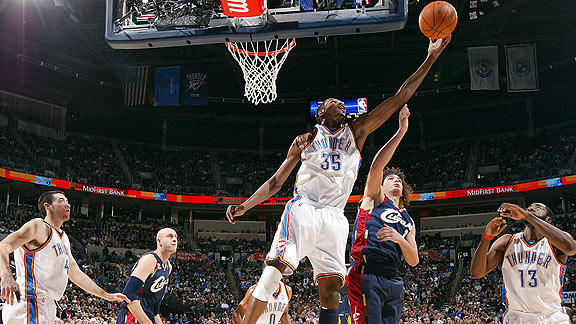 NBAE/Getty Kevin Durant scored 29 points, but the Thunder couldn't hold a five-point lead in a loss to the Cavs.
1. Durant Is A Good Choice To Lead The Thunder
The Thunder's Kevin Durant had another great game Sunday night, scoring 29 points, but LeBron James and the Cavaliers showed Oklahoma City that the Thunder still have a ways to go if they want to be considered among the elite teams in the league.
In a matchup of two of the top scorers in the NBA, James had a season-high 44 points, and showed off his all-around skills by getting seven rebounds, six assists and four steals.
Durant wasn't a slouch. He had five rebounds, two assists and four steals. Durant is on the cusp of joining LeBron, Carmelo Anthony and Dwyane Wade as the players you would most want to build your team around three years from now.
As far as style, Durant reminds me of George Gervin. He has a short memory, shoots it from 3, can post up, gets baskets off screens and in transition, and can handle the ball. He doesn't expend too much effort and is so smooth. He is only 21, and at 6-foot-10 with a 7-foot wingspan, the sky is the limit for him.
I have heard people say that he needs to bulk up, but I disagree. This isn't football. Basketball is the ultimate game of skill. Being strong allows you to make a lot of different plays on the court, but when you are 6-10 and play facing the basket, your strength is not as important as your will.
Durant makes plays all over the place. He is averaging more than 28 points and seven rebounds per game. He grabs most of his boards through positioning, will and effort.
After losing to the Cavaliers, the Thunder now have a record of 12-10. If they were in the East, where 10 of the 15 teams have losing records, they'd be considered a good team. MVP candidates will always be judged by wins and losses. From a numbers standpoint and upside standpoint, Durant's skill set is on the level of any of the top players in the game.
Also, it is not a given that your best player is the leader of the team, but Durant has distinguished himself as the leader of that group. He has stepped up into that role. He has the respect of his coaches and the other 14 guys in the locker room.
The main thing he needs to do is learn how to compete on every play on both ends of the court. When your offense is going well, everybody is willing to get into their defensive stance and play hard to stop their opponent. But when you are not making shots, your defense and energy suffer. Becoming an above-average defender is the next step Durant has to take as he climbs the ladder of superstardom.
I appreciate what the Thunder have done as far as building a team through the draft. They have four players who can really play. That is why they are in position, as a young team, to be as exciting as it gets.
I refer to Durant, Russell Westbrook, Jeff Green and James Harden as the "Core Four." Westbrook is a combo guard who can shoot and handle; like a lot of young guys, he needs to tighten up his decision-making. Green can switch out and guard four different positions. He is strong and tough and doesn't need the ball to be effective. And Harden is a silky smooth lefty. He is crafty, and he can knock down the 3 or slash and get to the basket.
If the Thunder can get a Chris Bosh or Amare Stoudemire-type player, they will be contenders in the West. They need a power forward who can draw double-teams, defend the post and rebound his position.
ESPN analyst Jalen Rose is a regular contributor to the Daily Dime.
Dimes past: Nov. 23 | 24 | 25 | 27-28 | 29 | 30 | Dec. 1 | 2 | 3 | 4-5 | 6 | 7 | 8 | 9 | 10-11
2. What's New With Blake Griffin?
By J.A. Adande
ESPN.com

Griffin
The main question with Blake Griffin is when?
The Los Angeles Clippers still don't know when the rookie with the stress fracture in his left patella will play his first NBA game. There isn't even a consensus on when he will get his next set of tests on the knee. Clippers general manager/coach Mike Dunleavy said it could be on Dec. 18 or Dec. 22. Griffin said he thinks it will happen Dec. 23. A Clippers spokesman said the exact date hasn't been set yet.
Even once he gets the scans there might not be a magic return date set. It will simply give the team an idea of what the next step will be.
"The way I understood it, they have to determine how well it's healed," Griffin said. "So I guess if it is, it's a matter of me getting in shape and getting back in the swing of things."
So then the next question with Griffin would be where?
His natural position is power forward, but with Chris Kaman and Marcus Camby already in the frontcourt, he would be rotating with them. "Ultimately, there's times where you could envision the three of those guys playing together," Dunleavy said, referring to putting Griffin at small forward.
"I can play some 3, depending on the matchups," Griffin said. "Using my quickness on defense and trying to hopefully create a mismatch on the offensive end, be a big team, be a rebounding team."
Dunleavy is concerned about the impact the long layoff from game action will have on Griffin's outside shot. His range was steadily expanding and the Clippers even had hopes he could develop into a 3-point threat before he suffered the injury in the preseason.
Since Griffin isn't allowed to jump, his practice is limited to set shots, usually from just inside the 3-point line. He claims his free throw form is getting better (while practicing before the Clippers' game against the San Antonio Spurs on Sunday night he made 9 of 12 free throws in one stretch, then saw his percentage drop closer to 60 percent).
The Clippers still rave about his work habits (he's usually at practice early at 7 a.m.) and loved the advanced court sense he displayed before he was hurt. Now they want to see how he impacts the team.
"He's kind of that wild-card player for us," Dunleavy said. "The nights we want to play him against [Ron] Artest because he's the only guy that we have bodywise that can do that, you can do that. The nights you want to play him against Rashard Lewis or one of the guys that goes small, you can do that. We have a guy that we think can defend those positions and then be aggressive to attack them as well. Instead of it being an advantage for them, it becomes potentially a disadvantage as well."
Wherever he plays it will be better than his current spot: in a suit at the end of the bench.
3. Daily Dime Live Recap
ESPN.com writers and TrueHoop Network bloggers chatted with fans and gave their in-game opinions throughout Sunday night's slate of games -- all in Daily Dime Live.
4. 2010 NBA Playoff Odds

Hollinger's NBA Playoff Odds are based on the Hollinger Power Rankings, designed by ESPN.com's John Hollinger.
The Hollinger Power Rankings are a measure of each team's performance in the season so far.
To read the entire story, click here.
By Maurice Brooks
ESPN.com
SUNDAY'S BEST

James

LeBron James, Cavs: The season-high 44 points he scored will get all of the headlines, but the seven rebounds, six assists and four steals are the reason he's the most complete player in the league.

SUNDAY'S WORST

Ariza

Trevor Ariza, Rockets: Talk about being off the mark. He missed all nine of his shots from the field, including three triples, before being ejected for swinging his arm at a Toronto player (he missed).

QUOTE OF THE NIGHT

"A terrible display of effort."

-- Miami guard Dwyane Wade after the Heat fell to the Grizzlies to drop to .500
6.

Gay's Night To Remember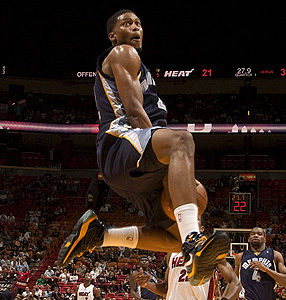 NBAE/Getty
Rudy Gay continued his hot streak, connecting on 15 of 28 shots from the field on the way to a career-high 41 points, as the Grizzlies defeated the Heat, 118-90.
By Bret LaGree
TrueHoop Network

Smith
The recent schedule (four of the Hawks' past five games have been against Toronto, Chicago and New Jersey) could mean that Atlanta's offense, averaging a league-best 114.6 points per 100 possessions after Sunday night's 130-107 win over the Nets, is peaking right now. And while the Hawks might not continue to lead the league in offensive efficiency, the team's improvement is real.
The Hawks take advantage of being one of the top 10 shooting teams in the league by getting a lot of shots up. They rarely turn the ball over (the difference in turnover rate between the league-leading Hawks and the second-best Mavericks is the same as the difference between the Mavericks and the 10th-best Magic) and rebound 30 percent (good for third in the league) of their missed shots.
No player represents Atlanta's offensive improvement better than Josh Smith. Over his first five seasons, Smith used slightly more than half of his field goal attempts on jump shots despite making less than 36 percent of jump shots over his career. This season, 75 percent of his field goal attempts have come within 10 feet of the basket, where he's made 58 percent of his shots over his career. In addition to making more shots without taking more shots, Smith is also turning the ball over less often and earning more assists and, fully recovered from the high-ankle sprain through which he played last season, is on pace for a career year on the offensive glass.
The Hawks' improvement from 37 wins in 2007-08 to 47 wins last season was fueled by a significant offensive improvement. The 2008-09 team increased its offensive efficiency from 106.9 points per 100 possessions (16th in the league) to 109.3 points per 100 possessions (10th in the league). Though still an average defensive team (the Nets scored 29 points in the first quarter and 32 points in the third quarter Sunday) the Hawks' offense threatens to make last season's improvement look marginal in comparison.
To read more, check out LaGree's TrueHoop Network blog, Hoopinion.
9.

Gasol's Big Double-Double
Marc Gasol scored 16 points, shooting 7-for-7 from the field, and grabbed 15 rebounds in the Grizzlies' 118-90 win at Miami. That's the second time this season that Gasol has posted a 15/15 game without missing a shot from the field. He scored 17 points with 16 rebounds and shot 8-for-8 against the Timberwolves in November. The only other player in NBA history with two such games in the same season was Wilt Chamberlain (six in 1966-1967, four in 1972-1973).