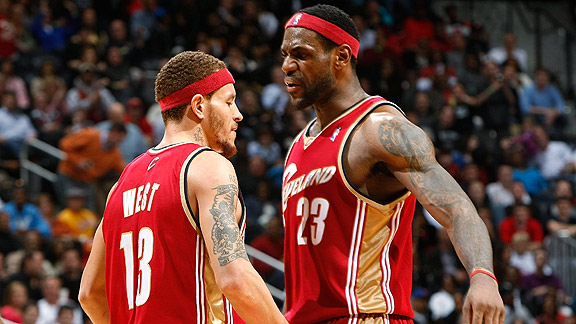 Delonte West and LeBron James had plenty of reasons to celebrate after the Cavs topped the Hawks.
1. Cavaliers Show Hawks They Are Still The Boss
By John Hollinger
ESPN.com
ATLANTA -- New players, same result.
In their first meeting since Cleveland swept the Hawks in last season's Eastern Conference semifinals, the Cavaliers still were too tough, too versatile and too long for Atlanta in their 95-84 win. It was the first of a home/road back-to-back that Hawks' coach Mike Woodson openly admitted would be a litmus test of how far they've come since early May. Based on this game, they haven't gained much ground.
While both teams got to show off their new toys -- Shaquille O'Neal and Anthony Parker scored 10 points apiece for Cleveland, while Jamal Crawford pumped in a game-high 26 for Atlanta -- qualitatively, it was shocking how little had changed from the playoff series nearly eight months ago.
For the fifth straight time, the Hawks failed to score more than 85 points against the Cavs, even though they entered the game ranked second in offensive efficiency. Included was a ghastly 9:20 stretch in the third and fourth quarters when the Hawks didn't score a single point, piecing together 17 straight empty trips and sucking the life out of a Philips Arena-record crowd of 20,150.
The Cavs had their own woes but scored enough to turn a tight 75-74 game with 0:32 left in the third quarter into a double-digit lead by the time the Hawks scored again with 3:12 to play.
"I don't know how to even explain it," Woodson said. "We didn't execute. We threw the ball all over the place. Offensively, we were our own worst nightmare."
Lowlights in that stretch included three straight missed free throws by Johnson and Crawford, two separate plays where Al Horford appeared to lose confidence in his jumper and opted to drive into traffic instead, a Mo Evans dunk attempt that Jamario Moon rejected, and six turnovers. One of those, ironically, was a "crab dribble" by Crawford that got him whistled for traveling.
"It was ugly," Horford said.
Cavs coach Mike Brown said the same thing even though his team won.
That's because the only thing that kept the game interesting was Cleveland's own offensive ineptitude in that stretch. After nine minutes of holding Atlanta scoreless, the Cavs had padded their lead by only 10 points. They got three of them from the stripe without leaving their own backcourt, when a shaky clear path foul called against Josh Smith was followed by a technical foul on Woodson.
Those points opened up a working margin for the Cavs that they'd never relinquish, but the individual events weren't as important as the larger themes. For Atlanta, every negative from last year's playoff series remained intact:
• Once again, Atlanta couldn't get Johnson going. The Hawks' leading scorer fired in 11 points in the first six minutes before vanishing -- he had four points the rest of the night and finished with 15 on 5-of-14 shooting, with four turnovers. During the scoreless drought, he missed two open 3-pointers, a layup and a technical free throw, and committed three turnovers.
"I think we played good defense on Joe [Johnson] tonight," said Brown. "The guys sent him the correct way and the help was there at the right time."
• Once again, the Hawks couldn't handle the Cavs' length up front. The Hawks ranked fifth in offensive rebound rate entering the game but snagged only five offensive boards, despite creating plentiful opportunities with all their bricks. Atlanta's eight second-chance points were nearly matched by Cleveland's Zydrunas Ilgauskas in the second quarter alone, when he had three tip-ins. With 7-foot-3 Ilgauskas, 7-2 Shaquille O'Neal and 6-11 Anderson Varejao battling against the 6-10 Horford and 6-9 Smith, Atlanta's athleticism up front was no match for Cleveland's sheer size.
• Once again, Cleveland took advantage of Atlanta's habitual switching on pick-and-rolls by running plays that would draw Mike Bibby or Crawford on to LeBron James. Crawford, in particular, often seemed to switch even when he didn't have to, taking the more robust D of Marvin Williams out of the play. While that didn't directly lead to many James baskets -- he shot 6-for-20 -- it produced the penetration and double-teams that created his game-high 10 assists.
• And once again, the Hawks had no answer for Delonte West, who burned them for 17 points off the bench while locking up Johnson on defense. James' brilliance is expected, but West was the X factor that crushed Atlanta in the second round last season. In last year's four-game sweep, he matched opposing shooting guard Johnson with 60 points, and needed 20 fewer shots to do it. On Tuesday night, West excelled again, outscoring Johnson 17-15 on three fewer shots, including an emphatic transition dunk over Smith late in the fourth.
"[The dunk] demonstrates what he can do on the floor and how he can change the game," James said. "I think that play took the air out of the Hawks."
Atlanta gets a chance to strike back when this "best-of-two" series moves to Cleveland on Wednesday night, but for Hawks' fans it's fair to wonder how this next contest might be different from the previous five -- all of which were double-digit Cavs victories.
Want more? The Hawks haven't hit the century mark against the Cavs in 15 contests dating back to Nov. 7, 2006; Johnson is averaging just 15.7 points in nine games against Cleveland over the past two seasons; and between the regular season and postseason, the Hawks have dropped seven straight to Cleveland.
No wonder they considered it such an important test of their aspirations to contender status. Based on Part I, however, they don't seem any closer to getting a passing grade.
John Hollinger writes for ESPN Insider. To e-mail him, click here.
Dimes past: Dec. 13 | 14 | 15 | 16 | 17 | 18-19 | 20 | 21 | 22 | 23 | 25-26 | 27 | 28 | 29
2. Another 30-Point Night For Durant
Elias Sports Bureau

Durant
Kevin Durant scored 35 points to help lead the Thunder to a victory over the Wizards on Tuesday night. Durant has now scored 30 or more points in each of his last five games, tying his personal longest streak in that category (February 2009). He is now one shy of the Thunders' franchise record for consecutive games with 30 or more points. Spencer Haywood scored 30 or more points in six straight games for the then-Seattle SuperSonics in January 1972. Only one other player beside Durant and Haywood has scored 30 or more points in five straight games for Seattle/Oklahoma City: Dale Ellis (five straight in February 1988).
3. Daily Dime Live Recap
ESPN.com writers and TrueHoop Network bloggers chatted with fans and gave their in-game opinions throughout Tuesday night's slate of games -- all in Daily Dime Live.
By Maurice Brooks
ESPN.com
TUESDAY'S BEST

Bryant

Kobe Bryant, Lakers: He scored a season-high 44 points, including 17 in the fourth quarter, as the Lakers held off the Warriors, 124-118. He also gave out 11 assists.

TUESDAY'S WORST

Hamilton

Richard Hamilton, Pistons: He struggled for the second consecutive game since returning from injury, going 5-for-21 in a 17-point loss to the Knicks.

QUOTE OF THE NIGHT

"He's been hurt for over a year. The thing that people want to write about is who he was two years ago and he isn't that right now."

-- Rockets head coach Rick Adelman on Tracy McGrady, who is seeking a trade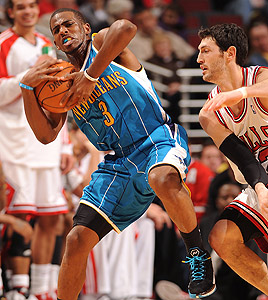 Jed Jacobsohn/Getty Images
Chris Paul had a triple-double (16 points, 11 rebounds, 10 assists) and teammate David West scored 44 and grabbed 12 boards, but it wasn't enough as the Hornets fell to the Rockets.
7.

Don't Sleep On The Spurs
By Timothy Varner
TrueHoop Network

Duncan
The story of the Spurs' season runs neatly along two easily identifiable arcs. The first is the stellar play of Tim Duncan. Duncan is quietly having the most efficient season of his career. On a per-minute basis, he has rarely played better basketball. It's not surprising to learn that his current PER leads all players not named LeBron James. But while Duncan continues to exceed expectations, his teammates have underperformed, which leads us to that second story arc.
The 2009-10 Spurs have a habit of losing to good teams and beating up the bad ones. The only high-quality win of their season came against Dallas on Nov. 11. San Antonio's 18 wins owe more to collecting W's against the Warriors, Clippers and Knicks than from beating playoff-caliber competition. Still, Tuesday night's 117-99 victory over Minnesota hinted at greater things to come.
Duncan's underperforming teammates are starting to regain their swagger. Manu Ginobili, as one example, played brilliantly against the Wolves, contributing 14 points, 10 assists, 9 rebounds and 3 steals in a mere 28 minutes of action. Or consider that Roger Mason's 3-point percentage began the year at .273 and is only recently rounding into form -- he's connected on .375 of his attempts this month, not far beneath his career average of .391. He made 4 of 7 3-pointers against Minnesota.
For the first time this season, the Spurs are seeing significant same-game production from their core of Duncan, Ginobili, Richard Jefferson and Tony Parker, plus valuable contributions from DeJuan Blair, Antonio McDyess and Mason. Consider this: Tuesday night's victory marked only the fifth game this season wherein each member of San Antonio's big four scored in double digits. Three of those games were played this month.
The story on San Antonio is far from finished.
To read more, check out Varner's TrueHoop Network blog, 48 Minutes of Hell.
8.

The Best, Worst Of The Decade
By John Hollinger
ESPN.com

Thomas
You never want to be too early with an all-decade list because you never know when a last-minute, Tiger Woods-like incident could blow the whole thing up. But with only three days left in the decade, I think we're in the clear.
So without further ado, it's time for my all-decade lists -- except one. My list of the 10 best players of the decade will come under separate cover on Thursday.
To read more, check out Hollinger's PER Diem.
9.

Trade/Non-Trade Big Deals

Hart
Jason Hart was going to be traded Tuesday by the Minnesota Timberwolves.
The only question was where: New Orleans or Phoenix.
As a story that appeared briefly on the Timberwolves' Web site earlier in the day confirmed, Minnesota was convinced that it had a deal with the New Orleans Hornets to send Hart to the Hornets in exchange for Devin Brown.
To read the entire Stein column, click here.