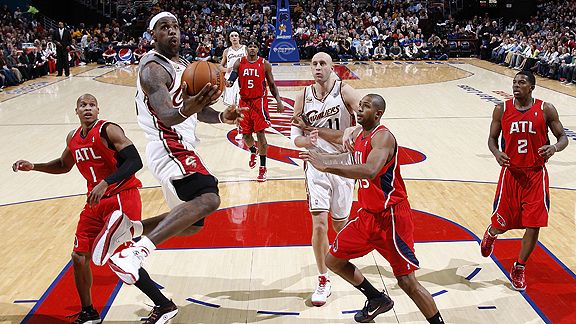 NBAE via Getty Images LeBron James scored 48 points -- the third highest total by a player on his birthday in NBA history.
1. Hawks Livid After Shot-Clock Malfunction
By Chris Sheridan
ESPN.com
CLEVELAND -- Sure was a happy birthday for LeBron James, eh, what with the 48 points and all?
And Anderson Varejao couldn't have picked a better time to turn into a latter-day Oscar Schmidt, wouldn't ya say?
Yep, those were the things the Cleveland Cavaliers, an assortment of rap stars and other major moguls were undoubtedly discussing over drinks in the wee hours of this morning as they attended James' birthday party at a local nightspot. (Note of the night: All invitees were required to wear all black clothing.)
But what about the other side of the story?
What about all those Atlanta Hawks fans? They sure would like an explanation as to why their team was the victim of an egregious shot-clock malfunction that prompted coach Mike Woodson to announce that the Hawks would file an official protest with the league office over their 106-101 loss to Cleveland on Wednesday night.
Employing due diligence -- one of commissioner David Stern's favorite phrases, along with that absurdity he keeps repeating: "referee transparency" -- I went to the referees' locker room acting as a pool reporter, something I have done at least a half-dozen times in my career, to ask what the rule interpretation was on that particular play.
To review: Atlanta was ahead 99-98 when the Cavs missed a shot in the lane with about 16 seconds remaining on the shot clock. But the shot clock did not reset, and by the time point guard Mike Bibby dribbled upcourt and looked at the clock, it was ticking close to zero. Bibby passed the ball to Josh Smith in the lane, he had it stolen by LeBron James, and the Cavs came downcourt and scored for a 100-99 lead.
Woodson was apoplectic, arguing his case vociferously to the referees while also screaming angrily at the 24-second clock operator. But to no avail.
Atlanta tied the game with 41.5 seconds left when James goaltended a shot by Joe Johnson, but Varejao hit the first 3-pointer of his career with 17.2 seconds left, as the shot clock expired, to make it 104-101 (the shot was originally called a 2, but it was changed to a 3 during the ensuing timeout, which made Woodson even more livid since he appeared to be diagramming a 2-point play in the huddle to go for the tie).
Instead, Bibby had to try for the tie on a corner 3-pointer. He missed, the Cavs locked it up with two free throws, and the Hawks angrily stormed off the court -- Woodson twice had to be turned back by his assistants and redirected toward the locker room -- before cooling down enough to utter the following:
"I'm not going to comment on it at this time. We're just going to file a protest, without a doubt let the league review it at the two-minute mark, and then see what they think."
Did he see that as a game-changer?
"Well, we've got a one-point lead and with the ball going our way, and we're rushing to get a shot because the clock is not in our favor? You figure it out."
There is an NBA procedure for instances such as this. A pool reporter is permitted to question the lead referee about a rule interpretation, and the referee is obligated to answer so long as it does not involve a judgment call, and the pool reporter is obligated to share the referee's answer with all other media.
Pretty simple, no?
Well, lead referee Kenny Mauer would have none of it, relaying two words -- "no comment" -- when a Cavs public relations official informed him a pool reporter wished to question him about the play in question.
Mauer could have explained that he was acting within the rules as they are written, and that there is no recourse for going to a video review on a malfunction such as this.
"I think we should have won this game, and I think they know that, too," Bibby said. "I was bringing the ball up, and that's why I started to go because the clock was down. I didn't know, it was the middle of the game, I thought it was kind of quick. You look at the shot clock, you see the shot clock down, and you play."
Said Smith: "Malfunction? I thought one official was supposed to check the clock."
This is the second time this month that a lead referee has refused to explain a critical rule interpretation -- even though the league office has encouraged them (but not mandated them) to do so. A league spokesman said Mauer was within his rights to decline comment, and so all we have for an explanation this morning is the video of the play, the video of Woodson's ire and the pending protest (which seems almost certain to be turned down).
For fans of Atlanta, it doesn't matter that the Hawks eclipsed 100 points for the first time in their last 16 games against Cleveland. It doesn't matter that Atlanta's string of being held below 85 points by Cleveland ended at five in a row. It doesn't matter that Joe Johnson was superb, scoring 35 points on 15-for-25 shooting. It doesn't matter that Jason Collins, of all people, actually had a three-possession sequence in which he took Shaquille O'Neal completely out of his game.
What matters is the L -- and the fact that the Hawks didn't have a fair chance to come away with a W in what they themselves described as a two-day litmus test of their strength in playing the Cavs on back-to-back nights.
"It was a great game. If you're a fan or you were watching on TV, it was great. Both teams fought and didn't want to give an inch, and it's unfortunate it had to come down this way, but as an organization we have to do what's right for our organization and our basketball team," Woodson said. "It's a shame it had to come down to that, and we'll figure it out when the league reviews it."
Have fun swallowing that along with your morning coffee, Hawks fans, while also remembering this: All those black-clad folks at LBJ's birthday bash were feeling such good vibes, too, at your team's expense. And just a guess (our invitation was apparently lost in the mail), but if the words "conspiracy theory" were uttered, the James Gang all had a big ole belly laugh over it.
Chris Sheridan covers the NBA for ESPN Insider.
Dimes past: Dec. 14 | 15 | 16 | 17 | 18-19 | 20 | 21 | 22 | 23 | 25-26 | 27 | 28 | 29
2. Magic's Nelson Continues To Struggle
J.A. Adande
ESPN.com

Nelson
ORLANDO -- The 16 games Jameer Nelson missed with a knee injury weren't much of a problem for the Orlando Magic, but his return to the lineup can't really be called a solution.
Backup Jason Williams was far more instrumental in the Magic's 117-92 victory over the Milwaukee Bucks on Wednesday, as Nelson made only 1 of 7 shots and was the only Orlando player with a negative plus/minus (minus-12) in his 23 minutes of playing time. Nelson is 10-for-35 from the field in four games since coming back from arthroscopic surgery for a torn meniscus in his left knee.
Magic coach Stan Van Gundy said there were extenuating circumstances behind Wednesday's performance -- Nelson said he slept for only an hour and a half Tuesday night because of a "family issue" -- but the coach sounded frustrated about Nelson's limited ability to practice after his knee swelled up following the Christmas Day loss to Boston.
"We're going to have to go back and evaluate where we are with Jameer," Van Gundy said. "There's medical concerns and people don't want him to get reinjured."
Van Gundy said Nelson participated in a total of 30 minutes of "live action" during practice the previous two days.
"I understand that we're trying to protect him," Van Gundy said. "We've got to somehow find a balance. If he's not going to practice and we're going to use games like practice, I don't know how valuable that's going to be. Four days off and they don't want him doing anything in practice, that makes it very, very hard."
"They don't want me to practice everyday or practice as much. I want to, I ask to, but I just have to listen and do the things they tell me to do," Nelson said, saying nothing that transpired over the past few days caused him to shoot the airball he launched among his six missed shots.
Williams, who did a solid job filling in for Nelson's starting role while he was out, scored 16 points in 25 minutes off the bench Wednesday, and was part of Orlando's 14-2 run at the start of the fourth quarter to blow the game open.
"We won tonight, I'm happy," Nelson said. "There's nothing to be upset about."
Tell that to Van Gundy.
J.A. Adande is an ESPN.com senior writer and the author of "The Best Los Angeles Sports Arguments." Click here to e-mail J.A.
3. Daily Dime Live Recap
ESPN.com writers and TrueHoop Network bloggers chatted with fans and gave their in-game opinions throughout Wednesday night's slate of games -- all in Daily Dime Live.
By Maurice Brooks
ESPN.com
WEDNESDAY'S BEST

James

LeBron James, Cavaliers: Playing on his 25th birthday, James celebrated before, during and after Cleveland's 106-101 win against the Hawks, posting 48 points, 10 rebounds and six assists.

WEDNESDAY'S WORST

Wallace

Rasheed Wallace, Celtics: The poorest shooting season of his career continued as the forward, filling in for the injured Kevin Garnett, made just 3 of 11 shots from the field in Boston's 116-98 loss to the Suns.

QUOTE OF THE NIGHT

"It's good to get guys back in uniform and it's good we have all our weapons back and everybody is playing together."

-- Nets guard Devin Harris after New Jersey ended its second double-digit losing streak of the season with a 104-95 win over the Knicks
5.

Randolph Playing Like An All-Star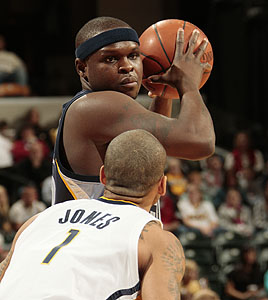 NBAE/Getty Images
Zach Randolph tallied 28 points and 13 rebounds to lead the Grizzlies past the Pacers. It was his sixth straight game of at least 23 and 13.
7.

Playoff Race: East vs. West
By Matt Moore
TrueHoop Network

Durant
The Milwaukee Bucks had lost three in a row and seven of their last 10 coming into Wednesday's game in Orlando. Their losing streak is now at four.
The Charlotte Bobcats fell to 1-14 on the road against the Toronto Raptors, and featured the 27th-worst offense coming into Wednesday's game (96.4 points per 100 possessions -- if you're not big on stats, that's what you might call "friggin' terrible").
The Chicago Bulls gave up a 35-point lead in a loss to the Kings. They are widely reported to be searching for a replacement for lame-duck coach Vinny Del Negro. They feature the second-worst offense in the league, no consistent scoring threat, and are facing a revolt from their fans that makes the storming of the Bastille look like a tea party.
All of these teams, along with the Raptors and the Knicks -- yes, the Knicks -- are within 2.5 games of the sixth seed in the East. Viva la mediocre.
The Eastern middle is largely irrelevant. After all, it's hard for some pundits to even consider the East a "big four" with the addition of Atlanta. But for league legitimacy, you hope at least for the playoff teams to be fighting above .500. Like, say, it is in the West.
Out West, Oklahoma City has a solid résumé this season -- finally playing with consistency, surprising skeptics and working its way to 17-14 with a tough schedule. The Thunder are now a team that you can expect to battle every night no matter how dominant you are. The Memphis Grizzlies have also stunned the league by jelling under Lionel Hollins. They were 9-4 in December, including wins over Dallas, Cleveland, Miami and Denver.
Neither of these teams would be in the playoffs if they started today.
The disparity between the East and West has been a theme for more than a decade, but the recent surge of Boston, Cleveland and Orlando has helped even out the top-heavy portions of the East. But the continued incomplete formulas of the Eastern middle still drag the conference down. Toronto is currently the sixth seed! A team that consistently flirts with the worst defensive-efficiency mark in the league! The Warriors play better defense!
It makes you wonder about how we consider teams. After all, if the Grizzlies weren't trapped in a death gauntlet with Dallas, San Antonio and Houston in the toughest division in professional basketball, where would they be? What if they were in the East's Central Division, where Chicago, the second-best team, is 12-17? It's enough to make you wonder about that whole "just take the 16 best teams" thing.
To read more, check out Moore's TrueHoop Network blog, Hardwood Paroxysm.
8.

Seven Questions For 2010
By Kevin Arnovitz
ESPN.com

Westbrook
Of the current young up-and-coming teams, which ones are for real and which ones will provide an entertaining illusion of success?
KA: When sizing up a team's future prospects, the first thing I ask myself is, "Can I imagine this team ranking in the top half of the league defensively?"
Oklahoma City is the quintessential upstart squad. They're fun, charismatic, dynamic, athletic ... and not all that impressive as an offensive unit. It's the Thunder's defense that's led them to a 17-14 record this season. So long as tough, lanky defenders like Russell Westbrook and Thabo Sefolosha are patrolling the perimeter (and James Harden too), opponents are going to have a tough time scoring against them. With that Kevin Durant angle pick-and-roll as the anchor of their offense, they're a good bet to win a playoff series sometime soon.
To read more, check out Arnovitz in TrueHoop.

Nash
The Suns rolled over the Celtics 116-98 after leading by as many as 23 points. It was the first time this season that Boston trailed by more than 16 points in a game. Before Wednesday's defeat, the Celtics were the only NBA team that hadn't trailed by at least 20 points in any game this season.