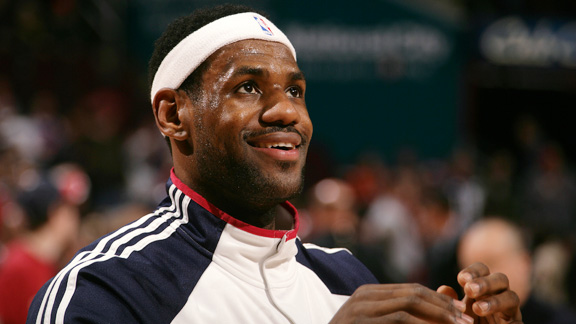 Garrett W. Ellwood/NBAE via Getty Images LeBron James and the Cavaliers didn't get the same fight from the Wizards that they are used to.
1. The Cavaliers-Wizards Rivalry Is Done
By Brian Windhorst
Special to ESPN.com
CLEVELAND -- When the game was mercifully over, LeBron James took a little bit longer than usual to look down toward the Wizards bench. The season series with his biggest rival -- well, make that former rival -- was over and James knew it would never be the same.
He'd never see these Wizards again.
The Cavs and Wizards played a nondescript game Wednesday night. It was a 121-98 blowout. And that is news. For years, these teams have played each other like it is the playoffs, even in November. There are usually hard fouls, nasty looks and technicals. It didn't matter who was injured or what the standings said, every game was considered a statement game. A clear product of three consecutive years of first-round playoff meetings, all three won by the Cavs, but none of the three earned the Wizards' respect.
Last season, three teams had winning records against the Cavs. The Lakers, the Magic and the Wizards, who won the season series 2-1 despite having just 19 wins on the season. It was a genuine rivalry. The key word being was.
Wednesday's game had no edge whatsoever. The Wizards reacted to the news of Gilbert Arenas' suspension not by stepping up but by rolling over. Staring into the eyes of Caron Butler and Brendan Haywood and even DeShawn Stevenson, James didn't see the fire. And he knew.
"Tonight was nothing personal with Washington at all," James said. "I think it is over and done with."
He meant the rivalry and, it sounded like, the current incarnation of the team.
Passed away is beloved owner Abe Pollin, who opened his checkbook in the final years of his life to keep the team's stars together, paying up to give Arenas and Antawn Jamison extensions worth more than $160 million. Apparently, now gone is the belief that the Wizards want to keep those two together with Butler to finally fulfill their destiny once they got past that string of injuries they could never shake.
Butler didn't even seem into the game against the Cavs, a team he's carried the Wizards to victories over numerous times. He went through the motions for eight points in 38 minutes, often not even hinting at an interest in fighting through screens. He hears trade rumors everyday and he's playing like someone who's waiting for it.
With Arenas back this season, Butler's numbers are down across the board from his All-Star stats. When Arenas was firing off his imaginary shots in Philadelphia on Tuesday, Butler was absent from the ring of teammates around him. And he's avoided the media, perhaps because he hasn't wanted to give his true thoughts on the matter.
James -- who was talking privately with his teammates about the Arenas-Javaris Crittenton incident even before it became public after being tipped off by a friend -- didn't dodge the question about the suspension.
"Surprised? Honestly, I'm not," James said. "People asked me what I thought would happen and it was exactly what happened. I didn't know it would be that extreme, but I thought he'd probably get suspended indefinitely. I know Gil loves the game of basketball and for the game to be taken away from you is tough. But you've got to use better judgment sometimes."
Jamison was in the huddle surrounding Arenas in an image that will go down in history, way more salient than his various tweets and his mocking of NBA commissioner David Stern as "mean." Jamison has been extremely supportive of his teammates over the last few years, even when he's had to take on the role of a parent when Arenas and Stevenson were cooking up mischief and influencing younger players like Nick Young and Andray Blatche.
Jamison is doing it again with this current dustup, encouraging the younger players to support a player they may never be on the court with again.
"Whatever the circumstances are, we're going to miss him," Jamison said. "But it goes beyond basketball now. This guy loves to play the game of basketball and hopefully one day, we want to see him back on the basketball court one day. In this situation, we have to support him as his teammate and his friends."
But Jamison is in the same situation as Butler. He will be a daily item in the rumors as the Wizards shop around for options to remake their team under an incoming owner. So will other players, anyone who isn't nailed down.
That is the way it is headed and it seems crystal clear, which is why James and his teammates were feeling almost nostalgic about their old battles with their old adversaries.
Meanwhile, down the hall, the Wizards couldn't dwell on that past. They waited for what was next, be it from the league office, from the police, or from the general manager telling someone he is on the move.
"Right now, it's like a black cloud is over us," Stevenson said. "If it hit us over the head again, we might break. It's just a lot of stuff we're dealing with right now with Gilbert, we're losing games, the media is here everyday, not because we're winning. It's tough. I don't know how to react to it."
Brian Windhorst is a regular contributor to the Daily Dime.
Dimes past: Dec. 20 | 21 | 22 | 23 | 25-26 | 27 | 28 | 29 | 30 | Jan. 1-2 | 3 | 4 | 5
2. Arenas' Wounds Are Self-Inflicted

The reason Gilbert Arenas had to leave now, the reason he has gone from frivolous to dangerous, is that he doesn't seem to grasp the concept of consequences.
When you meld that trait with a known penchant for harboring guns, you have a threat. That's what Gilbert has to be considered now. At the very least, he's a threat to this image-conscious league's perception in the public eye. At the worst & well, Jayson Williams has been on my mind this week, and not because he was arrested on a DUI charge Tuesday. Long before Arenas and his quirky Agent Zero persona came along, Williams was the reigning prankster in the NBA. Williams told jokes at the expense of Yinka Dare and Benoit Benjamin and was one of the best quotes in the NBA. Then in 2002, after he had retired, he was accused of killing a chauffeur while playing around with a shotgun in his house (manslaughter charges resulted in a mistrial and an acquittal).
Maybe Arenas is the type who would pull the trigger only under the most extreme circumstances, if he or his family members were in danger. But I don't give him the benefit of the doubt on any judgment calls now, not when he could be so reckless and put the remaining $80 million of his contract in jeopardy.
There's a history of money squabbles prompting player-to-player hostility in the NBA, with perpetrators from Charles Oakley to Kobe Bryant. And there have even been tales of players pulling guns on teammates before, including Vernon Maxwell getting his gat after an argument with Houston Rockets teammate Carl Herrera. But Arenas crossed a line when he tried to end his card-game argument with Javaris Crittenton with a display of guns in the locker room, a blatant violation of David Stern's ban on firearms on NBA property.
To read the entire Adande column, click here.
3. Daily Dime Live Recap
ESPN.com writers and TrueHoop Network bloggers chatted with fans and gave their in-game opinions throughout Wednesday night's slate of games -- all in Daily Dime Live.
By Maurice Brooks
ESPN.com
WEDNESDAY'S BEST

Wade

Dwyane Wade, Heat: His Heat came up short against the Celtics in overtime, but it wasn't his fault. Wade scored a season-high 44 points, grabbed five rebounds and gave out seven assists.

WEDNESDAY'S WORST

Howard

Dwight Howard, Magic: Yes, the 20 points and 15 rebounds look good, but a whopping nine turnovers from a center? Orlando, which fell to the Raptors, has dropped three in a row.

QUOTE OF THE NIGHT

"I felt like my arm was going to fall off, but my team needed me."

-- Jazz guard Ronnie Price, who started in place of Deron Williams despite a sore left shoulder in Utah's win against the Grizzlies
5.

Sixth Man Of The Year?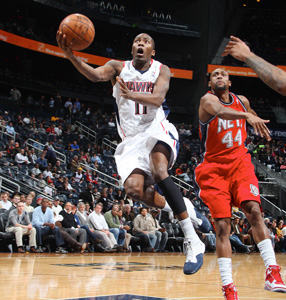 NBAE/Getty Images
Jamal Crawford scored 29 points in just 24 minutes as the Hawks ended their four-game slide with a 119-89 victory over the visiting Nets.
7.

Maggette Dropping Buckets

Maggette
• Corey Maggette scored 28 points in the Warriors' road win over the Timberwolves, after he registered 35 points the previous night in a loss at Denver. Maggette hadn't scored as many as 63 points over a span of two games played on consecutive days since March 7-8, 2005, when he had back-to-back games of 37 and 30 points for the Clippers.

Arenas
According to one NBA player, 60 to 75 percent of NBA players have firearms. Given that, the league has been fortunate to have as few gun-related incidents as it has.
That's especially true when you listen to how we all talk about the game.
It's a violent sport, and I'm not referring to flagrant fouls.
To read more, check out Royce Webb on TrueHoop.
9.

Davis Stars In Hollywood
By Kevin Arnovitz
ESPN.com

Davis
LOS ANGELES -- It was an uncommonly spontaneous moment as Los Angeles Clippers owner Donald Sterling pushed through a scrum of reporters toward Baron Davis' locker following the Clippers' 102-91 victory over their intra-city rivals, the Los Angeles Lakers.
"Congratulations," Sterling said to Davis, his arm extended. "The real guy was there tonight."
Davis graciously thanked Sterling, then went back to spinning the yarn of his prolific 25-point, 10-assist effort, arguably his best outing as a Clipper.
"Baron was unbelievable tonight right from the get-go as far as controlling the tempo of the game and making great decisions," Clippers coach Mike Dunleavy said. "He created so many great shots tonight."
The Clippers are only the league's 22nd-most-efficient offense, yet when Davis is fully engaged, they're able to boil down the game to its essence. Nowhere was that more evident than in his work with Chris Kaman on the pick-and-roll, where the Clippers picked the Lakers' defense apart.
"If [the Lakers] wanted to play soft, Baron made shots over the top," Dunleavy said. "And if they stepped up, he hit [Chris] Kaman on the roll or swung the ball and found open guys."
Davis' 18-month stint with the Clippers hasn't been easy. After signing a five-year, $65 million contract in the summer of 2008, he arrived to training camp out of shape and quickly became the face of the team's cataclysmic 19-63 season.
Davis pledged to recommit himself to conditioning this past summer. He arrived at media day in September so svelte that he joked he'd been using crack during the offseason to shed the extra weight.
Even as the Clippers' struggled out of the gate this fall, the uptick in Davis' game has been visible. His shot selection has been more disciplined, and he's been able to muscle his way to the basket against weaker guards. But more than anything, Davis' renewed sense of leadership has been his greatest asset.
"I'm starting to get in my groove offensively, and the team trusts me," Davis said. "That's the most important thing -- having that trust from your teammates and from your coaching staff."
Over the past couple of weeks, Davis has racked up double-doubles, buzzer-beaters and big games like Wednesday night's win -- and with it, the swagger that made him a folk hero in Golden State during the spring of 2007.
"We're out there having fun," Davis said. "I'm out there talking to them, they're talking to me, we're laughing, we're joking -- it's the emotion of the game."
The Clippers have an interesting collection of talent, but summoning that emotion has always been the rub.
Davis is starting to make it just a little bit easier.
ESPN TrueHoop editor Kevin Arnovitz is a regular contributor to the Daily Dime.