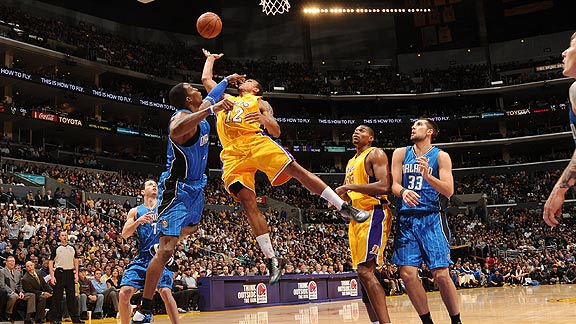 Noah Graham/NBAE/Getty Images Shannon Brown shook loose for a career-high 22 points, on 8-for-12 shooting, to pace the Lakers.
1. Impressive Victory For Lakers Or Not?
LOS ANGELES -- The Magic are at such an uncertain crossroads we can't even be sure about how to classify the Lakers' victory over them.
For Los Angeles, it was a rare victory over one of the teams with the best records in the league. The Lakers are 4-5 against the best seven opponents they have faced: Cleveland (0-1), Dallas (2-1), Denver (0-1), Atlanta (1-0), San Antonio (0-1), Portland (0-1) and, by record, Orlando. But this Magic team isn't as good as its 26-14 record might indicate. Not at this juncture, when they've dropped seven of their past nine games and still are having trouble with the concept of inside-out basketball.
They need to take a break from the basketball game videos and watch the New York Jets. The Jets run the ball, then run it some more. Doesn't matter if they have the lead or if they're behind. The Magic started off with the basketball equivalent of the running game -- post play -- and fed Dwight Howard throughout the first half. He got his usual share of dunks, but also unveiled face-up jumpers off the glass and tried a couple of hook shots. He made 9 of 12 shots and had 18 points at halftime, the main reason the Magic kept pace with the hot-shooting Lakers (other than Kobe Bryant; more on that later).
But in the third quarter the Magic reverted and settled and got suckered. The best observation of the weekend was Phil Simms working the Jets-Chargers game and saying the Jets were just fine down 7-0 in the first half because the game was played in the style that was conducive to their winning. And so it was for the Magic. But after attempting 12 3-pointers in the first half, they took 12 in the third quarter, going back to their old free-flinging ways. Vince Carter took five shots (missing all of them) in the period and Howard took none. (And do you care to guess where Carter's shots came from? If you guessed far away from the basket, you get a cookie. Only one of his 11 attempts during the game came from inside the paint).
The Magic went on a 20-2 third-quarter run to take a nine-point lead, cresting after Howard came to the bench for his first break of the game. But they never established him again. The Lakers scored the first 15 points of the fourth. The points-in-the-paint category, which had been pretty even throughout the game, swung to the Lakers (16-6 in the final quarter). The Lakers were getting putbacks and second chances from offensive boards. They got transition baskets thanks to the backup backcourt of Shannon Brown and Jordan Farmar, the stars of the game with a career-high 22 and 11 points, respectively.
Howard became invisible.
"First half, he dominated," Rashard Lewis said. "He scored a lot of points. Second half, they seemed to suck into the paint a lot more; that's why we were able to get a lot of open 3s."
They got them because that's exactly what the Lakers wanted them to take. (If they didn't see the Jets, they should have at least watched the season premiere of "24" and been wary of the obvious answer when it comes too easily.)
Howard began his postgame session with reporters by using his Charles Barkley voice.
"Stan Van Gundy needs to..." Dwight Barkley said, before he let that thought go and started making jokes about Krispy Kreme donuts.
The real Barkley would have said, "Stan Van Gundy needs to make sure Dwight Howard gets the damn ball."
There was talk in the Magic locker room of finding encouraging signs in the loss, taking positives where they can. The team still needs to find itself. The Magic have more of a Vince Carter identity than a Dwight Howard identity, and if Carter is going to be in and out of the lineup and in and out of games with injuries, as he was with a hurt shoulder Monday night, they won't be consistent. And inconsistency is their greatest enemy right now.
"We showed spots," Van Gundy said. "That's the problem. We're too streaky. We're not solid enough over the course of the game. We did play better than we have in a while. Which is, I guess, in some ways good. When you're where we're supposed to be and you say you've played better than you have in a while and you have a loss, it's not a good feeling."
The Lakers could claim a win despite a 4-for-19 shooting night from Bryant, whose fractured right index finger was hurting again.
"I hit it pretty good, like I did tonight, it feels fractured, you know what I mean?" Bryant said. "When you have that feeling, it starts throbbing, it's tough to shake it loose."
He still took his shots because that's what he does. The Lakers offense will always run through him; it's up to the rest to figure out their spots. Brown and Farmar did Monday, while Lamar Odom snuck around and grabbed 16 rebounds. As a result, it's the Magic who have to ask the questions.
J.A. Adande is an ESPN.com senior writer and the author of "The Best Los Angeles Sports Arguments." Click here to e-mail J.A.
Dimes past: Jan. 3 | 4 | 5 | 6 | 8-9 | 10 | 11 | 12 | 13 | 14 | 15-16 | 17
2. Thunder Match Last Season's Win Total
John Hollinger
ESPN.com

Durant
ATLANTA -- If you're measuring how far the Oklahoma City Thunder have come in a year, consider this: Last season, the Thunder needed all 82 games just to win 23. This year, they did it in half the time.
Unbelievably, the Thunder hit the midpoint of the season having already matched last year's win total at 23-18 in the wake of Monday's thrilling 94-91 win in Atlanta. And while there were many heroes -- Kevin Durant with his de rigeur 29 points, most notably -- for the purposes of brevity, I'll highlight two.
First, and most obviously, there was Jeff Green. With the Thunder clinging to a 91-89 lead and 15 seconds left, Green had the ball near midcourt and was trying to get it to Durant. But with Josh Smith smothering him and Joe Johnson denying Durant, there wasn't any opening for him to get his prolific teammate the rock.
• To read the entire Hollinger blog entry, click here
3. Daily Dime Live Recap
ESPN.com writers and TrueHoop Network bloggers chatted with fans and gave their in-game opinions throughout Monday night's games -- all in Daily Dime Live.
4. Felton Just Misses Triple-Double
Elias Sports Bureau

Felton
Raymond Felton had 17 points, 10 assists and nine rebounds in the Bobcats' 105-103 win over the Kings, one rebound shy of earning the first triple-double in Charlotte franchise history. It is the third time that a Bobcats player has reached double digits in two triple-double categories while also reaching nine in a third.
By Maurice Brooks
ESPN.com
MONDAY'S BEST

Nowitzki

Dirk Nowitzki and Jason Kidd, Mavs: Nowitzki scored a game-high 37, including nine in a row during a key third-quarter run, and Kidd had 13 points and 17 assists as Dallas rolled in Boston.

MONDAY'S WORST

Philadelphia 76ers: It is never a good thing when you can't make a 20-point lead hold up against Minnesota, the team with the second-worst record in the league.

QUOTE OF THE NIGHT

"The aim of signing Marbury is to pay back our fans and try to win more games in the rest of the season."

-- Shanxi boss Wang Xingjiang after signing Stephon Marbury to join the Chinese Basketball Association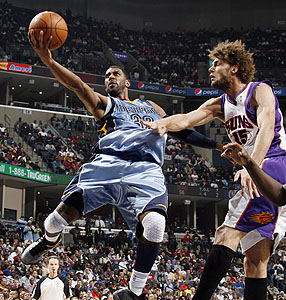 Joe Murphy/NBAE via Getty
O.J. Mayo (28 points), Zach Randolph (27) and Rudy Gay (31) each had big scoring games for the Grizzlies, who extended their franchise-best home win streak to nine with a 125-118 victory.
8.

Minnesota's Great Debate
By Patrick Hodgdon
TrueHoop Network

There is no bigger hot-button issue with Timberwolves' fans these days than the team's current point guard situation. From the back-to-back draft picks last June, to the Ricky Rubio non-buyout, and most recently, with some fans questioning whether Jonny Flynn or Ramon Sessions should be the team's point guard of the future, Wolves fans are all over the board in their opinion of what should have happened in the past and what will happen in the future at point guard.
As for the present, Flynn has a thing or two to say about his role and he let his performance Monday afternoon do the talking.
In his best game as an NBA player, Flynn finished with a career-high 29 points on just 16 shots (9-for-10 from the free-throw line) along with nine assists and only three turnovers in 43 minutes of play.
Flynn highlighted a 13-2 Wolves run in the third quarter, starting with a smooth jumper from 18 feet and a great move on the baseline, keeping his dribble alive while patiently waiting for the right time to cut back to the hoop for a layup. He followed those two scores with two fast-break assists as the Wolves cut the Sixers 17-point halftime lead to four at 65-61 with 4½ minutes left in the third. He capped the period with a silky 3-pointer to tie the game at 73.
After posting just a single bucket and assist in the fourth quarter and almost winning the game with a drive with five seconds left in regulation, Flynn came out focused in overtime. He quickly knocked down a 19-footer and then made a great steal, leading to a pair of free throws that gave the Wolves a four-point lead, which they never surrendered.
As he continues to struggle in his rookie season to adjust to playing in coach Kurt Rambis' triangle offense, performances like this one continue to help fuel the point guard debate between Wolves' fans. Flynn hopes to continue to let his game be the argument for his place as the Wolves' point guard of the future.
Read more from Hodgdon at Howlin' T-Wolf
By Chris Forsberg
ESPNBoston.com

BOSTON -- The 1986 Bears? The Celtics' defense has looked more like that of the 2009 Patriots with the way Boston has wilted in the second half while dropping three straight at home.
The Celtics held a nine-point advantage coming out of halftime Monday night and led by as many as 12 in the third quarter before the wheels came off. Dallas scored 15 of the final 18 points of the quarter, which helped the Mavericks emerge with a 99-90 triumph at TD Garden.
To read the entire Forsberg column, click here