1. Can Evans And Martin Work Well Together?
By John Hollinger
ESPN.com
ATLANTA -- The Hawks beat the Kings 108-97 Wednesday. That's barely news -- the Hawks were big favorites coming in.
What made this game interesting was the continuing evolution of Sacramento's Tyreke Evans-Kevin Martin backcourt. The two had one of their best games as a tandem, combining for 47 points and 10 assists to keep the Kings in the game. The only reason they lost, in fact, was because Atlanta's frontcourt so thoroughly outplayed Sacramento's.
Nonetheless, Sacramento did lose, marking its fourth straight setback since Martin came off the injured list and rejoined the club. The Kings now are 1-8 when Martin plays and 14-18 when he doesn't.
Nobody thinks this is because Martin is terrible. Some wonder whether it's because he and Evans have trouble sharing the same stage. Martin is a shooting guard, and although Evans has seen extended duty at the point, in the eyes of many, he's better as a 2 as well.
Additionally, three other points make the marriage between the two even more interesting: (1) the Kings have been losing money hand over fist, (2) Martin makes $36 million over the next three years, and (3) although Sacramento is improved, the club clearly is rebuilding.
Naturally, this state of affairs has set trade rumor-mongers into overdrive wondering whether the Kings might be willing to jettison Martin, 26, to get more favorable contracts and perhaps a young frontcourt player.
Yet it appears that day, if it's to come, is still a long ways away. For starters, the Kings lack a great incentive to rush into anything before the trade deadline. Martin and Evans have played only nine games as a tandem, and the Kings would like to get a much longer look at the duo before rushing into any landscape-shifting moves. Second, Sacramento is enjoying its first small taste of success after an awful 2008-09 campaign and is hesitant to make any moves that would upset its momentum.
But mostly, the Kings don't seem anxious to do anything because both the players and the organization think the pairing can work.
"Kevin isn't himself yet," Kings coach Paul Westphal said. "He just needs his timing to get a little better and get some of the rust off, and it's going to be a really tough backcourt to deal with."
Both players recognize that they're going to have to make changes in their games to make the partnership flourish.
"I don't have a mind frame to go out there and score 30 anymore," said Martin, who seemed notably more active defensively after basically being a one-man offense last season. "[I'm] just trying to do other things, have more assists and get other teammates involved. While I was out, guys developed, and they're good players. I show my respect by getting them involved, and [I'll] attack when it's there."
Martin at least cleared one hurdle Wednesday that might embolden him to attack the rim a bit more in the future. He landed hard on his left wrist -- the same one that cost him 32 games with a hairline fracture and subsequent surgery -- after Atlanta's Maurice Evans crushed him in midair on a breakaway. He got up without further harm, however, and while he spent the next two trips rubbing the wrist, there appeared to be no long-term ramifications.
"I think I needed that fall," Martin said. "That was a pretty hard fall, and it didn't come loose or anything."
As for Evans, he knows he has to use his penetration to set up Martin on the perimeter, where he can use his funky, left-leaning release to launch his deadly 3-pointers.
"It's going to take a little while," Evans said. "I have to get better at finding him, see where he likes to take shots [and] run a few more plays for him."
If Evans succeeds, he and Martin will form a deadly combination. Evans is the runaway favorite for the rookie of the year award and showed why Wednesday, proving to be basically unguardable off the dribble against a series of Hawks defenders. He sliced and diced his way through the paint so effectively that the Kings scored a whopping 66 points there. It's no coincidence that Atlanta pulled away only when Evans went to the locker room after banging his knee early in the third quarter.
Should Evans combine his nose for the bucket with an augmented ability to find Martin -- who is shooting better than 40 percent on 3-pointers for a third straight season -- the Kings will have the unstoppable inside-outside scoring combo of their dreams.
That depends on Evans adjusting well to the point, something that's an ongoing topic of debate. At 6-foot-6, he might be better suited to playing shooting guard, but Martin is a pure 2 and so the pairing works only if Evans plays the point full time.
"I can play both positions," Evans said, refusing your correspondent's offer to typecast himself as a 1 or a 2. "If you put me in at the 2, I can do the job, [and] if you can put me in at the 1, I can do the job."
Of course, all this is moot if the Kings don't get some more resistance from their beleaguered frontcourt. Westphal didn't seem terribly concerned about how his backcourt was meshing, preferring to focus on the beating the Hawks handed Sacramento in the paint. Jon Brockman got the start at center ahead of the disappointing Spencer Hawes, but the Kings' intensity slackened after Brockman quickly picked up two fouls.
"Their bigs dominated the paint," Westphal said. "In general, we need to get tougher for the whole game. That's what concerns me right now; I'm not concerned about those [two] guys."
Everyone else is focused on the Kings' backcourt duo, particularly vulturous execs of the other 29 teams who wonder whether they might be able to pry Martin free. While the answer today would be a stern no, the response might become considerably less emphatic if the Martin-Evans combo can't produce a few more victories between now and the trade deadline.
John Hollinger writes for ESPN Insider. To e-mail him, click here.
Dimes past: Jan. 3 | 4 | 5 | 6 | 8-9 | 10 | 11 | 12 | 13 | 14 | 15-16 | 17 | 18 | 19
2. Dalembert Returns From Haiti
Henry Abbott
TrueHoop Network

Dalembert
The game between the Sixers and the Blazers started at 7 p.m.
"I'd say he was running in here at about 6:40," says Sixers P.R. man Michael Preston.
Samuel Dalembert, starting center and -- post-earthquake -- Haiti's celebrity spokesperson, advocate and benefactor, was screaming back into town after a harried visit to his distressed home country.
The Sixers lost to the Timberwolves in overtime late Monday night. After the game, Dalembert left the team and made his way to Port-au-Prince with Project Medishare. It was a struggle to get back to Philadelphia in time for tonight's game, but that was nothing compared to the challenges he found in Haiti.
He cries talking about what he found there. For instance children without parents, wandering in desperation.
"I'm doing my best," he says. "I'll take another trip with UNICEF. So we can try to get all those children out there ... you know, we have parents who have been trying to adopt for two or three years."
At this point, tears are streaming down Dalembert's face. "You know and ... that's frustrating me ... you're asking people to help. And kids have parents over there who want to adopt them. I've got a hundred parents, and you have a bunch of guys sitting down with the freaking papers. All it takes is one hour to go over everything, you know what I'm saying?"
To read the entire TrueHoop blog entry, click here.
3. Daily Dime Live Recap
ESPN.com writers and TrueHoop Network bloggers chatted with fans and gave their in-game opinions throughout Wednesday night's games -- all in Daily Dime Live.
4. Another Big Rebounding Night For Camby
Elias Sports Bureau

Camby
Marcus Camby had 25 rebounds, three assists, three steals and two blocked shots in the Clippers' win over the Bulls. The only other active NBA player who has reached each of those statistical thresholds in a regulation (nonovertime) game is Ben Wallace (Dec. 15, 2006).
By Maurice Brooks
ESPN.com
WEDNESDAY'S BEST

Billups

Chauncey Billups, Nuggets: Big scoring performances from a player in a Denver uniform are common, except this time the player wasn't Carmelo Anthony. Billups tied his career high with 37 points, and added eight boards and eight dimes in Denver's OT win against the Warriors.

WEDNESDAY'S WORST

Miami Heat: The Heat never showed up for this one, trailing by 21 after one quarter and 27 at halftime en route to a 39-point loss to the Bobcats. Charlotte shot 82 percent from the floor in the game's first 12 minutes.

QUOTE OF THE NIGHT

"I knew he was going to iso, so I just wanted to stay and play good defense on him, and I did that. ... It fires you up when you make that big play. That's what makes it fun."

-- Mavericks forward Shawn Marion after making a game-saving block on Washington's Caron Butler with 1.9 seconds left to play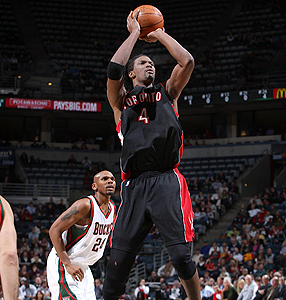 Gary Dineen/NBAE via Getty
Chris Bosh erupted for a career-high 44 points and pulled down 12 rebounds, but it wasn't enough to keep the Raptors from dropping a 113-107 decision to the Bucks.
8.

What Should The Hornets Do?
By Niall Doherty
TrueHoop Network

The Hornets reached the midpoint of their regular season with Wednesday's thrilling win over the visiting Grizzlies. Their record now stands at 22-19, five wins below where they were halfway through last season, and seven wins below their midpoint record from their magical 2007-08 campaign.
There appears to be an obvious and steady decline happening here, but the Hornets can be excused at least a little given the coaching and roster changes they've endured the past six months. The team as currently constructed still has some gelling to do, and they can be expected to make a strong push for the playoffs in the second half of the season.
But making the playoffs and competing in the playoffs are two entirely different things; even the sunniest forecaster would have a hard time seeing the Hornets getting out of the first round. So what is New Orleans to do? Do they stand pat and suffer mediocrity for now, bumbling along until they can unload some crippling contracts (e.g. Morris Peterson and Peja Stojakovic) this summer or next? Or would they be better served blowing up the core (e.g. David West and Emeka Okafor) and hoping they can rebuild fast enough to keep Chris Paul in town beyond 2012?
My best guess is that GM/coach Jeff Bower will opt for the former, since he's known to carefully weigh his options and refrain from doing anything drastic. But in the long run, I think that's the wrong move. The Hornets aren't going anywhere with West as Paul's primary sidekick. Sad but true. D-West's All-Star days are behind him, and the Hornets would be wise to move him before everyone else realizes it. Swap him out for some young, athletic talent, go after a legit second banana when Peja comes off the books, and Paul will be more likely to call New Orleans home beyond 2012.
Read more from Doherty at Hornets247.com.
By Kevin Arnovitz
ESPN.com

Noah
Remember that four-year, $60 million contract Chicago gave Big Ben in 2006?
Not a complete bust as it turns out.
"I was really lucky to learn from someone like Ben Wallace, who I played behind my rookie year," Bulls center Joakim Noah said when asked how he'd staked his claim as one of the best rebounders in the league. "Just paying attention to the things that he did taught me a lot."
Noah is the NBA's second-leading rebounder this season, averaging 12.3 boards per game. Although he's started every game for Chicago this season, you can't chalk up Noah's improvement on the glass entirely to increased minutes. His totals are up across every metric, whether it's rebounds per 48 minutes (17.7 this season versus 15 last season) or rebounding rate (20.3 this season versus 17.9 last season).
"[Wallace] had to be extra crafty because he was undersized," Noah said. "[Rebounding] is just instinct -- being at the right place at the right time -- but it's also about understanding the angles."
Noah is now the veteran big man in the Bulls' starting frontcourt alongside rookie Taj Gibson. Just as Noah learned the craft of corralling rebounds from the veteran Wallace, Gibson studies Noah ... when he isn't getting out of his way.
"At times I go for the same rebound, and he's, 'I got it! I got it! I got it! I got it!'" Gibson said. "He tells me different things to get on before every game -- rebound the ball, bring intensity, put a body on 'em, quick! He gives me little tips every night."
With Noah and Gibson holding down the paint, Chicago ranks fifth in the league in rebounding rate and is now the NBA's eighth most efficient defense. More than anything, the Bulls are an inordinately more energetic unit than they were six weeks ago -- a quality that has Noah's signature all over it.
"His motor just keeps going," Gibson said. "He's one of those guys who constantly brings it -- in practice, in the game -- no matter what."