1. Turkoglu Finally Plays The Hero With Raptors
By Dave McMenamin
ESPN Los Angeles
TORONTO -- The game-winning shot Kobe Bryant missed in the Raptors' 106-105 victory over the Lakers on Sunday looked pretty familiar to Hedo Turkoglu.
The last game winner Turkoglu hit, nearly nine months ago in Game 4 of the first round of the playoffs against Philadelphia, was from essentially the same spot on the court.
That 3-pointer in the face of the Sixers' Thaddeus Young with 0.9 seconds left to break an 81-81 tie was the biggest shot of Turkoglu's five-year run with the Magic. If he had missed it, Philly would have had a chance to win in overtime, take a 3-1 series lead and become the favorite to win the series in upset fashion.
Instead, he made it, Orlando made an improbable run to the Finals and Turkoglu, a part-time starter at the beginning of his career in Sacramento and San Antonio and a third option for most of his time with the Magic, found himself hitting the summer as one of the hottest names on the free-agent market.
The 6-foot-10 forward with the handle and shooting stroke of a guard was courted aggressively by Portland before settling on a five-year, $53 million deal with Toronto.
That's where his happy story ended. Turkoglu's career took a quick turn from exhilaration to frustration.
The Raptors started the season just 7-13, and Turkoglu took a lot of the blame. He complained to the media as recently as two weeks ago that he had yet to find his rhythm in Toronto's system, telling the Toronto Sun, "It's hard for me to tell you right now that I can run down the side and just expect to be a spot-up guy after the past three years being the point guard and leading the team and making those decisions."
Even with the Raptors clawing their way back toward .500, Turkoglu heard resounding boos from fans at the Air Canada Centre for his scoring average dipping from 16.8 last season to 12.6 this season and his rebounds, assists, steals and shooting percentage all following the same downward spiral.
But he might have finally found some of that old magic Sunday.
Before Bryant's final shot rimmed out, the ball was put in Turkoglu's hands at the top of the key with 11.4 seconds left and Toronto trailing by one. The play developed similarly to the one in the Sixers game back in April, but this time, instead of staying on the perimeter, Turkoglu put the ball on the floor and dribbled to the paint on Pau Gasol when the Lakers switched after Chris Bosh screened Ron Artest.
Turkoglu got the foul call (Gasol's take: "It was a questionable call. ... I don't think I pushed him, at all. ... My arm was on his back, but I never pushed him.") and sunk two free throws with 1.2 seconds left to put the Raptors ahead for good.
The Raptors' fans almost didn't know how to react, waiting with bated breath for him to miss, only to explode into delayed cheers when they realized he had done what they had been waiting for while they welcomed him with a half-season of disappointed jeers.
"[Raptors coach] Jay [Triano] had the confidence to give me the ball, and I was able to do something to help the team win, so I am happy about that," Turkoglu said. "Hopefully this will help me get over the hump and play much better."
Turkoglu's overall output wasn't staggering -- he had just nine points on 1-for-6 shooting, two rebounds and five assists -- but what matters is that he was the finisher. He was Hedo the hero.
"He has struggled, but it's just him getting used to it, and we have to keep giving him the basketball," Triano said. "That is who we wanted to have the basketball."
Maybe from now on, Toronto fans will want that, too.
Dave McMenamin writes about the Lakers for ESPNLosAngeles.com.
Dimes past: Jan. 4 | 5 | 6 | 8-9 | 10 | 11 | 12 | 13 | 14 | 15-16 | 17 | 18 | 19 | 20 | 22-23
2. Even Injured, Kobe Makes Lakers Better
Dave McMenamin
ESPN Los Angeles

Bryant
TORONTO -- His turnaround toss from 37 feet away that left his heavily bandaged right index finger as time expired rimmed out, denying him his fourth buzzer-beating game winner of the season, but there's no denying anymore that he makes the Lakers better when he's on the court, nine fingers and all.
Bryant shot south of 50 percent (11-of-24) for the eighth time in his past 10 games, but would the Lakers even have had a chance in their 106-105 loss to the Raptors if not for Bryant's 27 points, career-high 16 rebounds, game-high nine assists and a steal and a block mixed in?
When Bryant made his annual trek to the Mecca of hoops, Madison Square Garden, on Friday, the national media assembled implored whether he planned on shutting it down to let the finger heal considering his recent shooting struggles (he came into Sunday shooting just 24-for-74 -- 32.4 percent -- in his last three games) and he scoffed at the notion.
"I've thought about it [for about two, three seconds]," Bryant said. "It's broken. I have a break in two places. It's not going to go anywhere if I sit out. I can still play and let it heal on its own. If I hit it, it's not going to break anymore. It's just going to be sore. The healing is still the same if I sit out."
To read the entire McMenamin column, click here.
3. Daily Dime Live Recap
ESPN.com writers and TrueHoop Network bloggers chatted with fans and gave their in-game opinions throughout Sunday's games -- all in Daily Dime Live.
4. Kaman Powers Clippers Past Wizards
Elias Sports Bureau

Kaman
Chris Kaman scored 20 points in the Clippers' 92-78 victory at Washington. Kaman, who scored 23 points against the Wizards last month, became only the fifth center to post two 20-point games in the same season in head-to-head starts against Brendan Haywood. The others are Shaquille O'Neal (2004-05 and 2005-06), Dwight Howard (2006-07), Andrew Bogut (2007-08) and Amare Stoudemire (2007-08).
5. Breaking Down The Clippers' Defense
Kevin Arnovitz
ESPN.com

Thornton
LOS ANGELES -- The reserve unit is particularly stingy during its second and fourth quarter stints. The backups pressure Caron Butler with double-teams early in the second, denying Washington a chance to establish any offensive rhythm. In the fourth quarter, with the Clippers hanging on to a three-point lead, there's a different defensive dynamic on the floor, but the unit led by Mardy Collins produces the same result: It's an incredible flurry of activity. Collins, Rasual Butler and Al Thornton each records a block shot within a 90-second stretch upon checking in.
Thirty seconds later, Chris Kaman cuts off a Caron Butler baseline drive and swats away yet another Washington attempt. Though the Wizards waste multiple possessions early in the game taking ill-advised early jumpers, they're unable to get anything resembling a clean look when the Clippers make their stand late.
To read the entire blog entry, click here.
By Maurice Brooks
ESPN.com
SUNDAY'S BEST

Gooden

Drew Gooden, Mavs: With Jason Kidd and Erick Dampier out of the lineup, he had arguably his best game of the season, scoring 15 points and grabbing 18 rebounds as Dallas roughed up New York.

SUNDAY'S WORST

New York Knicks: New York kept it close for one quarter, trailing Dallas by only two. Then the wheels fell off in a 50-point loss, the Knicks' worst home defeat in franchise history.

QUOTE OF THE NIGHT

"Our starters haven't given us a consistent effort to start games, and our bench, they talk about playing and wanting to play -- they've had opportunities. They continue to not produce."

-- Wizards coach Flip Saunders after Washington dropped a 14-point home decision to the Clippers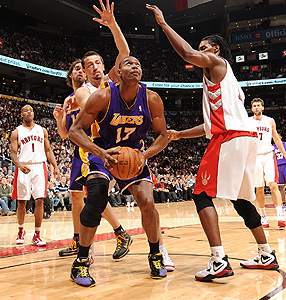 Andrew D. Bernstein/NBAE via Getty
Lakers center Andrew Bynum missed the team's charter flight from New York to Toronto on Saturday morning. After tallying 21 points, nine rebounds and two blocks, maybe he should pay out of pocket for commercial flights more often.
9.

LeBron Or Bosh To The Mavs?
By Chris Sheridan
ESPN.com

James
NEW YORK -- Erick Dampier was in street clothes, Josh Howard again looked like a shell of his former self, Jason Kidd wasn't within 1,000 miles of Madison Square Garden -- and still the Mavericks won by 50.
Forget for a moment about Kidd, who was excused for personal reasons, and consider what the Mavs did without Dampier and Howard in a 128-78 slaughtering of the Knicks.
Then, consider the fact that Dampier is under contract for $13.1 million next season and Howard for $11.8 million. That surely will eat up too much of Dallas' cap space for the Mavs to be a major player in free agency this summer, won't it? Not necessarily, because the Mavs hold team options on the final seasons of the contracts of Dampier, Howard and J.J. Barea, while Drew Gooden, Tim Thomas and James Singleton are on expiring deals, and all six could either come off Dallas' cap or be used in sign-and-trade deals.
(Dallas cannot get far enough under the cap to make a max offer to a major free agent. Aside from the $47 million committed to Dirk Nowitzki, Jason Terry, Kidd and Shawn Marion, Quinton Ross has a $1.1 million player option for next season, and Matt Carroll has a cap-clogging $4.3 million salary for 2010-11, then two more seasons after that at $3.9 million and $3.5 million.)
So the Mavs will be ready to play ball with any team that stands to lose a max-level free agent (look no further than Toronto, where Texas-raised Chris Bosh resides tenuously), and Howard, Gooden, Barea and Singleton all are nice pieces.
And given the profound difference, demonstrated Sunday, between what the Mavericks and the Knicks have on their respective rosters, this MSG matinee mauling illustrated the relative positions of strength and weakness with which each team will enter the summer. Much of the focus around the NBA through the first half of the season has been on the cap space the Knicks, Heat and Nets have accumulated for the summer of 2010 for the likes of LeBron James, Dwyane Wade, Bosh and others, and the space Chicago is expected to create for this summer's free-agent bonanza. Nobody speaks about the Mavs much, but they will have the resources to go after Bosh, Amare Stoudemire, Rudy Gay, David Lee or others if they hang on to Dampier and Howard through the trade deadline and then decline to pick up both players' 2010-11 options.
So the Mavs could be a major sign-and-trade player in 2010 free agency -- if they stand relatively pat at the trading deadline. They're wrestling with the options, having already registered interest in Sacramento's Kevin Martin; and they are believed to be tracking the availability of Washington's Caron Butler and Philadelphia's Andre Iguodala. The problem with any trade-deadline move is that the Mavs would have to use Josh Howard for any of those guys and thus would take themselves out of the Bosh/LeBron/et al. sweepstakes.
"I speak to LeBron probably 10 times a day, and that's not something we talk about," Mavs owner Mark Cuban joked prior to Sunday's game, the largest margin of victory in Dallas' franchise history and the Knicks' most lopsided home loss ever.
"You know, every team wants to get better, and you look at the best guys in the league and you say, 'What gives me an opportunity to add them to my team?' Some people want cap room, some people think sign-and-trade. So it just depends. We'll see; you just never know. You never know," Cuban said.
The victory capped a 3-2 Eastern Conference road trip for the Mavericks, who moved 14 games over .500 and pulled within a half-game of Denver for second place in the West. The Knicks, meanwhile, dropped nine games below .500 as another crowd comprised largely of international tourists (lots of New Yorkers were gearing up for kickoff of the Jets' playoff game against Indianapolis) passively looked on.
If LeBron or Bosh had been in attendance, he would have seen the dark side of what the world's most famous arena can become when the home team drops a stink bomb.
"With any top tier player -- when there's multiple choices at [max] money, it really comes down to where he thinks he has the best chance to win, and that's just up to each individual organization to try to convince them of that," Cuban said.
"New York is a great selling point, Miami's got great selling points, Dallas, Chicago, L.A., Memphis -- they all have their own selling points," Cuban said. "Maybe Memphis, maybe he's a huge Elvis fan and he wants to be close. You just never know."
The "you just never know" part is what is causing a lot of sleepless nights for Cleveland fans, and the thought of Cuban getting into the mix for their local hero isn't exactly going to act as a sedative.
Same goes for the folks in Toronto who are anxious about Bosh's future.
"We always try to position ourselves to be opportunistic, and we think we've got some scenarios that we can be that way," Cuban said. "So we'll see."
Chris Sheridan covers the NBA for ESPN Insider.