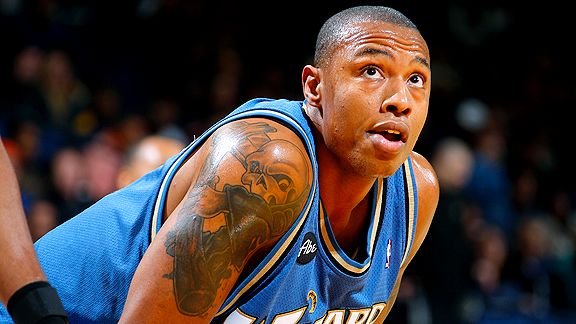 Rocky Widner/NBAE via Getty Images Caron Butler could be the first major departure from Washington to a contender.
1. When The Dealing Begins
The NBA's Feb. 18 trade deadline is less than two weeks away.
Not sufficiently close enough to prompt teams to make their best offers ... but obviously close enough to merit another round of the latest chatter from the NBA grapevine as passed along by various league executives, coaches, players, scouts, insiders, etc.
---
Kevin Martin, Andre Iguodala and Caron Butler continue to be the three swingmen most frequently linked with Mark Cuban's trade-seeking Mavericks, who have been stonewalled in their attempts to pry Martin away from Sacramento and thus have not ruled out a move for Butler.
Sources say that Washington and Dallas have maintained a Butler dialogue while the Wizards also continue talks with Houston in a larger deal for Tracy McGrady.
As stated previously in this cyberspace, Martin tops the Mavs' list in their search for a dependable second scorer to flank Dirk Nowitzki. Sources say, however, that Dallas would likely have to recruit a third team to present the quality big man presumably needed to prompt the Kings to alter their thinking.
The Wiz and Mavs, meanwhile, have discussed a deal that would swap Josh Howard and one other player (such as James Singleton or Quinton Ross) for Butler and DeShawn Stevenson. But Dallas has little interest in taking back Stevenson and is still weighing whether Butler can help pull the All-Star Weekend hosts out of a spiral that has been openly addressed this week (see Box 4) by Mark Cuban.
"We're just in a funk right now," Cuban said Wednesday night, publicly acknowledging his desire to make a move just a week before much of the league descends upon Big D.
As for a Wizards-Rockets deal, one source with knowledge of the talks says the obstacles preventing the teams from closing in on a McGrady deal haven't changed much. The Wizards are believed to be willing to surrender coveted center Brendan Haywood along with Butler but want a player from Houston's scrappy core -- such as Luis Scola, Carl Landry or Shane Battier -- that the Rockets aren't willing to surrender in addition to McGrady's $22.5 million expiring contract.
As my ESPN.com colleague Chad Ford wrote Thursday, Washington's preference is moving Butler ahead of team statesman Antawn Jamison, who has been chased hard by Cleveland since last season and with particular vigor since the Cavs lost out to Charlotte in the trade race to acquire Stephen Jackson.
---
The revelation of the week is that Phoenix, forever conscious of the luxury-tax line, is apparently willing to take on both Andre Iguodala (who has four seasons left on his contract after this season worth $56 million) and Samuel Dalembert (scheduled to earn $12 million next season) from Philadelphia in a deal for Amare Stoudemire.
Yet it's believed that the Suns would want the Sixers to take back Jason Richardson in such a swap, which would also require Philly to send another player (such as Jason Kapono or Willie Green) to the desert.
Stoudemire's loud suggestions this week that he might not opt out of his contract at season's end, as Chad likewise noted, were likely designed to give the Sixers further hesitation. The prospect of having to pay Stoudemire and Richardson next season -- as opposed to Stoudemire relieving them of any financial commitment beyond this season in his case by opting out -- would bring Philly no financial relief, which is one of its main trade aims.
---
The Sixers, just to be clear, do still hope to snag some affordable talent in addition to payroll relief if they part with Iguodala, who might be overpriced but still qualifies as an unquestionable all-around impact player who's just 26.
That should explain why one plugged-in source warned this week that it won't be a surprise if Philly does not make a deadline deal.
Iguodala has been made available after Philly got nowhere with its long-standing attempts to move Dalembert and Elton Brand.
---
The Blazers have insisted for weeks that guard Andre Miller, no matter how many rival teams describe him as available and despite Portland's obvious need for big men after losing Greg Oden and Joel Przybilla to season-ending knee injuries, will not be traded.
Yet it had to be asked last Saturday after Miller's eruption in Dallas: Does a 52-point game make Miller even less available ... or more desirable?
"I don't know," Miller said. "It's one night. It's still a business. Whatever happens, happens."
It has been widely suspected from the moment Portland signed Miller in the offseason, after failed free-agent bids for Hedo Turkoglu and Paul Millsap, that the Blazers snagged the 33-year-old purely to make sure they acquired a tradable asset without letting last summer's salary-cap space go to waste.
The ongoing skepticism about Miller's co-existing with Brandon Roy, since both need to see so much of the ball to be effective, has been temporarily hushed while Roy is sidelined by a hamstring injury. Yet Miller admits that he does "glance on the Internet" on occasion to read the latest chatter, expecting to hear his name tossed around until the deadline passes because he's a vet who knows how the league works.
"I hear more [trade speculation] from friends, but if I'm on the computer, why not?" Miller said. "You can try, but you can't shut it out [totally]. I take it in stride."
---
I read a tweet earlier this week from a certain Boston fan at our place urging his Celts to scrap any notion of dealing away Ray Allen unless they're getting Sacramento's Martin, Philadelphia's Iguodala, Golden State's Monta Ellis or Chicago's Luol Deng in return.
Amid growing skepticism that the Celts can actually move Allen and his $19.7 million contract before the deadline -- even though there's little dispute that they've explored the possibility -- let's go ahead anyway and add these thoughts to the latter two targets since we've already discussed Martin and Iguodala.
Ellis: As with Miller in Portland, rival teams refuse to believe that Ellis can't be pried away from the Warriors, since he's ringing up all those points in a too-small backcourt with prized rookie Stephen Curry.
The Warriors, though, are adamant that there was never a shred of validity to the recent report out of Boston suggesting that a deal featuring Allen and Ellis was a legit possibility.
The safest assumption at this point? As mentioned earlier this season when the prospect of Golden State's trading young Anthony Randolph was raised, teams would almost certainly have to be willing to absorb the contract of Corey Maggette (with nearly $31 million left on that deal over the next three seasons) to get an Ellis conversation started.
Deng: Sources with knowledge of the Bulls' thinking say he's not available, even though Chicago is determined to shed at least one more long-term contract to increase its salary-cap space for a summertime run at Dwyane Wade or Chris Bosh.
Word is that the Bulls' preference remains trying to move guards Kirk Hinrich and John Salmons, hoping that they can keep the versatile Deng to complement a marquee free-agent addition and the increasingly free-scoring Derrick Rose.
Harder to read are the Lakers' true intentions. They're frequently mentioned as a prime suitor for Hinrich, but there are also regular rumblings that L.A.'s primary goal at the deadline is reducing payroll by persisting with recent attempts to move Sasha Vujacic or Luke Walton. Hinrich has two seasons and $17 million left on his contract after this season.
Dimes past: Jan. 19 | 20 | 22-23 | 24 | 25 | 26 | 27 | 28 | 29-30 | 31 | Feb. 1 | 2 | 3 | 4
2. Eastern Conference

Some numbers of note in the East this week:
1: Detroit's Ben Wallace isn't just the first player shorter than 6-foot-10 to record 2,000 career blocks. Big Ben is also the first undrafted player in league history to reach that milestone since the NBA began tracking blocked shots in 1973-74. Only six players have ever recorded 2,000 blocks and 1,000 steals: Kareem Abdul-Jabbar, Patrick Ewing, Hakeem Olajuwon, Robert Parish, David Robinson and Wallace.
15: Toronto has set a franchise record with 15 consecutive games with at least 100 points. Phoenix had the season's longest such streak with 100 points in its first 17 games.
6: Dwyane Wade will soon be making his sixth All-Star appearance, besting Alonzo Mourning's previous Heat franchise record of five.
1: Derrick Rose will become the youngest All-Star in Bulls history on Feb. 14 at 21 years and 133 days old. Michael Jordan was 21 years and 359 days old in his All-Star debut as a rookie in 1985.
4: Cleveland's LeBron James (14,458), Toronto's Chris Bosh (9,806), Charlotte's Gerald Wallace (6,654) and Wade (11,247) give the East four active players who -- along with Dallas' Dirk Nowitzki (20,288) and the Lakers' Kobe Bryant (25,213) in the West -- rank as the all-time leading scorer in franchise history. Two active players rank as the franchise scoring leader for teams they previously played for: Boston's Kevin Garnett (19,041 points for Minnesota) and the Lakers' Pau Gasol (8,966 points for Memphis).
3. Coaches Corner

Dunleavy
This has been a good season for NBA coaches.
Or at least a safe season.
Six coaches were fired last season before Christmas, doubling the NBA's previous record.
Mike Dunleavy's sudden departure Thursday from the bench in L.A. makes the Clippers just the third team this season to make an in-season change.
It hasn't been as quiet as 2007-08, when Chicago's ouster of Scott Skiles on Christmas Eve was the only in-season switch. But it's been positively stable compared to 2008-09, when eight teams changed coaches to come within one firing of tying the single-season record of nine established in 2004-05.
A comparison:
2009-10 In-Season Changes
| Date* | Team | New Coach | Old Coach |
| --- | --- | --- | --- |
| 11/13/2009 | Hornets | Jeff Bower | Byron Scott |
| 12/04/2009 | Nets | Kiki Vandeweghe** | Lawrence Frank |
| 02/06/10 | Clippers | Kim Hughes | Mike Dunleavy |
2008-09 In-Season Changes
| Date* | Team | New Coach | Old Coach |
| --- | --- | --- | --- |
| 11/22/2008 | Thunder | Scott Brooks | P.J Carlesimo |
| 11/25/2008 | Wizards | Ed Tapscott | Eddie Jordan |
| 12/05/2008 | Raptors | Jay Triano | Sam Mitchell |
| 12/09/2008 | Wolves | Kevin McHale | Randy Wittman |
| 12/13/2008 | Sixers | Tony DiLeo | Maurice Cheeks |
| 12/15/2008 | Kings | Kenny Natt | Reggie Theus |
| 01/23/2009 | Grizzlies | Johnny Davis | Marc Iavaroni |
| 01/27/2009 | Grizzlies | Lionel Hollins | Johnny Davis |
| 02/17/2009 | Suns | Alvin Gentry | Terry Porter |
*Date listed is the first game for the new coach
**Tom Barrise coached two games after the Nets fired Frank
P.S.: You can safely assume we'll be coming back to this topic in the offseason … if not sooner. Amid rising rumblings in coaching circles that first-year Sixers coach Eddie Jordan is already in trouble, and with a few coaches in the final year of their contracts (Denver's George Karl and Atlanta's Mike Woodson, just to name two) in addition to Bower, Vandeweghe and Hughes, there could be plenty of activity on the coaching carousel before we even get to the Summer of 2010 free-agent bonanza.
4. One-On-One … To Five

Bogut
Five questions with Bucks center Andrew Bogut:
Q: You look so comfortable and patient out there now. Is that the biggest difference between this season and your first few seasons?
A: I'm probably just more confident. More consistent. I've shown glimpses in the last couple years, but this year they told me in preseason that they want me to be the focal point of the offense. I've taken that challenge. There's still been some games where I've had bad nights, but consistency is the thing I'm working on the most.
Q: I don't get to see you a lot in person but you just strike me now as someone who knows exactly what you want to do when you get the ball. Is that just experience?
A: The toughest thing in the NBA is that there's 29 different coaching staffs and defenses and you have to learn [the league]. The biggest adjustment for me was learning that this team is probably going to double me, this team is probably going to play behind me in the post, this team is going to front me. But I'm much more confident. I'm almost a veteran now.
Q: When you're the former No. 1 overall pick in the draft, do you still have to live up to that every day?
A: I know when I have great games now that some people will say: "He's supposed to do that. He's a No. 1 pick." But it doesn't really bother me any more. I tried to run away from it maybe for the first couple years. I just want to be in the playoffs now. That's all I'm really worried about.
Q: I've gotten so many e-mails asking why there wasn't more All-Star buzz for you. Was that a big disappointment?
A: I'm not really worried about trying to be an All-Star. Like I said, I just want to be in the playoffs again. These last three seasons we've had have really sucked, and the offseason training we had sucked because we had a bad year and didn't make the playoffs. … I'm not going to lie. I'd definitely like to be an All-Star once or twice. I'd definitely like to experience that. I think I'm definitely up there after Dwight Howard as one of the best centers in the East. I know I'll get there one day, but if you tell me playoffs or All-Star, I'd definitely take playoffs.
Q: You can probably identify with the pressure on Brandon [Jennings] better than anyone else in this locker room. How's he dealing with it?
A: He's gone back to that 55-point game and I think he's right: It kind of helped him and kind of hurt him. You score 55 and you're on the national radar. So much is expected of you every single night. But he's handling it OK. He's a young kid. He's 19 years old. He still can't even have a legal drink. He's had some good days and bad days, but I like his work ethic. I like that he's not afraid to talk and get into teammates already as a young player. I definitely think Brandon and myself are two guys you can build around.

The numbers say that five of the worst six coaching seasons on Mike Dunleavy's résumé have occurred when he was serving in the dual roles of coach and general manager.
But the fan frustration that contributed to Dunleavy's sudden departure from the bench Thursday can't change the fact that he and front-office aide Neil Olshey are in the midst of one of the league's stronger recent runs in the personnel game.
Dunleavy and Olshey have assembled a core that features young cornerstones Blake Griffin and Eric Gordon, vets Chris Kaman and Baron Davis, frontcourt project DeAndre Jordan … and significant salary-cap space this summer if they don't bring back Marcus Camby.
In an interview Thursday with ESPN Radio's L.A. tandem of John Ireland and Steve Mason, Dunleavy also suggested that the Clippers will be looking to make a trade for a top player before the Feb. 18 trading deadline as opposed to waiting for free agency.
"I think if you're given that opportunity, a bird in the hand is the way to go," Dunleavy told Mason and Ireland. "That would be my recommendation, because you just never know. There's too many variables in an offseason. … I'm a firm believer that, given the opportunity to make a good deal that is going to make your team significantly better, do it now. Do it when you can."
The Clips know first-hand how fast things can change in free agency. They won't soon forget the summer of 2008, when Davis signed on to play for his hometown team thinking he'd be teaming up with Elton Brand, only for Brand to sign with Philadelphia.
And Dunleavy's words will only encourage the various Western Conference playoff teams, such as San Antonio and Portland, that have tried without success since last season to convince the Clippers to part with Camby in trade talks.
Said Dunleavy of being restricted to front-office duties after starting the season as the NBA's third longest-tenured coach behind Utah's Jerry Sloan and San Antonio's Gregg Popovich: "The franchise has never been in a better position as far as [having] a nucleus of young talent [along with] expiring contracts coming up this summer. … I feel really good. I feel good because I know the state of the franchise. The state of the franchise is terrific."
---
Some numbers of note in the West this week:
46: Monta Ellis' 46 points Wednesday night in Golden State's 110-101 defeat in Dallas represent the highest scoring output in a loss this season. Four other players -- Kobe Bryant (Feb. 1), Chris Bosh (Jan. 20), Dwyane Wade (Jan. 6) and David West (Dec. 29) -- have scored 44 points in defeat.
16: Houston's 119-107 victory Tuesday night over Golden State halted a run of 16 consecutive games for the Rockets decided by fewer than 10 points. That was the longest streak of its kind in a whopping 27 years, dating to 1982-83 when Indiana played in 20 consecutive games decided by 10 points or fewer.
2: Oklahoma City's Kevin Durant led the NBA in scoring for the month of January at 32.1 points per game. Durant is only the second player in franchise history to lead the league in scoring for a calendar month, joining Ray Allen (30.4 points for Seattle in January 2007).
5: San Antonio lost five home games in January. It was the first time that the Spurs dropped as many as five home games in one calendar month since posting a 3-5 record at the Alamodome in January 2002.
6: Kobe Bryant is up to sixth all-time for the most points scored for one franchise: 25,213. The five players ahead of him: Karl Malone (Utah) 36,374, Michael Jordan (Chicago) 32,557, Hakeem Olajuwon (Houston) 26,511, John Havlicek (Boston) 26,395 and Reggie Miller (Indiana) 25,279.

Bryant
One theory in circulation: Kobe Bryant is determined to play in all 82 games, no matter how badly he's banged up, to send a message to Lakers management that the delay in finalizing his long-anticipated contract extension is an insult given how durable Bryant is even at age 31.
One indisputable fact about that durability: Kobe hasn't been afraid to rack up the miles by playing virtually non-stop since the summer of 2007.
Just check the odometer below.
Despite suffering two fairly serious finger injuries on his shooting hand in that time and a freshly twisted left ankle Wednesday against Charlotte -- in addition to various elbow, back and groin issues -- Bryant hasn't missed a game for health reasons since a sprained right ankle held him out of a game against Atlanta on Dec. 6, 2006.
Our longer look at his sturdiness from last month can be found here.
And here's the odometer we promised, starting with Bryant's Team USA duty in the '07 not-so-offseason:
2007 Olympic Qualifying: 10 games
2007-08 Regular Season: 82 games
2007-08 Postseason: 21 games
2008 Pre-Olympic Tour: 5 games
2008 Olympics: 8 games
2008-09 Regular Season: 82 games
2008-09 Postseason: 23 games
2009-10 Regular Season: 50 games
TOTAL: 281 games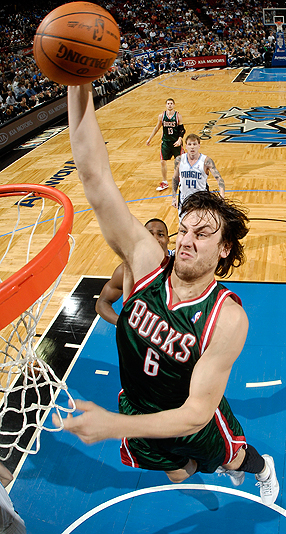 (Fernando Medina/NBAE via Getty Images)
In his fifth season, Bucks center Andrew Bogut has lifted his averages to 15.9 ppg, 10.3 rpg and 2.2 bpg. (See Box 4.)

Cuban
"No. It's not."
Mavericks owner Mark Cuban, when asked by a local reporter if the word "suck" is a little harsh to describe Dallas' recent play.
The question was a follow-up to Cuban's claim Wednesday night, in the wake of the Mavs' first three-game losing streak this season, that they "suck right now."
"I'm not happy that we suck right now," Cuban continued.
The Mavs' loquacious boss is known as a vociferous public defender of his players. His famed outspokenness is almost never aimed at his team; Cuban's repeated statements of support this season for on-the-block swingman Josh Howard are merely the latest example.
But he's also generally good for at least one media rant per season about the Mavs' effort, focus, etc. In this case, though, Cuban's rebuke wasn't really an attempt to motivate the Mavs out of a funk, like last season when he publicly threatened wholesale roster changes after the Mavs lost in Oklahoma City with Kevin Durant and Jeff Green out injured. Cuban made the comments during his usual pregame routine on the StairMaster about an hour before Dallas' 110-101 victory over depleted Golden State, meaning that his players weren't even aware of them until after the game.
The comments instead merely confirmed the front-office frustration that -- as league insiders have been saying since the calendar flipped to 2010 -- has Cuban and his management team searching as hard for trade upgrades as any team in the league.

Nash
Steve Nash is doing just fine without me making a big deal about his 36th birthday.
And I can't get him the things that would be really useful anyway.
Can't tweak the numbers to nudge his scoring average from 18.3 points per game back into the 19s to keep Nash on course to become the first player in NBA history to record a career-best average at the age of 35 or older.
Can't convince Tim Duncan to surrender his starting spot in the West to Dirk Nowitzki so Nash and his good buddy could be reunited in the most fitting way when Dallas hosts its first All-Star Game since 1986.
Can't help Nash with the holes in the Suns' roster, either.
But I'm still me. So I have to do something to commemorate Nash turning 36 on Sunday … and this is it.
ESPN.com is proud to unveil its official NBA All-35-And-Over Team, with Nash starting at guard alongside Jason Kidd in an alignment that would allow him to play off the ball and get plenty of shots up:
G: Steve Nash (Phoenix) 36
G: Jason Kidd (Dallas) 36
F: Grant Hill (Phoenix) 37
F: Marcus Camby (Los Angeles Clippers) 35
C: Shaquille O'Neal (Cleveland) 37
Sixth man: Ben Wallace (Detroit) 35
The other 12 active players 35 or older: Chucky Atkins (Detroit) 35: Michael Finley (San Antonio) 36; Derek Fisher (Los Angeles Lakers) 35; Juwan Howard (Portland) 37; Lindsey Hunter (Chicago) 39; Anthony Johnson (Orlando) 35; Antonio McDyess (San Antonio) 35: Kevin Ollie (Oklahoma City) 37; Theo Ratliff (San Antonio) 36; Jerry Stackhouse (Milwaukee) 35; Kurt Thomas (Milwaukee) 37; Rasheed Wallace (Boston) 35.