By Maurice Brooks
ESPN.com
WEDNESDAY'S BEST

Curry

Stephen Curry and C.J. Watson, Warriors: Curry is known for his long-distance shooting, but it was his 15 assists that stood out in Golden State's 130-98 win against Sacramento. Curry also scored 24. Watson erupted for 40 points (16-for-23 shooting) and had seven rebounds and six assists.

WEDNESDAY'S WORST

West

David West, Hornets: The former All-Star struggled against the Jazz, making just two of nine attempts from the floor on the way to a five-point, five-rebound effort in the Hornets' 98-90 loss.

QUOTE OF THE NIGHT

"It's like 'Extreme Makeover Team Edition.'"

-- Washington's Mike Miller after the Wizards traded Caron Butler, Brendan Haywood, DeShawn Stevenson and Antawn Jamison in the past week.
6.

Block Party In Orlando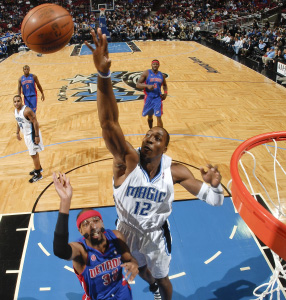 (Fernando Medina/NBAE via Getty)
Dwight Howard reminded the Pistons why he is the league's top big man, dominating the visitors to the tune of 33 points, 17 rebounds and seven blocked shots in Orlando's 116-91 win.
The Spurs escaped Indiana with a 90-87 win in which Tim Duncan pulled down 26 rebounds, but made only four of 23 field goal attempts. Duncan was the first NBA player to collect 25 or more rebounds while missing at least 19 shots from the floor in a non-overtime game since Boston's Dave Cowens did that on March 20, 1973. Duncan's 19 missed field goal attempts matched his career high for a regulation game (9-for-28 on Feb. 20, 2004, at Cleveland). He missed 23 shots in an overtime loss at Toronto on Feb. 7, 2002.
• Andray Blatche scored a career-high 33 points and grabbed 13 rebounds as the Wizards defeated the Timberwolves in the wake of Antawn Jamison's departure from Washington. Blatche has per-game averages of 16 points and eight rebounds in 10 games without Jamison this season, compared to 7.6 points and 4.5 rebounds in the 40 games that both he and Jamison played.
By Rob Mahoney
TrueHoop Network

Butler
While the allure to make a move at the trade deadline can be irresistible to some teams, there is one pretty substantial deterrent: The deadline is so late in the season that new acquisitions have to integrate on the fly, learning schemes and getting to know their new teammates while trying to keep to their usual routine.
But there's a fairly simple way to expedite the introductory process: Play against one of the worst defenses in the league.
After a loss to the athletic, dynamic Oklahoma City Thunder on Tuesday night, the Dallas Mavericks tipped off Wednesday against the Phoenix Suns, the proud owners of the league's second-worst defense in terms of efficiency. The Suns push the pace for a reason: Their roster is so obviously geared toward racking up points that Phoenix is best served by launching an all-out attack. It's not that the Suns don't try on defense; they're just not very good.
The Mavericks were all too aware of the Suns' defensive troubles, and looked to push the ball themselves to take advantage of poor transition coverage. The result was a 56-point first half in which the newly christened Mavs, Caron Butler and Brendan Haywood, played pivotal roles. Both Butler and Haywood have a long way to go before they're fully functioning members in the Mavs' system, but that didn't make them anything less than vital in what ended up a 10-point victory over the Suns: Butler scored 15 and milked his midrange game, and Haywood pulled in a near double-double with 10 points, nine rebounds and five blocks. Their production wasn't jaw-dropping, but for the first time, Butler and Haywood looked like they belonged. It's impossible to pin down exactly what the future holds for these Mavs, but in their first two games they've shown the potential to be significantly improved on both sides of the ball.
To check out the The Two Man Game blog, click here.