1. Carter, Magic Handle Struggling Cavs
By John Hollinger
ESPN.com
ORLANDO, Fla. -- It's amazing how much perception can change in half a week.
Coming out of the trading deadline, the Eastern Conference playoffs shaped up as the Cleveland Invitational. With the Cavaliers' acquisition of Antawn Jamison, it seemed nobody could hope to topple a Cleveland team that was already running away from the rest of the East.
But after the Cavs' 101-95 loss on Sunday to their rivals from Orlando -- and make no mistake, this has become one of basketball's biggest and baddest rivalries -- all those assumptions must be called into question. The loss was the third straight for Cleveland since acquiring Jamison -- their longest streak in two years -- even though the newest Cavalier played very well (19 points, eight boards, and a game-altering stretch to start the second half in which he scored on four straight possessions).
The Magic, meanwhile, are rounding into shape after a choppy start. The win was their 12th in 16 games, and they've moved up to third in my Power Rankings -- a spot ahead of Cleveland, for those who are keeping score. The Cavs, who entered the All-Star break with an imposing seven-game lead in the Eastern Conference, have lost some of their luster of invincibility by dropping all three games since the trade.
In the case of Sunday's game, everything about it was old school -- from the beatdown physicality in the post, to the Magic's reasserting their advantage over Cleveland, to the plays Vince Carter ran and executed to win it down the stretch.
Let's start with Carter, since he's been the bellwether for Orlando's progress this season. The shooting guard spent much of the season passively settling for forced 20-footers, and the first three quarters Sunday followed a similar pattern.
But in the fourth, Carter exploded. He broke out a retro dunk over Anderson Varejao from his "Half-Man, Half Amazing" days to jump-start a 17-5 Orlando run in the middle of the fourth, and the Magic never looked back.
"I kind of surprised myself," said Carter, who has had trouble finishing at the basket this season.
He didn't finish there. Running a series of screen-and-roll plays with Jameer Nelson that ended with Carter on the block, he hit a tough post-up over Anthony Parker and a driving layup. Nelson, meanwhile, took advantage of the renewed attention on Carter to hit two 3-pointers and a long 2.
The play, as it turns out, was one that coach Stan Van Gundy put in Saturday because it had worked for Carter in New Jersey. Carter's stellar numbers this month -- 21.4 points on 51.2 percent shooting -- after a miserable January undoubtedly gave Van Gundy some added encouragement to run more offense for Carter.
"We put him in the post a little bit and I think that got him going," Van Gundy said. "It's a pretty simple play, hardly genius stuff. We're looking for ways to get him into some of the stuff that has been more comfortable for him."
"From my old days from New Jersey," said Carter. "When he called it, I was like, 'Yeah, that's what I'm talking about.'"
Carter kept attacking down the stretch, most notably in the final minute. Carter helped deliver the knockout blow with the Magic leading 97-93 with 30 seconds left. He came off a high pick-and-roll against Shaquille O'Neal, and instead of pulling up, Carter kept penetrating to the baseline. He went under the basket, found Rashard Lewis wide open in the corner on the other side, and delivered a pass that Lewis converted into a dagger 3-pointer that effectively ended the game.
"He had his struggles in January, but he's been much more in attack mode," said Van Gundy. "I didn't really give him a chance to get into that game a whole lot until the fourth."
That play was the capper on a game that felt like the good old days of last season for Orlando. The Magic lost their first two meetings with Cleveland this season after dominating the matchup last season -- seven victories in 10 games, including a six-game win in the Eastern Conference finals.
Unfortunately for Cleveland, it was the same old story on their end, too. Much like last year's playoffs, the Cavs got a huge game from LeBron James (33 points, nine rebounds, six assists), but little or nothing from the backcourt.
Mo Williams, who dominated in Cleveland's win here in November, provided a harrowing reminder of his Eastern Conference finals performance, scoring only four points on 1-of-9 shooting; overall, Cleveland's four guards combined to shoot just 4-of-23. That won't get it done, and it wasted huge games from O'Neal (9-of-10, 20 points) and Jamison.
And as with last season, James eventually ran out of gas and the Cavs' attack petered out. When James mustered just one point in the final quarter until a meaningless layup with 15 seconds left, Orlando made its run.
The game itself was reminiscent of last year's playoffs, too, both in terms of fan interest and physicality. Orlando's crowd was jacked up from the start, with the combined impact of the Cavs and now-hated former Magic center O'Neal riling up the locals.
"A [heck] of a game" said Van Gundy. "Physical, tough competitive … [and] the best players were all really good."
Meanwhile, the contest on the floor was as physical as any NBA game I've seen this regular season. O'Neal and Howard -- the league's two most imposing physical specimens -- slammed bodies in the post at each end, starting with Shaq's follow-up dunk on the first possession, and hard fouls at the basket were the norm when anyone got free.
"They let us play on both sides," said O'Neal.
Orlando's J.J. Redick bore the brunt of it, taking an especially hard -- but clean -- hit from O'Neal in the third quarter that left him sprawled on the floor. "I wanted him to make a decision," said Redick, "and he decided to hammer me." He added that it was the hardest he'd ever been fouled.
We can look forward to six or seven more such contests in late May and early June between these two if the present standings hold up and the postseason holds to form. While nobody will dismiss Cleveland as the result of one bad game, or even one bad week in February, Sunday's result at least brings some doubt as to the eventual conference champion.
Meanwhile, Cleveland will try to rebuild and regroup from the first whiff of adversity to hit the team since it lost two games to open the season. Jamison started the second half after coming off the bench at the beginning, portending a likely role in the starting five for the rest of the season at the expense of J.J. Hickson; Jamison could be an even greater factor in the next meeting between these two clubs on April 11.
"We are just going through a little transition period right now trying to figure out lineups and figuring out certain sets," said James.
The Cavs almost certainly will figure it out and play better. But after Sunday's display, the same can't be said for observers of the East. Orlando provided enough cause for optimism, and Cleveland presented enough of a case for pessimism, that we can again engage in a healthy debate as to the eventual identity of this year's Eastern Conference champ.
John Hollinger covers the NBA for ESPN Insider.
Dimes past:
Feb. 1
|
2
|
3
|
4
|
6-7
|
8
|
9
|
10
|
11
|
16
|
17
|
18
2. Thumb Injury Bothering Pierce
By Brian MacPherson
Special to ESPNBoston.com

Pierce
DENVER -- The thumb Paul Pierce sprained as he tried to fight through a screen against the Los Angeles Lakers on Thursday has made it almost impossible for him to shoot the way he wants to shoot.
Pierce finished Sunday's game against the Denver Nuggets with a season-low five points on 2-of-10 shooting. Even more alarming might be the fact that he hit just one of his four free throws.
"There's some pain when I catch the ball, and it's really affecting my shot," he said. "That's the reason I'm not as aggressive."
There was no designated "Paul Pierce can't shoot the ball" game plan ahead of time for the Celtics on Sunday. No one, not even Pierce, started off the game thinking the Celtics' leading scorer would be a virtual nonfactor at the offensive end.
To read the entire column, click here
3. Daily Dime Live Recap
ESPN.com writers and TrueHoop Network bloggers chatted with fans and gave their in-game opinions throughout Sunday's games -- all in Daily Dime Live.
4. Filling Chris Paul's Shoes
Elias Sports Bureau

Collison
Darren Collison scored 26 points in the Hornets' 102-94 win over the Rockets. Collison has averaged 24 points over his last six games to rank seventh in the NBA during that time. That matches the scoring average recorded by Hornets guard Chris Paul in his last seven games (Jan. 18-29) before suffering a left knee injury that required surgery, providing Collison with increased playing time.
By Maurice Brooks
ESPN.com
SUNDAY'S BEST

Westbrook

Russell Westbrook and Kevin Durant, Thunder: Westbrook posted 22 points, 14 assists and 10 rebounds to lead Oklahoma City to its ninth straight win. Durant scored 32 points to extend his streak of games with at least 25 points to 28 games.

SUNDAY'S WORST

Pierce

Paul Pierce, Celtics: Sure, he's banged up, but he was healthy enough to take 10 shots, making just two, en route to a five-point afternoon against the Nuggets.

QUOTE OF THE NIGHT

"Sometimes, when you play a team with a record like the Nets, you feel a little bit of pressure. You don't want to be the next victim. I don't say that in a disrespectful manner, but that's the way it feels."

-- Grizzlies guard O.J. Mayo after Memphis erased an 18-point deficit in Sunday's road win in New Jersey
6.

Clicking On All Cylinders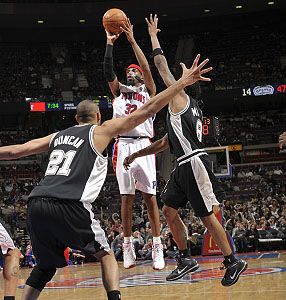 (Allen Einstein/NBAE via Getty)
Richard Hamilton erupted for 27 points, and the Pistons dominated the overtime period on the way to a 109-101 home win against the Spurs.
By Matt Moore
TrueHoop Network

Amare
When the trade deadline passed, a plethora of players found themselves in new digs. Many of them were thrilled with their new surroundings, going to contenders or finding themselves in position to get more playing time. But, of course, not everybody was happy on Thursday at 3:01 p.m. ET. Here are a few guys who thought they might get moved who wound up with absolutely nothing changed, and how good staying home was for them, on a scale of 1 to 5.
Amare Stoudemire, Suns
"Stay-at-home" rating: 4 Amare certainly has put the right face forward, talking about the positive dinner he had with Suns owner Robert Sarver and general manager Steve Kerr on Thursday night. But he spent the All-Star break talking with other All-Stars about championship runs and a fresh start. It has to be rough being asked three years in a row about being traded at the deadline, and next year might be four. Still, Phoenix is comfortable, and that counts for something.
Andre Iguodala, 76ers
"Stay-at-home" rating: 2 Iggy has a massive contract, so he's getting paid either way. But he's suddenly become the best player on a bad team, and the money rarely takes the sting out of that. He bears the burden of responsibility for the Sixers' failures, and instead of winging next to LeBron, he's waiting for Elton Brand to catch up.
T.J. Ford, Pacers
"Stay-at-home" rating: 1 Ford reportedly danced outside the team plane when he heard he might be traded along with Brandon Rush to Charlotte before the deadline. Then he wasn't. That'll ruin your day.
Al Harrington, Knicks
"Stay-at-home" rating: 4 Harrington is a free agent this summer, and while there's zero chance the Knicks will resign him, he needs to stay in coach Mike D'Antoni's stat-friendly system in order to boost the value of his next contract. While going to Chicago via a trade to be the Bulls' low-post option probably would have been better for his career, Harrington seems to like New York and playing for D'Antoni.
To check out the Hardwood Paroxysm blog, click here.
9.

Hawks Fall Apart Again
By Bret LaGree
TrueHoop Network

Johnson
On Friday night, the Hawks scored just 30 second-half points against the league's 29th-stingiest defense in their loss at Phoenix. On Sunday night, Atlanta blew an 18-point lead while scoring just 14 points in the fourth quarter against the league's 25th-ranked defense.
As in some previous fourth-quarter offensive collapses this season (at Cleveland and at home against the Knicks on New Year's Day most memorably), this one came out of nowhere. The Hawks scored 52 points in the first half and 38 more in the third quarter. Al Horford scored 15 points himself in the third quarter. Once the final quarter began, the Hawks again fell into a rut of stagnant half-court possessions that typically ended with a missed jump shot. None of the possessions were more dispiriting than Josh Smith's 3-point attempt with seven seconds left and the Hawks down three. Only three Hawks (Horford, Joe Johnson, and Zaza Pachulia) scored in the fourth quarter. Only Horford and Johnson made field goals.
Too many of those unsuccessful offensive possessions began with the Hawks taking the ball out of their own net. Golden State scored on 14 of their first 15 fourth-quarter possessions and on 19 of 22 for the quarter as a whole. Both the Warriors' players and Don Nelson deserve credit for their role in facilitating Atlanta's fourth-quarter collapse.
Warriors big men Chris Hunter and Andris Biedrins proved a far more imposing defensive presence in the paint than Biedrins and Devean George had to that point. Warriors guard C.J. Watson ably subbed for Monta Ellis for most of the fourth quarter, offering better defense and shot selection and a greater interest in involving his teammates. After Ellis returned with four minutes left in the game, he twice stole the ball from Joe Johnson to set up quick scores for himself.
None of the heroics would have been possible without Stephen Curry's consistent excellence throughout the night (32 points on 18 shots). Curry so bedeviled Atlanta's guards that it fell to 6-foot-9 forward Marvin Williams to try to contain the rookie for long stretches of the game. Nothing the Hawks did, though, got them sufficient stops late in the game, and they simply didn't do enough to create good shots despite having three quarters' worth of evidence in their collective memory of how to do so.
To check out the Hoopinion blog, click here.