1. Kobe Sends A Reminder To The League
Kobe Bryant certainly knows how to remind people of what they were missing while he sat out a couple of weeks nursing that ankle. While it is true that the Lakers played well (4-1) in Kobe's absence, they do not possess anyone on their roster who can close out games the way Bryant did in Memphis on Tuesday night.
Like so many Lakers' opponents this season, and countless over the past 13 years, Memphis was victimized by a display of late-game pressure jump shooting that snatched a much-needed win from the fading Grizzlies. The Grizz thought they had forced Bryant to take exactly the type of shots that any defense will take in that situation. Instead, Kobe drained back-to-back deep threes with an almost laser-like trajectory that barely made a splash at the bottom of the net. As he often does, Bryant also did not discriminate. O.J. Mayo and Rudy Gay took their turn and stood shaking their heads as their hope on the release of the ball turned to frustrated despair with the result.
When it is all said and done, the extremely well paid two week vacation the Lakers' superstar took around the All-Star break could end up being the best thing to happen to L.A. as they continue on their quest to repeat. The Lakers' supporting cast gained confidence by being able to will their way to wins in Kobe's absence. The bench was able to increase its production and they were forced to dig a little deeper defensively knowing they would have to get stops to secure wins rather than rely on No. 24 to bail them out with ridiculous shot making.
Kobe used his first game back to re-establish the natural order of offensive flow in the Lakers' half-court offense. In doing so, he quickly squelched the notion that has been gaining momentum regarding the Cavaliers' supplanting L.A.'s atop the NBA's hierarchy. Fully healthy, the Lakers are the NBA's best team.
Unless you have been there, it is impossible to truly appreciate what Kobe was able to do Tuesday. Rhythm is one of the most underrated and misunderstood components of being able to score in basketball. Being out for two weeks, regardless of the talent, disrupts that rhythm. To be able to take over a game in the final minute so effortlessly after that type of layoff is reserved for the game's elite.
The net results from the victory gain the Lakers much more than a notch in the win column. The reverberation around the league sends notice that Kobe is re-charged for another run. His game-winning dagger was another reminder that the Lakers are really good without Kobe, great with him.
Tim Legler is a regular Daily Dime contributor.
Dimes past: Feb. 1 | 2 | 3 | 4 | 6-7 | 8 | 9 | 10 | 11 | 16 | 17 | 18 | 21 | 22
2. Test Time For The Mavericks
By Jeff Caplan
ESPNDallas.com

Butler
The retooled Mavs, led by the re-energized Jason Kidd to a 4-1 record since the blockbuster trade, have had just one full practice to work in Butler and Haywood. Still, Butler called Wednesday's matchup a "meaningful" game.
It's safe to assume more meaningful for the recharged Mavs than the coasting Lakers, who won four of five without Bryant.
"Whether he meant it or not, he knows that we are a viable team right now, especially now that you bring these guys in," guard Jason Terry said of Bryant's comment. "It isn't going to matter until the playoffs, so we'll see what happens if we face them there."
Still, this game does hold psychological meaning for the Mavs, who had spent the six weeks prior to the trade playing .500 ball, pockmarked by porous defense and a stagnating offense.
In a wide-open Western Conference, where the Denver Nuggets, Utah Jazz -- and Oklahoma City Thunder? -- look to have the best shot at dethroning the Lakers, a Mavericks win Wednesday night would at least make for interesting conversation.
Those four teams will be jockeying for the Nos. 2 and 3 playoff seeds, coveted positions because they keep the Lakers away until the conference finals. The fourth seed, barring upsets, would run into the Lakers in the second round.
"We feel like we're better, for sure, you know," coach Rick Carlisle said. "And we're playing better, so we have to continue with that."
The Mavs like the way the trade helps them match up with L.A. The 6-foot-7, 228-pound Butler provides an edgier, more rugged defensive presence against Bryant than the Mavs previously had with Josh Howard. Pairing Butler with the lankier 6-7 Shawn Marion gives Dallas two capable defenders to throw at Bryant.
To check out the entire column, click here.
3. Daily Dime Live Recap
ESPN.com writers and TrueHoop Network bloggers chatted with fans and gave their in-game opinions throughout Tuesday's games -- all in Daily Dime Live.
4. Filling In For CP3
By Ryan Schwan
TrueHoop

Collison
Every training camp, half the coaches in the league explain to the media that this year their offense will be improved by "running and getting easy buckets". Most teams, however, don't actually pull off the feat, because while the buckets may be easy, the running part isn't.
This season the Hornets have increased the pace of their offense and although Chris Paul gets much credit for that, he's been helped tremendously by the 21st pick of the draft, rookie point guard Darren Collison.
Early in the season, the Hornets' second unit, led by Collison, routinely posted pace ratings in the top five of the league. Now, with Paul sidelined, Collison has taken his act, and his speed, into the starting lineup in February, producing 20.7 points, 8.8 assists, and 2.1 steals on 49 percent shooting from the floor. (I will now wait for his fantasy owners to stop their smug cackling.)
So how does he do it? Easy baskets and penetration. Collison pushes the ball relentlessly off rebounds and turnovers and attacks aggressively. Half of his shots occur in the first 10 seconds of the shot clock -- a number well above other fast-break guards like Steve Nash and Monta Ellis.
Happily, his aggression has also sucked in his teammates. Collison starts the game next to Morris Peterson and Peja Stojakovic, two wings who have never enjoyed the epithet "Fleet of foot". Yet, these players post a seventh-best pace with Collison, frequently sprinting down court before Collison even touches the ball, knowing he'll be off like a shot when he does.
Now, like all rookies, Collison has his issues. Primarily, he still struggles defensively, and is only moderately effective in the half-court due to a propensity for turnovers. Still, for Hornets fans, who have routinely braced themselves for disaster whenever Paul left the court, watching a talented backup tear up the court has been an unexpected, yet exhilarating development.
To check out the Hornets247.com blog, click here
By Maurice Brooks
ESPN.com
TUESDAY'S BEST

Bryant

Kobe Bryant, Lakers: When the ball left his hands, you knew the shot was good. Despite missing five games, Bryant didn't skip a beat, draining the game-winning trifecta with 4.3 seconds left to lift the Lakers past the Grizzlies. He finished with 32 points.

TUESDAY'S WORST

Howard

Josh Howard, Wizards: What a season for the Wizards. Howard tore his ACL in just his fourth game after being acquired from the Mavs. Washington is already playing short-handed after Gilbert Arenas and Javaris Crittenton were suspended for bringing guns into the locker room.

QUOTE OF THE NIGHT

"I will work endlessly to improve myself and make positive contributions to society."

-- Former NBA player Jayson Williams, who was sentenced to five years in prison for fatally shooting a limo driver.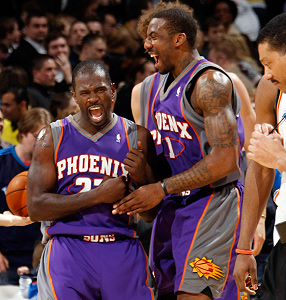 (Melissa Majchrzak/NBAE/Getty Images)
Jason Richardson's floater with under a second left was the difference as the Suns ended the Thunder's nine-game win streak. Amare Stoudemire led Phoenix with 30 points.
8.

Nate's Less-Than-Stellar Debut
By Chris Forsberg
ESPNBoston.com

BOSTON -- As debuts go, it won't be remembered as endearingly as The Strokes' Is This It or Anna Paquin's Oscar-winning performance in "The Piano," but it's over and it was a win, so Nate Robinson will take it.
Playing in his first game since being flipped to the Celtics in a five-player swap at Thursday's NBA trade deadline, Robinson registered four points on 2-of-7 shooting with two steals and two turnovers in 16 unremarkable minutes during Boston's 110-106 triumph over his former team, the New York Knicks, Tuesday night at the TD Garden.
Robinson, traded to Boston with Marcus Landry in exchange for Eddie House, J.R. Giddens, and Bill Walker, looked like a player who hadn't seen court time in two weeks (he last played Feb. 9 vs. Sacramento). He looked even more like a player given a crash course in Boston's elaborate offensive and defensive schemes (coach Doc Rivers held a private session Monday with Robinson at the team's practice facility in Waltham).
"[Tuesday's game] felt like a practice, only with real jerseys on," said Robinson. "It was nice to get out there, get a feel for the game again after [two] weeks off. I'm still getting my legs, getting my wind. I should be fine."
The Garden faithful showered Robinson with a standing ovation when he checked in during the final minute of the first quarter, and they roared again when he splashed a 20-foot jumper with 10:33 to play in the second frame.
After drawing an offensive foul on the Knicks' ensuing trip down the floor, Robinson did little else that could be considered offensive (in either a good or bad way). His line was nearly identical to House, who finished 2-of-7 shooting with four points, five assists, and four turnovers over 27 minutes.
All of which makes the trade a wash, at least for one night.
Before the game, Rivers admitted he overwhelmed Robinson with X's and O's on Monday, but Wednesday he'll get the practice time he so desperately needs to truly start finding his role with the Celtics.
"[Monday] we went over a ton of stuff and he was laughing like, 'Oh my goodness, what have I got myself into?'" said Rivers. "We expect him to do it eventually, but not right away."
Tuesday's game simply showed Robinson what's expected of him and he embraced it.
"I kinda go by the Charles Darwin's survival of the fittest theory," said Robinson. "I gotta be able to survive."
He survived his debut, now the Celtics want to see how he does with another theory Darwin was famous for: Evolution.
Chris Forsberg is the Celtics reporter for ESPNBoston.com.
Marcus Thornton scored 37 points off the bench for the Hornets Tuesday night. Thornton is only the second rookie since the 1981-82 season to score that many points in a game as a non-starter. Sacramento's Walt Williams scored 40 points off the bench on Jan. 2, 1993 in a 154-98 win over the 76ers.
• Darren Collison had 22 points and 10 assists for the Hornets. Collison has had at least 18 points and nine assists in each of his last six games. Only two other rookies in NBA history had 18/9 in six consecutive games: Cincinnati's Oscar Robertson did it twice in 1960-61 (eight- and seven-game streak) and Toronto's Damon Stoudamire had a six-game streak in 1995-96.