---
By Maurice Brooks
ESPN.com
SUNDAY'S BEST

Lee

David Lee, Knicks: Normally, this space is reserved for players from winning teams, but it is hard to ignore Lee, who tallied 27 points, 20 rebounds and six assists -- on a banged-up knee -- in New York's loss to the Rockets.

SUNDAY'S WORST

Hamilton

Richard Hamilton, Pistons: Two days after going scoreless in a loss to the Pacers, he went 1-for-8 from the floor, scoring just six points as the Pistons dropped their fifth in a row, 104-79 to the Cavaliers.

QUOTE OF THE NIGHT

"Tonight was a disgrace to how we play and the game of basketball, how we came out, and that starts with me. I apologize to all the fans, all my teammates that I came out like that, and it translated to my team."

-- Thunder's Kevin Durant after scoring just 16 points in a 20-point loss to the Pacers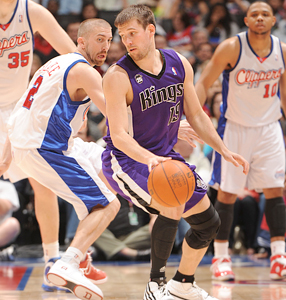 (Noah Graham/NBAE/Getty)
With star rookie Tyreke Evans sitting out, the Kings turned to Beno Udrih to fill the void in production. Udrih didn't disappoint, scoring 20 points and giving out a career-best 17 assists as the Kings topped the Clippers, 102-89.
8.

Blatche Stepping Up For Wiz
By Dave McMenamin
ESPN Los Angeles

Blatche
LOS ANGELES -- The Wizards are oh-fer March as their losing streak reached 11 games Sunday. In a 99-92 loss to the Lakers, the Wizards never led and trailed by as many as 28.
It's tough to take anything positive out of a game like that, but there was a glimmer of hope: The Wizards won the fourth quarter 32-17. It's going to take winning some quarters before they can start winning games.
It's even harder to find a silver lining in the Wizards' disastrous season that saw the team's three All-Stars either suspended after one of the most disturbing locker-room incidents in NBA history (Gilbert Arenas), traded to Dallas for free-agent-to-be Josh Howard, who tore his ACL just four games into his Wizards' career (Caron Butler) or traded to Cleveland, the franchise's bitter rival (Antawn Jamison). And on top of all that, the team's owner, Abe Pollin, one of the most beloved figures in D.C. sports, passed away.
But then, like the flower that sprouts up from a crack in the pavement, came Andray Blatche's rapid development.
Playing on a sprained left ankle, Blatche had 16 points, 12 rebounds, five assists and three steals Sunday, continuing the tear he's been on in the 16 games since the last of the Wizards' Big Three was dispatched from the team. Since Feb. 19, Blatche is averaging 24.1 points and 9.8 rebounds. For reference's sake, Chris Bosh will be one of the most coveted free agents this summer and he is averaging 24.1 points and 11.1 rebounds on the season.
"It's just opportunity and trying to take full advantage of it," Blatche said. "All the hard work is paying off."
The Wizards gave the 6-11, 235-pound hybrid forward a contract extension in the summer of 2007 when he was just a 21-year-old kid coming off a second-round draft pick's two-year deal. It took some time for him to reach the promise Washington saw in him, but as the team looks toward an uncertain future, any stability Blatche can offer is more than welcome.
"Nothing is easy in this league," Blatche said. "Nothing is given. We just have to keep fighting and playing together. That's the most important thing, stay positive."
As bad as it's been on the court for the Wizards, it can get even worse next week as Arenas, the absent face of the franchise, awaits sentencing on Friday. Arenas has cut off virtually all contact with everybody associated with the Wizards save a few players, including Blatche, who he offers text-message advice to after games.
"That's off-the-court issues, that's not our problem," Blatche said about Arenas' court date. "We're trying to focus and win games. We all pray for him. We all hope the best happens out of it."
Blatche, for one, knows about making the best out of a bad situation.
9.

The Big Three Are Back
By Brian Robb
TrueHoop Network

Allen
Over the hill. Injury prone. Inconsistent. These were the refrains used to describe the Celtics as recently as last Monday. This squad had been left for dead, and for good reason. The C's had played sub-.500 ball (18-19) for the past three months. Any talk of contending for a championship had been replaced by whispers of whether the once high-and-mighty Celtics were ripe for a first-round upset exit.
Despite the inconsistent results, coach Doc Rivers remained confident and positive about his team and the progress it was making on the floor. The tide began to turn last week, when Boston strung together three consecutive home blowout wins, a feat it hadn't accomplished in months. The skeptics noted that these wins were against inferior opponents, (Indiana, New York and Detroit) but no one could question how impressive the team's "old guard" looked in those affairs.
Paul Pierce led the way, averaging 28 points on 63 percent shooting, looking fully recovered from the plethora of injuries that have affected him since Christmas. Ray Allen has turned back the clock, providing some reliable scoring from downtown, shooting 46 percent from deep in the past 10 games. Kevin Garnett has continued to look sharp defensively. The pieces are slowly starting to fall back into place, bringing back memories of the Celtics' team that started this season at a 23-5 clip.
Questions still linger. Can the Celtics sustain this play? Will they remain healthy for the rest of the season? These are legitimate concerns. With two tough wins in Houston and Dallas, on back-to-back nights this past weekend, the C's are rolling, winning five of six. Thanks to this, cautious optimism about this team contending is back in Boston.
To read more from Robb at Celtics Hub, click here