1. Can The Lakers Turn It On And Off?
By John Hollinger
ESPN.com
ATLANTA -- Pau Gasol has a newsflash for the Lakers: You can't just turn it on.
L.A.'s worrying 109-92 defeat in Atlanta -- their third one-sided loss in four games -- sets a worrying tone as the Lakers head into the playoffs. Yes, they'll be the West's top seed, but they're not acting like it. In fact, this is the most vulnerable L.A. has looked since acquiring Gasol two years ago.
L.A.'s loss came after previous frustrating defeats in New Orleans and Oklahoma City, and many elements remained the same. Once again, the Lakers sat on the bench watching an opponent yuk it up in garbage time, with the Hawks' starters doubled over in laughter after Jason Collins nailed an 18-foot jumper to score his fifth and sixth points of the season.
Once again, point guard was a glaring problem. Derek Fisher clanged five of the six open looks he was given in the first half and finished with just four points, while Jordan Farmar scored more successfully but struggled on defense and had only two assists against two turnovers.
Once again, the Lakers pretended Gasol wasn't on the team for long stretches, as he took only one shot in the middle two quarters. Partly that was Atlanta double-teaming the post and keeping Gasol off the boards, but his touches were few and far between regardless.
And once again, L.A.'s second unit seemed completely outclassed, with Atlanta's bench outscoring the Lakers' group 48-22. Maurice Evans scored 18 points on nine shots to lead the way, Zaza Pachulia had a double-double and changed the game completely with his physicality, and Jamal Crawford toyed with L.A.'s guards off the dribble en route to 14 points.
L.A., meanwhile, had only one reserve (Farmar) make more than one basket. And reserve guard Sasha Vujacic didn't play at all, even when Phil Jackson emptied the rest of his bench at the end of the game, a punishment stemming from an incident with the coaching staff in the Oklahoma City game. Jackson said before the game that Vujacic needed to "atone" for his mistake by doing certain things, but Vujacic said he had no knowledge of that requirement.
It was part of a generally critical media session for the Zen Master, who said Gasol's description of himself as "very, very tough" has one "very" too many -- a notion that seemed proven when Pachulia outmuscled and outhustled him all night -- and said the Lakers' bench players had been made to practice on Tuesday while the rest of the team had the day off.
Kobe Bryant was the Lakers' lone bright spot with 28 points, but it wasn't a great night even for him. Bryant tweaked his left ankle on two different occasions, uncharacteristically missed four of his six free throws, and despite his output was outdueled by his opposite number (Joe Johnson had 25 points and eight assists).
"We're not playing well defensively," said Bryant. "This trip was consistently bad. So we've got to get back to work.''
That was one of many brief answers from a frustrated Bryant, who stormed to the bench with 2:32 left and his team down by 16, spiking the ball behind him after a backcourt violation gave Atlanta the ball.
All of which takes us back to Gasol. The Lakers' center was asked about the idea that the Lakers have the talent and know-how to turn it on come playoff time despite their recent struggles. He wasn't buying it for a second.
"I don't really believe in that much," said the Spanish 7-footer, "especially on the NBA level and on the playoff level. You need to make sure you build on habits and you build on little things out there, and understand you can't rely on 'We're a great team, we're gonna turn it on when we need to.' It doesn't work like that."
For Atlanta, meanwhile, this was a big win in the race for the third seed in the Eastern Conference -- a race they must win outright since Boston, as a division champion, would get the nod in a tiebreaker despite Atlanta's winning all four games between the clubs.
Fortunately for the Hawks, it may not come down to that. While they face near-certain defeat in Cleveland on Friday, they play only two winning teams in the six games that follow before a season-ending game against a Cavs squad that probably will feature the likes of Jawad Williams and Danny Green instead of LeBron James.
Combined with Boston's loss to Oklahoma City, it puts the Hawks a game ahead of the Celtics, and Boston must also face Cleveland this weekend.
"Our bench was huge tonight," said Hawks coach Mike Woodson. "They've been playing extremely well and we're going to need them to play that way the rest of the way out. Granted, they are missing [Andrew] Bynum, a big piece of their offense and defense. But I just thought tonight we were solid."
Nonetheless, the greater story here is that of the defending champ. L.A. is 13-8 since the All-Star break and has just one double-figure win in that span. With stern tests coming against Utah, San Antonio and Denver, not to mention a Western Conference playoff bracket that offers no easy first-round opponent, the Lakers need to up their level of play dramatically and fast. And if Gasol is right, it's going to take a lot more than just throwing a switch.
John Hollinger covers the NBA for ESPN Insider.
Dimes past: March 15 | 16 | 17 | 19-20 | 21 | 22 | 23 | 24 | 25 | 26-27 | 28 | 29 | 30
2. Bucks Hand Cavs A Victory
By Jeremy Schmidt
TrueHoop Network

Salmons
Another sign that the Bucks are moving in the right direction as the playoffs are nearing was Scott Skiles' postgame reaction to a question about whether he was happy with the team's effort in Wednesday night's loss to Cleveland.
"It's not that I don't care about that right now, but we should have won that game. We gave them that game."
Moral victories no longer have a stall in the Bucks' locker room, be it on the road or at home. These days, the Bucks are only interested in actual, real-life, concrete victories. Citing a botched layup attempt rather than a dunk attempt and a missed open 3, Skiles was clearly annoyed, and it may have had to do with more than just his player's execution.
The Bucks have had problems with allowing free throw attempts all season, but those numbers reached a new low Wednesday night. The Cavs attempted 45 free throws to the Bucks' nine. The Bucks' previous largest free-throw-attempt deficit this season was 22. An exhausted and exasperated John Salmons looked none too pleased about it after the game.
"It's a discouraging stat. Nine to 45? That's got to be a record. I don't want to lose my money."
Part of Salmons' appeal to the Bucks has been his knack for getting to the free throw line and he was at it again, finishing 7-for-7 from the line. The problem was the two free throws the rest of the team attempted. Oh, and the turnovers on two of the Bucks' last three possessions. To be clear, Milwaukee lost this one; the refs didn't win it for Cleveland.
The Bucks worked for everything they got, and while it was a valiant effort, they came up short. Two years ago, that would have been exciting. A year ago, it may have been acceptable. But now it's just a disappointing loss. Welcome to the top half of the conference, Milwaukee.
Check out more from Schmidt at Bucksketball.
3. Daily Dime Live Recap
ESPN.com writers and TrueHoop Network bloggers chatted with fans and gave their in-game opinions throughout Wednesday's games -- all in Daily Dime Live.
---
By Maurice Brooks
ESPN.com
WEDNESDAY'S BEST

Hill

George Hill, Spurs: Deron Williams' 19-assist performance against the banged-up Warriors was a joy to watch, but this honor goes to Hill, a Most Improved Player candidate, who had a career game against the Rockets, posting 30 points, seven assists and five steals.

WEDNESDAY'S WORST

McGrady

Tracy McGrady, Knicks: He is far removed from his All-Star days. Against the Blazers, he finished with two points, one assist and no rebounds, steals or blocks in 21 minutes of action as the Knicks were blown out.

QUOTE OF THE NIGHT

"I thought we were playing Michael [expletive] Jordan the way he was getting the whistle. [Kevin] Durant damn near shot more free throws than our whole team."

-- Boston forward Kevin Garnett after Durant dropped 37 points on the Celtics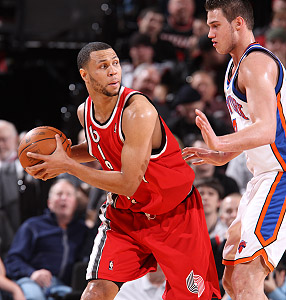 (Sam Forencich/NBAE/Getty)
Brandon Roy scored 16 points for Portland, which has won 12 of its past 14 games and clinched a playoff berth with a win over New York.

The Wizards snapped their 16-game losing streak with a victory in New Orleans and the Timberwolves halted their 16-game slide by beating the Kings. Wednesday marked the first time in NBA history that two teams ended losing streaks of more than a dozen games on the same day.
By Arash Markazi
ESPNLosAngeles.com

It's one of the great myths in the NBA -- one that seemingly is debunked on a nightly basis but continues to live on for some mysterious reason that belies all statistical and visual evidence.
At some point in time, someone somewhere decided to label the Lakers as a "deep team." Over the past two seasons, you've heard how good the Lakers' roster is from 1 to 12 and how their bench is able to sustain leads and how everyone on this team knows his role. Nothing could be further from the truth. The Lakers are not a deep team. They're not even a shallow team. They're a rock-solid, one-floor building with a shaky basement that probably would fail inspection. Unfortunately for the Lakers, they've had to venture to their basement-dwelling bench recently because of injuries to Andrew Bynum and Luke Walton. As a result, their bench players have been exposed for what they've always been -- streaky shooters, talented cheerleaders and the biggest weakness on a team with a Grand Canyon-sized drop-off in talent from their top five players to the rest of the roster.
To read the entire column, click here.
9.

Thunder Turn Away Celtics
By Chris Forsberg
ESPN Boston

BOSTON -- Instant reaction after the Oklahoma City Thunder posted a 109-104 triumph over the Boston Celtics on Wednesday night at the TD Garden:
How the game was won: Kevin Durant poured in a game-high 37 points on 10-of-20 shooting, while Russell Westbrook added 21 points and 10 assists for the Thunder. Kevin Garnett and Rasheed Wallace paced six Boston players in double figures with 18 points apiece, while Rajon Rondo added 16 points and 11 assists.
Turning point: Jeff Green -- Boston's first-round pick (fifth overall) in the 2007 draft who was traded to Seattle in exchange for Ray Allen -- drilled a pair of 3-pointers in the final two minutes, both times turning Oklahoma City's one-point lead into a two-possession game.
To read the entire blog, click here.