1. No-Call On Durant Mars West Shootout
SALT LAKE CITY -- Just when I thought the Thunder had erased every reason to doubt they can win a playoff series -- the usual suspicions such as "too young," "too inexperienced," "defense not tight enough" -- they got served a big reminder of why they likely won't get past the first round: They won't get the calls from the officials.
I hate to talk about the officiating as the key to any series. I hate to talk about it in any game. But it's unavoidable after a no-call at the end of overtime in a wildly entertaining game, when Utah's C.J. Miles hit Kevin Durant on the forearm while Durant was attempting a game-winning 3-pointer. The ball fell well short of the basket and Utah escaped with a 140-139 victory.
The outcome had enormous repercussions in the skinny jeans-tight Western Conference standings, allowing the Jazz (51-27) to break free of a four-team cluster and temporarily claim second place. The Thunder (48-29) fell to seventh.
Official Tony Brothers watched the play unfold and didn't blow his whistle. He didn't do much of anything afterward, standing there while Durant howled at him and Thunder coach Scott Brooks stomped angrily toward midcourt, then turned to block Durant from advancing. The Thunder players and coaches glared at the officials, who remained on their end of the court, the scene looking like the staredown before the news crews rumble in "Anchorman." Then the Thunder finally retreated to their locker room.
This is one of the challenges set before the Thunder. It's the league's Catch-22. Established teams are going to get the calls … but how can a team become established if the calls go against it? It won't happen for the Thunder this year. They'll have to embark on their maiden playoff voyage without radar, sonar or GPS. Good luck with that.
At least they had the smarts not to deepen their plight by getting a reputation as whiners in the media. They said all the right things to the reporters afterward, sticking with the un-fineable lines that whatever the officials say has to stand.
"It's not a foul if they didn't call it," Durant said.
"The referee didn't call a foul," Brooks said. "You've got to go with him. We didn't get a stop. That is the bottom line."
And that's one of the reasons the Thunder found themselves down in the first place. Two defensive breakdowns led to Utah's final two baskets. First, Durant switched on to Deron Williams, who gave up the ball, then ran along the baseline and out to the right corner. Durant lost track of him in the lane, leaving Williams wide open to catch a pass from Wesley Matthews and drain a 3-pointer with 48 seconds remaining in overtime. But the Thunder regained the lead -- the 12th lead change of the game -- on two Durant free throws followed by Jeff Green's running bank shot with five seconds remaining.
Then the Thunder misread Utah's inbound play: Green and Thabo Sefolosha thought Boozer would come down and set a screen on Williams; instead, Williams came up to get the ball from Boozer and squeezed around him and Green was late switching out on Williams. Williams hit a 20-footer to put the Jazz ahead with 1.1 seconds left.
The Thunder defense was loose all night, susceptible to everything from Utah's middle screen-and-rolls to Williams' penetration. Williams scored a career-high 42 points and the Jazz posted their highest total in almost 20 years. The Jazz were the fourth consecutive opponent to score at least 100 points against the Thunder, whose tremendous turnaround this season was initially predicated on defense.
Lately they've simply decided to outgun everybody. It might keep working until someone finds a way to stop Durant. Or until the playoffs.
This isn't the typical blueprint for playoff success. Ask the Phoenix Suns.
But the Thunder do have a resolve that will serve them well in the postseason. They trailed by 13 points with 4½ minutes left in the fourth quarter and by 11 with three minutes to go, but Durant kept pumping in 3-pointers and the Thunder came back to force overtime thanks to a 3 by Green with 8.3 seconds left off a pass from Durant.
"That's the fight that we have," said Thunder guard Russell Westbrook. "As a team, we continue to fight. We've been doing it all year long."
Their resourcefulness shows in how difficult they are to put away; their inexperience is reflected in their record in close games. They're 7-10 in games decided by three points or less, and they're 1-4 in overtime.
All that's going against them. Then again, they do have Durant on their side. Right now there's nothing any team can do about him. Durant scored 45 points, dropped 7 of 13 3-pointers and made all 12 free throws.
He moved past LeBron James to become the NBA's scoring leader Tuesday night. But apparently he has not yet reached the elevated status at which he would get a call on the road at the end of the game.
The only good development from the disappointing ending for the Thunder? If these seedings hold, the teams would face each other in the first round, and who wouldn't want some more of this? The Thunder came within a bucket of sweeping their regular-season series with the Jazz. But as we saw Monday night, they can't count on things going their way in the playoffs.
J.A. Adande is a columnist for ESPN.com.
Dimes past: March 23 | 24 | 25 | 26-27 | 28 | 29 | 30 | 31 | April 1 | 2-3 | 4
2. Celtics Revert To Lethargic Form In Loss
By Chris Sheridan
ESPN.com

Rivers
NEW YORK -- Nate Robinson moved some 10 feet away from the Celtics bench and stood among the baseline photographers to get a better viewing angle as the final possession of the game unfolded, Rajon Rondo dribbling, dribbling and dribbling some more after Boston inbounded with 7.3 seconds remaining.
Precious time was ticking away as Rondo tried to find a way to get the ball to Ray Allen for a game-tying 3-point attempt, but the Knicks defenders kept cutting off his angle.
Finally, Rondo fired a cross-court pass to Rasheed Wallace behind the 3-point line on the far side of the court, but the final horn sounded before Wallace could even get off his attempt, and the Celtics found themselves on the wrong end of a 104-101 score Tuesday night that left coach Doc Rivers questioning his team's mental toughness.
And he wasn't the only one.
"I saw on their side they were real scrappy getting to loose balls, they hustled their last play and got the offensive rebound, and I think that's what won them the game," Robinson said. "They outhustled us that last possession when David Lee got the rebound, and they wanted it more than we did, I guess. They did a good job at it."
When a team playing out the final dog days of yet another miserable season shows more effort and heart than a team expected to contend for the Eastern Conference title, when the feistiest player on the court is named Earl Barron instead of Kevin Garnett, there must be cause for concern.
And concern certainly was the recurring theme in Rivers' postgame comments as he ripped his team for giving such a half-hearted effort in their first game since what should have been a confidence-boosting victory over the NBA-leading Cleveland Cavaliers on Sunday.
"Their passion was great to watch; I just wish it was not against us," Rivers said. "We had defensive lapses all night, and to me that's just a lack of focus. You can't offensive rebound when you don't have focus, and we didn't have any."
The Celtics are the league's worst offensive rebounding team, and they grabbed only five offensive boards (Barron, playing on a 10-day contract, had eight for the Knicks) and committed 18 turnovers in finding a way to lose on a night when they shot 55 percent from the field. Rivers noted that Boston has lost three times in the past week while shooting 55, 60 and 52 percent, saying those percentages illustrate how much the Celtics are hurting themselves by not being aggressive on the offensive boards and by having repeated defensive lapses.
There were other discernable differences in energy, epitomized at one point by Barron diving to the floor (a la Charles Oakley, who was in the house) to save a loose ball early in the fourth quarter when the Celtics quickly closed an eight-point gap and pulled ahead.
Barron ended up with 17 points and 18 rebounds (those 18 boards are more than Eddy Curry has grabbed -- 17 -- in the past two seasons combined) in 44 minutes, and Danilo Gallinari banked in what turned out to be the game-winning shot (after an offensive rebound by Lee) with 37 seconds left for the last of his 31 points.
"I thought we just showed up tonight and played basketball, and we had no focus and I thought we deserved to lose. The bank shot that Gallinari hit was the basketball gods punishing us for not having great focus. I think we absolutely deserved that," Rivers said.
The loss cost Boston (47-28) a chance to effectively move ahead of Atlanta (48-27) in the conference standings, as the Hawks -- who would lose the tiebreaker to the Celtics if they finish with the same record -- lost 109-100 at Charlotte.
In the days ahead, this will become what's known in league circles as a toilet game. It'll be flushed away, and it won't really matter once the postseason begins.
Still, it was a loss that gave the Celtics a string of four Ls in their past five games. And getting outhustled by one of the dregs of the Eastern Conference, a team with absolutely nothing to play for, was simply startling. And when you combine it with that huge fourth-quarter lead the men in green blew Sunday before outlasting the Cavs, it left you wondering whether Boston has the mental makeup to make any noise this postseason.
At this point, at least on this night, they looked a little too old, a little too disinterested, a little too dead on their feet to be taken too seriously in the playoffs.
3. Daily Dime Live Recap
ESPN.com writers and TrueHoop Network bloggers chatted with fans and gave their in-game opinions throughout Tuesday's games -- all in Daily Dime Live.
---
TUESDAY'S BEST

Williams

Deron Williams, Jazz: Serenaded with "M-V-P" chants for his winning basket, Williams went for a career-high 42 points in Utah's 140-139 OT win over the Thunder. D-Will dished 10 dimes for the West's No. 2 team.

TUESDAY'S WORST

Hinrich

Kirk Hinrich, Bulls: Accepting this award on behalf of the entire Chicago team, it's Kirk, who went 4-16 from the field in a loss to the Bucks. Chicago's a game behind the Raps for the last playoff spot.

QUOTE OF THE NIGHT

"I wish I could've rested some guys more, but you've got to have five guys on the court at all times. If I could've got away with three, I would've done it."

-- Warriors coach Don Nelson, whose team was limited to seven bodies due to illness and injury in a 112-94 loss to the Wizards. Nelson's next chance at the all-time coaching wins mark comes Wednesday night at Minnesota.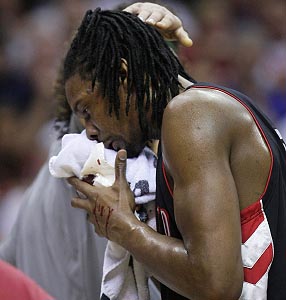 (AP Photo/Tony Dejak)
Raptors forward Chris Bosh leaves the game with a broken bone in his face after catching an inadvertent Antawn Jamison elbow. The Toronto star's return date is unknown.
7.

Waiting Is Hardest Part
Jon (Oakland but from NYC): Please tell me that if Donnie Walsh can't get a top FA (LeBron James , Chris Bosh, Dwyane Wade) that he has enough sense to not get us stuck with Carlos Boozer and Joe Johnson for the next 5 years?
Chad Ford: I think Walsh's instinct would be to wait until 2011. Boozer and Joe Johnson aren't bringing home a trophy. However, Mike D'Antoni may not be that patient. Coaches can't stand losing, even when there are greener pastures awaiting. If Walsh decides to wait until 2011, he may have to let D'Antoni walk.
To read the entire Ford chat, click here.
8.

Wallace Leads Defenders
By John Hollinger
ESPN.com

In contrast to shooting guard, the small forward position gave us an unusually strong field of candidates. The 3 is traditionally a spot where we're scrounging for a full set of candidates, but this season I had to exclude several players who seemed worthy of at least third-team consideration.
First team: Gerald Wallace, Charlotte
Sorry, LeBron. Wallace was the best defensive player on (at the moment) the best defensive team. One of the big changes under Larry Brown has been the conversion of Wallace from a gambling rover into a solid stay-at-home defender.
He still impacts the game with his athleticism as sort of a poor man's Wade, playing passing lanes when opportunities strike and surprising bigger players with his shot-blocking, but now it's done in the confines of one of the league's most disciplined defenses. Additionally, few are better switching on to smaller players, and Wallace's versatility defending 2s, 3s and 4s gives Brown a lot of leeway in matchups.
Wallace's plus-minus isn't great, but partly that's because of how the Bobcats play: All of Charlotte's starters have unimpressive plus-minus numbers, but as a group they play the vast majority of the minutes for the league's top-ranked club in defensive efficiency.
See the full All-Defensive PER Diem.
9.

Chicago Needs A Scorer
By Nick Friedell
ESPNChicago.com

When the Chicago Bulls start recruiting all the prized free agents this summer, they should just throw in a tape of the their awful 79-74 loss to the Milwaukee Bucks on Tuesday night with the following message: "We need you … badly."
After a first quarter in which the Bulls scored 27 points, coach Vinny Del Negro's group managed just 47 (24 in the second and third quarters combined) for the rest of the game. The offensive execution was terrible. The Bucks forced Derrick Rose into six turnovers and continually flustered him all night. With Rose struggling just to find an open look, the Bulls simply didn't know where else to turn when the game came down to the wire.
They didn't have an answer.
"The bottom line is that they made plays down the stretch, they made some shots," Del Negro said. "We didn't. You're not going to beat many teams scoring 74 points … it was not a solid 48 minutes for us."
There's no denying the Bulls blew a golden opportunity. The Toronto Raptors, the team they trail by one game for the final playoff spot in the East, had already lost. With a win, the Bulls would have controlled their own destiny, considering that they play the Raptors on Sunday.
See the full story on ESPNChicago.com