1. Blazers Are Ready For Whatever
By Kevin Arnovitz
ESPN.com
LOS ANGELES -- Let's review the trending Western Conference storylines that were swirling on opening night: The Lakers were indomitable, the Thunder were still a couple of seasons away from reaching the playoffs and the acquisition of the offseason was the Spurs landing Richard Jefferson.
Then there were the Trail Blazers -- the team most likely to take the next step.
Watching Portland this season has been like peering into a kaleidoscope. Turn that shaft, and the images and patterns continue to change. The Trail Blazers started the season as the brawny club that finished the 2008-09 season with a flurry, the first-round loss to a wily Houston team notwithstanding.
Then the bodies started to fall.
The Blazers were already without their phenom on the wing, Nicolas Batum. In early December, Greg Oden's season ended prematurely, the same day the Trail Blazers also lost supersub Rudy Fernandez for an extended period. A couple of weeks later, Joel Przybilla was lost for the season with a ruptured tendon in his right knee.
Good people of Multnomah County, meet your new center: 36-year-old Juwan Howard.
As rotations were being carted off to the sick ward, something strange happened.
In Howard's first start of the season, Portland went into the AT&T Center on the second night of a back-to-back without Brandon Roy (nursing a sore shoulder), and beat the Spurs 98-94. Howard put up an eye-popping plus-22, while Jerryd Bayless, starting in place of Roy, scored a career-high 31 points.
"It was a good time for us," Bayless said. "I think we were able to show that other guys, when given the opportunity, are able to play in this league."
The Trail Blazers' ragtag, undersized, Roy-less lineup began to rack up some meaningful wins: the Lakers, Orlando, at Dallas. Rookies Dante Cunningham and Jeff Pendergraph contributed significant minutes up front, scrapping on every possession.
Portland small forward Martell Webster credited Trail Blazers head coach Nate McMillan for maintaining a steady hand on the offense.
"For the most part, we stayed consistent with playing everyone the same way," Webster said. "We might make some tweaks here and there, just based on matchups and how we want to see our defensive schemes work out, but other than that we've been pretty consistent on our game approach."
Batum made his season debut Jan. 25, while Roy returned Feb. 16, the day center Marcus Camby arrived from the Clippers. Camby didn't dress for that game, but was in uniform for Portland's woeful home loss Feb. 19 to Boston.
As Camby assumed his role patrolling the paint for the Blazers, the team's starting lineup once again resembles a conventional NBA team: a true floor general at the point in Andre Miller, a natural big guard in Roy, a 3-and-D small forward in Batum and two lanky bigs in LaMarcus Aldridge and Camby. With a fortified bench composed of Webster, Bayless, a healthy Fernandez, Howard and the two rookies, depth has gone from a liability to an asset for Portland.
"Going into the playoffs, you want that," McMillan said. "For everybody -- the players and the coaches -- it's important that you do have the unit together so that they can build chemistry and learn each other's tendencies on both ends of the floor."
Although other teams in the West have gone to less-orthodox schemes, Portland's offense thrives on a traditional approach. As currently constituted, this Trail Blazers squad can both bully and outthink opponents in the half-court. It starts on the left side with Roy at the elbow and Aldridge down on the block. If they want to work a mismatch early, they'll screen for Roy up top. The overarching philosophy is patience: Consider every option. Read the defense and react. A good shot will materialize. It might emanate from the weak side because Roy and/or Aldridge have stretched the defensive rotations. If defenses stay honest on Aldridge and Roy, they can brutalize defenders one-on-one. If the shot attempt doesn't fall, crash the offensive glass.
On Wednesday night, the Trail Blazers executed all of the above in a 93-85 win over the Los Angeles Clippers at Staples Center. Roy and Aldridge combined for 50 points, and Portland compiled an offensive rebound rate of 29.7 -- better than its average of 28.4, good for fourth in the NBA.
Above all, the restoration of order in Portland gives Roy more flexibility to maneuver in the half-court.
"Offensively, I'm able to run off screens and play off the ball a lot more," said Roy, but not without a disclaimer: "I don't know if it's better, but it's something I'm adjusting to and trying to improve on."
With Roy, that tension between control and deference continues to be an issue, albeit one he's well aware of.
"When we lose, I'm like, 'Man, I should've had the ball more,'" Roy said. "But when we win, I'm totally fine playing off the ball. We're just trying to find that balance of my having the ball, but not overdoing it."
Since that ugly loss to the Celtics, the Trail Blazers have won 16 of 21 games. They might not be the anointed underdog that "nobody wants to play." But they've weathered a tumultuous season and have come out on the other end with a layer of scar tissue that could come in handy during a grueling seven-game, first-round series.
ESPN TrueHoop editor Kevin Arnovitz is a regular contributor to the Daily Dime.
Dimes past: March 24 | 25 | 26-27 | 28 | 29 | 30 | 31 | April 1 | 2-3 | 4 | 6
2. Davis Wants Clippers Rebranded
By Ramona Shelburne
ESPNLosAngeles.com

Davis
Baron Davis doesn't claim to have figured out why the Clippers have only won 46 games over the past two seasons … or why the franchise seems so perpetually unlucky … or why Mike Dunleavy couldn't make it work … or Kim Hughes …
But he does have ideas about the changes he'd like to see made heading into next year.
'"Hopefully in the offseason I'll sit down with the coach and the management, with the owner, and just let them know how committed I am to rebranding this whole Clipper franchise," Davis said in a wide-ranging interview before the team's game Wednesday night against the Blazers.
"I thought I'd just be able to come in, plug in and play, do what I do. It hasn't been that. It hasn't really been my personality being infectious on the organization. It was more like, 'You come here, you adapt to what we're doing.' Kind of, 'Sit and wait your turn.' So hopefully my turn is this next year."
Davis' scoring average plummeted by nearly seven points a game (21.8 to 14.9) in his first season with the club last year and has only climbed back up to 15.3 this year.
To read the entire column, click here.
3. Daily Dime Live Recap
ESPN.com writers and TrueHoop Network bloggers chatted with fans and gave their in-game opinions throughout Wednesday's games -- all in Daily Dime Live.
---
By Maurice Brooks
ESPN.com
WEDNESDAY'S BEST

Curry

Stephen Curry, Warriors: Is it possible that the Kings' Tyreke Evans and Curry will end up sharing rookie of the year honors? Curry gave voters something to think about, tallying 27 points, 14 assists, eight rebounds and a career-high seven steals in a victory against the Timberwolves.

WEDNESDAY'S WORST

McGrady

Tracy McGrady, Knicks: After missing two games with a bad knee, T-Mac returned to the lineup and performed as if he were still in pain. He missed 10 of his 12 shots from the floor, including all five of his 3-pointers.

QUOTE OF THE NIGHT

"I'm know I'm not Bogues; I'm Kurt. I'm going to do what I do to be successful out there on the floor, and that's play defense and rebound the ball. We've been sharing the ball well with each other, and we've got to continue to do that."

-- Bucks big man Kurt Thomas on filling in for injured center Andrew Bogut.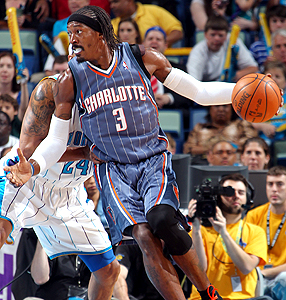 (Layne Murdoch/NBAE/Getty)
Gerald Wallace and the Bobcats defeated the Hornets to clinch the first playoff berth in franchise history. Charlotte is also assured of finishing with a winning record for the first time.
7.

Bad Back Can't Slow Finley
By Chris Forsberg
ESPNBoston.com

Finley
Back-to-backs are tough enough in the NBA, particularly when both ends are on the road, but Michael Finley encountered a whole new occupational hazard before Wednesday's game against the Raptors.
While picking up his luggage, Finley tweaked his back badly enough that Celtics trainer Eddie Lacerte phoned coach Doc Rivers on Wednesday to alert him that the 37-year-old swingman might not be available against Toronto. But not only did Finley play Wednesday night, he scored 14 points on 5-of-7 shooting with a quartet of 3-pointers in the win.
"It's amazing. Going into the game, Eddie called me and didn't think Mike could play because he strained his back in the room picking up luggage," Rivers said. "That's when you know you're old. But Mike went out, warmed up and said he felt great."
To read the entire blog, click here.
8.

Butler Rediscovers His Rhythm
By Tim MacMahon
ESPNDallas.com

Butler
DALLAS -- It's rare for Rick Carlisle to call plays these days, but he picked a spot on the first possession Wednesday night.
He wanted the ball in the hands of Caron Butler, who responded by knocking down a 17-foot stepback jumper.
"And the rhythm started," Butler said after a slump-busting 23-point performance in the Mavs' win over the Memphis Grizzlies.
The Mavs didn't need a big game from Butler to beat a Memphis team playing the butt end of a back-to-back. But they will need Butler at his best to have a chance to make a playoff run in the wild West.
To read the entire blog, click here.
9.

Suns Are Scorching-Hot
By John Hollinger
ESPN.com

Nash
We take the Phoenix Suns for granted.
It's been six years since Steve Nash arrived in the desert and the Suns started making scoreboards spin like pinwheels, so perhaps it was inevitable we'd become a bit jaded about their amazing offensive accomplishments. In fact, even the Suns began to take themselves for granted: Witness their brief dalliance with the "Eight Seconds or More" offense under Terry Porter last season.
Writers no longer concoct MVP campaigns for Nash, networks no longer do backflips to get all 82 Suns games on national TV and nearly everyone dismisses the Suns as contenders.
But the Suns haven't gone away. In fact, they're doing their thing just as well as they ever have.
To read the entire PER Diem column, click here.