1. With No Kobe, Nuggets Take Advantage
DENVER -- Tough to learn anything from a Lakers-Nuggets game without Kobe Bryant, Andrew Bynum and Kenyon Martin. At least we learned the Nuggets learned what to do when one of their players gets hurt.
On Thursday night, when Joey Graham sprained an ankle in the second quarter and stayed in the backcourt while the Lakers advanced the ball, the Nuggets at least had the presence of mind to foul and stop the clock. That's more respect than they accorded to their leading scorer, Carmelo Anthony, on Wednesday night in Oklahoma City when he was knocked cold in a collision with the Thunder's Kevin Durant.
While Carmelo was on the deck, the Nuggets kept playing at the other end of the court, and then Denver guard J.R. Smith grabbed a rebound and steamed toward the basket, stepping right past the sprawled Anthony in the process. Anthony has no recollection of what happened from the time he hit the floor until he was walking off the court. He's only heard about it from teasing teammates and doesn't want to see a replay.
Those who watched the whole thing unfold still can't believe it.
"I couldn't believe J.R. would try to go for the layup," said Chauncey Billups, who was on the bench at the time. "I was like, 'Dude, are you serious? Call timeout, man, you see the dude ain't move. What in the world are you thinking about?'"
Martin veered toward the positive, pointing out how Anthony was able to return and help the Nuggets to an important victory over the Thunder.
"It says a lot about Melo to be laying out like that and come back in and hit two clutch free throws," Martin said.
He was asked, doesn't the play say a lot about J.R. Smith?
"Yeah, whatever," Martin said.
A strange epilogue to a weird episode that seemed indicative of a team that isn't exactly coming together for the home stretch. There was the April Fools' prank gone bad, when Martin got heated over a popcorn-filled Range Rover. The Nuggets wobbled after coach George Karl left them for his cancer treatments; they lost six of their first 12 games without him.
Some of their edge (and their tattoo count) should be restored soon, since Martin claims he is close enough to recovering from his left patella tendinitis to come back in one of their final three regular-season games. Without him on Thursday night, the Lakers felt licensed to grab 17 offensive rebounds, giving them a shot at victory despite 37 percent shooting.
Specifically, that shot was a Derek Fisher 3-pointer, which Anthony blocked. (True to the way things are going for the Nuggets, Anthony landed on Fisher's foot and suffered a mild ankle sprain. Anthony said he'll be fine; the Nuggets list him as probably for their game against San Antonio on Saturday.)
The Lakers managed to make it close even without Bryant, whom Jackson gave the night off to rest his swollen knee and creaky legs, and Bynum, who seems resigned to following Phil Jackson's desire to delay his return from a strained left Achilles tendon until the playoffs. It probably says more about the Nuggets than the Lakers. By telling Bryant and Bynum to chill out, Jackson is sending the signal to his team that he's not that pressed about the remaining regular-season games, even if the Lakers lose out to Orlando for the league's second-best record. Jackson, apparently, is valuing rest and recuperation over end-of-year momentum.
The Nuggets (52-27) dug their fingers into the No. 2 seed in the West with their 98-96 victory. They were the team that needed this, and yet they barely prevailed. So the Nuggets enter the playoffs looking as unpredictable as J.R. Smith, who made 5-of-11 3-point attempts Thursday after making only 3-of-22 in the previous three games.
This isn't the prescribed path to victories. The Nuggets trailed Oklahoma City by 13 in the fourth quarter before coming back to win; then, on the second night of a back-to-back, they overcame a seven-point deficit to the Lakers in the fourth quarter. But for Billups, the method isn't as important as the growing totals in the victory column, which are rising thanks to this four-game winning streak.
"We were coming off a stretch where we were playing horrible, and I'm a firm believer that you have to work your way out of that," Billups said. "It's not just one game you're going to knock everybody's socks off. It's a process. And I think the process is going on. We're playing a whole lot better, a whole lot harder than we were a week ago."
And, for one night at least, just a little bit smarter.
J.A. Adande is a columnist for ESPN.com.
Dimes past: March 24 | 25 | 26-27 | 28 | 29 | 30 | 31 | April 1 | 2-3 | 4 | 6 | 7
2. Waiting On Bynum's Comeback
By Dave McMenamin
ESPNLosAngeles.com

Bynum
DENVER -- The Lakers have said there is "no timetable" for the return of starting center Andrew Bynum, who has been sidelined the past eight games with a strained left Achilles tendon. The team hasn't offered up a potential return date since Bynum was injured March 19 against Minnesota.
But Bynum has set his own timetable.
"I'm going to play the first game of the playoffs," Bynum said in the locker room before L.A.'s game against the Nuggets on Thursday. He said he was informed of coach Phil Jackson's pregame comments that revealed the coach told his center Tuesday to not feel forced to come back for the start of the postseason if he wasn't fully healed.
The first postseason game most likely will be at home on Sunday, April 18, giving Bynum 10 more days to rehabilitate his left leg.
"Andrew coming back in the last two games [of the regular season], if it's just not feasible, if it's better to rest him until the playoffs start or even into the playoffs before he plays, then it's more important to go in healthy," Jackson said. "I think that's been my message the whole year."
Bynum was averaging 15 points and 8.3 rebounds before the injury. He has received two MRIs on the leg, and they have confirmed there is no tear in the tendon.
"It's been going slow," Bynum said of his rehabilitation, and then added: "But I'm getting better every day. I think all the treatment I'm doing is paying off. I'll be alright soon."
To read the entire story, click here.
3. Daily Dime Live Recap
ESPN.com writers and TrueHoop Network bloggers chatted with fans and gave their in-game opinions throughout Thursday's games -- all in Daily Dime Live.
---
THURSDAY'S BEST

Noah

Joakim Noah, Bulls
Take that, Bron-less Cavs. Noah goes for 17 points, 15 boards and four blocks, energizing the Bulls in a must-win game for Chicago's playoff hopes.

THURSDAY'S WORST

Fisher

Derek Fisher, Lakers
With no Kobe on the floor, D-Fish took the game in his own hands in the final seconds. He proceeded to cap his 2-for-11 shooting night with an attempt that was blocked by Carmelo Anthony.

QUOTE OF THE NIGHT

"It was much-needed. He takes a pounding, being knocked down on the court."

-- Cavs guard Mo Williams on LeBron James getting a night off against the Bulls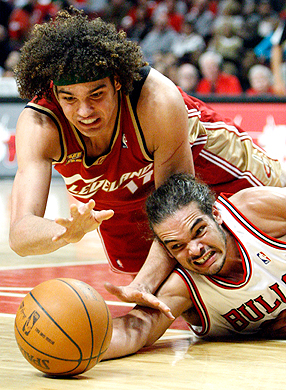 (AP Photo/Nam Y. Huh)
Cavaliers forward Anderson Varejao, left, and Chicago Bulls center Joakim Noah battle for a loose ball.
7.

Noah's Swat Revives Bulls
By Nick Friedell
ESPNChicago.com

Noah
The Chicago Bulls tried to give Thursday night's game away, but Joakim Noah wouldn't let them.
A win they desperately had to have. Most importantly, a win that gave Noah and the Bulls full control over their own destiny. If they win out, they will be in the playoffs. And if they make the playoffs, they owe a huge thank-you to the crazy-haired center.
"It just feels good to win," an exhausted-looking Noah said. "It just feels good to win right now. It was a really important win. The basketball gods were with us tonight. [Cleveland] got a lot of opportunities, a lot of shots. They didn't hit their last shots and things just went our way."
Cleveland didn't hit its last shot because Noah was there to stuff it away.
With the Bulls hanging on to a one-point lead, Cleveland guard Jamario Moon grabbed a rebound off an Anderson Varejao miss and appeared to have an opportunity to win the game for the Cavs with a follow lay-in.
Noah wasn't having it, though.
He swooped in out of seemingly nowhere and swatted the ball away from Moon. He saved the Bulls' season in the process.
"[Moon] has such quick bounce, and he was up right by the rim, I think it was just like an instinct play almost," Noah said. "Just trying to get the ball out of his hands because he could have just so easily caught and just laid the ball in. I just got my hand on it and just got it out of the way."
To read the entire blog, click here.
The Bulls' win over the Cavaliers on Thursday ended the Cavaliers' 30-game winning streak against teams that currently have losing records. Only two teams in NBA history have had winning streaks as long against teams that finished the season with more losses than wins. The Mavericks had a 41-game winning streak of that type in 2006-07 and the Suns had a 32-game streak in 1992-93.
By John Hollinger
ESPN.com

Ellis
The unquestioned captain of our all-gunner team, Monta Ellis plays like the "2" on the shot clock isn't there and is seemingly oblivious to the fact most of his teammates are better shooters. If not all of them, actually ... Ellis actually has the worst TS% of any Warriors rotation payer, including the three D-League call-ups, yet is far and away the team leader in usage rate.
He has the highest usage rate of any guard with a negative pure point rating, and the seventh-highest of any player in the league ... yet Golden State has the league's 21st-best offense when he's on the court and the second-best when he's not.
To read the entire PER Diem column, click here.