1. One Play Changed Everything For The Suns
By John Hollinger
ESPN.com
PHOENIX -- It was just one play in the middle of the first quarter, but it may prove the pivotal point in the Suns' playoff series against the Portland Trail Blazers.
Trailing 18-4 after the Blazers blasted out of the gate by scoring on eight straight trips, the Suns did something we've rarely seen them do in the playoffs: Run after a make. Following Marcus Camby's tip-in at the 7:18 mark, Steve Nash took the inbounds pass, hit it ahead to Grant Hill streaking up the sideline, who drove and kicked out to Jason Richardson for a wide-open 3-pointer.
He hit it, the Suns had the game tied by the end of the quarter, and from that moment on it was as if two entirely different teams replaced the ones that played the first five minutes. Phoenix regained control of the tempo on the Richardson play and never looked back, topping the Blazers 107-88 to take a 3-2 lead in their best-of-seven series. The Suns will go for the kill Thursday in Portland.
"It was big," said Nash, "We hadn't really got into our stride yet, they were making everything. I just felt like we had to think of this like the stock market -- we're not day traders, we're very conservative and long-term in our investment in transition. You can't think, 'This isn't working, we have to walk the ball up to get a good shot.' Let's keep the tempo going to our pace."
The play also signified a turning point in the Suns' approach. As a Suns source told me before the game: We have to run off makes or we're screwed (except he used a more colloquial term at the end). Phoenix had been drawn into a half-court game in its two losses in this series and had only four fast-break points in each, but on Monday the Suns pushed the tempo at every opportunity.
"I love the pace of the game and I love that we kept pushing the basketball," said Suns coach Alvin Gentry. "We have to run off makes and misses, but we're a lot happier when we run off misses."
It's had to believe given the final score, but the first six minutes of the game were completely one-sided in Portland's favor. The Blazers had two more successful trips after Richardson's triple, running their string to a staggering 10 straight to start the game. The Blazers led 23-9 at that point, but even then it was hard to see how they'd sustain the hot start -- four of the baskets were Andre Miller jumpers, including two 3-pointers, which isn't exactly a formula for sustained success.
"We came to the timeout and the stat sheet says 100 percent shooting," said Gentry. "But you've just go to keep playing. The guys were great, they didn't panic at all."
Instead, they dominated. Over a period of 36:10 from the middle of the first quarter until the middle of the fourth, Phoenix outscored Portland by a staggering 41 points, 97-56. The Suns ran at their usual pace from that point forward, amassing 17 fast-break points, while Phoenix's bench destroyed Portland's 49-13 before the scrubs came in at the 5:39 mark of the fourth quarter.
That latter item fulfilled a pregame promise from Gentry, who said he needed to trust his bench more and found himself rewarded with a 14-9 spurt with five subs on the court early in the second quarter. Channing Frye and Jared Dudley were the main catalysts, combining for 39 points and 8-of-14 3-pointers between them. (Amusing side note: Frye credited the heat in Phoenix during his halftime interview with TNT's Craig Sager. He better hope not: It's supposed to be in the low 50s in Portland on Thursday night).
For Portland, the defeat came with a stunning jolt of reality for All-Star guard Brandon Roy. He wore the jersey No. 7 and had the same expressions and mannerisms, but that wasn't Roy out there. He labored to a five-point, four-foul performance that included repeated blow-bys on defense and, save for one sweet rocker-step move past Grant Hill for a layup, an inability to explode past his man on offense. He finished 2-of-7 from the field in 19 minutes and, perhaps most tellingly, didn't generate a single assist.
Everyone knew this was possible coming in. Roy's not lying when he says his knee doesn't hurt, but there's a difference between "not hurting" and "full strength". He's not anywhere close to game shape, which is why the Blazers had considered holding him out of Game 4, and without the adrenaline and crowd support the lack of conditioning caught up to him.
Fortunately for Roy and the Blazers, he'll have two days to rest up before the Blazers try to stave off elimination in Game 6. He also said he'll ask to start Game 6, a request that is all but certain to be accommodated at the expense of Jerryd Bayless.
But regardless of how Roy feels, he'll need a lot more help. Portland was outclassed regardless of who took the floor in this game, and it's the third time in five contests we've left the arena saying that. The Blazers have competed bravely to get to this point in the face of myriad injuries and have played their best basketball with their backs to the wall, but one wonders how much longer they can keep plugging holes in the dike against such a deep and skilled opponent.
Dimes past: April 6 | 7 | 8 | 9-10 | 11 | 12 | 13 | 14 | 17 | 18 | 19 | 20 | 21 | 22 | 23 | 24 | 25
2. Nuggets Getting Fewer Calls
By Chris Broussard
ESPN The Magazine

Anthony
There's been much hand-wringing over why the Denver Nuggets have declined so much under interim coach Adrian Dantley, who's taken over while George Karl undergoes treatment for throat cancer.
The Nuggets, 41-20 under Karl this season, are just 13-12 under Dantley, including a 1-3 mark in their first-round series with Utah.
One thing that hasn't been discussed is the fact that Denver has shot fewer free throws since Dantley became the coach. With Karl on the sidelines, the Nuggets attempted 31.6 foul shots per game, making 24.4. Under Dantley, Denver has averaged just 27.8 foul shots, hitting 21.6.
There's no question that that's affected the Nuggets' W-L record under Dantley. The bigger question is, why the discrepancy?
To read the entire blog entry, click here.
3. What Did We Learn About The Magic?
By Eddy Rivera
TrueHoop Network

Carter
With a 99-90 victory against the Charlotte Bobcats in Game 4 on Monday night, the Orlando Magic put the finishing touches on their first four-game sweep in franchise history that can best be described in one word: strange.
Strange because the Magic were able to defeat Charlotte in four straight games despite limited contributions from their franchise player and two-time Defensive Player of the Year, Dwight Howard. Normally, Howard is the best player on the floor for Orlando, but not in this series. The Bobcats did an excellent job of using their abundance of big men, which included the likes of Tyson Chandler, Nazr Mohammed and Theo Ratliff, to nudge, poke and prod Howard relentlessly. The strategy worked, as Howard played roughly 26 minutes per game and didn't record a single double-double against Charlotte despite posting gaudy block totals in limited playing time. It was a frustrating week or so for Howard, but he'll have time to regroup and redeem himself in the Eastern Conference semifinals against either the Atlanta Hawks or the Milwaukee Bucks.
So what did we learn about the Magic from this sweep?
Vince Carter is snapping out of his funk. Maybe. It's no secret that Carter has struggled in the playoffs so far, but after a slow start in Game 4, Carter heated up in the second half by getting involved in a steady diet of pick-and-rolls and making a variety of plays on offense for the Magic. Against the Bobcats, Carter found the most success in the pick-and-roll because it invited him to be aggressive and attack the basket, something he needs to do more of as the postseason progresses.
Jameer Nelson is playing like an All-Star. In Games 1 and 3, where Nelson had two 32-point performances, showed him at his best. Nelson was excellent on offense, being über-aggressive and shooting with great efficiency (.647 true shooting percentage). If Nelson can continue playing at a high level, watch out.
Rashard Lewis and Mickael Pietrus are in playoff form. Lewis and Pietrus have taken their games up a notch and have already proven that they are more than willing to step up in crunch time and hit big shots, just like in last year's playoffs. It'll be interesting to see if that trend continues.

To read more from Rivera, check out Magic Basketball.
4. Daily Dime Live Recap
ESPN.com writers and TrueHoop Network bloggers chatted with fans and gave their in-game opinions throughout Monday's games -- all in Daily Dime Live.
---
By Maurice Brooks
ESPN.com
MONDAY'S BEST

Dudley

Jared Dudley, Channing Frye, Suns
In a game full of All-Stars, it was the duo of Dudley and Frye that stole the show. The two reserves combined to go 13-for-21 from the field, including 8-for-14 on 3-pointers, finishing with 39 points as Phoenix stopped Portland.

MONDAY'S WORST

Jackson

Stephen Jackson, Bobcats
He did a great job of getting his teammates involved, but couldn't find the range with his own shot; he was held to 2-for-11 shooting from the field for an eight-point night in Charlotte's's series-ending loss to Orlando.

QUOTE OF THE NIGHT

"If you would have told me that he would have averaged well under 30 minutes for the series and we would sweep, I would have said you're crazy."

-- Magic coach Stan Van Gundy on Dwight Howard, who was limited against the Bobcats because of foul trouble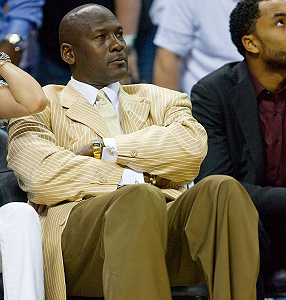 (Brian A. Westerholt/NBAE/Getty)
Bobcats owner Michael Jordan had a front-row seat as Charlotte fell to the Orlando Magic 99-90 Monday in Game 4 to be swept out of the postseason.
8.

Hawks' Road Woes Continue
By Bret LaGree
TrueHoop Network

Smith
The current incarnation of the Atlanta Hawks has won just one road playoff game in 11 tries. Of all the ways the franchise can measure its progress over the past three years, finally losing a road playoff game by fewer than 18 points has to be the least palatable. It's a fair question whether the Bucks can make as high a percentage of their shots in Atlanta as they did in Games 3 and 4 at home, but the Hawks can't simply rely on the law of averages and home-court advantage to carry them through the rest of the series.
Bucks coach Scott Skiles made a significant defensive adjustment between Games 2 and 3 in moving Luc Richard Mbah a Moute from Joe Johnson to Josh Smith. Smith averaged 16.5 points, 12.5 rebounds, and 6.5 assists in the two Atlanta home wins and 13.5 points, 11.5 rebounds, and 1.5 assists in the two road losses. The decline in assists, combined with the fact that more than a quarter of Smith's field goal attempts in Milwaukee (compared to less than 10 percent in the first two games) came outside of 15 feet (where he's a sub-30 percent shooter for his career) demonstrates the reduced value Smith provides the offense when playing off the ball. Even on a night when Hawks guard Mike Bibby went 5-for-7 from beyond the 3-point line, I suspect Milwaukee will be fine anytime Bibby, despite playing 10 fewer minutes, attempts as many shots as and earns more assists than Smith.
Effective as it was, the Bucks didn't win because they made one change any more than the Hawks lost simply because they were playing on the road. In Games 3 and 4, the Bucks did a far better job of using the consistency with which Atlanta switches screens (both on and off the ball) to create advantageous matchups for their offense, which led to their making a higher percentage of their shots, which, in turn, helped reduce Atlanta's fast-break opportunities.
It's now up to the Hawks to counter those adjustments with some of their own. It's unrealistic to expect Atlanta's guards to all of a sudden be able to prevent dribble penetration but, on the season, the Hawks weren't nearly as porous defensively as they were in Games 3 and 4. Just as importantly, the Hawks need to make more frequent use of both Smith and Al Horford (35 points on 27 shots in Atlanta, 18 points on 16 shots in Milwaukee) despite the valiant defensive efforts of Mbah a Moute and Kurt Thomas. The locale should help, but the ideas and their execution will be crucial.
To read more from LaGree, check out Hoopinion.
9.

Salmons Perfect From The Line

Salmons
John Salmons scored 22 points, including 10-for-10 from the foul line, in Milwaukee's Game 4 win against Atlanta on Monday night. That was the best free throw performance by a Bucks player in a playoff game in 22 years -- since Sidney Moncrief was 11-for-11 in, coincidentally, a victory over the Hawks in 1988.
Check out the rest of Elias, by clicking here