1. Carter and Superstar: Together Again
By Chris Sheridan
ESPN.com
ORLANDO, Fla. -- For a decade now I have been telling people that, in my opinion, Vince Carter was past his peak.
The way I see it, or perhaps I should say the way I've seen it, is that Carter reached the apex of his career in 2000, back when he was all the rage at All-Star Weekend, bringing some pizzazz back to the Slam Dunk Contest, then traveling Down Under where he was the best player on the gold-medal winning U.S. Olympic team in Sydney and pulled off what is still, by far, the best in-game dunk I have ever witnessed, leaping over the top of 7-footer Frederic Weis of France as he rose up for that slam.
In the ensuing years, he became the player who alienated Toronto, first by saying he wanted out, then by admitting there were times he did not give 100 percent. They still boo him lustily there every time he touches the ball.
Next came his 4½ seasons in New Jersey when he was supposed to lead the Nets to the championship that had eluded them when they went to the Finals in 2002 and '03. But each season, they came up short.
And then there was this season, his first in Orlando, and the first time in his career when he was not considered the single best player on his team, a distinction that will belong to Dwight Howard long after Vince has hung up his sneakers for good.
Through all those years, Carter seemed to have a disdain for the spotlight, a reluctance to carry himself and conduct himself in the manner we expect from our NBA superstars.
He seemed reluctant, even passive. And around the league, he developed a reputation as someone who was soft. Younger readers might not even know he was once called "Half-Man, Half-Amazing," but that moniker failed to stick as his odometer kept rolling and his accomplishments stopped coming.
Knock him down, the saying went, and watch how long it'll take him to get back up.
Well, he got back up in a big way Thursday night in Orlando's 112-98 victory over the Atlanta Hawks in Game 2 of the Eastern Conference semifinals, leading a fourth-quarter onslaught that turned a tight game into another romp.
Carter scored 11 of his 24 points in the final period without having to force things, using a mix of aggression, heady passing, timely defense and sharp shooting to keep the Magic the only team left in the NBA playoffs without a single loss on their résumé. (As a matter of fact, it has now been 35 days since they've lost at all.)
"There's no tricks; he's very, very motivated to win games. He likes being in this situation, he likes being on this stage," Magic coach Stan Van Gundy said. "He needs to play to his instincts and be aggressive, and that's what we've told him. We try to get the ball into his hands and let him take the playmaking from there."
Carter's aggression was one of the more noticeable aspects of a game in which the Magic got huge contributions from every member of their core.
Howard made a concerted effort to shake off whatever frustrations he was feeling (and he was certainly feeling them after he took a shot to the nose that sent him to the locker room to stanch the bleeding) and played arguably his most solid game of the postseason with 29 points on 8-for-9 shooting from the field and 13-for-18 from the line with 17 rebounds. Rashard Lewis and Jameer Nelson took advantage whenever they had a slower or smaller defender on them to score 20 points apiece, and Mickael Pietrus added 13 points off the bench -- a total that would have been higher had he not shot free throws like Howard had been shooting them up until this night, missing five.
"Rashard got his more throughout, but other guys all had big runs," Van Gundy said. "The ball movement was good and we got good shots, which isn't easy to do against a long, athletic team, and the hard hits Dwight took did not lead to retaliation. He really kept his head tonight, and he was hit hard."
Orlando outscored Atlanta 28-15 in the fourth quarter, but the moment that launched the momentum shift came at the end of the third when Nelson banked in a 30-footer at the buzzer to give Orlando an 84-83 edge heading into the fourth.
Carter then scored Orlando's first four points, made a 3-pointer with 8:48 left to get the lead to six, then pulled a shot out of the all-time hang-time reservoir he tapped more frequently in his younger years, floating across the lane and to his right as he turned in the air. He held the ball aloft in his right hand and released it after gravity had finally taken hold, the ball kissing off the glass and in to make it an 11-point game.
Finally, after 3-pointers by Lewis and Nelson off some exceptionally crisp and quick ball movement, Carter's driving dunk with 3:50 remaining made it 109-90 and left you asking yourself: "Wasn't this a close game not all that long ago?"
"I consider a closer not only a guy who makes shots but who makes plays and makes it easier for his team to put pressure on the opponent -- that was more so my mentality, and has been my mentality. Just being patient, that's who I've been for a long time, and I didn't want it to be different coming here to this wonderful team with a lot of scorers," said Carter, who seemed to enjoy being back in a place of importance, on stage at the postgame interview podium.
"I live for it," Carter said of winning. "I've been a part of it, and I've been away from it for a couple years. And the opportunity and excitement of first just being back in the playoffs; second, having the opportunity to play for so much, you know, I welcome it."
Words like that have rarely been heard out of Carter's mouth since 2000.
It's 2010 now, but it's never too late to start playing again like the player who so electrified the NBA, and the world, a decade ago.
ESPN Insider Chris Sheridan is a regular contributor to the Daily Dime.
Dimes past: April 21 | 22 | 23 | 24 | 25 | 26 | 27 | 28 | 29 | 30 | May 1 | 2 | 3 | 4 | 5 | 6
2. Hawks Fall Apart In The Final Period
By Zach Harper
TrueHoop Network

Smith
What do you do now if you're Mike Woodson?
The Atlanta Hawks had a lot of good numbers in this latest loss to the Orlando Magic. They made 54.5 percent of their 3-pointers and 30 of 31 free throws. They outrebounded Orlando 40 to 36 and grabbed 16 offensive rebounds. Yet they still lost by double digits.
The problem was the way they attacked the Magic in the fourth quarter when the game started slipping away. During a seven-minute stretch of the fourth quarter, the Hawks scored just three points while allowing 21 points to Orlando. The reason for this lack of Hawks offense had a lot to do with the types of shots they were settling for. Atlanta took seven jumpers (six off the dribble) during this scoring drought but only managed to make one of them. It also had two forced post moves by Josh Smith that weren't exactly good shots and a layup attempt off an offensive rebound from Marvin Williams that Vince Carter emphatically swatted away.
The Hawks fell right into the trap of the Magic defense and went away from what worked for them during the first three quarters. When Atlanta was scoring well it was because it moved the ball and found the open shooters. The Hawks utilized spot-up shooters who knocked down timely 3-pointers in the first three quarters. When they allowed Orlando to make their big run in the fourth quarter, they had too much one-on-one play that resulted in forced jumpers. And this is what Orlando does so well.
According to HoopData, the Magic force the third most 2-point jumpers from 16 to 23 feet in the NBA and allow the 24th-best percentage of those shots. With Dwight Howard patrolling the paint, they play enough help defense to get opposing teams to rush jumpers on the perimeter rather than test the league's leading shot-blocker inside.
For the first three quarters of this pivotal Game 2, the Hawks didn't get caught up in this style. They passed well and created opportunities for each other. But when the game started to slip away from them, they resorted to the type of basketball their fans have grown accustomed to. Team ball became isolation, and isolation became one bad shot off the dribble and out. As a team, the Hawks had only two assists and five made shots in the fourth quarter of a game that was theirs for the taking.
Heading into Game 3, Woodson now has to find a way to get his team to completely avoid these traps Orlando sets for them.
To read more from Harper, check out the blog Hardwood Paroxysm
3. Atlanta Struggles Against Pick-And-Roll
By Eddy Rivera
TrueHoop Network

Carter
After the Atlanta Hawks' 43-point loss at the hands of the Orlando Magic in Game 1, it was widely assumed that Game 2 would be a more competitive contest between the two teams from the Southeast Division. And it was … for approximately three quarters. However, the Magic went to another gear in the fourth quarter and were able to defeat the Hawks 112-98 thanks in large part to the excellent performances of the four All-Stars on the roster -- Vince Carter, Dwight Howard, Rashard Lewis and Jameer Nelson.
Each player shouldered the load at different junctures, but after a slow start in the first half, Carter exploded in the second half by scoring 20 points on 8-of-12 shooting (he finished 9-for-16 with 24 points and seven rebounds) and helped carry Orlando in the fourth quarter by running a simple play that caused problems for Atlanta.
The pick-and-roll.
From the start of the final period up until the last minutes, Carter ran the pick-and-roll with Howard to perfection. Carter did a great job of being a playmaker for the Magic, looking to pass or score whenever possible. When Carter was looking to score, he was almost always aggressive, attacking the basket and showing off glimpses of Vinsanity with a few highlight-reel dunks that excited the crowd at Amway Arena. When Carter was looking to pass, he was able to jump-start the offense by finding the open man or triggering the same type of ball movement that was a death knell for the Hawks in Game 1.
All in all, Carter has settled into a groove and has scored 20 or more points in three consecutive playoff games, dating back to Game 4 against the Charlotte Bobcats in the first round. However, Carter's performance against Atlanta in Game 2 has been his best game so far in the postseason because he was efficient offensively and his shot selection was very good. Carter, for the most part, strayed away from taking long 2-point jumpers and instead operated either in the paint or behind the 3-point line.
When Carter optimizes his offense in that manner, he becomes a deadly offensive player for the Magic. Game 2 was a prime example.
To read more from Rivera, check out the blog Magic Basketball
4. Daily Dime Live Recap
ESPN.com writers and TrueHoop Network bloggers chatted with fans and gave their in-game opinions throughout Thursday's games -- all in Daily Dime Live.
---
By Maurice Brooks
ESPN.com
THURSDAY'S BEST

Howard

Dwight Howard, Magic
Not even a bloody nose could slow Howard, who had 29 points and 17 rebounds to pace four Magic players with at least 20 points. On Thursday it was announced he was a unanimous All-NBA choice.

THURSDAY'S WORST

Williams

Marvin Williams, Hawks
If the Hawks are going to keep pace with the Magic, they will need more scoring from Williams, who made just two of eight shots in 41 minutes of action, finishing with nine points.

QUOTE OF THE NIGHT

"If it's hurting throughout the game, there is no way it can stay off your mind. You want to be conscious about it, but at the same time I need to find a way to help the team no matter if it's hurting or not. There is no way you can not think about it."

-- LeBron James on his injured right elbow
7.

Back To The Drawing Board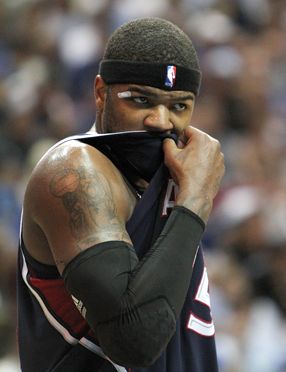 (Jesse D. Garrabrant/NBAE/Getty)
Josh Smith fired in 18 points and grabbed nine rebounds, but the Hawks stumbled in the fourth quarter of their Game 2 loss in Orlando. The Magic now have a 2-0 series lead.
8.

Cousy Impressed By Rondo
By Peter May
Special to ESPNBoston.com

Rondo
Yes, the Cooz is impressed. What else do you need to know?
Bob Cousy is, like most everyone else, enthralled by the play of Celtics point guard Rajon Rondo. Unlike most everyone else, Cousy's opinion matters. He has a permanent place on the Mount Rushmore of NBA point guards. Having him praise your work as a point guard is akin to Bill Gates praising your understanding of computer software.
"I've been watching the Celtics for the last 50 years," said Cousy, who retired in 1963 but made a brief, forgettable comeback as a player-coach with Omaha-Kansas City in 1969. "And Rondo is the first point guard since moi that I've been really excited about. Bird excited you, but he wasn't a point guard. Jo Jo [White] wasn't a point guard. He's the first since moi to get my attention."
There have been some pretty good point guards in the years since Cousy left and Rondo arrived. Two of them, Nate Archibald and Dennis Johnson, are Hall of Famers. But what Cousy sees in Rondo is a versatility that few have had at the position.
Rondo led the NBA in steals this season. No Celtic had ever done that. Right now, he leads the NBA in assists during the playoffs, more than one assist per game ahead of Deron Williams and more than two a game ahead of Steve Nash. Rondo recently was named to the NBA's all-defensive first team.
"What more can this kid do? He sees the floor extremely well," Cousy said. "He's even starting to put what my old coach, Doggie Julian, would call a little French pastry on a play, going behind the back. The kid is only 24. People talk about the Big Three. But this is the Big One. The sky is the limit as far as I can see."
To read the entire column, click here
9.

Kerr Has Suns In Right Place

Nash
PHOENIX -- Wednesday was about baggage.
It started with the Manchester City-Tottenham Hotspur game, which I watched with long-suffering City fan Marc Stein in a Phoenix hotel room. The English Premier League plays its entire season for the title itself, but also so its top four teams can advance to the prestigious (and lucrative) Champions League tournament, which begins the following August. Man City hadn't made it since 1968 (when the tournament was known as the European Cup); Spurs hadn't made it since 1961. The match would decide fourth place. You couldn't have a bigger soccer game. Like the Cubs playing the Red Sox in a 2003 playoff series with the winner making the World Series.
Because Tottenham had built more points, Man City needed to win outright and Spurs needed only a tie. Steiny Mo was understandably pessimistic. Stuck in Manchester United's shadow since forever, Man City had been soccer's version of the Clippers until last year, when an Abu Dhabi conglomerate bought the club and started making it rain like Pacman Jones. Now City has the deep pockets, but it still has a history of coming up short, letting down its fans and watching Manchester United (its big bully, Lakers-type rival) rack up title after title.
"It's like the Red Sox pre-2004," Steiny Mo explained. "You just expect that something will eventually go wrong, and it usually does."
Both teams blew golden chances in the first half, most memorably Tottenham's Peter Crouch, who headed a corner off the post. I was rooting for Spurs, my adopted Premier League team, only I kept it low because the game didn't mean even 1/500th as much to me as it did to Steiny Mo. Soccer fans are a different breed. You're either casual (like me) or you're over-the-top insane. Stein was supposed to watch with Steve Nash, a die-hard Spurs fan, only Nash had a playoff game six hours later and opted for a nap and peace of mind. If he watched the soccer game, it could potentially have affected his mental state for Game 2 against the Spurs. Steiny Mo was stuck with me.
To read the entire column, click here