1. Ron-Ron To The Rescue For Lakers
LOS ANGELES -- The deeper these Western Conference finals go the more they feel like episodes of "Lost" with its overall theme of redemption, be it Jack, Hurley, Channing Frye or now Ron Artest.
Words can't describe the look Lakers coach Phil Jackson gave Artest as he returned to the bench after an ill-advised 3-point shot he took with a minute left in the game and the Lakers leading 101-98. And words can't capture the sound the Staples Center crowd made when he launched it … although, after reading that the "Lost" tech guys mixed cicadas with New York city taxi receipt printers to make the smoke monster noise, I'd like to see them try. Maybe they could mix the reaction at a wedding when the bride trips and falls on her face with the screams of riders on Disney World's Tower of Terror ride.
Then the Lakers fans' worst fears were realized when Phoenix's Jason Richardson made a 3-pointer that tied the score. There were still 3.5 seconds remaining, however. Enough time for Kobe Bryant to make yet another game-winning shot.
Except the Suns forced Bryant to the sideline, and his turnaround jumper fell short. But in swooped Artest to snatch the airball and make a layup off the backboard as the buzzer sounded.
The Ron-bank Redemption. Lakers 103, Suns 101. A 3-2 lead for Los Angeles in the series with a chance to close it out in Phoenix on Saturday.
And the moment of the season for Artest, who has struggled to fit in and make Lakers fans forget about the departed Trevor Ariza, with whom he switched places last summer. There's so much going on here we could use a series of flashbacks and flash-forwards, but Suns forward Jared Dudley summarized Artest's wild ride the best.
"He had a missed 3 at the end, gave us a chance to tie it up," Dudley said. "For him to be the hero at the end like that, it's crazy."
"Crazy" used in conjunction with Artest? Where have we heard that before? How about, uh, constantly?
But Jackson used an assortment of other, complimentary words to describe him, including aggressive, determined and dogged. And by the way his teammates talked about what he means to them, you can tell they find him to be a sympathetic figure.
"Ron's been asked to sacrifice a lot of his game to really try and fit in to the way we do things," Derek Fisher said. "And sometimes it makes it hard for him to have the rhythm and fluidity to his game."
Artest doesn't always do what he's supposed to. Craig Sager wanted him to join Bryant for the on-court interview, but he charged right past Lakers public relations manager Josh Rupprecht and kept running right into the locker room, knocking down a photographer on the way. (Rupprecht had to go in and retrieve Artest, who went back out and had Sager giving shout-outs to Queensbridge, N.Y.).
But the Lakers did note the way he has tempered his emotions, gone technical-free for the playoffs and keeps working hard.
"I'm a better player than my numbers are speaking of right now," Artest said. "But there's a new system for me. I'm trying to, somehow, make it work for the team. So that's kind of why I kind of wanted to take that [3-point] shot. It's not always a good shot, but nobody's perfect. And you move on and you try to get better from it."
At least he only had to wait for approximately one minute of game time to get his chance to atone. Phoenix's Frye had to suffer through days of analysis after making only one of his first 21 shots in the series before he made four 3-pointers in Game 4.
Artest helped hold Oklahoma City star Kevin Durant, the league's leading scorer, to 35 percent shooting in the first round. Then Artest came up with 20 points and a big 3-pointer in the Lakers' Game 3 victory over Utah in the conference semifinals.
The Lakers were pleased with Artest's defense against Richardson over the course of the conference finals, but it wasn't getting much attention, and the coaching staff worried that could lead Artest to venture beyond his boundaries in the quest to make an impact.
And that's what happened with a minute left in the game. It was such a poor decision that after Jackson lashed out at him during the timeout, "I don't know why I left him in the game," Jackson said. "I actually questioned it myself when I put him out there on the floor, and there he was. Made the key play."
Luck can get the better of planning in the playoffs.
The Lakers had a better strategy for attacking the Suns' zone defense, with crisp passing and drives by Fisher enabling them to lead by as many as 18 points. But the Suns showed a resolve that impressed even the Lakers, as Steve Nash had his best scoring game of the series (29 points), Dudley kept coming up with and-1s and the Suns even managed to get to the free throw line more often than the Lakers did in their own building (29-20).
And all anyone will remember will be two sequences.
Nash missed a 3-pointer but grabbed the long rebound and passed to Richardson, who was standing near the same spot where Tim Thomas launched a game-tying, series-changing 3-pointer in the 2006 Suns-Lakers series. If it had gone in, you might have wondered if the Suns were simply destined to beat the Lakers over and over again in similar fashion. Richardson missed but was granted another opportunity thanks to a Frye rebound. He got the ball out to Richardson, who stepped into another 3-pointer that banked in.
Then came Bryant's shot, with about a 9.9 degree of difficulty.
"I felt I had a good look," he said. "Grant Hill stuck his hand in there in the last second, forced me to double-pump."
The ball came up short. But Artest didn't get caught looking at Bryant and expecting him to be the hero again. He ran from the left side of the court, past Richardson, and was the first to the ball as it fell below the right side of the rim. (Bryant didn't get an assist on the play, leaving him one shy of a triple-double on a night when he had 30 points and 11 rebounds).
For Artest, it was the culmination, a never-ending effort to make this thing right.
"I was kind of not playing my game from the beginning of the game," he said. "And it kind of carried over. So in the second half, I was finding my way a little bit. Made some good passes and good steals and got some rebounds. So I guess that aggressive play can carry over into the last possession."
Will this victory carry over into Game 6? Doubtful. I've written before about the fallacy of the devastating loss. I fully expect the Suns to bounce back and win to bring the series back to L.A. for Game 7. But ultimately, missing out on this opportunity will cost them.
Surely when they thought of possible outcomes and ways for the series to turn, "Ron Artest makes a shot at the buzzer" didn't come up.
"It's just amazing; you go through all this preparation and all this stuff, it comes down to just fundamental things," Bryant said. "They knocked down a 3-pointer because we didn't box out. They wind up losing the game because they didn't box out. It's just the little things like that that are the difference between winning big playoff games and losing them."
And there are lessons to be learned, even for the fortunate.
"We had a little session with Ron after the ballgame," Jackson said. "A lot of hugs -- and then a lot of discussion."
J.A. Adande is a regular contributor to the Daily Dime.
Dimes past: May 3 | 4 | 5 | 6| 7 | 8 | 9 | 10 | 11 | 13 | 16 | 17 | 18 | 19 | 23 | 24 | 25 | 26
2. Odom Beating Amare In Battle Of Boards
By Michael Schwartz
TrueHoop Network

Stoudemire
Amare Stoudemire made the mistake of calling Lamar Odom's 19-point, 19-rebound effort in Game 1 "lucky."
That remark became a national punch line, but five games into the series even Amare would likely admit there's been something more than luck to Odom's performance in the conference finals. Sandwiched between his Game 3 stinker, Odom has recorded double-doubles in every other game this series.
As for Amare? His only double-double came during that monster Game 3 effort in which he exploded for 42 points and 11 boards.
Although Amare is producing a typical Amare series from a scoring standpoint, averaging 24.6 points per game, he has coupled that with a typical Amare rebounding series against the trees of Los Angeles, pulling down just 6.4 boards per contest.
In a couple of fewer minutes per game, Odom has managed to snatch 11.8 rebounds per game, caroms he's often fighting for against Stoudemire.
A big reason the Suns trailed throughout most of Game 5 was because they could not contain the Lakers on the offensive glass, and Odom was a big part of that, collecting five of the team's 19 offensive rebounds and putting many of them back for buckets on a night when Los Angeles outrebounded Phoenix 49-40.
The Lakers have been at their best this series when Odom, a noted Suns killer, teams with Pau Gasol in the frontcourt, and as we saw Thursday that's particularly true on the offensive glass.
On the other side there's a player, in Stoudemire, who is having a nice scoring series but pulled down a whopping total of four rebounds in his team's biggest game of the season, Game 5.
That's not the kind of performance that will get a player a max contract, nor was that the kind of effort that could propel the Suns to an upset in Staples Center.
To read more from Schwartz, click here
3. Daily Dime Live Recap
ESPN.com writers and TrueHoop Network bloggers chatted with fans and gave their in-game opinions throughout Thursday's game -- all in Daily Dime Live.
---
By Maurice Brooks
ESPN.com
THURSDAY'S BEST

Bryant

Kobe Bryant, Lakers
Ron Artest played the role of hero, but it was Bryant's 30 points, 11 rebounds, nine assists and four blocked shots that put the Lakers in position for the victory.

THURSDAY'S WORST

Dragic

Goran Dragic, Suns
The star of Game 4 was unable to leave his mark in Game 5, making just one shot from the field and handing out a single assist in limited action on the court.

QUOTE OF THE NIGHT

"I think we'll all sit down, and before one of us makes a decision, all of us will have spoken to each other and [listened to the] thinking."

-- Dwyane Wade on his fellow free agents LeBron James and Joe Johnson
6.

MVP-Like Effort By Nash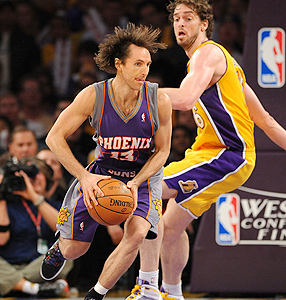 Noah Graham/Getty Images
Steve Nash had 29 points and 11 assists and made several big plays down the stretch, but the Suns still head back to Phoenix facing a 3-2 deficit to the defending champions.
7.

More Heartbreak For Nash, Suns
By Ramona Shelburne
ESPN Los Angeles

Nash
LOS ANGELES -- He had to swallow hard on the question. Pausing, for a long second, to gulp on whatever well of positivity he could find in this ugly moment before answering.
Once again, Steve Nash's Phoenix Suns had come up the lovable losers. The guys looking on the bright side and drawing strength from how well they'd played, before the other guys ended up celebrating at mid-court after some crazy, ridiculous game-winning play.
"You know," Nash said, in a voice more gravelly than usual, "everything's OK. Maybe we deserved this game, maybe we didn't. But we lost. And they held home-court. We'll go back and do the same and we'll come back here for Game 7."
This latest round of playoff heartbreak -- courtesy of an opportunistic putback from Ron Artest to give the Lakers a 103-101 win in Game 5 of the Western Conference finals at Staples Center -- came after Nash had brilliantly led the Suns back from an 18-point second-half deficit with 29 points and 11 assists.
He was at his best down the stretch. In the final, frenetic 5 minutes, 22 seconds of the fourth quarter, Nash had scored nine points. His 17-foot jumper with 51.5 seconds left pulled Phoenix to within 101-98, setting the stage for Jason Richardson's banked-in 3-pointer with 3.5 seconds remaining to tie the score at 101-101.
To read the entire column, click here.
8.

Perkins' Delayed Justice

Perkins
After the NBA rescinded one of his two technical fouls from Game 5, Kendrick Perkins will be in uniform but on thin ice for Friday night's Game 6 of the Eastern Conference finals. His next technical would be his seventh of the playoffs, and would trigger an automatic suspension.
Three thoughts:
This decision is too slow
The Celtics lost Game 5 by 21 points. It was not close.
However, it was close when Perkins was playing. During his 16 minutes of first-half play, the Celtics were outscored by just a single bucket. Perkins was ejected just before halftime, with the Celtics hanging around, down by eight.
I'm not saying the Celtics would have won had Perkins played. I'm saying we shouldn't have to wonder.
My complaint, which I have made several times before, is that in this day and age there's simply no reason it should take a whole night and most of a day for the NBA to review a five-second play.
To read the entire blog entry, click here.
9.

Clips Fans' Message To James
By Kevin Arnovitz
ESPN.com

LeBron
Clippers fans want you to understand that their devotion to their team isn't an expression of irony, even if it might seem that way from the outside looking in. The emotional investment in the Clippers is serious, even if the organization has done little over the years to earn it. What do Clippers fans derive from that investment? The faith that things will get better next season. That hope carries particular meaning this summer, because the Clippers are sitting on a mound of cap space as the most-heralded class of free agents in NBA history hits the open market.
To read the entire blog entry, click here