1. Fisher Plays The Hero For The Lakers ... Again
BOSTON -- All Derek Fisher wanted to do was run down the clock. Somehow he turned the mundane into the memorable. You know, one day that could stand as an epitaph for his career.
This was a Lakers victory enabled by both Fisher's words and deeds, its meaning made clear by his emotions afterward. But we live in a highlight-oriented world, so cue the video ...
The Lakers led by four points in the final minute of Game 3, a game that had been squeezed tight like elephants in an elevator, and Fisher was trying to push the ball into the frontcourt. He made his way past Kevin Garnett near midcourt and suddenly saw a clear path to the basket.
"I saw KG coming up, and the angle that he took, I knew I could get around him without stepping on the left sideline," Fisher said. "And once I broke through him, I saw that they didn't have anybody back at the basket. So I just took the direct line."
Ordinarily a Fisher drive could rate right up there with a Ron Artest 3-pointer when it comes to shots that cause anxiety for the Lakers. One thing he'll never be called is the best finisher in the NBA. But in this case he had clearance -- almost a mandate to go to the hoop.
"We have this direct line principle," Phil Jackson said. "No one steps up, you keep going. And he saw the opening and went and made a very bold play."
Ray Allen and Glen Davis rushed in to protect the basket. Garnett closed from behind. But Fisher got there first, and released his layup before the three Celtics bodies converged on him. He got off the shot as Davis was called for the foul and Fisher made the bucket plus the free throw to give the Lakers a seven-point lead with 48.3 seconds remaining. The Lakers held on to win 91-84 and regained the lead in the NBA Finals, 2-1.
"That play, I think, simply won the game," Rajon Rondo said.
"Derek Fisher was the difference," Doc Rivers declared.
It was a game begging for a singular angle or memorable hero. Kobe Bryant led the Lakers with 29 points, but it took him 29 field goal attempts (19 of them missed) to get there. Andrew Bynum gave the Lakers what he could, but his right knee was acting up again and he wasn't able to play 39 minutes as he did in Game 2. Lamar Odom resurfaced, scoring eight points in the first half.
But when the game hung in the balance, after the Celtics had chopped a 17-point Lakers lead back down to low single digits, it was Fisher who came through. First he gathered the players together before the start of the final quarter.
"He said, if before the game started, if they put us in the fourth quarter with the lead, would any one of us be mad?" Luke Walton recalled. "And the answer to that's 'No.' If you have the lead in the fourth quarter, on their home court, you take that. People were kind of down and kind of worried a little bit, it looked like. And we got everything together and went out and took care of business."
If it was business, Fisher was the CEO. He scored 11 of his 16 points in the final quarter. He recognized the Celtics would stick with Kobe coming off screens and exploited the extra space he had. He drove to the basket. He made five of his seven field goal attempts and that one big free throw.
"He's just a gutty, gritty player and he gutted the game out for them," Rivers said.
Fisher's exactly what the Lakers needed. I had a conversation with a Hall of Fame player Monday night, and he refuted my theory that a series is about who prevails under optimal conditions; that is, whose best can beat whose best. He said it's the opposite. It's about whose grit is grittier. You don't get "best" in the NBA Finals. The teams are too familiar with each other, the scouting reports are too detailed, the animosity ratchets up too high to allow for fluid, high-level basketball. Who can win the games when the plays don't go the way the coaches draw them up in the huddles, when the officials' whistles are disrupting the flow (yes, it happened again) and when the shooters' shots aren't falling? In Game 3 it was the Lakers, largely thanks to Fisher.
He has outlasted Russell Westbrook, Deron Williams and Steve Nash in this playoff run, and Tuesday he made a bigger impact than Rondo. Any one of those point guards would be selected over Fisher in a draft or free-agent marketplace, but Fisher's big moments in the playoffs over the past seven years rank above or beyond them all.
Meanwhile, has any accomplished champion taken as much criticism from his own fans as Fisher from the Lakers faithful the past two seasons? They howl as opposing point guards take express paths to the lane while Fisher struggles to knock down shots. They openly speculate about the next starting point guard for the Lakers. And all Fisher does is deliver when it matters most, and keeps getting them closer to the championships Lakers fans feel are ordained to be theirs.
Fisher's big games won't be as spectacular as Bryant's. His shots won't be as smooth as Pau Gasol's. But no performances resonate with the Lakers as much, in particular with their leader and Fisher's staunchest defender.
"Derek, he's our vocal leader," Bryant said. "He's the guy that pulls everybody together and is always giving positive reinforcement. I'm the opposite."
When I worked at the L.A. Times I had a reader who would go into a postcard-writing rage every time I mentioned Fisher in a column (even as innocuous as "Derek Fisher scored 12 points"). I wonder if all those who cringe at the sight of Fisher would feel the same way if they had seen him in the Lakers' locker room during the early weeks of the 2007-08 season, when a frustrated Bryant was counting down the days until the Lakers traded him and Fisher was the guy checking in with him, keeping him connected, talking him back down from the ledge.
Those times Bryant threatens to shoot too much for the Lakers' own good, it's Fisher who has the authority and confidence to pass the ball elsewhere, or let Bryant know when he's wrong.
"He's really the only one I listen to," Bryant said. "Everybody else is a bunch of young kids. Derek, he and I came in the league together. We spent long nights together as rookies, battling each other, playing full-court one-on-one games. We've been through it. So he can come to me and say, 'Kobe, you're [messing] up.'"
After the game ended and it was time for the postgame interviews, Fisher got to go first. And he was choking up as he talked to Doris Burke while Bryant waited on her other side.
"I love what I do and I love helping my team win," Fisher said. "Even when things maybe aren't going the way I'd like them to go for reasons I can control and some I can't, I still pretty much keep my mouth shut and just keep doing my job and remain faithful that things will come around when they need to.
"And so to come through tonight again for this team, 14 years in, after so many great moments, it's always quite surreal and quite humbling to experience it again and do it again."
It keeps happening again. The guy averaging 9.0 points for his career, who often hits the floor more than he hits shots, is also the guy who hit the biggest shot of the 2009 NBA Finals and just turned in the pivotal quarter so far in these Finals. For Derek Fisher, the clutch performances are almost becoming normal.
J.A. Adande is a regular contributor to the Daily Dime.
Dimes past: May 17 | 18 | 19 | 23 | 24 | 25 | 26 | 27 | 28 | 29 | June 3 | 5 | 6 | 7 | 8
2. Rivers Officially Miffed At Refs
By Peter May
Special to ESPN Boston

Rivers
BOSTON -- OK, it's bad form to rip the referees. But all Doc Rivers wants to know is this: Can he get through one game of the NBA Finals without one of his key players getting into early foul trouble? Is that too much to ask?
In the hugely pivotal Game 3 on Tuesday night, which the Lakers won 91-84, the Celtics once again found themselves playing with only two of their Big Three. (Actually, only one, seeing as how Ray Allen went from Tucson in July to Vladivostok in December.) The final statistics will show that Paul Pierce had 15 points, three of them in the final minute. He picked up two quick fouls and was out of sorts for most of the night, battling Ron Artest and the officials. He had as many fouls (five) as field goals, and for the second straight game was pretty much a nonfactor.
To read the entire column, click here
3. Boston's Allen Goes Hoopless
By Elias Sports Bureau

Allen
Ray Allen missed all 13 of his shots in the Celtics' Game 2 loss. Only two other players had a worse 0-fer in an NBA Finals game: Chick Reiser went 0-for-14 for Baltimore in Game 1 of the 1948 Finals at Philadelphia and Dennis Johnson went 0-for-14 for Seattle in Game 7 in 1978 against Washington.
Allen was 0-for-8 from 3-point range. Only one player had a worse 0-fer from beyond the arc in an NBA Finals game: John Starks went 0-for-11 for the Knicks in Game 7 against the Rockets in 1994.
The Celtics have scored fewer than 100 points in each of their last eight home playoff games. That's the longest such streak in Boston's franchise history. The last NBA team to score fewer than 100 points in eight straight home playoff games was the Knicks in 2000 (eight).
4. Daily Dime Live Recap
ESPN.com writers and TrueHoop Network bloggers chatted with fans and gave their in-game opinions throughout Tuesday's game -- all in Daily Dime Live.
By Maurice Brooks
ESPN.com
TUESDAY'S BEST

Fisher

Derek Fisher, Lakers
Making big plays in the Finals is nothing new for Fisher, who took over late in the fourth quarter of Game 3, scoring 11 of his 16 points as the Lakers held off the Celtics.

TUESDAY'S WORST

Allen

Ray Allen, Celtics
One game after setting a Finals record by nailing eight 3-pointers, Allen had arguably the worst shooting night of his career, missing all 13 attempts, including going 0-for-8 from 3-point range.

QUOTE OF THE NIGHT

"My agent is doing a good job of keeping the line of communication open with Steve Kerr and Robert [Sarver]. Those guys became great friends, so I'll just sit back and let them handle it. Once it comes down to a bottom line, that's when I step in."

-- Suns forward Amare Stoudemire, who is seeking a max contract from Phoenix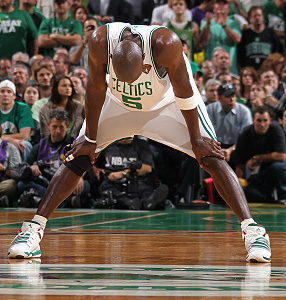 Nathaniel S. Butler/NBAE/Getty Images
It took Kevin Garnett all of 75 seconds to match his Game 2 total of six points. He finished with a team-high 25 points and also grabbed six rebounds, but received very little help from the other members of the Big Three.
8.

Allen's Night To Forget
By Chris Forsberg
ESPN Boston

Allen
BOSTON -- The NBA's great shooters never believe the problem lies with them. When shots aren't falling, they'd sooner challenge whether the rim is straight before they doubt themselves.
So even after missing his first 12 attempts to open Tuesday's Game 3 against the Lakers, Celtics guard Ray Allen was certain No. 13 would drop.
His team trailing by four with less than a minute to play, Allen pulled up from the left corner. It felt good off the hand, but it clanged off the rim like his previous attempts. Allen finished with two points, four rebounds and two assists in more than 42 minutes.
The Lakers hung on for a 91-84 triumph at the TD Garden that gave them a 2-1 series lead.
Two days after seemingly being unable to miss while setting a Finals record with eight trifectas -- the first seven of which came in a row -- during Boston's Game 2 triumph in Los Angeles, Allen nearly etched his name on a far more dubious distinction Tuesday.
Allen's 0-for-13 performance ranked as the second-worst 0-fer in Finals history, falling one miss short of the record of 0-for-14 shared by Seattle's Dennis Johnson in 1979 and Baltimore's Chick Reiser in 1948.
To read the entire column, click here
By Arash Markazi
ESPN Los Angeles

BOSTON -- Lamar Odom speaks slowly and chooses his words carefully whenever he's in front of a throng of reporters as he was Tuesday night, after the Los Angeles Lakers defeated the Boston Celtics 91-84 to win Game 3 of the NBA Finals. After he answers your question he'll usually look you in the eyes, nod his head and say, "Right?" to make sure you've fully comprehended what he just said before moving on to his next point.
Odom did that several times in the Lakers' locker room Tuesday night as he was asked about his 12-point, five-rebound performance off the bench after scoring only eight points in the first two games of the Finals. He wanted to make sure everyone knew his performance wasn't a result of anything more than being able to stay on the floor, something he couldn't do in the first two games after getting in early foul trouble.
"I wasn't able to play," Odom said. "That's it. I got three fouls in less than three minutes [in Game 2]. I just had to stay out of foul trouble. I did that and I was able to stay aggressive throughout the game."
Despite being one of the most talented teams in the league, the Lakers aren't a particularly deep team. They haven't been for about two years now. Pick up a stat sheet during the last two postseasons and you'd be hard-pressed to find more than one player beyond the starting lineup stand out. That is, of course, when the team does well. When it doesn't, you can be sure the space below the starters on the box score is usually filled with single digits and zeros.
The success of the Lakers' bench and of the team many times during this postseason has hinged on Odom. If he is able to come off the bench and give the team a solid contribution, the Lakers are almost impossible to beat. Far too often, however, Odom has disappeared, which has led to the Lakers getting little to nothing from their bench and relying far too much on their starters.
To read the entire column, click here