1. Cousins Ready To Get Physical For Kings
By Zach Harper
TrueHoop Network
Historically, the Sacramento Kings haven't been known for being a physical team.
When they were challenging the Lakers for Western Conference supremacy, Scot Pollard and Lawrence Funderburke were probably their two toughest interior players. Chris Webber and Vlade Divac were more likely to impress you with their shooting and passing ability than with their brute strength and imposing physical presence.
Fast-forward nearly a decade and the Kings have gone through a huge face-lift. With the debut of DeMarcus Cousins in the Las Vegas Summer League, they've officially become a powerful, physical team. It started with the addition of rookies like Tyreke Evans, Omri Casspi and Jon Brockman. The front office decided to start a new era of Kings basketball that centered on toughness and all-around skill. With the addition of Cousins, the prized big man from Kentucky, they've continued the trend of physical players.
Cousins brings toughness, and while that's an easy cliché to throw around, it's something the Kings aren't accustomed to having in their star big man. Their best post player has never been capable of physically abusing the opposition by his personal style of play. But that's what the Kings and their fans saw in Cousins' first game of the summer league.
Watching him battle fellow lottery selection Greg Monroe showed the sharp contrast of Cousins' style compared with big men who have more of a finesse game. Outside of his extensive size, the most noticeable aspect of DeMarcus' game is how physically he plays on the floor. He bumps players coming around screens, immediately looks for a body to box out when shots go up, and steps in to take charges whenever the opportunity presents itself. And that's the difference between him and the majority of the centers who have called Arco Arena home.
Cousins' apparent obsession with contact on the defensive end of the floor slams nicely into the offensive side of the court, too. He forced his way into the paint against the Pistons' big men with nimble feet and an uncanny ability to shift his weight to put the defender at a disadvantage. When Detroit doubled him, he showed vision in his passing game that you don't see with a lot of guys his size. It wasn't revolutionary; it was just another weapon at his disposal.
The list of ammunition in his arsenal is more than he was able to show at Kentucky. When asked about his jumper that he employed from all over the floor, he responded, "I've had it, but Coach Cal didn't need me to do it at UK."
He showed a smooth step-back jumper to mix in with his post attack. He showed hunger for attacking the offensive glass and keeping scoring chances alive for the Kings. He threw outlet passes to ramp up the offense after taking ownership of the defensive boards. He even exploded to the rim for a monster dunk to put his stamp on the game in the second quarter of an eventual blowout. Cousins finished with a modest line of 14 points and 10 rebounds, but it was the way he accumulated his stats that showed the future of the Kings' interior rests in giant hands, capable of destruction.
With the two-man combo of Tyreke Evans and Cousins, the Kings have two of the most important building blocks a franchise needs. They have a powerful guard on the perimeter and an even stronger presence on the inside. Evans' quiet nature will be complemented by Cousins' fiery reputation. He allows his competitive nature to permeate into all moments of the game. He argues for calls, and he tries to manipulate referees and opponents in a comical and endearing way. He talks constantly to his teammates and anyone within earshot. And he does it in a way that no other Kings big man has ever done for the team.
Cousins is a physical, powerful, talented big man who finds ways to contribute all over the floor. He makes his presence felt if you're unfortunate enough to come across his area. It's not something that brings the Kings back to being a prominent part of the Western Conference finals.
However, it seems like something he can force his way into.
Zach Harper is a regular contributor to the Daily Dime.
2. Mayo In Vegas Trying To Make A Point
By Jeremy Schmidt
TrueHoop Network
You probably won't find a better player at the Vegas Summer League than O.J. Mayo. An All-Rookie selection two years ago who fared equally as well last season and is seen as a core piece for the Memphis Grizzlies going forward, Mayo seems downright out of place amongst undrafted free-agent rookies and young players still trying to put it together. Put simply, Mayo can score.
But he's here with a purpose.
In an effort to give the Grizzlies more flexibility and make himself something more than an undersized shooting guard, Mayo has come to summer league to work on his skills as a point guard. Mayo was going to be in Vegas anyway for work with the U.S. national team next week, so the Grizzlies figured he may as well get in some work with a team that's going to be awfully similar to the one he'll be playing with come October.
Results after his first game are inconclusive. In that game, Mayo often split point guard duties with rookie Greivis Vasquez, another shooting guard with point guard skills. Mayo finished the game with three assists and eight turnovers, but was still able to score with as much ease as ever. The turnovers were a big problem for Mayo. His sloppy ballhandling included passes at the feet of his teammates and, in one case, apparently to no one at all, and this didn't do much for his point guard resumé.
Defensively, Mayo struggled at times with ultra-quick Jeff Teague but did his best to use his size advantage to deflect passes and muscle up Atlanta's second-year pro. Mayo likely will struggle to match up with quicker guards whenever he's matched up with them, but in the regular season the shot-blocking presence of Hasheem Thabeet and Marc Gasol could take some of the pressure off Mayo.
Mayo isn't a long-term point guard solution for anyone, and Monday only reinforced that. But in limited minutes, he could work as a scoring backup point for the Grizzlies. His coming to summer league is certainly a positive step in his development, and something most Grizzly fans would have loved to have seen from Mike Conley.
Jeremy Schmidt is a regular contributor to the Daily Dime.
3. Johnson Plays Without The Hype
By John Krolik
TrueHoop Network
Wesley Johnson's first summer league game did not feel like the professional debut of a top-five overall pick. The Thomas & Mack Center was nearly empty, with only a few hundred people there to populate the full-sized home of the Running Rebels. The starting lineups were listlessly announced to little fanfare. The pregame song was the theme music from "Space Jam." To put it plainly, nothing about the start of Wes Johnson's pro debut felt like the start of something big.
When one watches Johnson play, it becomes clear why he doesn't have the kind of hype surrounding him that most top-five players do when they come into the league. Johnson is a perimeter player, but he doesn't seem to have the mentality of a go-to scorer. The Syracuse product scored only 16.5 points per game during his final year with the Orange, and he wasn't looking to take over his first summer league game. After the contest, Johnson said he's still "trying to find his spots" in an offense he's still trying to learn, and "wasn't going out there trying to overexert" himself.
Johnson was all but invisible during his first stint on the court for the Timberwolves, and his first basket of the game didn't come until he crashed the offensive boards for a tip-in. For most of the first half, Johnson waited around for a ball that wasn't coming to him. While Jeremy Pargo and Wayne Ellington were busy dominating the ball, missing 14 of their 20 field goal attempts, and committing a combined 10 turnovers, the No. 4 overall pick waited patiently for his turn to get a shot or make a play. The sparse crowd in the Thomas & Mack Center didn't come expecting to see a show, and Johnson wasn't looking to provide one.
Johnson didn't dominate the game by any stretch of the imagination. But he also didn't waste possessions, and wasting possessions is a bad habit that most summer league guards and wings have a hard time kicking. When Johnson did get a chance to make a play, it became apparent why the Wolves think he was worthy of a top-five pick. There was the time Johnson came off a pick and smoothly drained a 3. Then there was the moment in the second half when Johnson made a perfect cut, caught a Patrick O'Bryant bounce pass without breaking stride and easily dropped in an and-1. Then there was the resounding tip-slam that drew audible gasps and finally got the stadium buzzing, even after the dunk was disallowed.
Johnson isn't a No. 1 option, but he has every skill you could ask for in a wing player. He's a smooth but explosive athlete who can get to the basket with minimal effort. He calls himself a slasher, but he can punish teams if they leave him open from beyond the arc. With his athleticism, length and defensive instincts, Johnson will be a plus defender from day one; the Spurs' Alonzo Gee was the first NBA player to get shut down by Johnson in the half-court, but he won't be the last.
Johnson is the rare summer league player who will look better playing with and against the best players in the world rather than trying to dominate the rookies and fringe prospects who populate NBA summer league rosters. When Johnson's teammates start looking for him and setting him up with opportunities to finish plays, he'll shine as an offensive player while making an impact on the defensive end. Johnson probably won't be a superstar in the NBA, but he has a very good chance of being an above-average starter in this league for a very long time. Teams can, and have, done much worse with a top-five pick.
John Krolik is a regular contributor to the Daily Dime.
4. Daily Dime Live Recap
ESPN.com writers and TrueHoop Network bloggers chatted with fans and gave their in-game opinions throughout Monday's games -- all in Daily Dime Live.
---
5.

Breaking Down Scottie Reynolds
By Michael Schwartz
TrueHoop Network

Reynolds
The Suns were not sure if Scottie Reynolds was supposed to play at all because of a strained Achilles he suffered last week, but Reynolds surprised even coach Dan Majerle by coming in ready to play. He then sparked the Suns with 16 points in 19 minutes in their 96-88 win over D-League Select. Reynolds led Phoenix at a Suns-like pace by pushing the ball up the court, and his shooting touch was on target in a 4-for-6 outing that included a pair of 3s. "He brought a lot of spark pushing the ball," Majerle said. "It was good to see."
Michael Schwartz is a regular contributor to the Daily Dime.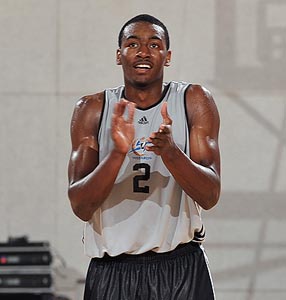 (Garrett Ellwood /NBAE/Getty)
Top pick John Wall notched his second straight strong performance of the Vegas Summer League, scoring 18 points as the Wizards improved to 2-0 with a victory over the Clippers.
7.

Stern Press Conference
By Kevin Arnovitz
TrueHoop

LeBron
On LeBron James: "With respect to LeBron's departure from Cleveland, a couple of things. One, he was certainly entitled to do that. I think he's both a terrific player and a very good person. Had he asked my advice in advance, I might have suggested that he advise Cleveland at an earlier time than apparently he did that he was leaving, even without announcing where he was going, so we could have eliminated that. I would have advised him not to embark on what has been come known as 'The Decision.' I think that the advice that he received on this was poor. His performance was fine. His honesty and his integrity shine through. But this decision was ill-conceived, badly produced and poorly executed. Those who were interested in it were given our opinion prior to its airing."
On Dan Gilbert: "I think that remarks by Dan Gilbert, the owner of the Cavaliers, catalyzed as they may have been by hurt with respect to the manner and the fact for himself, his team, and particularly for the people of Cleveland, though understandable, were ill-advised and imprudent. I have notified Cleveland that they will be fined $100,000 for those remarks under my power as commissioner."
To read the entire column, click here.
8.

Whiteside Throws Block Party
By Rob Mahoney
TrueHoop Network

Whiteside
Hassan Whiteside is clearly the lesser of Sacramento's talented rookie big men, but he made sure that everyone in attendance for his Vegas Summer League debut at the Cox Pavilion had their eyes on him. Whiteside is something more innately powerful than an "electric athlete." He's a certifiable dynamo, capable of powering the Vegas strip with highlight reel dunks and help-side blocks alone. He pops even among NBA athletes, and Whiteside's first few defensive sequences should sum up his initial career arc nicely.
On the first noteworthy defensive possession, Detroit's Greg Monroe posted up DeMarcus Cousins on the left block. He backed his way in, and having spun baseline, threw up a righty hook. It never made it to the rim, as Whiteside materialized from the weak side to completely erase the attempt. Yet Hassan's impressive display was rendered irrelevant by poor timing; Whiteside goaltended the shot, gifting the offensively limited Monroe with a freebie bucket.
On the second such possession, Whiteside was set to learn from his mistake. Monroe posted up Cousins yet again, executing the same basic move. Rather than go shy and stay home on his man, Hassan launched from the paint once again, this time destroying Monroe's attempt in perfectly legal fashion. Fundamental defense be darned, Whiteside made a heck of a play, and he did it through repetition.
With those two early plays as precedent, Whiteside attacked shot after shot, ending up with five blocks in 28 minutes. Of course, he missed shots, turned the ball over, and didn't show any real offensive polish, but those are the same red flags that kept Whiteside from being a legitimate first-round option. He still has so much to figure out, which makes his performances at present both fascinating and a bit maddening.
Hassan Whiteside's insane physical gifts will be properly refined only through experience. Though he doesn't have enough skill to register consistent minutes on the 2010-11 Kings, Hassan could turn into a legend if unleashed on the D-League. Like most second-rounders, Whiteside still has plenty to work on before he's ready for regular NBA action, and though he's going to make plenty of mistakes before he's through, Hassan clearly has the raw talents and tenacity of a true pro.
Rob Mahoney is a regular contributor to the Daily Dime.
9.

Wall Meets Clipper Darrell
By Kyle Weidie
TrueHoop Network

Wall
You know Clipper Darrell, right? He's the famed fan of the Los Angeles Clippers who, according to his website, has attended 385 straight Clippers home games. He was even once recruited by Mark Cuban to come to Dallas and become Maverick Darrell. Unfortunately for Cuban, Clipper Darrell is faithful to his team, which means, of course, he and his multicolored suit made the short trek to Las Vegas to support the Clip Show in the 2010 NBA Summer League.
On Monday night, Clipper Darrell's team faced John Wall and the Washington Wizards. The No. 1 Clippers fan was sure to alert the No. 1 draft pick of his presence.
Wall took a hard tumble on a drive to the basket with less than a minute left in the first quarter. As he stepped to the line, the gym got quiet. "John Wall, welcome to the NBA!" said Clipper Darrell, alerting Wall of his initiation to a more physical level of basketball. "U-G-L-Y, you ain't got no alibi!" Darrell followed. The arena erupted with laughter, including from Wall and teammate Nick Young.
Of course, after casually making his first free throw, Wall looked back in Clipper Darrell's direction to let him know that no heckling could phase him. "I just take it and laugh and keep playing," Wall said after the game, explaining how he's one to enjoy the moment, but not one to lose focus.
Clipper Darrell continued to rain down upon Wall with no mercy over the course of the game, calling him overrated amongst other heckling. But it was all in good fun. A handful of the Wizards' coaching and front-office staff, including Flip Saunders, Tommy Sheppard and Milt Newton, were mere seats away from Clipper Darrell (it didn't matter, his voice boomed anyway), and all got a good laugh from his antics as they fell victim, too.
In the end, Clipper Darrell made nice. With the game in hand and Wall on the bench -- the Wizards ultimately prevailed 89-64 -- a moment of silence came, and then: "John Wall, excuse me ... I love yoooooou!"
When asked about it, Wall said, "That's cool. I love him too."
Kyle Weidie is a regular contributor to the Daily Dime.