1. Odom Off To A Great Start
LOS ANGELES -- It's not that Lamar Odom improved so dramatically. All that's happened is a resetting of the scale on which we measure him. No longer do we judge the gap between expectations and accomplishments. Instead of criticizing Odom for what he is not, we simply acknowledge him for what he is, a guy who helps his team win in a variety of ways.
When he entered the league in 1999, the combination of that 6-foot-10 frame and slick ballhandling skills prompted visions of nightly triple-doubles. When that didn't materialize and his off-court problems overshadowed his on-court progress, he was considered a disappointment.
So maybe he didn't go for 20, 10 and 10 every night. Is there really anything so bad about a guy who's averaged 14.6 points, 8.9 rebounds and 4.1 assists for his career? There's no way he could be called a bust. But the exact term for him remains difficult to define.
He's quietly become one of the best rebounders in the league, finishing in the top 10 in that category three times in the past seven years. Still, it's impossible to view him as a rebounding specialist, a left-handed Dennis Rodman.
What makes Odom so distinct is that he does a little of everything. In the first few possessions alone in the Lakers' 107-83 victory over the Warriors on Sunday night, Odom had a bucket off a low-post spin move against David Lee, set up a Pau Gasol jumper with a pass, freed Kobe Bryant for a shot with a screen (which drew an appreciative back-pat from Bryant) and knocked down a 3-pointer. He also snared a one-handed rebound, and poked a ball away from Lee.
He had a double-double by halftime and finished with his third double-double in as many games for the Lakers this season, with 16 points and 14 rebounds (with four assists as well).
So how does he define himself?
"A player who does the intangibles," Odom said. "Arguably one of the most versatile players in the league, and hopefully I can go down as one of the most versatile players to ever play the game."
Ever? Well, it's tough to think of too many in this league who have done as many things for as long as Odom. Last season he became the eighth-fastest player to reach the plateaus of 6,000 rebounds and 3,000 assists, reaching the milestone in his 717th game. The seven ahead of him: Larry Bird, Chris Webber, Kevin Garnett, Oscar Robertson, Kareem Abdul-Jabbar, Wilt Chamberlain and Elgin Baylor. There's a lotta history in those names.
He has shuffled from the starting lineup to the bench and back depending on the availability of Andrew Bynum and Gasol, or Phil Jackson's whims.
"Being able to adjust is my strength," Odom said. "I feel like I've always adjusted well. If you're an intelligent basketball player, you're going to be able to find your space."
Where's his spot? That's another thing that makes him hard to pin down. He came into the league as the primary ball handler for the Clippers, was the axis of the offense in Miami and after initially struggling to mesh his game with Bryant's, found himself playing perfectly off Gasol when the Spanish center arrived three seasons ago.
You won't win a championship with Odom as your best player and it might not happen if he's your No. 2. But we can say he played a vital role in the Lakers' last two championship teams and was essential to the world championship Team USA captured this summer.
His offseason work with the national team spun perfectly into Lakers training camp, as Odom was one of the sharpest and best-conditioned players in scrimmages. Now he's off to what's looking like the best season start to his career. And yet he fully expects to return to the bench, when Bynum is ready to play again.
Just another move to help the team win.


ESPN senior writer J.A. Adande
• On Twitter @jadande | On ESPN.com | On TrueHoop | On e-mail
• Follow ESPN's NBA coverage on Twitter | On Facebook | On Google+
Dimes past: October 27 | 28 | 29
2. For Heat, Boredom Is Stiffest Competition
By Michael Wallace
ESPN.com

Wade
NEWARK -- If there was any doubt whether this star-studded, defensively rugged Miami Heat team could simply roll out of bed and beat a team by 20 points, there's evidence to support that notion.
It arrived with a 1 p.m. tipoff on Sunday, when the Heat delivered another efficient performance to move to 3-1 after dismantling the New Jersey Nets 101-78 at the Prudential Center. This Heat team has been a different animal since Tuesday's season-opening loss at Boston. But even then, the Heat allowed only 88 points in an eight-point setback on the road.
If it appeared at times that LeBron James, Dwyane Wade and Chris Bosh sleepwalked through stages of the game against New Jersey, it might have been a case of boredom.
Even with "boos" cascading from fans each possession -- especially when James touched the ball -- it can be difficult to maintain focus with a 20-point first-half lead, shots falling at a 67 percent clip early and Kim Kardashian and her crew walking around courtside after every break in the action. Michael Wallace is a regular contributor to the Daily Dime
3. Daily Dime Live Recap
ESPN.com writers and TrueHoop Network bloggers chatted with fans and gave their in-game opinions throughout Sunday's games -- all in Daily Dime Live.
4. Mavericks' Balanced Attack
Elias Sports Bureau

The Mavericks posted a 99-83 win over the Clippers at Staples Center, displaying something not often associated with recent Dallas teams: balance. The 16-point margin of victory was the largest in team history in a road win in which no player scored 20 points, grabbed 10 rebounds, or recorded 10 assists.
By Maurice Brooks
ESPN.com
SUNDAY'S BEST

Millsap

Paul Millsap, Jazz: The Jazz started the season with two straight losses. Paul Millsap made sure the streak didn't reach three, scoring 30 points, grabbing 16 rebounds and giving out six assists in Utah's win against Oklahoma City.

SUNDAY'S WORST

Butler

Rasual Butler, Clippers: The reserve shooting guard didn't provide much relief off the bench, missing all six of his shot attempts from the field, including going 0-for-5 on triples, in a loss to Dallas.

QUOTE OF THE NIGHT

"If I had to go back on it, I probably would do it a little bit different."

-- LeBron James on "The Decision"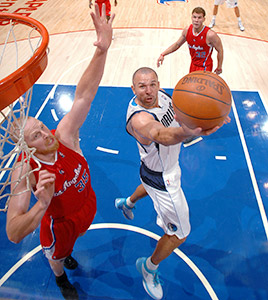 (NBAE/Getty)
Jason Kidd did a little bit of everything, tallying 13 points, nine rebounds and seven assists, but the highlight of his night was a 65-foot buzzer-beater.
8.

Nets See What Could've Been
By Chris Sheridan
ESPN.com

LeBron
NEWARK, N.J. -- Mikhail Prokhorov had another Russian oligarch sitting with him in the owner's box, which means two very, very, very rich men got to see and hear exactly where the loyalties of the paying customers resided on this particular afternoon.
At first, it seemed like the fans were on the side of the New Jersey Nets. They booed LeBron James during player introductions, booed him the first time he touched the ball and booed him some more as the first few minutes elapsed.
But then, as James blew past a defender and threw down a ferocious dunk, the opposite happened. The place erupted, and the cheers were definitely not for the home team.
"That's the goal, a shift," Dwyane Wade said afterward, sitting alongside his new superstar running mate who claimed he did not even notice the shift in the crowd's attitude as Miami's 101-78 victory over the Nets unfolded Sunday.
To read the rest of Sheridan's column, click here.
9.

Happy Anniversary To A Pioneer
By Dave McMenamin
ESPN Los Angeles
You probably haven't heard of Earl Lloyd.
That's a problem if you consider yourself a basketball fan, or a sports fan in general for that matter.
Sunday marks the 60th anniversary of Lloyd breaking the NBA's color barrier, chipping in six points and 10 rebounds for the Washington Capitols in a 78-70 loss to the Rochester Royals. The stats of the game are forgettable, sure, but why isn't anybody making a bigger deal in 2010 about the history-making game Lloyd played in 1950?
Lloyd, Nat "Sweetwater" Clifton and Chuck Cooper made up the inaugural class of African-Americans to play in the NBA that season, a league that today has nearly 80 percent black players.
Even though he is responsible for delivering the spirit of African-American basketball to the NBA, for the most part Lloyd is as anonymous as the kids who will throw on a mask and go trick-or-treating Sunday.
I recently asked Los Angeles Lakers head coach Phil Jackson about Earl and wondered why everybody knows Jackie Robinson, but they don't know Lloyd, Clifton or Cooper.
To read the entire column, click here.