By Maurice Brooks
ESPN.com
SUNDAY'S BEST

Gasol

Pau Gasol, Lakers: The big man is known for getting points and rebounds in bunches, but against the Blazers, the stat that jumped off the page was his 10 assists that, sandwiched with 20 points and 14 boards, earned Gasol his fourth career triple-double.

SUNDAY'S WORST

Curry

Stephen Curry, Warriors: He missed a tying 3-point attempt in the closing seconds during a loss to the Pistons that capped a poor shooting night. He finished 3-for-12 from the floor for 10 points.

QUOTE OF THE NIGHT

"We were mentally prepared for the game, but we couldn't throw a pea into the ocean."

-- Minnesota coach Kurt Rambis after the Wolves fell to the Rockets by 26 points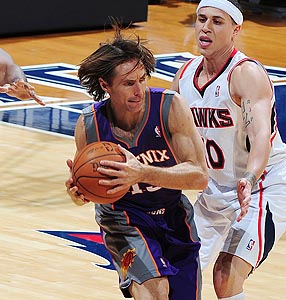 (Scott Cunningham/NBAE/Getty)
Point guard Steve Nash did a little bit of everything, finishing with 19 points, 15 assists and five rebounds as the Suns handed the Hawks their first loss of the season 118-114.
By Chris Forsberg
ESPN Boston

Robinson
Because of injuries and suspensions, the Celtics' reserves were limited in number and certainly didn't seem to be causing too much of a ruckus (save maybe for Glen Davis, who totaled nearly half the bench's total point production in the first five games, thanks in large part to extended minutes with the starting unit).
To read the entire Forsberg column, click here.
By Dave McMenamin
ESPN Los Angeles

Oden
LOS ANGELES -- Lakers versus Trail Blazers has been defined by player matchups over the years.
From Kareem Abdul-Jabbar versus Bill Walton in the 1977 Western Conference finals when The Captain's 34.6 points and 17.7 rebounds per game weren't enough to avoid a sweep at the hands of Big Red; to Magic Johnson versus Clyde Drexler, which featured Los Angeles ending Portland's season in the playoffs in '85, '89 and '91 before the Blazers finally broke through in '92; to Shaquille O'Neal versus Rasheed Wallace being summed up by Shaq's Game 7 alley-oop on Sheed's head in the 2000 conference finals; to the recent battles between All-Stars Kobe Bryant and Brandon Roy.
The duo that was supposed to carry the rivalry into the future, Andrew Bynum versus Greg Oden, was conspicuously absent Sunday in the Lakers' 121-96 win.
The 7-footers were supposed to be the center of attention not just when they were on the court together but when the All-Star results were released every February to see which one of them won the spot as Yao Ming's backup in the West.
It hasn't happened yet, and even though Bynum is just 23 years old and Oden's only 22, it doesn't seem likely that we'll ever hear a "Bynum ... Oden ... next on ABC!" tease before a Sunday national broadcast.
Oden has played in only 82 out of a possible 254 regular-season games to start his career. Bynum has missed 103 games since the start of the 2007-08 season, or about 41 percent of all the games L.A. has played.
Bynum's expected to be back playing in games in two to three weeks. He'll see some on-the-court work for the first time in his rehabilitation process toward the end of this week as he prepares for a comeback from right knee surgery sometime around Thanksgiving.
Lakers coach Phil Jackson said Bynum will retain his starting role because he doesn't want the center's knee to stiffen up by sitting on the bench after getting loose during warm-ups. Even if he starts, that doesn't mean he'll get the lion's share of the frontcourt minutes with the way Lamar Odom is playing right now. Odom racked up 21 points and 12 rebounds on Sunday, collecting his fourth double-double in the seven games the Lakers have played this season.
"We're going to be deeper, we're going to be stronger," Pau Gasol said about Bynum's eventual return. "It will take a little time for him to probably get back into the swing of things, but I hope that it takes a short period of time, and I'm sure he'll be pumped to get back playing."
Bynum might be excited, but fans aren't pumped to see him toil with Oden the way they were a couple of seasons ago before Bynum admitted, "I guess I am kind of injury-prone" and Oden caused more of a buzz by sending inappropriate photos from his phone than by doing anything in an NBA game.
Although Bynum's comeback is near, the Blazers are adjusting to an indefinite life without Oden.
"We have to work with the group we have," Portland head coach Nate McMillan said. "Yes, we do expect him to come back. When? We can't say that, but we do expect him to be in uniform this season. So for me, my focus is on the players that we do have healthy."
McMillan said that Oden is "getting better" but said he couldn't provide an estimated return date because Oden hasn't progressed to any live basketball activity.
"Until a player is at that point, you really can't say when he'll be back," McMillan said.
Both Bynum and Oden will make it back to the court, but hype surrounding their future battles going against each other won't.
Dave McMenamin covers the Lakers for ESPNLosAngeles.com.