1. Hawks' Lack Of Depth Exposed Against Bucks
By John Hollinger
ESPN.com
ATLANTA -- Well, so much for that 6-0 start.
The Hawks dropped their third straight in impressively awful fashion on Wednesday night, converting a 13-point lead into a 30-point deficit with alarming speed before falling to Milwaukee 108-91.
Cosmetic scoring made this game seem close, but it wasn't. And if the scoreboard seemed lopsided, the difference in effort was even more noticeable.
"Very dispiriting," said Hawks coach Larry Drew.
Believe it or not, Atlanta led this game 22-9 with three minutes left in the first quarter. Just 27 minutes later, they were losing 88-58. Do the math and Milwaukee went on a mind-boggling 79-36 run, outscoring Atlanta by 43 points in that span. The Bucks could have made it worse, too, but called off the dogs to start the final period.
"The minute I started subbing we just went dead in the water," said Drew. "That's probably the third [straight] game that has happened."
It's a jarring change of affairs for the Hawks, because the past two seasons they were accustomed to extending leads in the second quarter when the bench entered. But injuries to Marvin Williams and Maurice Evans have left the team without a true small forward and thrown the entire rotation out of whack.
Nobody has been affected more than Josh Smith, who has slid down to small forward and is still adjusting to the new role, both offensively and defensively. Of particular note was a late first-quarter sequence when Smith conceded wide-open 20-footers to Corey Maggette on successive possessions, jump-starting Milwaukee's rally,
"Josh isn't used to playing guys like that," said Drew, who said it doubly hurt because he couldn't use Smith in a more natural matchup against Ersan Ilyasova. Those two Milwaukee bench players combined for 37 points, and each had more points than any of the Hawks.
Offensively, Smith couldn't space the floor for his teammates the way Williams or Evans can, a weakness exacerbated by the offensively inert Jason Collins starting at center. Collins went scoreless, with his one shot attempt a wide-open, straight-on 15-footer that barely grazed the side of the rim before skidding harmlessly out of bounds.
Unfortunately for the Hawks, they can't stay sound defensively with Smith in his natural 4 spot.
"We can't play too small," said Drew. "Then they'll post up my perimeter guys, so I have to be very careful how I match up at the 3. I played a few minutes with Jamal [Crawford] at 3 and they took him to the post right away."
Atlanta's effort level turned noticeably south once the bench entered late in the first quarter. Crawford made a lily-livered effort at giving up a hard foul to stop a 2-on-1 break, leading to a John Salmons 3-point play, while Smith became agitated by Maggette's buckets and pouted to the sideline.
"He got upset," said Drew. "He wasn't the only one, but the one thing I don't want him doing is displaying it. We don't want to show the whole world; we'll talk about it in the huddle or during halftime."
Believe it or not, the Bucks were the team on a back-to-back. Their league-high fourth, in fact. But they've made it to the other side after a 1-4 start, returning home a respectable 4-5 against a difficult early slate after back-to-back blowouts of the Knicks and Hawks. Atlanta finds itself in the opposite quandary -- looking good in the standings at 6-3, but finding its lack of depth exposed by injuries.
Yet most of what happened can be explained less by injuries and X's and O's, and more by the fact that the Hawks were simply out-competed -- embarrassed, I dare say -- on their home floor.
"We can't just stop playing when things aren't going right offensively," said Smith.


ESPN Insider John Hollinger
• Twitter @johnhollinger | ESPN.com | TrueHoop | Email | Stats
• Follow ESPN's NBA coverage on Twitter | On Facebook | On Google+
Dimes past: Oct. 27 | 28 | 29 | Nov. 1 | 2 | 3 | 4 | 5 | 7 | 8 | 9
2. Jazz Rally For Win ... Again
By Mike Lynch
ESPN Stats & Info

Williams
The Utah Jazz trailed by 18 points in the second half against the Orlando Magic on Wednesday, but just as they did in their previous two games, the Jazz rallied from a deficit of at least 18 points and won, defeating Orlando 104-94.
Elias tells us the Jazz are the first team in the shot-clock era (since 1954-55) to win three consecutive games after trailing by 10 or more at the half in each one.
Utah's past two rallies have been from at least an 18-point deficit in the second half and have come on the road on back-to-back days. According to Elias, the last team to do this was the Portland Trail Blazers on April 7-8, 2009.
It's also the second time in Jazz history they have posted wins in Miami and Orlando on consecutive days; the last time they did that was on Dec. 19-20, 1996 -- they went on to lose in the NBA Finals that season.
To read the entire story, click here.
3. Daily Dime Live Recap
ESPN.com writers and TrueHoop Network bloggers chatted with fans and gave their in-game opinions throughout Wednesday's games -- all in Daily Dime Live.
4. Streak Continues For Spurs
Elias Sports Bureau

The Spurs posted their 18th consecutive win over the Clippers. It's the longest current team-versus-team winning streak in the NBA. San Antonio has fashioned a longer winning streak against only one team: 21 in a row against the Grizzlies from 1997 to 2002. The Clippers' 18 straight losses to the Spurs is the second-longest losing streak against one team in franchise history. The only longer streak began with the inception of the franchise, when the Buffalo Braves lost their first 22 games versus the Celtics (1970 to 1974).
The Clippers haven't defeated the Spurs since March 7, 2006 at Staples Center, when Elton Brand scored a game-high 30 points in a 98-85 victory. The only current Clipper who was on that team is Chris Kaman. The only current Spurs players who took part in that loss are Tim Duncan, Manu Ginobili and Tony Parker. • More from Elias
By Maurice Brooks
ESPN.com
WEDNESDAY'S BEST

Wall

John Wall, Wizards: With Magic Johnson, arguably the greatest point guard ever, in attendance, Wall didn't disappoint, notching his first triple-double (19 points, 13 assists and 10 rebounds) in a win against the Rockets.

WEDNESDAY'S WORST

Mayo

O.J. Mayo, Grizzlies The Grizzlies were minus-15 during the 29 minutes their starting shooting guard was on the floor. He missed 7 of his 8 attempts from the floor, scoring just four points.

QUOTE OF THE NIGHT

"It's just one in 82 [games]. You try to win as many as you can. You try not to have a whole lot of these stinkers. That's what this was. A stinker."

-- Grizzlies coach Lionel Hollins after Memphis fell to the Mavericks 106-91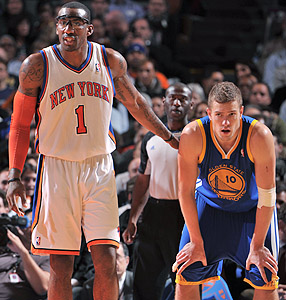 (NBAE/Getty)
Amare Stoudemire notched 33 points and 10 rebounds, but David Lee posted 28 and 10 to lift his new team (Warriors) past his former team (Knicks) 122-117.
8.

Heat Back To Square One
By Jackie MacMullan
ESPN Boston

Bosh
MIAMI -- Game No. 1 was a lifetime ago.
Remember that Miami Heat debacle in Boston, when Dwyane Wade zipped around like a nervous rookie hyped up on grape Kool-Aid, Chris Bosh roamed the court like a transplanted Canadian who'd lost his passport (and his jump shot), and LeBron James, a self-proclaimed "facilitator,'' forgot to pass the ball?
You knew it was foolish to issue proclamations following Miami's underwhelming 88-80 loss on opening night. You also knew that two weeks later, when the Celtics took their talents to South Beach, the Heat would be, if nothing else, a bit more cohesive -- yet no less scrutinized.
On Tuesday, Heat coach Erik Spoelstra perused his notes on the Celtics and noted that first game "felt like last summer.''
"The strides we have made in the last two weeks have been notable,'' he declared.
To read the entire MacMullan column, click here.
9.

Beasley Shows His Good Side
By Zach Harper
TrueHoop Network

Beasley
There are two Michael Beasleys the NBA has seen in his young career. There is the bad Michael Beasley who settles for one-dribble jumpers from the perimeter, and there is the good Michael Beasley who attacks the interior of a defense early to set up his jumper later in the game.
Over the past three games, the Minnesota Timberwolves have consistently seen the good Beasley. He has been getting into the paint and putting pressure on the defense, rather than himself. He's been aggressive instead of passive-aggressive. Against the Kings on Wednesday, he turned his newfound, assertive offensive attack into a career night.
Beasley finished with 42 points against Sacramento and dominated throughout. For every wrinkle the Kings threw his way, he had an answer. The answer was putting the ball in the basket on drives, runners and jumpers. He got to the line 10 times and kept the Kings befuddled about how to defend him.
The Kings tried five different defenders on him throughout the game and even went to a zone in order to slow down his attack. Instead, Beasley hit them with a stream of offensive consciousness by putting his mark on all four quarters of the game. He didn't score fewer than seven points in a quarter after exploding for 18 in the first 12 minutes. He finished with 11 attempts in or around the paint while knocking down 12 of his 20 outside jumpers.
With Beasley, we know the talent is plentiful. What has been in question is his ability to make the right decisions about how to use that talent. Lately, we've had the pleasure of seeing a smarter Beasley attack his opponents in a way that makes the Wolves' future look a little brighter. Hopefully, the good Beasley can stick around a little longer.
Zach Harper is a regular contributor to the Dime.